In our family decorating Easters eggs is something we look forward to every year. But, now that I have kids of my own I have realized that I am not a fan of the store bought dyes.
One would naturally think it is because of the chemicals and that it is not natural but forget that I am not a fan because of the mess it makes.
Let me explain. So we boil our eggs and get them ready to go, we explain to the kids that we have to be VERY careful not to crack the eggs then, we hand them cups full of dye and have them DROP the eggs in. And, when the egg drops the dye goes EVERYWHERE!
Now, I have tie dyed children who have now lost interest in dying eggs and are just excited to be blue for the day and un-dyed eggs that are now waiting on me to make them beautiful! So, this year I decided I would get creative and come up with different and fun ways to decorate our eggs this year. With my kid's ages varying I came up with ideas that will work for each age group. These ideas are fun, easy and much easier to clean up. I am also hoping it will hold their attention just a little longer!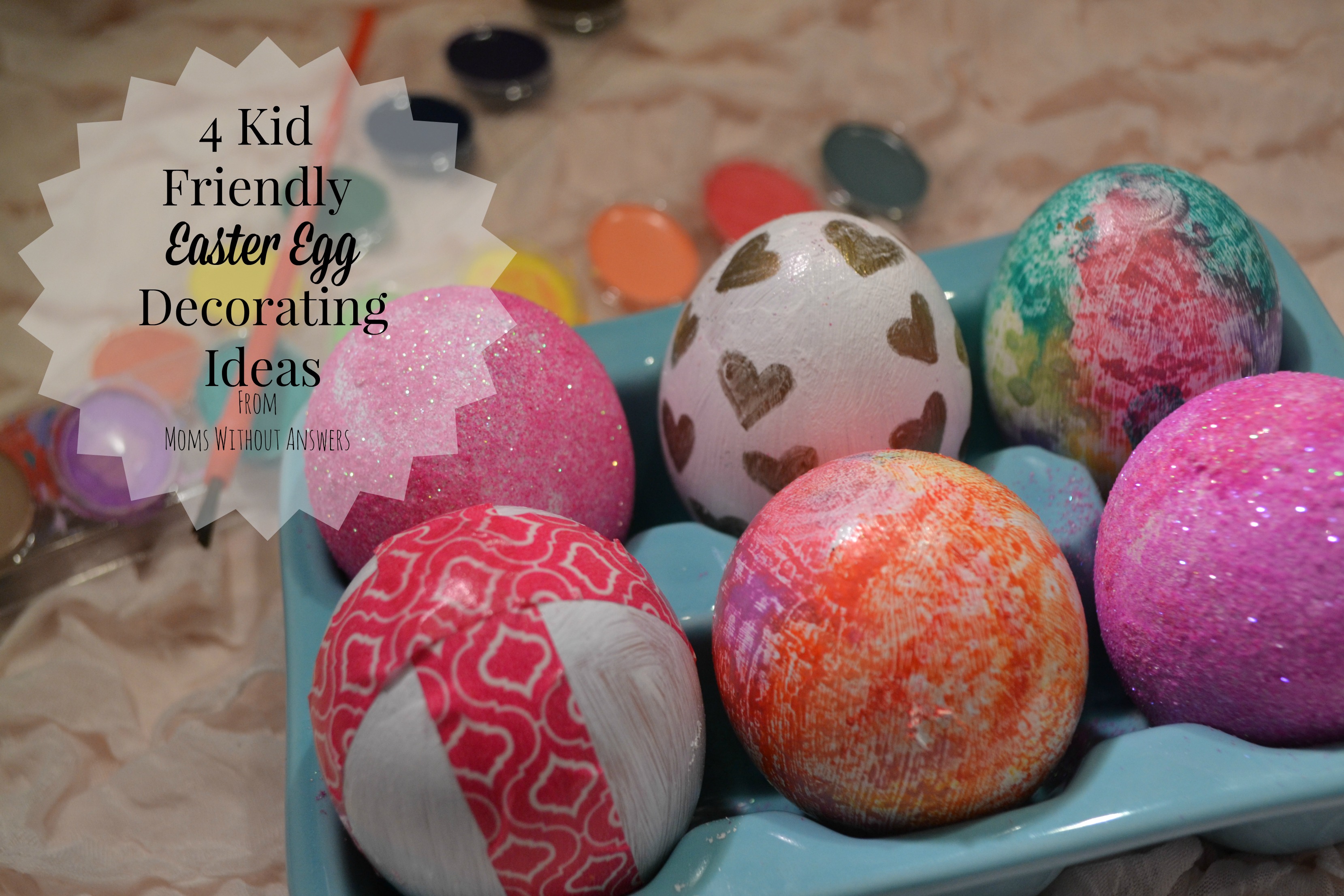 1. Washi Tape
I am sooooo in love with Washi tape and all of the project you can use it for. Not to mention you can find the cutest patterns anywhere these days. I loved using the Washi tape to decorate eggs because it is great for any age group. If your kids range in ages like mine do this technique is perfect for you to try. You simple cut your tape into whatever shape you want and get to it. There are so many patterns you can mix and match the possibilities and cuteness are endless with Washi tape.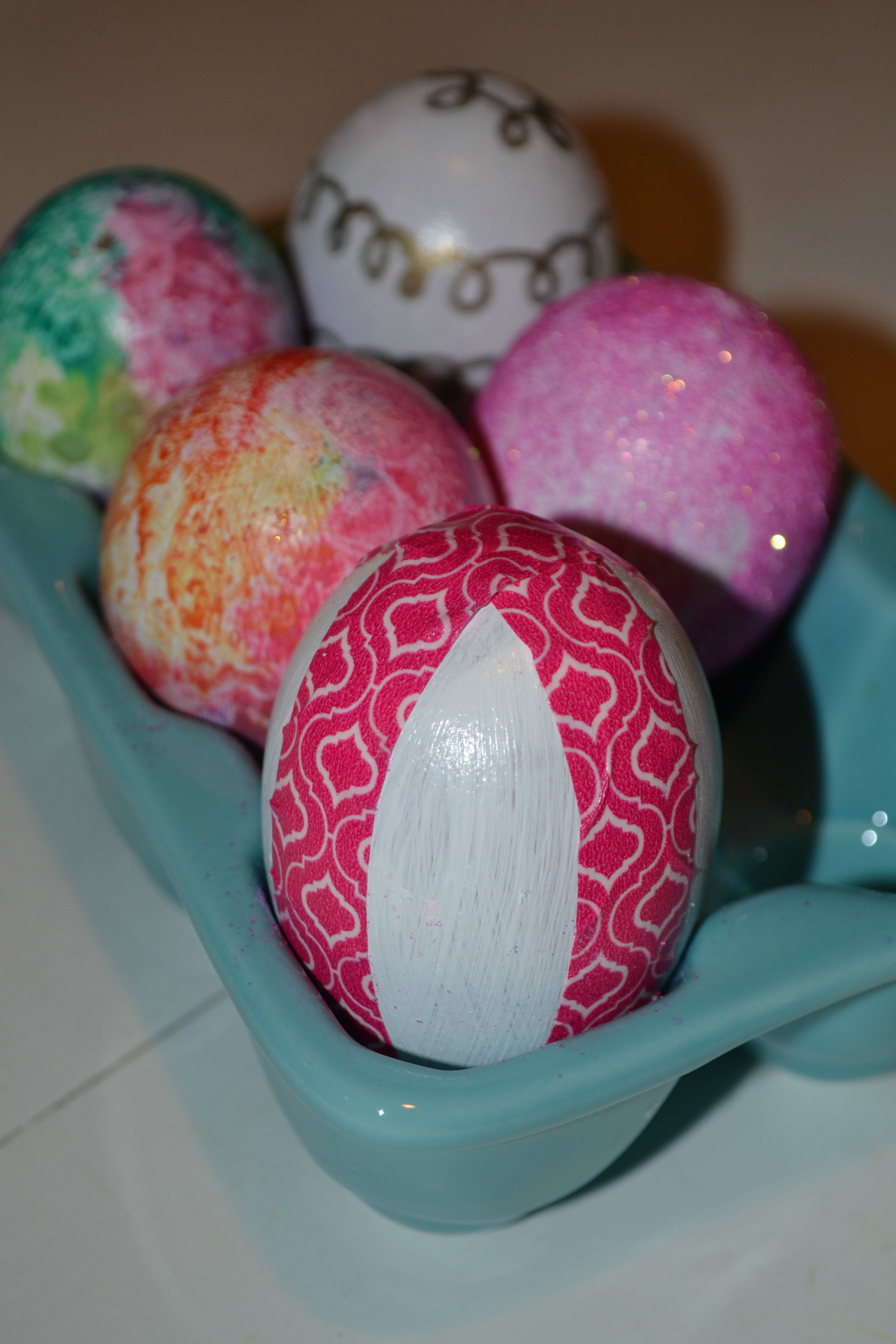 2. Colorful Sharpies
I cannot get enough of all of the fun sharpies you can find these days. I seriously may have a minor obsession! My main obsession is with the metallics and I love how they turned out on the eggs. I simply drew and doodled on the eggs and they turned out just perfect!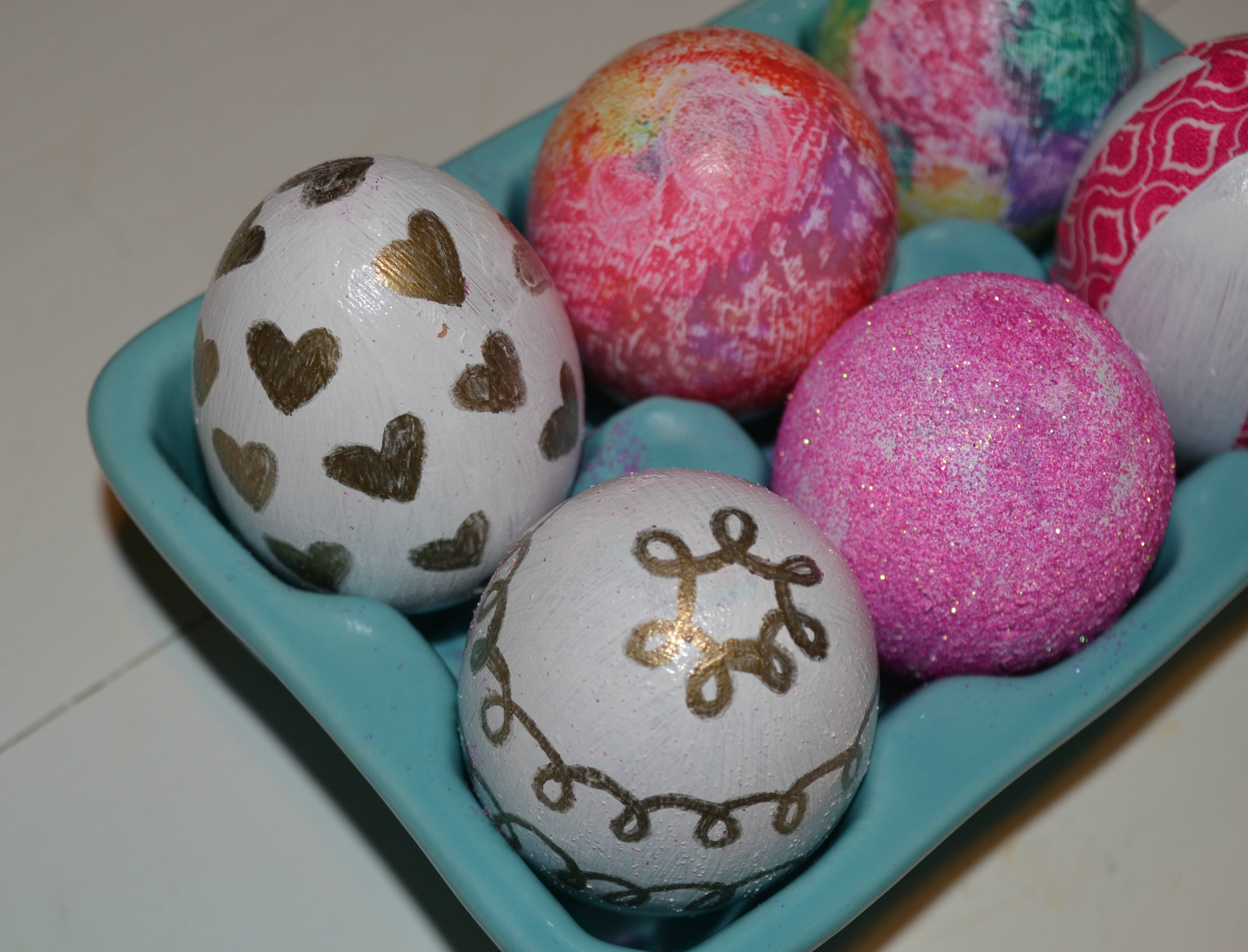 3. GLITTER!!!!!!
With 3 little girls glitter is always a necessity, we rarely complete a craft project around our house without it. Although working with glitter was a little messy it was totally worth it. We simply brushed craft glue on the eggs with a sponge brush and sprinkled on our glitter. We ended up using a very fine glitter and it seemed to create much better coverage. How fun are glittery eggs!!!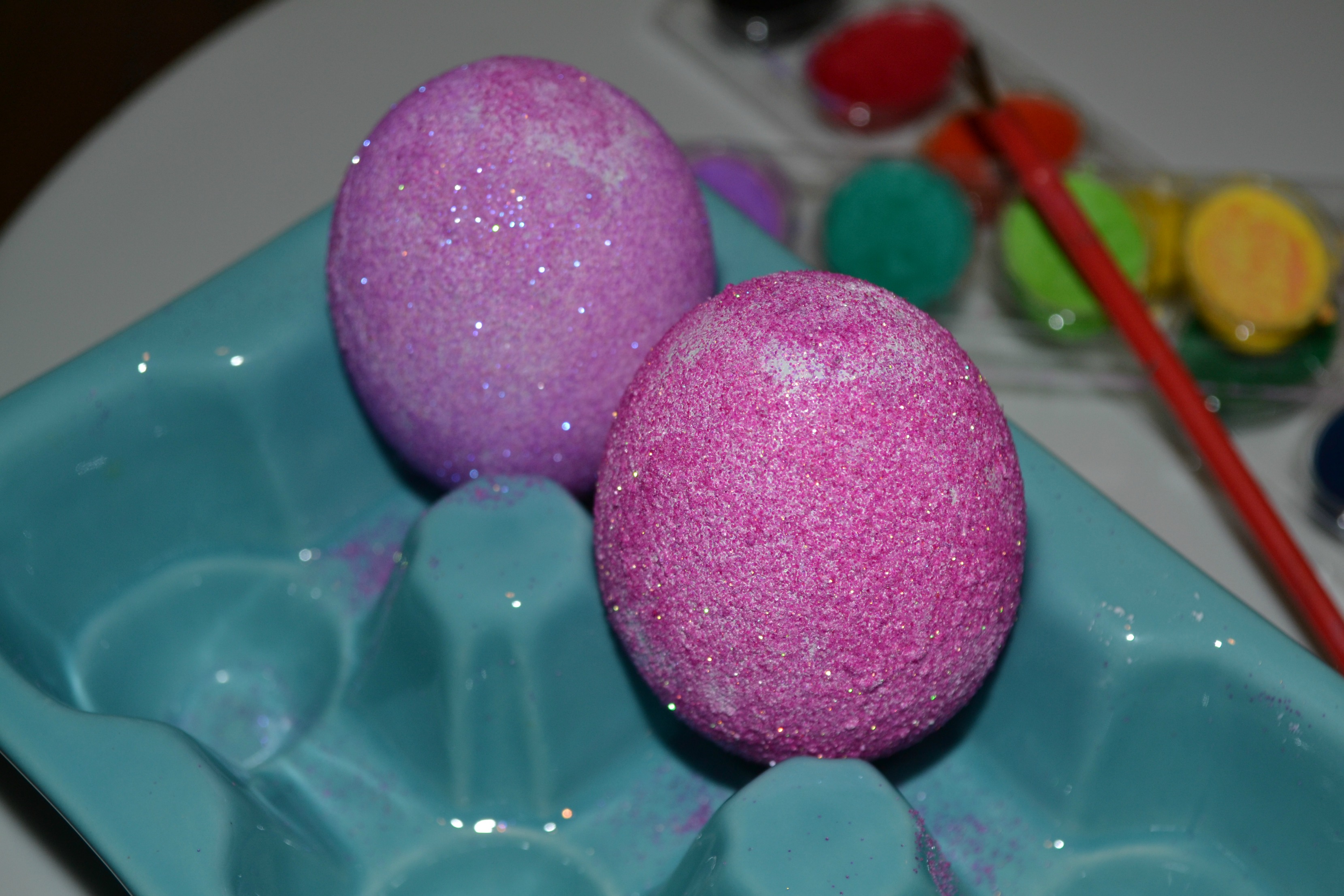 4. Water Color
This technique for me was definitely the most fun. All I used was simple children's water color paints and the brush they provided. It was so fun to just be creative and let the colors kind of create their own pattern. These eggs are so unique and fun. And…watercolor is washable!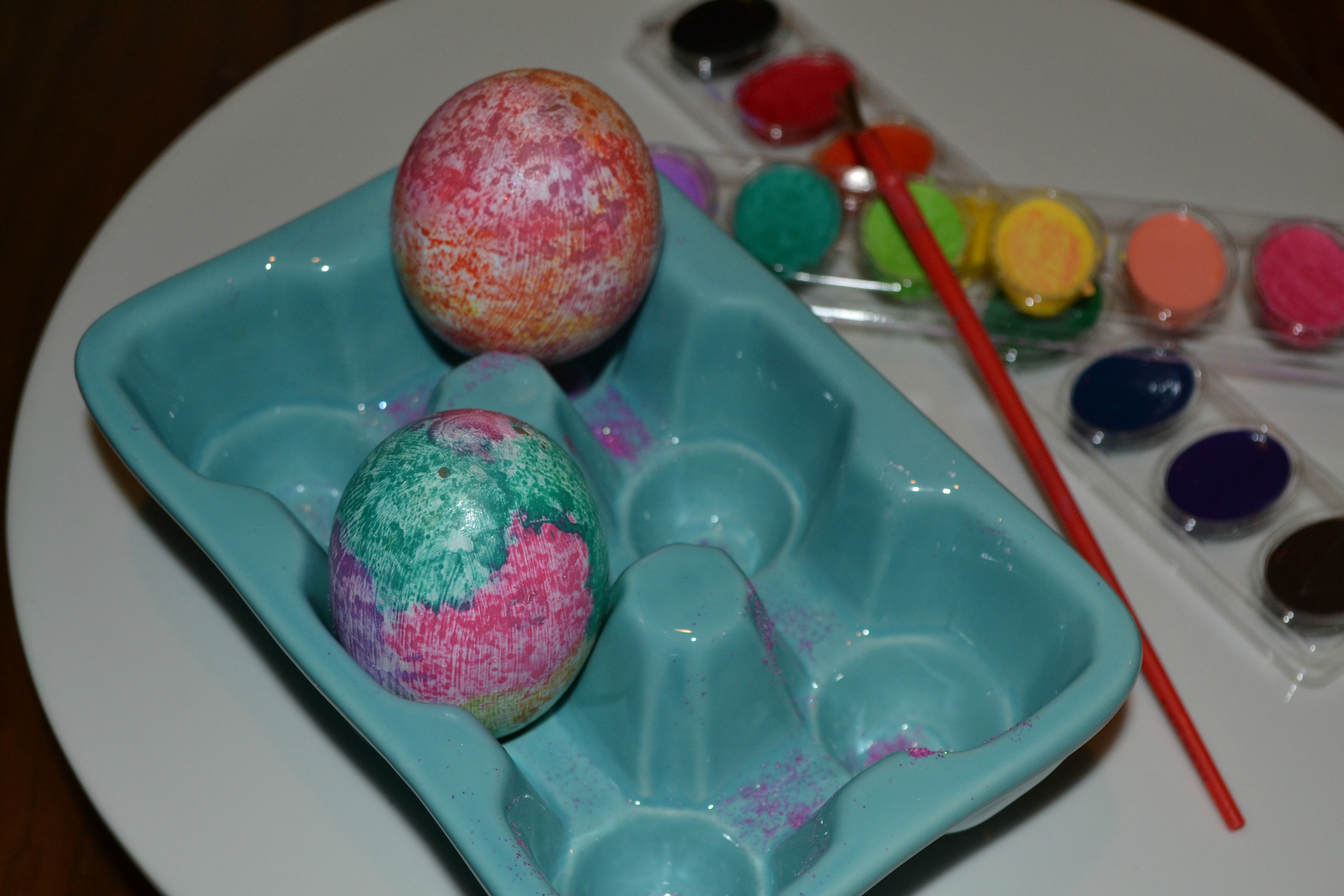 I just love seeing all of these fun Easter eggs together! I hope you and your family has as much fun as we did this Easter with all of your decorating!
Do you have any fun, unique Easter egg decorating ideas we need to try? Send them our way!