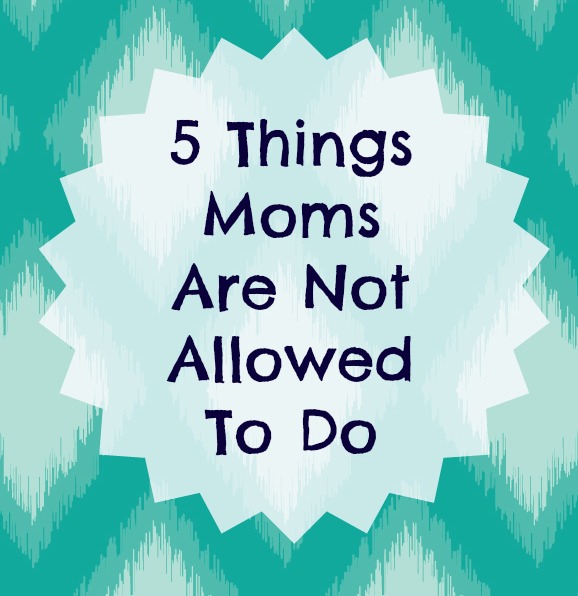 So, unfortunately I have been a little under the weather these last few days. As I have been laid up (yeah right, I have not been laid up I have been living my normal life while feeling like poo) I realized that there are many things us Moms are just not allowed to do.
Let's start with….
1. Moms are Not Allowed to Be Sick:
Like I have experienced this week I am sure you are also familiar with the ole routine called get sick but grin and bear it. We Moms just can't get a day off  can we? I have come to realize that Moms could probably have the actual plague BUT you would never know it because life goes on. Let's just hope no one else in the family gets sick, life may just come to a halt!
2. Moms are Not Allowed to Go to the Bathroom or Bath Alone:
Alright, I am not sure what it is about going to the bathroom or actually bathing that attracts children but as soon as they see you headed off to take care of business they all come swarming like flies. It's like some weird sensor goes off! I mean, what is the attraction? All the little beadie eyes are on you Mom. Never knew you would be staring in your own show, huh?
3. Moms are Not Allowed to Eat their Own Food:
Raise your hand if you remember the last time you actually got to eat YOUR whole plate of food? Don't worry, I can't either! I have come to the conclusion that I will not enjoy a hot plate of food until my children are grown, and by grown I mean living in their own homes. Why is a Mom's plate of food considered a family platter? Nevermind that my plate holds the exact same food items as theirs. I guess everything just tastes better on Moms plate!
4. Moms are Not Allowed to Watch their Own TV Shows Between the Hours of 8:00am-8:00pm :
Gone are the days of Kelly and Michael, the Chew, the View, Dr.Phil and whatever else adult TV is on during the day. There is no more celebrity gossip to enjoy. The only gossip I get to keep up with now is who Doc Mc Stuffins is treating in the clinic today. You know what I love even more? The moments when the kids are already in bed you realize that the white noise playing in the background is no longer your favorite Bravo Show but Sophia the First talking to her animal friends.
5. Moms are Not Allowed to Get Dressed Within a Timely Manner:
Let me set the stage for you. It is Sunday morning you got up early to "get dressed" but all of a sudden you realize all time is gone and church starts in 15 minutes. You look over and instead of getting yourself dressed all members of your family are perfectly ready to go and waiting on you. At this moment you have to decide whether the greasy ponytail or the yoga pants are more acceptable. Why? Why, is this always the case? For me, it does not matter what time I get up or how much I plan THIS is always the out come.
It seems like we Moms always get the short end of the stick but you know, in reality I would not have it any other way.
So, now that I am clear (I hope you are as well) as to what I am and what I am not allowed to do as a Mom, I am going to go crawl in bed while children sleep.
By the way, there will be no helpful drugs involved because let's get real I have to be ready to hit the grind tomorrow!