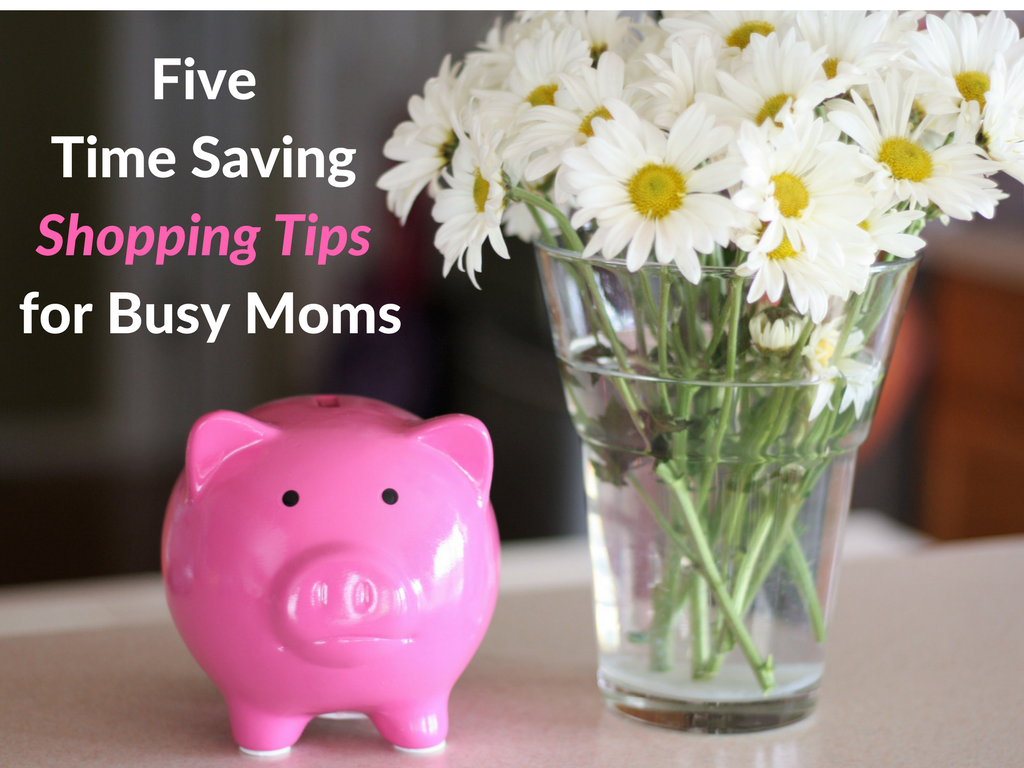 Okay ladies, I'm here today to get you set up for success. What kind of success? Well, 2 words – FREE TIME. Who doesn't need some of that? We're all busy moms on the go and the last thing we want to do is make a mindless trip to the grocery store for one thing and not be prepared for the week. People always ask me what my schedule looks like and how we can do all the fun things we do? Well let me share with you some of my secrets that I've been using so that I am not running all over and spending quality time with my family, or better yet a little well deserved me time. We're all needing a little bit of that right? Today, I'm sharing with you some of my fool proof ways how I make my week as smooth as possible all while sneaking in a few extra hours of free time by automating my busy life.
1. In Store Pick Up – Anyone guilty of the Target Creep? I know I am. When I know I have extra time on my hands, but don't want to get stuck at the mother-ship, I do an online order the night before. My Target usually has the order ready for pick up in about an hour. It's perfect for when you really just need 1 thing. Ladies, how often do we really go to target for what is REALLY on the shopping list? Show of hands. Be honest. My last trip, I had a list in hand and ended up with much more. Pretty sure I walked out with a balloon for Hattie's 4th birthday party – for next year. Save the time and the money and go In Store Pick Up. Now if we could honk and they bring it to the car, wouldn't that be heaven? Now, for my Cartwheel fans, it doesn't apply to the perks. Insert sad pandas all around. However, it is sometimes cheaper to buy the item online than it is in store. Don't worry, I let them know, they need to make an adjustment for their loyalist of shoppers. Also, can they please update the Cartwheel Perks!?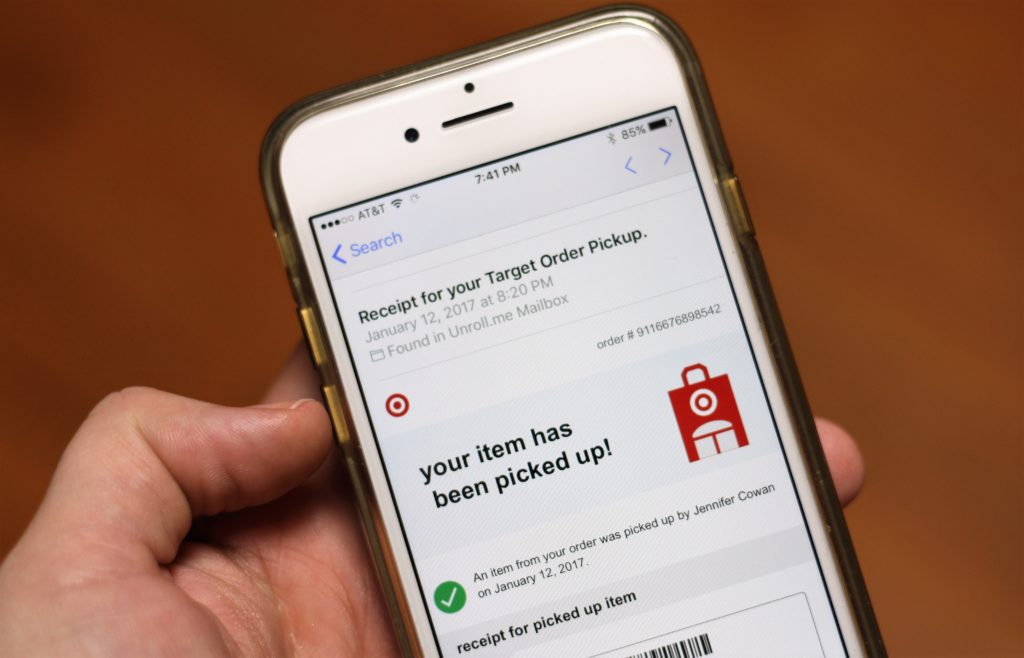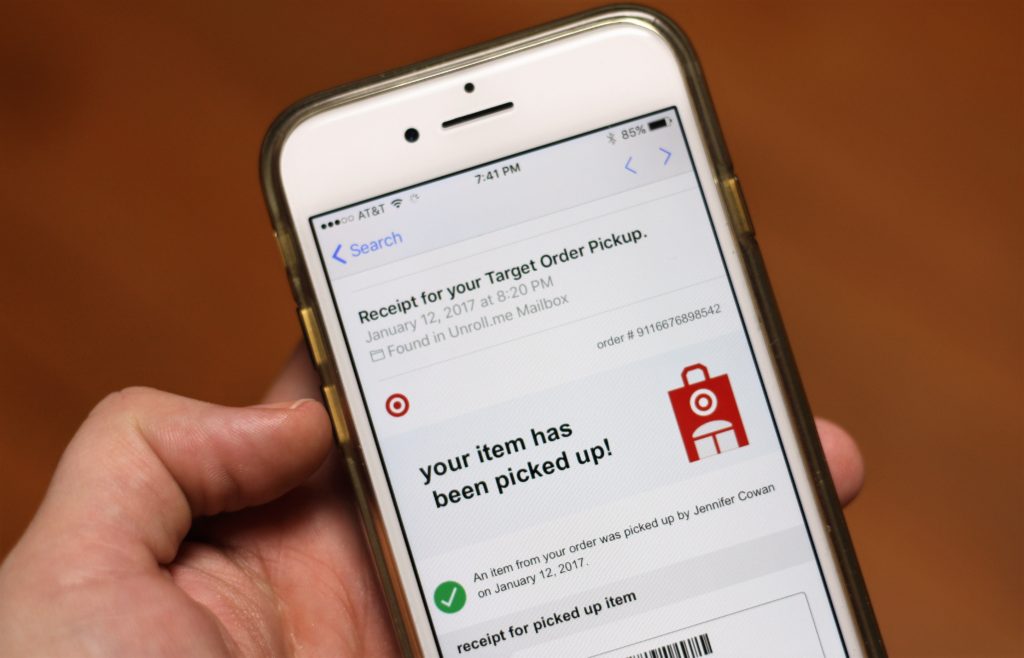 2. Walmart Grocery
– The most amazing FREE service has come to our area.
Walmart Grocery
is officially where it is at! You can order everything you need, zip over to Walmart and they load it into your car. Why isn't this offered everywhere? Be sure to check your area to see if it's available and there is even a $10 off coupon the first time you use it. I haven't tried this yet, but it's on my list this week, so I'm super excited to try it out. My biggest question would be picking produce. I was told that the order pickers have been instructed on how to pick the best produce for you. We'll see how that plays out. I'll share more this week!
3. Meal Subscriptions
– I love meal delivery services for 3 reasons 1) my brain is in autopilot for dinner for 3 nights 2) we have to stay in and eat and 3) it's a great way to get out of a food rut. (Which we're currently in.) We're all creatures of habit, so Taco Tuesday can sometimes need a little switcharoo. We've tried a handful of the services out there, but love
Blue Apron
and
Home Chef
the best. We try to incorporate a these into busy weeks when we know one of us won't be home every night. It's also great because I don't love seafood and it lets my sweet husband prepare shrimp, his most favorite thing to eat, and I don't have to cook one night! These are perfect to have when you gave a GNO or a meeting planned. In addition, we chose the meals as a family so we are all excited in trying something new. We have a Blue Apron box coming this week, so I'm off the hook for dinner this week! The only negative about subscription boxes in general are they can be chop intensive and can use a lot of pots. I'm a one pot wonder kind of gal, so I grumble when I'm chopping all the veggies, but it's all well worth it. Is there a meal subscription service you love?
4. Subscribe and Save with Amazon
. – I've put my basics on autopilot at my house. I absolutely detest going to Costco on a regular basis – usually 1-2 times a month tops is all I can handle. Toilet paper, paper towels, pull ups, all those things I have now added to my
Amazon Subscribe and Save
and I have a package arrive every month with everything I know we'll need for the month. This is the ultimate time saver. Bonus, you save money too setting up the subscribe and save as well as check to see if there are Amazon coupons you can stack on top. I got a months worth of pull ups last month for $9. Crazy savings right there. We have everything from granola bars to deodorant ready to ship. You'll get a notification email about a week before and you can pick if you need to cancel anything for the month. The only person who won't love this is your UPS guy, but if your USP guy is like ours, he's as sweet as can be!
5. Subscription Beauty Boxes
– How often do you go to the mall? I haven't been to a mall in 2 months mainly because I can get everything I'm looking for at home. I'm pro online shopping, but I also love trying new things. Insert Beauty Subscription Boxes. Over the years, I've tried so many, but the one I am loving right now is
Sephora Play
. I've also tried out Birchbox, IPSY, and I'll get the occasional Target Beauty Box that comes available the beginning of the month. Amazon, just started
sample boxes
too, which I have one coming today I can report back on. If that man in your life has a thing for grooming products,
Birchbox Man
is great.
(Affiliate Link)
My hubby has it and he loves getting his little box.
These boxes are full of deluxe size samples for you to try out and then you can pick up the full size if it works out. If you don't love it, no biggie, just wait for the next box. I've found some amazing products this way and $10 doesn't break the bank. Heck, that's 2 lattes. Any other beauty boxes you love to get as well?
So there you have it. A few of my little tips and tricks so that I can have more quiet time and reading time. Are there any things that help automate your life a little bit easier?