I know this may be a shock to most of you but we love to shop. I am sure this is completely riveting information considering we are moms which also makes us girls and pretty much every girl loves to shop. Right?
We love to shop for ourselves but lets get real, kids these days just have the cutest clothes. So cute that we almost can't get enough (not good).
Michelle and I are both moms on tight budgets and when shopping, especially for kids, finding cute but affordable clothing is most important to us. We have narrowed down some of our most favorite places to shop for our kids to round out our week of MWOA Favorites.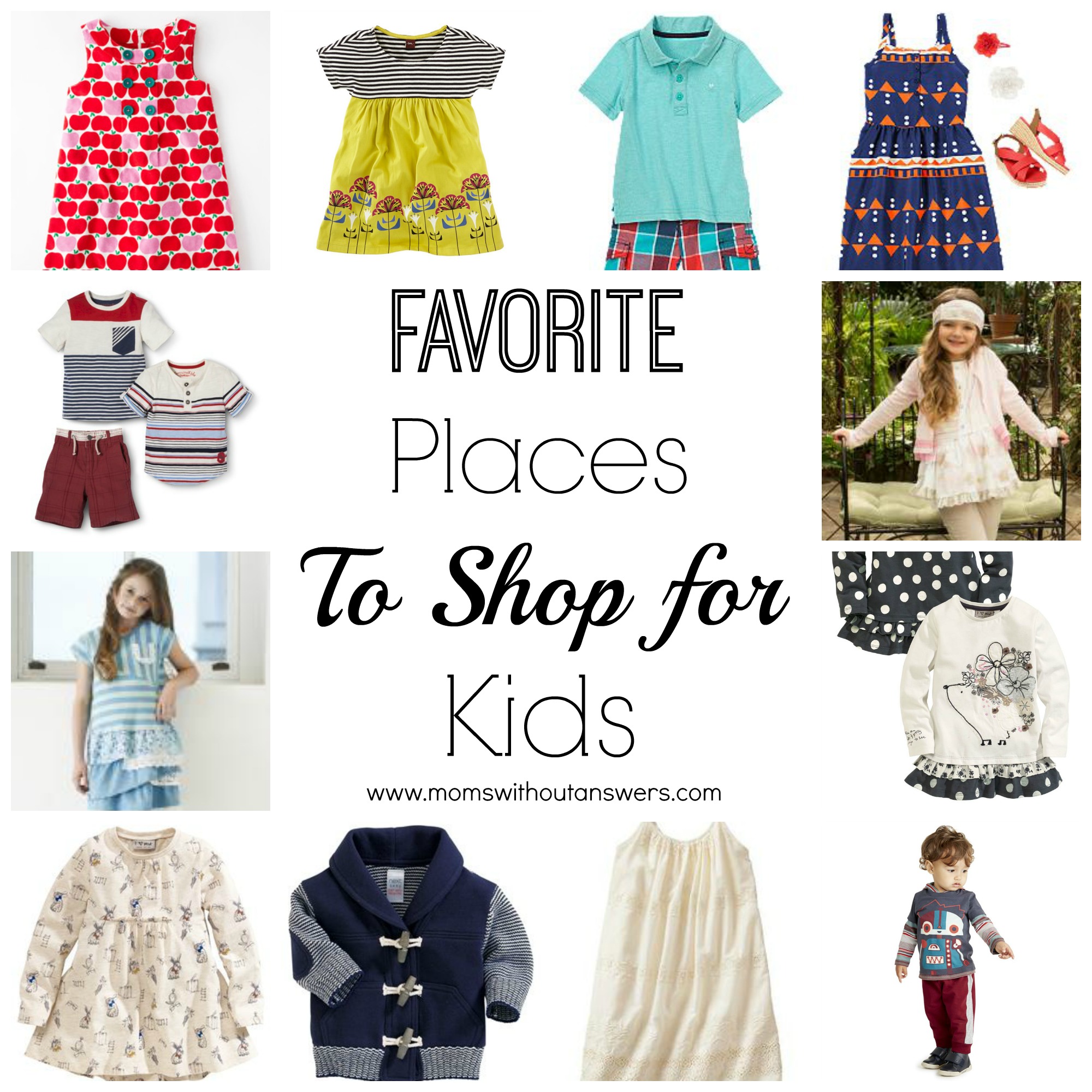 This fun little store is one of Michelle's most favorites but I do love them too. Crazy 8 is full of bright and fun clothes for kids of all ages. They especially have great clothes for boys. The best thing about this shop you ask….the prices. If you are looking for a great sale then you need to sign up for their email list today, you will not be disappointed. Right now I am loving this dress for Eden at Crazy 8 and may just have to pick it up for back to school.
OMG Michelle just introduced me to this store not too long ago and I have fallen in love. Next is a UK born store that is now available world wide online. The clothing at Next is totally unique and very affordable. This little bunny tunic will be a must in one of my girls wardrobe this year! What I love about their clothes is that you can buy individual pieces and pair them with things you already have and you still have a totally unique style. This is a must shop if you do not already!
You would mainly think of Gap as somewhere you would shop for basics but some of my best and cutest finds for my girls has been here. I love that their clothes are classic, simple and are quality pieces. I cannot even tell you how many items I have purchased from the Gap that have made it through all 3 of my children. And can we please talk about the little boy clothes, shut it down. Every time I walk in all I can think is, "man I need a little boy."
We can not do a favorites list with out mentioning Old Navy. Hello, more awesome sales! You really cannot beat the prices you will find at Old Navy. You will find me getting play clothes for my girls here often. Another thing I love about Old Navy is that I can get matching items for my girls without breaking the bank.
5. Mini Boden:
I know, I know this place is not the most affordable but you cannot beat the cuteness factor in this store. The clothes here are unique and one of a kind. If I could afford it my kids would only wear Mini Boden and Tea Collection but alas, I must wait for sales and that I do. Again though with the little boy clothes, I die.
Ok, what Mom does not love Target? Along with Old Navy this is our go to spot for play clothes. You cannot beat the basics table at super low prices. And truth be told, Target pulls out some super cute stuff sometimes that just may surprise you. One of my favorites right now is this dress I picked up for Everly by Genuine Kids. I heart Target. Let's take a moment just to focus on all the love we have for Target.
Hand down, this is one of my faves. I cannot get enough of the bright colors and fun clothes. I cannot tell you a time that I shopped their site that I did not find a million things that we "needed." Tea is also a little pricey but when you shop their sales, they can become very affordable. Right now I am loving this yellow empire dress. What I love most about the clothes from Tea Collection is how comfortable they are. They are soft and not confining and for a picky dresser like Everly I get nothing but thumbs up!
8. Other Loves:
There are so many fun places to shop for kids that we could not completely narrow them down. Throw in Naartijie, Janie and Jack, Zara, Thread (the best kids resale shop ever), and The Hair Bow Company and you will have a great wardrobe that any kiddo and mom would love.
So, now that I have spent so much time window shopping I am going to go empty all of my online carts and get back to the reality that I cannot really afford to buy an insane amount of clothes for my kids at this time. Ok, maybe I will splurge on a few…maybe.
Alright moms we want to know, where do you shop for your kids? What are your faves?
*Please note that these opinions are our own and we were not compensated for any of our opinions or comments. We really do just LOVE these clothes.
Happy shopping!