Ok party people. Last week I was kind of a downer, so today I thought I would flip the switch and share with you a little more about me. And what better way to do that than a little session of obsessions and confessions?!
Let's get started shall we….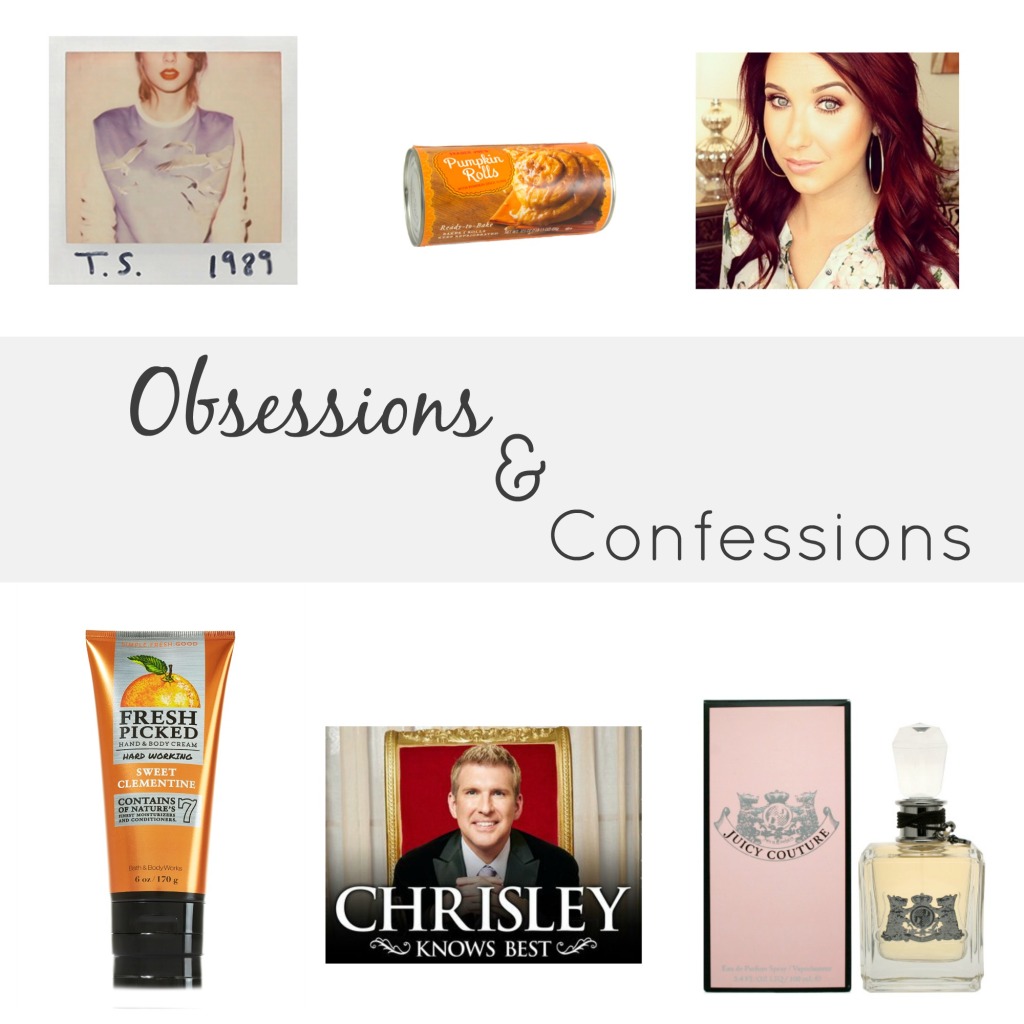 Obsession #1 – Trash TV. I know, I know I have mentioned this before but seriously there is so much good trash on TV. Everything from Manzo'd With Children, Chrisley Knows Best, Million Dollar Listing and my beloved Housewives. I know that I shouldn't watch the junk but I just can't not watch. It is my guilty pleasure. Pointless TV that requires zero brain work.
Confession #1 – I have a serious problem when it comes to smelling good. Like I should seek some kind of professional help. I have to, at all times, have access to perfume, body spray, deodorant, and lotion. The biggest compliment you could ever pay me is that I smell good. Seriously. The problem spills over into my home too. My house needs to smell good at all times.  Candles, wallflowers, room sprays…..I could keep Bath & Body Works in bussiness for sure. Part 2 of this confession is that I do not like, like at all, vanilla and baked good scents. The three F's are more my cup o' tea
Obsession #2 – Since we are talking about smells, lets talk about the two I am currently obsessed with at the momet. Sweet Clementine hand lotion from Bath & Body Works. In all actuality I am always obsessed with this one. I seriously bought an entire stash when I learned it was back in stock. I have a supply in the bathroom that I hope to have for a few more months, but at the rate I go through a bottle, I am not so sure. I am also obsessed with Juicy Couture perfum. I normally wear Kate Spade Twirl or SJP Lovely but they had some Juicy at Marshalls one day for $20 and I picked some up and I am obsessed. I get the most compliments whenever I wear it, which like I just said, makes me one happy happy girl.
Confession #2 – Not really a secret if you watched our Fall Faves video, but I confess that I am single handedly trying to eat all the pumpkin things. Pumpkin rolls, pumpkin o's, pumpkin butter, pumpkin bread, pumpkin bars, pumpkin granola, pumpkin coffee. If it has pumpkin in it, rest assured I will eat it. I confess that I will also need a trainer to work all this pumpkin off come December.
Obsession/Confession #3 – Let's start killin'  two birds with one stone shall we? Taylor Swifts new album?! OBSESSED. I know there are lots of T Swift haters, but I happen to love her. My confession?? Clearly I am a teenage girl. Seriously though are there no other mams that love Taylor?
Obsession/Confession #4 – Two words for you….Jaclyn Hill. Don't know who that is? We can't be friends. Seriously though I am obsessed with her You Tube channel and I confess that I spend way too much time watching her make up tutorials. As in the other night I spent over 2.5 hours binge watching.
What are some things you have been obsessing over lately??