My twins are almost 21 months old and they don't really have that big of a vocabulary, so it always amazes me that two of the words they know and use on a daily basis are "No" and "Mine".
Isn't it funny how kids just know these things?
At first I was a little alarmed that they were being rude, but that is when I realized I had forgotten about the Rules of Toddlerhood.
There are so very many rules when dealing with toddlers, and truth be told they are always changing.
Here are a few key things to remember though when dealing with a toddler.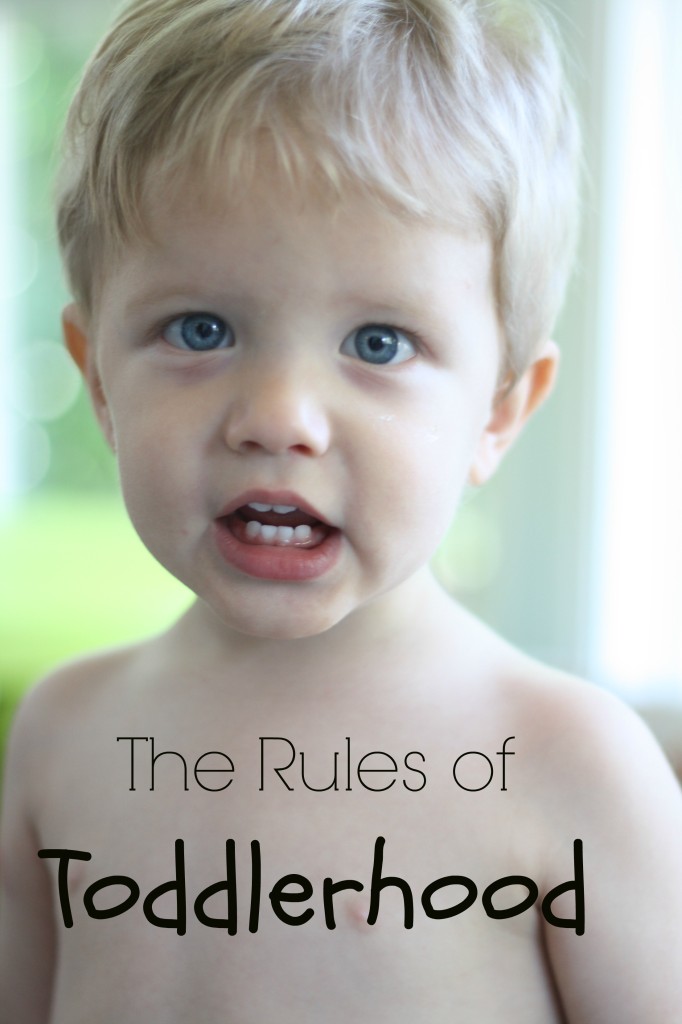 The Rule Of Mine – This one is a tough one, but essentially it can be broken down like this. If I like it, it's mine. If I was playing with it before, it's mine. If it looks like mine, it's mine. If we are playing and you put it down, it's mine. If we are playing blocks, all the blocks are mine. If it's broken, you can have it.  If there is ever a question about whose it is, it's mine.
The Not All Words Translate Rule – Toddlers have their own unique language and it seems that not all words translate. These words are, but not limited to: "No touching", "Just one", "Don't put that in your mouth" and pretty much any other phrase that is going to start with no or don't.
The Potty Conspiracy Rule –  No, this has nothing to do with actual potty training. That is a whole other conversation. No, the potty conspiracy refers to the strange phenomenon that occurs during meal time. For example, you are out to dinner with your family and the moment the food is brought to the table….BAM your toddler will need to use the potty. It won't matter if they went in the last 5 minutes, before they left the house or really if they even use the potty at all.  Some how, some way, they need to use that potty. This rule also applies at home. Family gathers around the table and the second the plate is in front of them, or even more common, once mama sits down to eat, mother nature will call and off to the potty you will go.
The Mama Rule – This is another tough one but it pretty much encompasses the following: If mom is on the phone, need her desperately. If mom is trying to get some kind of chore done, follower her around the house crying loudly and demand to be held. If mom dares to try and go to the bathroom, quickly get into as many things as possible.
Like I said mamas, these rules are always changing, but in my experience these four have given me a better glimpse into the mind of my toddler.
And if you are more of a visual learner, allow me to break it down for you.
Toddlers =