As you know, we love the Disney life! There is no vacation that I love more than spending several days at Walt Disney World enjoying our most favorite rides, experiences and FOOD. At this point, I would say that I consider us Disney World pros. We have experienced every park, every ride and pretty much every restaurant!
Over the years, we have definitely created a list of our most favorite things. Our list is full of all of the popular rides and parks but there are several things on that list that we always have to do and CAN'T MISS! Some of these experiences are at the parks, some are at Disney Springs and some you may not even know exist.
So, when planning your next Disney World vacation be sure to add these Top 10 Can't Miss Moments at Walt Disney World to your itinerary. I promise, they will not disappoint! I have also included an awesome Disney Daily Planner for you to make your planning even easier.
Disney Parks and Experiences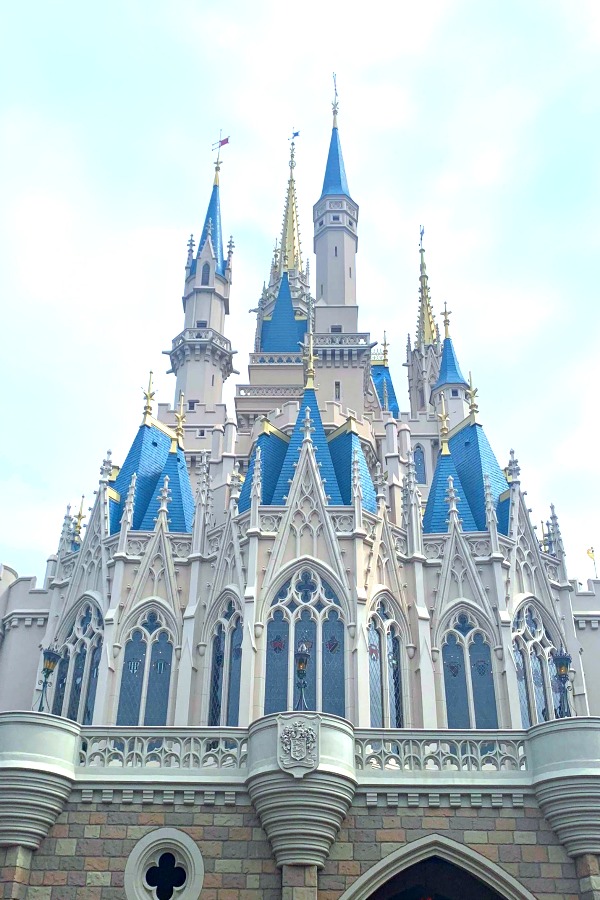 Disney's Typhoon Lagoon Waterpark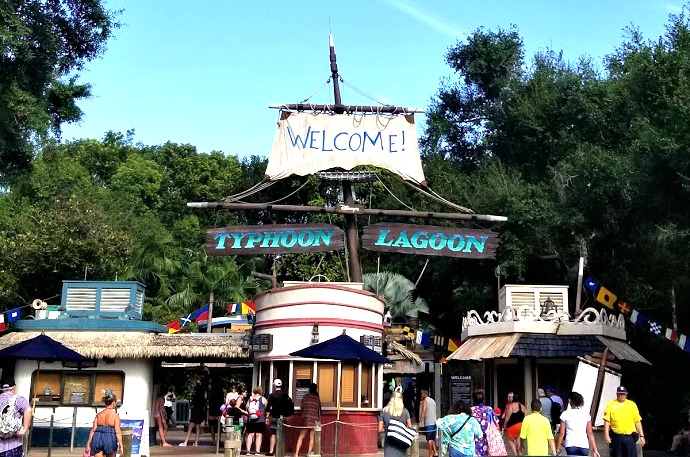 If you have not experienced one of Disney's waterparks you are totally missing out. This past summer we finally went to Disney's Typhoon Lagoon Waterpark and it was AMAZING! Typhoon Lagoon is full of Disney magic while taking you into a tropical oasis. Also, the rides are over the top awesome! Be sure to add this to your list of must do's while on your next Disney World vacations.
NBA Experience at Disney Springs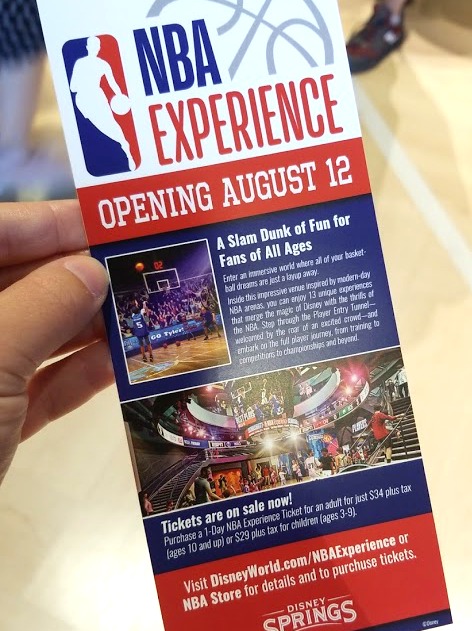 The all-new
NBA Experience at Disney Springs
is brand new and so much fun. While you are visiting Disney Springs, be sure to check out all of the amazing activities they have. You can set yourself up a profile and literally be immersed into the world of an professional NBA athlete. All of the activities are perfect for the entire family. It's definitely an experience we will do again!
Disney Wilderness Explorers at Animal Kingdom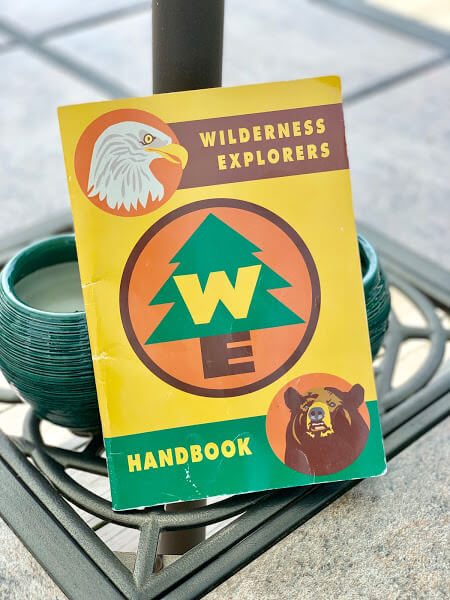 The Disney Wilderness Explorers experience at Animal Kingdom may be one of the funnest overlooked activities in all of Disney World. Have you heard of it? In Animal Kingdom you can pick up a handbook at any of the Wilderness Explorers stations and start working toward earning badges. Through this experience you get to see parts of Animal Kingdom you may other wise miss. The best part about this experience is that your kiddos take the lead and they will absolutely love it! Check out more about the Disney Wilderness Experience here. My friend Leah from Five for the Road tells you everything you need to know to make the best out of this experience.
Splitsville Luxury Lanes at Disney Springs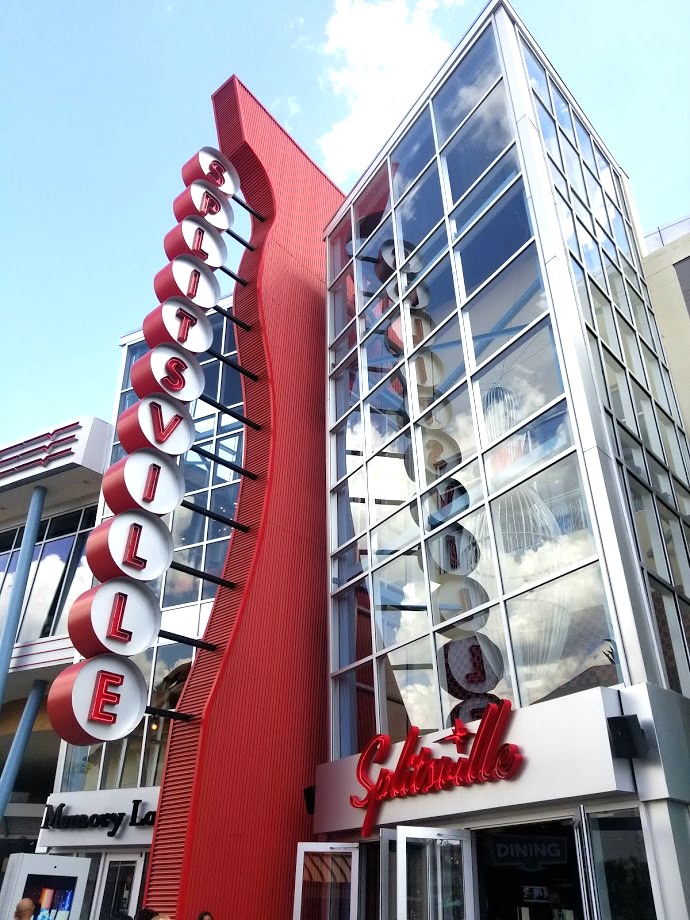 I always suggest taking a day during your trip to Disney to enjoy the fun at Disney Springs and at surrounding Disney resorts. One of our favorite things to do is to enjoy Splitsville Luxury Lanes at Disney Springs. This bowling alley definitely takes bowling to the next level. The food is delicious and the fun is endless. It's the perfect place to enjoy time as a family and have a day of fun.
Minnie Van Service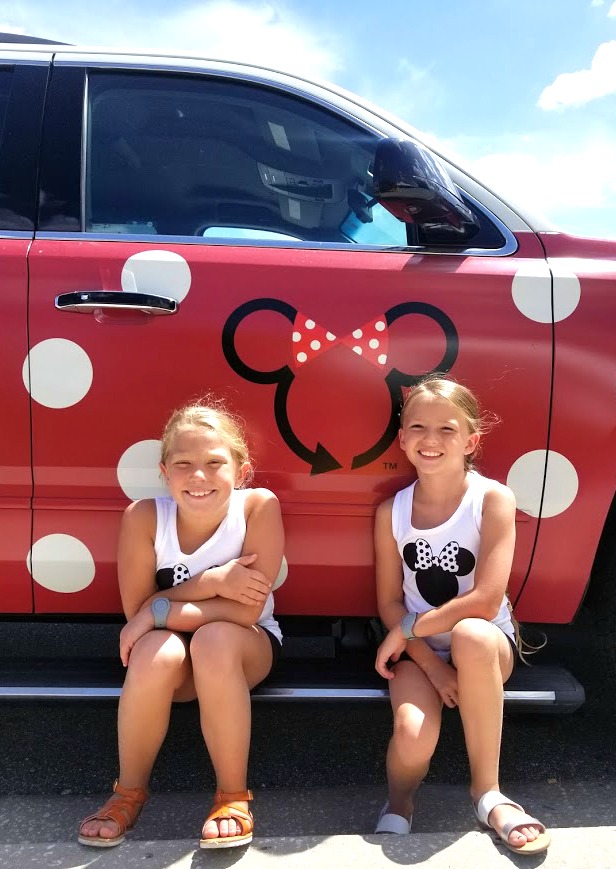 Disney has always done an amazing job of providing transportation for it's guests while on location at Disney World. But, with the addition of the Minnie Van Service they have again taking it up a notch. What we love about the Minnie Van service is the relaxing drive from location to location. It gives parents a moment to stop and breath while the kids celebrate being inside of an an actual Minnie Mouse car. It is so much fun and definitely makes traveling around Disney World even more magical!
Must Eat Food at Disney World
It is no secret that I absolutely LOVE Disney food. Part of the magic and fun of Disney is trying all of the amazing treats and food that Disney has to offer. Although I have many favorites I narrowed it down to my top 2 for this post. These two items are always a must eat while at Disney World for me. In all honesty, I am known to eat both of these on each day of my vacation!
Heirloom Apple Salad at the Grand Floridian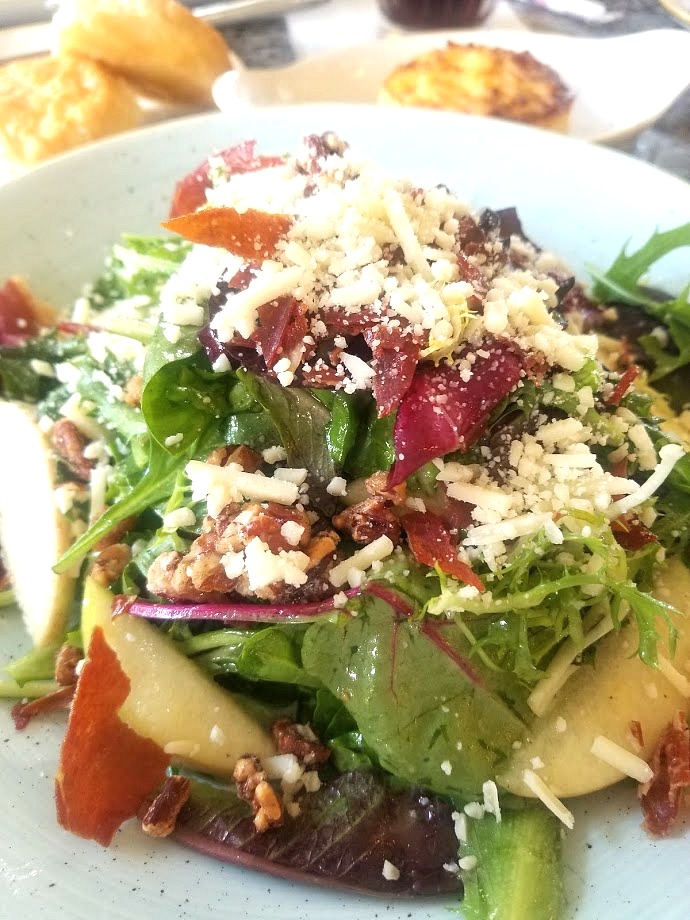 Some of the best food in all of Disney can be found at the resort restaurants. For me, my absolute favorite meal in all of Disney is this Heirloom Apple Salad at the Grand Floridian Cafe located at Disney's Grand Floridian Resort and Spa. This salad is not something I would usually order but was one suggested to me by our waitress. You guys, you guys….this salad is the perfect combination of salty and sweet, tangy and delicious. It is packed full of flavor and I cannot get enough of it. When making your dining reservations for your next vacation, add the Grand Floridian Cafe to your list. It is hands down one of the best restaurants in all of Disney World. I promise you will love it!
All American Sundae from the Plaza Ice Cream Parlor on Main Street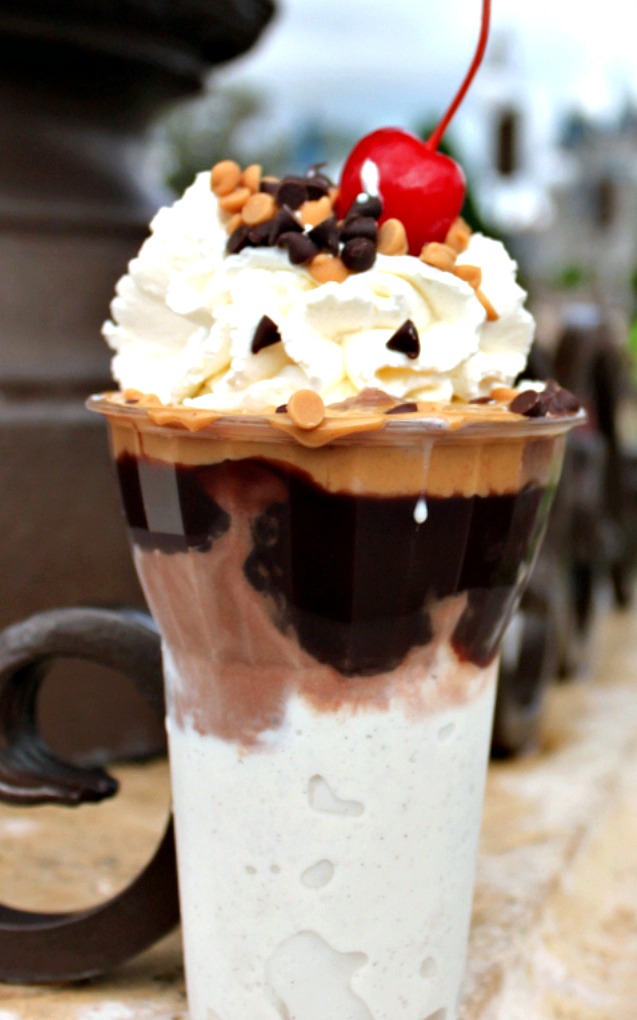 The next time you walk down Main Street in Magic Kingdom, make sure you stop by the Plaza Ice Cream Parlor. You will find the ice cream parlor on the corner right before you get to the hub grass. I am giving you very clear instructions so you do not miss out on this deliciousness. When you get there, promptly order the All American Sundae. I always order mine with only vanilla ice cream but I hear the chocolate is also delicious. But, let me tell you what is the absolute best part of this sundae, the peanut butter sauce. Oh. My. Word….when I say that this sauce is delicious, it is an understatement. Do yourself a favor and don't miss out on the Plaza Ice Cream Parlor, it will definitely become one of your favorites as well!
Disney World Rides You Can't Miss
For anyone planning a trip to Disney, there is always a list of rides you must not miss. The classics and most thrilling. Our list always includes the Seven Dwarfs Mine Train, Splash Mountain, Slinky Dog and so many more. These rides are definitely some of the most popular and ones that we fight to get Fast Passes for. But, we have a few rides that we can never miss that may sometimes get overlooked by others. Trust me when I tell you that these rides are classics and ones that you want to move to the top of your list to never miss out on as well!
Mickey's PhilharMagic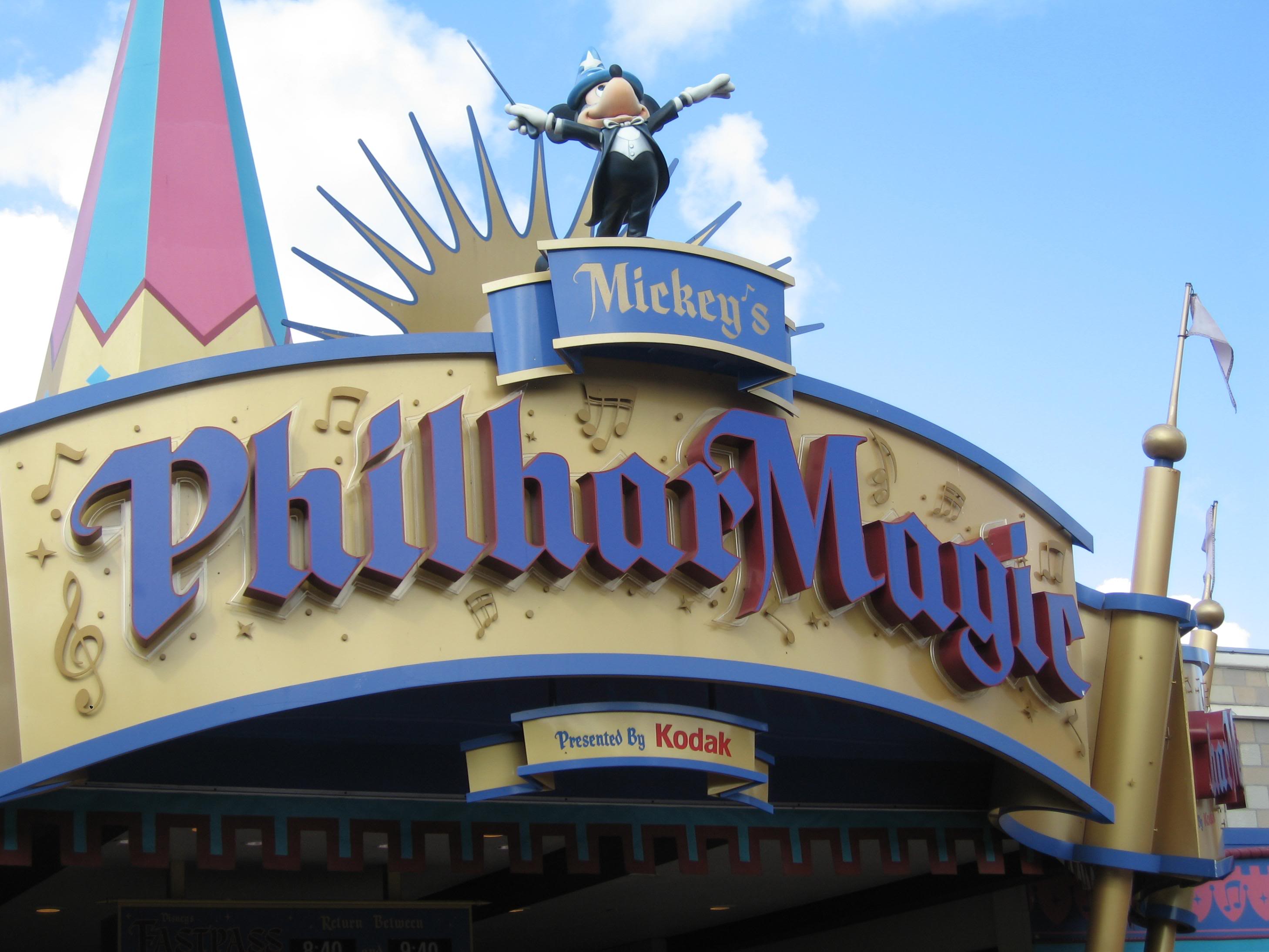 Mickey's PhilharMagic is located in Magic Kingdom nestled between Cinderella's Castle and Prince Charming Regal Carousel. This "ride" is actually a 3D show full of classic Disney movies. Donald Duck is the star of this show and gets himself into all kinds of trouble throughout the film. This experience is one you do not want to miss. The line is never long, the building is air conditioned and the film is hilarious. This is a great spot to slip into on a rainy day to help stay dry. Don't forget to add this ride to your Disney Planning list today.
People Mover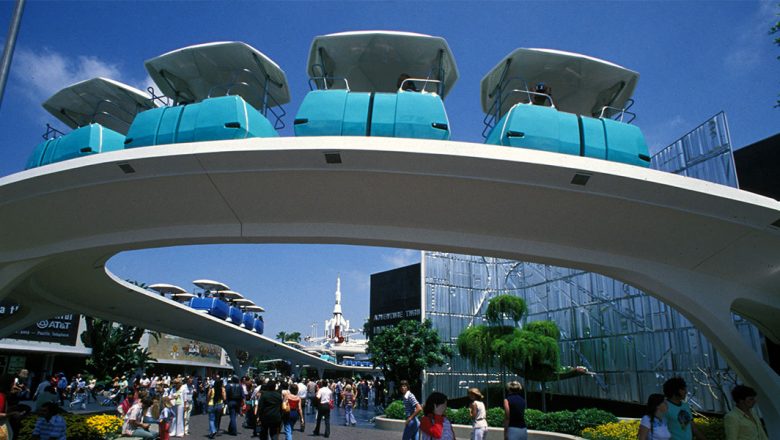 The Tomorrowland Transit Authority People Mover gives you an up-close view of Tomorrowland you cannot see anywhere else in the park. This ride is a narrated tour that allows you to see the prototype of Epcot as well as inside many of your favorite rides in Tomorrowland. As a mom, I love that this ride is a slow journey that gives the kids a bit of down time before conquering the rest of the day.
Walt Disney's Carousel of Progress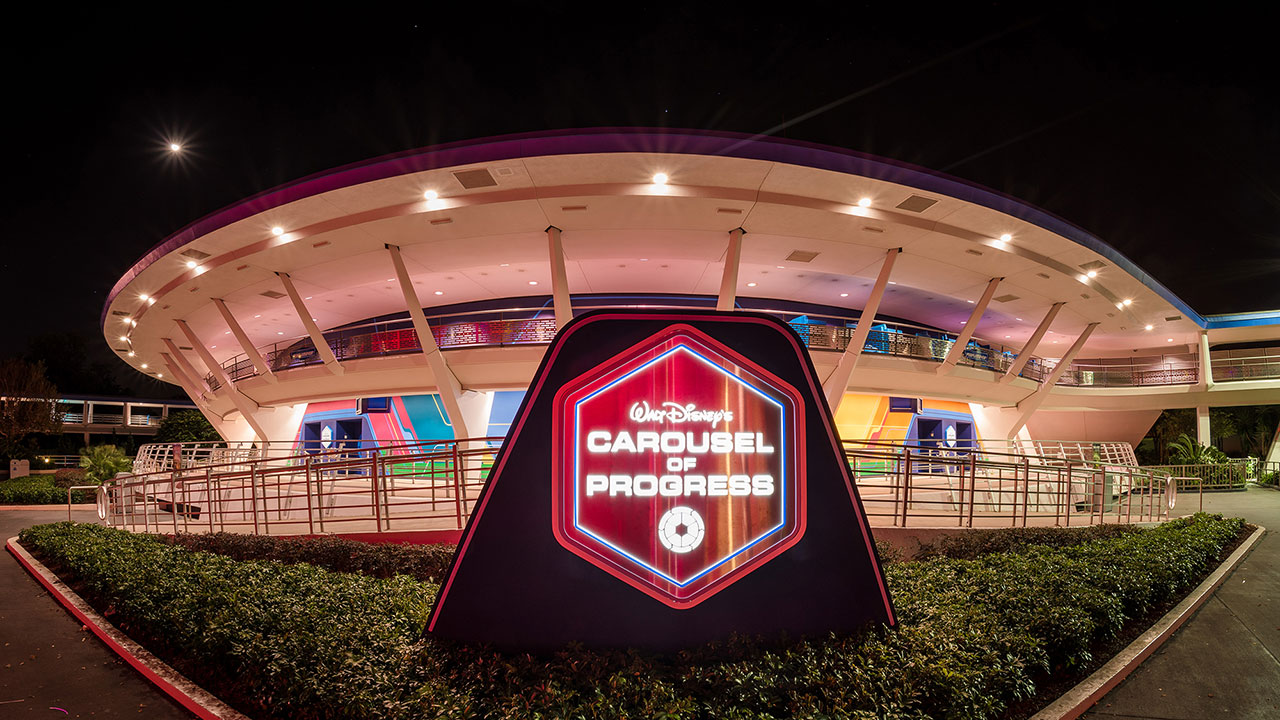 Walt Disney's Carousel of Progress is an ultimate Disney classic. Walt Disney was always on the cutting edge of technology and desired to show the progress made over time. This attraction was first at Disneyland until being moved to Magic Kingdom in 1975. This is another great ride to jump on during a rain storm. This ride is again inside and never has a long line. Don't forget to add it your plan as well!
Disney Daily Planner
Any time you head to Disney, it is so important to have a plan! Although we have been to Disney World on several occasions, we always create a plan so we do not miss our favorite attractions, rides, experiences and food while we are there. To help you make your trip everything you dream it to be, I have a Disney Daily Planner for you. With this Disney PLanning Spreadsheet you can plan out each day and make it perfect for you. Once you decide what park you will be at each day you can add your Top 5 Things to Do (rides, experiences, etc.) and your MUST try food at that park. Click on the image below and print out your planner for your Disney World vacation trip!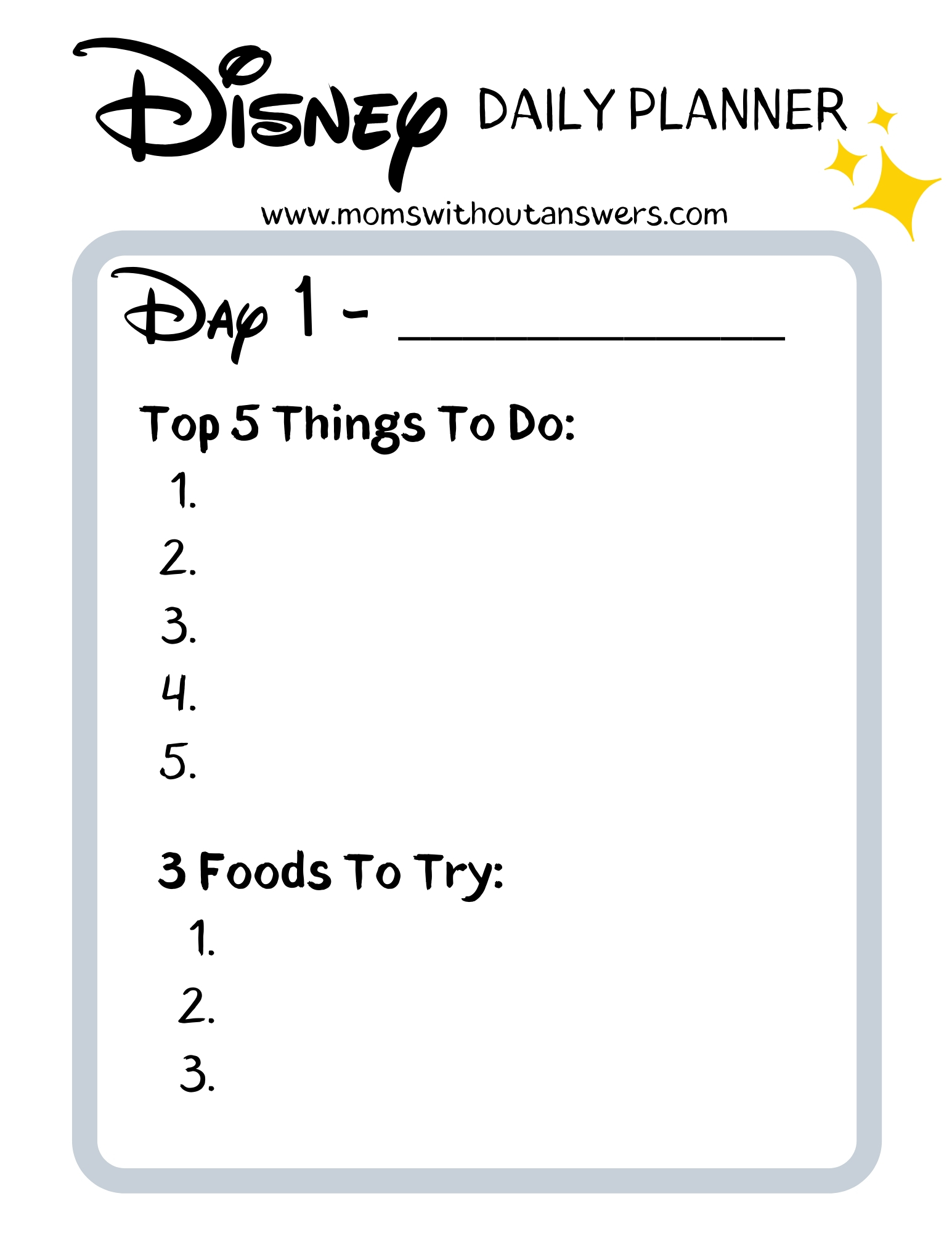 I hope you and your family love these 10 Can't Miss Moments as much as we do! Add them to your list to ensure your Disney vacation is even more magical!
Comment below and tell us what moment you can't wait to try first!