I know, I know these look like regular rice krispie treats but I promise they are not! Earlier this week, after being shut in for days from all of the rain, the girls and I decided it was time for a special treat. A friend of mine shared a similar recipe to this with me a while ago and I knew we needed to try it. This was the perfect time!
You guys, who knew changing up one little recipe that has been delicious for years could make this treat even better. Let me introduce you to the wonderment that is Browned Butter and Sea Salt Rice Krispie Treats!
Once you eat these with browned butter you will never go back!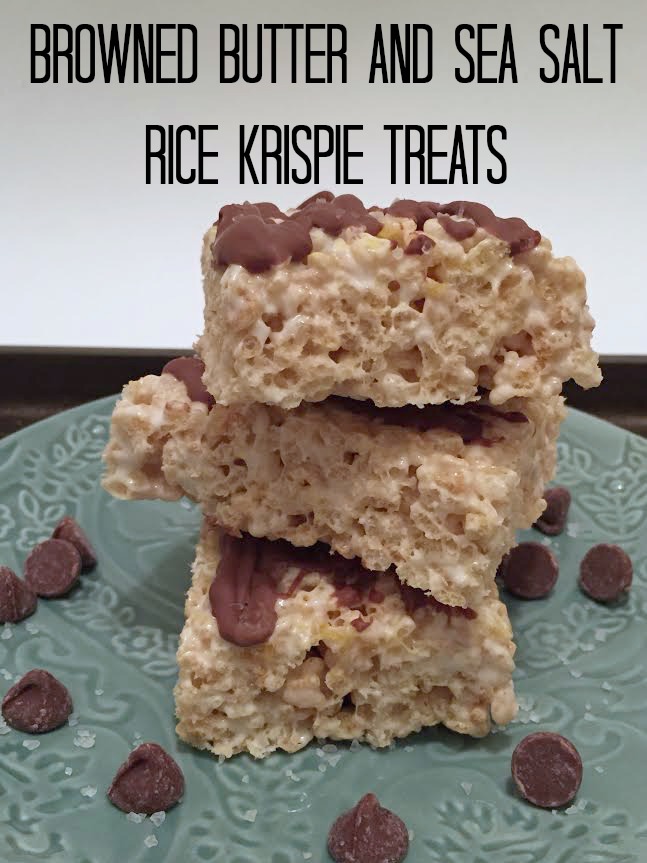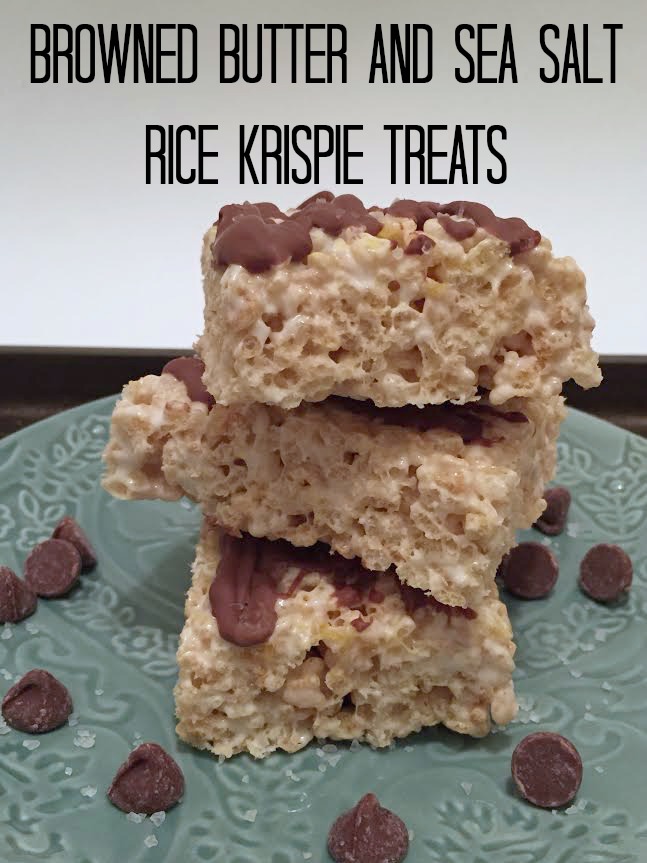 Ingredients:
1/2 cup of butter or 1 stick
1 10-ounce bag of marshmallows
1/2 teaspoon of coarse salt
6 cups of Rice Krispies cereal
1 cup chocolate chips
Non-stick cooking spray
9X13 inch cake pan
Directions:
In a large pot over medium heat start melting your butter. Your butter will melt, then start to look slightly foamy, then you will see it start to get more clear and then you should start noticing the smell change and be a bit more nutty and the butter will start to turn brown. Be sure to stir your butter consistently and to scrape off the "bits" that start to form on the bottom (this helps with flavor). Watch your butter very carefully though as it is changing colors, it can go from brown to burnt very quickly.
As soon as your butter is nutty and brown turn off the heat and add your marshmallows. Stir your marshmallows while they melt and get completely coated in the yummy butter.
Once the marshmallows and butter are melted together, add your seas salt and Rice Krispies cereal. Once they are mixed well pour them into a 9X13 inch coated cake pan and spread the cereal mixture out evenly.
Allow your treats to cool about 15 minutes.
Once your Browned Butter and Sea Salt Rice Krispie Treats are cool it is time to add the finishing touch. Melt your chocolate chips in 30 second increments in the microwave until completely melted and ready to drizzle.
Slowly drizzle your melted chocolate over the rice krispie treats and let cool!
Now, cut into squares and enjoy!