Alright mamas, get yourself a cup of caffeine and get comfy because today we are gonna chat about something important. Let us not pretend that we don't live in a world where our phones pretty much control our lives. It is 2015, and it is what it is. While I do believe there is such a thing as spending too much time on your phone and that it can be a distraction to daily life, I also see the value in cell phones and know they have a lot of advantages too. Since our Must Have Toddler Apps post was so well received, we thought it was high time we dove into the big topic……the Must Have Apps For Moms.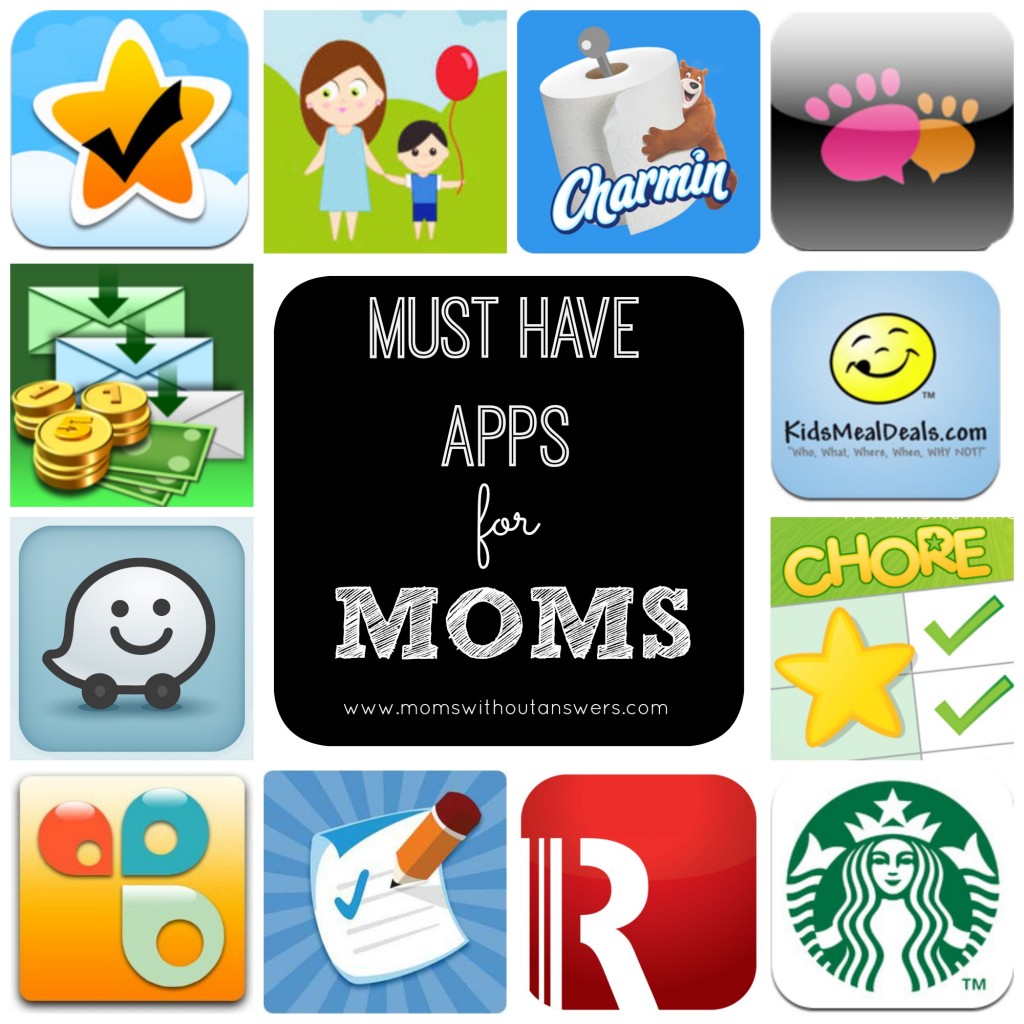 There are about 80 bajillion apps at our disposal these days, and that number keeps growing. Aside from the usual apps we all know and love – hello Pinterest, Instagram, Facebook and Twitter…..there are some really amazing apps that can really make you feel like you run the world.
To make it a little easier on all you dear mamas, I decided to break my roundup into categories. And those categories would be……
TO KEEP YOU ORGANIZED, TO KEEP YOU ON BUDGET & TO KEEP YOU SANE
All pretty much essential to motherhood I think, and after doing some research and chatting with fellow mama friends I think I have found some pretty awesome apps that may just change your life!
Let's jump right in shall we…..
TO KEEP YOU ORGANIZED
– Home Routines – Take charge of your household jobs by creating checklists for a cleaning routine. It may not be the most glamorous of things, but it is always most needed when you are chasing kiddos. Set reminders to complete certain chores, set timers for speed cleaning and when you have completed a task give yourself a pat on the back, or in this apps case, a gold star.
– Cozi -Effortlessly manage your family calendar, shopping lists, to do lists. Create a calendar that you can share with your family, add new appointments and meetings, update grocery lists and more.
– Chore Pad -Chore Pad is a tool for motivating kids to complete chores. Each child completes their assigned chores to earn stars which are redeemable for rewards that you create.
TO KEEP YOU ON BUDGET
– Budget Touch -Budget Touch is a lot like Dave Ramsey's system as it uses the envelope model of budgeting. You can set aside money for your standard expenses, then know how much you have left. Enter your expenses, and view your account and envelope balances all while on the go.
– Mint – Another app to manage your money, the Mint app pulls in all your personal finance accounts and investments into one place, so you can track your spending, create a budget, receive bill reminders, and save more money. You can also check your credit score for free.
– Red Laser – The ultimate bargain hunter, the Red Laser app is designed for you to simply scan a products barcode and then the app will help you find the best prices, coupons, and deals for all your favorite products and stores, online and locally.
 – Kids Meal Deals – Another great money saver, this app is designed to provide it's users with localized information about kid-focused dining promotions. So essentially it will use your phone's GPS and then tell you all the places your kids can eat FREE that evening. Perfect for nights when you are on the run or just don't feel like cooking.
– ThredUp – A favorite of mine for a few months now is this amazing ThredUP. It is the leading online shop to buy and sell like-new women's and kids clothing. Shop brands you love at up to 90% off retail (like Zara, J. Crew, Tory Burch), and earn money for clothes, shoes, accessories and handbags you're no longer wearing. They always have amazing promotions and coupons and I have snagged some pretty amazing deals for my kiddos thanks to this app.
– Target Cartwheel – I mean, it should go without saying but DUH…. Of course you need this in your life. Target is essential in a mamas life, and saving money at Target is always a good thing. The husband won't get suspicious of the biweekly trips if it is saving him some cash money.
– Amazon – Another no brainer for me is the Amazon app. Pretty much everything you could ever need right at your fingertips. And prime shipping?? Been saving me on last minute gift ideas for the last 3 years.
And last, but certainly not least, the most important one for all mamas…..
TO KEEP YOU SANE
– Sit Or Squat – This app name had me cracking up, but seriously it is genius. How many times have you been out and about and all of a sudden from the back seat you hear the " Moooooommmmyyy" and know exactly what it means?! SitOrSquat by Charmin can help you find public restrooms near you. You can search, view, rate and add public restrooms to help you, your family and others enjoy the go, on the go.
– Mom Maps – This is going to be my new go to app on those days when boredom strikes and we just have to get out of the house. Mom Maps is an online data base of all kinds of kid friendly places within your area. Search the extensive list of parks, playgrounds, restaurants, museums and indoor play areas, as well as reviews by parents, for parents. Life saver!
– Mama Bear – The perfect solution for family safety. MamaBear app provides news about your child's physical and virtual activity. Encourage larger boundaries for your kids while having peace of mind knowing more about their location and social activity. This will be my new best friend come next year when my oldest enters Jr. High.
 – Beach Relax – Need a vacation? Or a sleeping toddler? Take a chill out moment and relax to the sounds of the waves. Weather it's to help with nap time or to get you a moment of zen, this app is 100% needed for your mommy sanity.
– Waze – Channing introduced me to this amazing map app. Waze helps you get to your destination in the quickest amount of time. With real time traffic updates from users and accident reports, Waze will reroute you to get you where you need to be as quickly as possible. Not being stuck in traffic with a car full of crazy kiddos? That is winning in my book all day long.
– Starbucks – Because….COFFEE. All the coffee.  It keeps this mama sane for sure and with the ability to reload gift cards through your app you can also stay on budget and perhaps set a weekly or even monthly coffee allowance.
And there you have it mamas, a little list of must have apps for moms. Something we left off our list?Leave a comment below and share your favorite mama must have app.