Congratulations Parents, we are successfully well into another school year and are well on our way to the holidays!  Give yourself a big ole pat on the back.
Although the school year is (hopefully) going great we are already in need of a few gentle reminders. A quick review if you will,  in order to make your school day run a little more smoothly.
This is the time of year when all parents/grandparents/nannies/au pairs and whoever else needs to be reminder of proper school drop off and pick up line etiquette.
Consider this a PSA announcement for all of you who may or may not realize that you are being a complete inconvenience to those of us who ALSO have children that we are trying to get to and from school.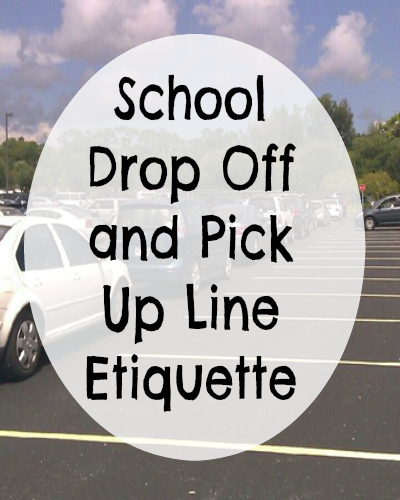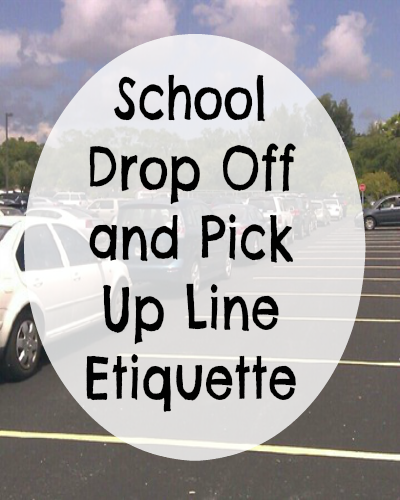 Drop Off line Etiquette:
1. Please, please for the love of all things nice, think before you buckle! This one is super easy all you have to do is buckle your child on the passenger side of the back seat. When you do this it will allow your child to just unbuckle and jump out. This also eliminates you having to get out of your car.
2. Backpack in hand! Now that you have your sweet little one in the appropriate seat lets talk about backpack placement. You are only in the car for a hot minute from your home to the school so why make is so hard on yourself and put your child's backpack in the TRUNK?? Come on folks just think about it, the backpack is in hand your child is ready to go and YOU DO NOT HAVE TO GET OUT OF THE CAR!
3. Practice the Jump and Close rule at home! Before heading off to school talk with little Johnny about how he will exit your vehicle by showing him the  move called the jump and close. It's a swift jump out of the car and a swipe of the arm to shut the door. It's as simple as that!
4. Accept the Jump and Close! Here is where it may get a little tricky for you. Now is the time where you will have to accept the door closing which will then again NOT require YOU to exit your vehicle. You can now simply wave, smile and drive off into your day.
5. This may be a little harsh but Moms, Dads, grandparents who ever you are we are in October! Your child has been going to school for 3 months now and I promise they know the path from the car to the door of the school. Heck, it is only a few feet and you can still SEE them. It is time to let them walk to the door alone. That means without you. They can do it and I promise, you can too!
And, YOU DO NOT NEED TO GET OUT THE CAR.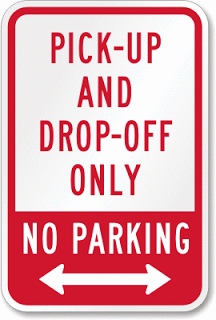 And now for Pick up Line Etiquette:
6. There is a line and a process. We all know that your child is super special but news flash, ours is too. Please wait patiently in the line and know that we all have the same goal of picking up our children. The pick up line at school is not the place for your uncontrollable road rage. Save that for the highway please and wait patiently.
7. When in the pick up line please PAY ATTENTION to what is going on around you. Although we are now all waiting patiently we do not wish to wait an extra 5-10 minutes because of your phone obsession and the fact that you have lost all train of thought on where you are.
PAY ATTENTION!
8. If you are picking your child up at the door please, please get there a little early to be ready to grab your kiddo and go.
Again, we are all waiting for our children and every time you are late we wait!
9. Alright, here is the big one! BEFORE your child starts school TEACH them to BUCKLE themselves. Enough said so please just do it!
10. DO NOT GET OUT OF YOUR CAR!!!!
I hope this tidbit of information is helpful to you in your future drop off/pick up adventures!
Let's all unite and make this world a better place one school day at a time!