Haaaaay guys!! I am so so excited to be one of the contributors here at MOMSWOA. I gotta tell you I am so honored and pumped to be working with some of the best moms in the blogging business. So lets jump right in shall we? I am Elly Brown and I will be covering fashion and beauty, can I get a what, what?? Although I am a mommy of two boys, I love all things pink and sparkly! To kick off this new journey lets talk about Spring Trends!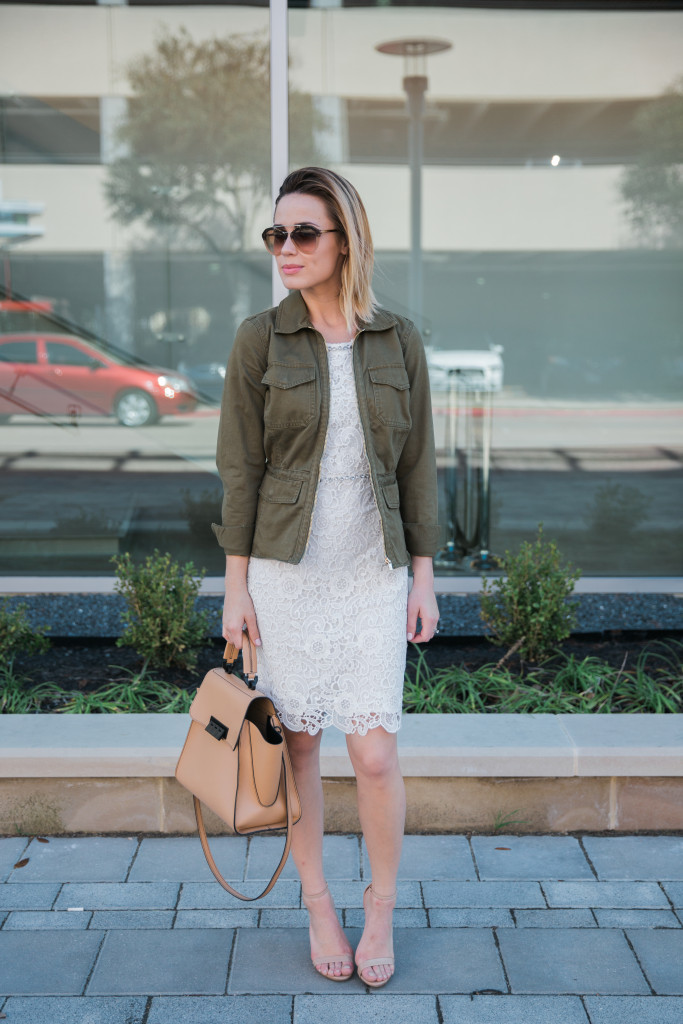 Get this look: Lace Dress | Utility Jacket | Heels | Bag | Sunnies
Look #1. Let me start off by saying that this is not a new look, but this look is perfect for Spring. The lace dress with the utility jacket is the perfect combo of tough and sweet! A look like this is right up my alley! If you're feeling even more brave, you can also add black booties for a bit of edge!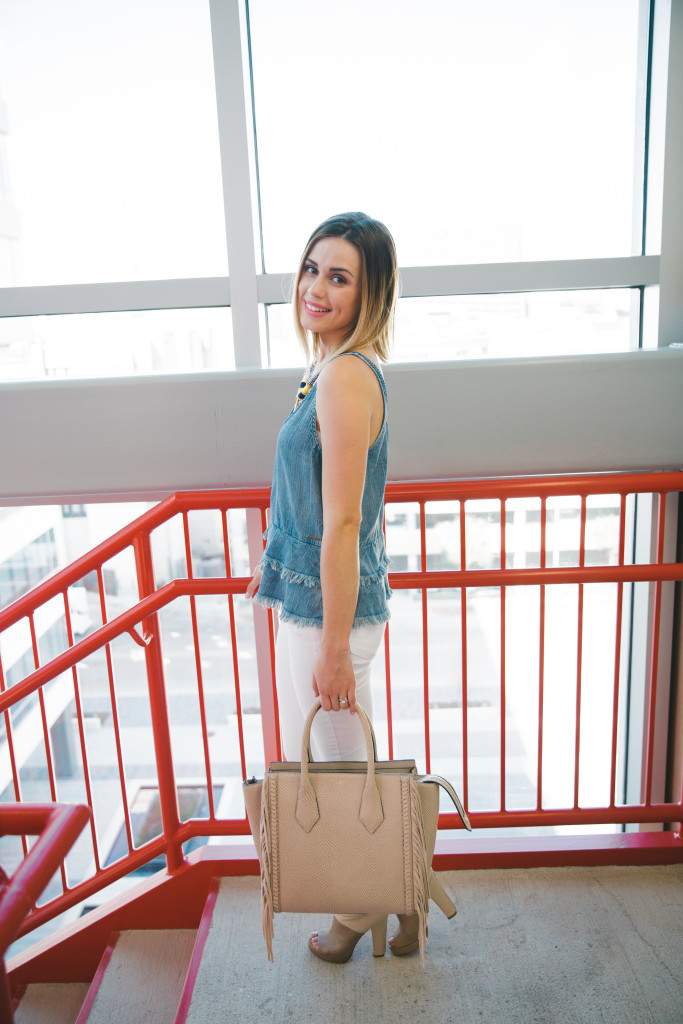 Get this look: ℅ Top | Jeans | Shoes |℅ Necklace | ℅ Purse
Look #2. Denim on Denim. Nothing says Spring like a white denim look! Denim on denim looks great all year round! For warmer temps you can opt for a denim tank or short sleeve like I did here. Also still huge this Spring is fringe! Love the fringe details on the bag as well as the top.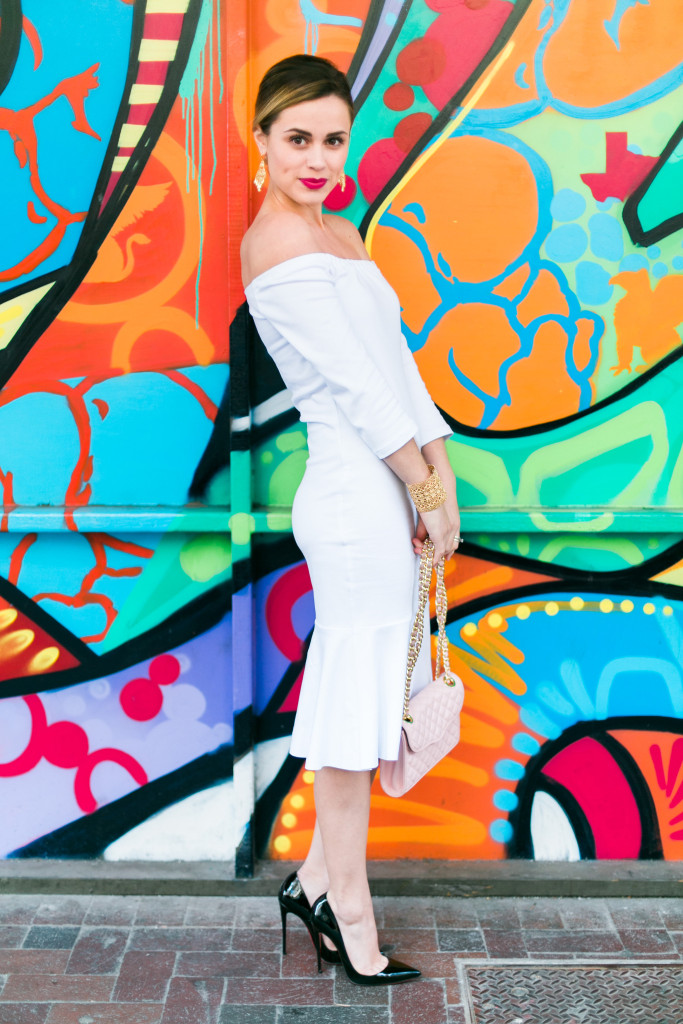 Get this look: ℅ Dress | Bag | Heels | ℅ Earrings and Cuff
Look #3. This season you will see TONS of off the shoulder tops (that were also big last year) as well as peek-a-boo shoulder tops. I love this dress and love the peplum detail on the bottom of the dress!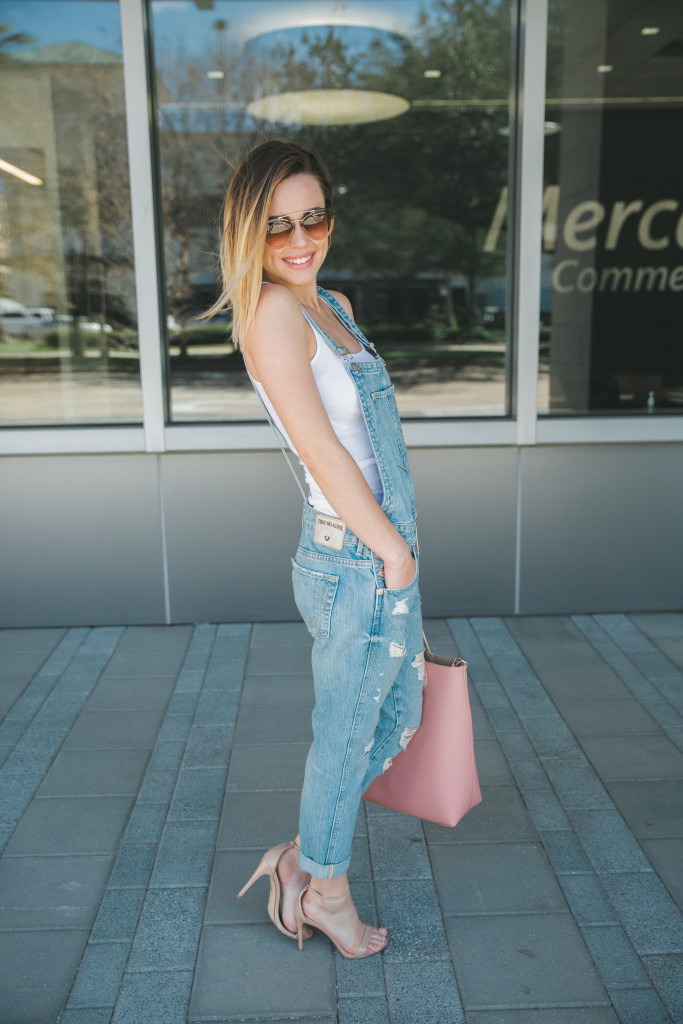 Get this look:℅ Overalls | Top | ℅ Tote | Sunnies | Heels
Look #5. One word – Overalls. Not much more to say about these, but who remembers these back in High School? My sister and I would actually wear them completely undone on the top half or with only one strapped hooked (ghetto fabulous anyone?) Overalls look great with heels or flats. Try to keep your top underneath minimal. Overalls in themselves are already a statement so you don't want to over do it. Do NOT be afraid of overalls, you can rock them!
That's it for a round up of Spring Trends! What are you most looking forward to this Season? Comment below! Also, I would love to hear more from you and what you would like to see more of!! Thanks for stopping by guys and have a terrific Tuesday! xoxo!