I have a confession to make:
I love an all white kitchen.
White granite, white cabinets, white subway tile; it all makes me feel like that emoji with the big heart eyes. Pair all of that sparkling white with stainless steel appliances and you've just whipped up my dream kitchen scenario (and, yes, I have a toddler!).
Sadly, many people find an all white kitchen to be sterile or devoid of character but I am here to show you the light (the bright, white light). If you find yourself in a home with an all white kitchen or are feeling like your stainless appliances are feeling a bit 'hospital chic', there are many quick, cheap tricks to warm up the space.
So today I'm sharing 4 super simple and cost effective ways to warm up an all white kitchen, directly from my kitchen renovation project.
1. Pops of Color
Adding a pop of color – especially a bold color – can be the quickest and most cost effective way to warm up an all white space. For our kitchen, I chose pops of cherry red and love how the high chair and tea kettle stand out in the crowd. I mean, if you have to stare at a high chair all day, why not choose one in a fun color?
Dish towels, small framed prints and even seat cushions and fabric are perfect places to bring in a bold statement color.
Wood tones bring a rich warmth to any space but paired with a white kitchen, the natural honey colors really shine.
Wood cutting boards
,
knife blocks
, tall
pepper grinders
and
salt wells
are all utilitarian items that can serve as display. I love to layer wood cutting boards with stainless pieces to keep them from look sterile.
Jute is another standout natural element in a kitchen because of how well it tolerates spills, stains and high traffic. Bonus points for being a natural element and adding warmth to the space – and P.S. if you're still looking to bring in a pop of color, the
rug
below is a perfect way. Just choose a border in you accent shade and you've hit the ground running.
Not interested in displaying a ton of decor items on your counter tops? No worries, you can use your weekly grocery run to keep your kitchen cozy. Display lemons, limes, oranges, Granny Smith Apples or avocados in a clear bowl on your counter for a natural touch that eases the industrial feel of stainless appliances.
3. Eye Pleasing Storage in Metallic Tones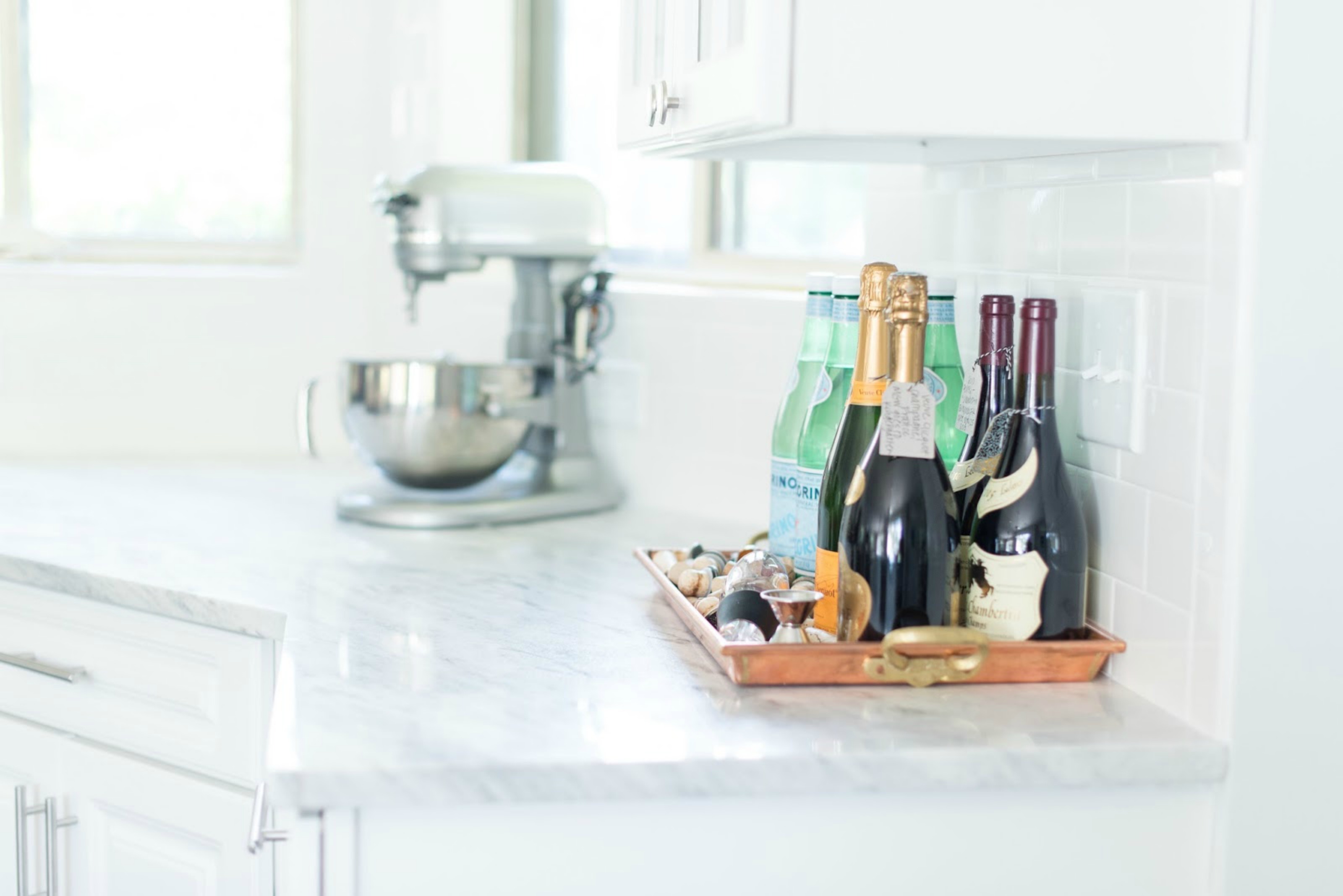 I found myself without adequate wine storage (that was within reach) in my new kitchen so I pulled out one of my favorite wedding gifts and adore the rich copper shade against the white subway tile and grey swirled granite. Not only does the wine storage make me happy to gaze upon come 5 o'clock but the bottles add fun visual interest and break up the all white plane of the counter top. And I have one less large, bulky item taking up space in my cabinets.
4. Glass Front Cabinet Drawers
We decided to use glass cabinet doors on three of our cabinets and I love the light it brings to our kitchen. We are able to show off all three sets of our china (ours, my grandmother's and my mother in law's), bringing a sense of history to our home. Using glass cabinet doors are another way to show off your chosen pop of color, natural elements and draw the eye away from basic wood cabinet doors.
All photos by Christa Rene Photography