Ah, summer. The season of busy is upon us. Among the travel, school being out, wedding season, we have plenty to keep us busy. Not to mention the fact that we have a big ol' holiday smack dab in the middle of it. 4th of July is coming, y'all! How? I don't know.
I'm still having a hard time wrapping my head around this whole 2016 thing, much less the fact that we're almost halfway through it. Oy. Anyway… 4th of July is coming. And with it comes the barbecues, the sparklers, the parties….and fun themed desserts. Kind of like these…4th of July Star Spangled Cake Pops!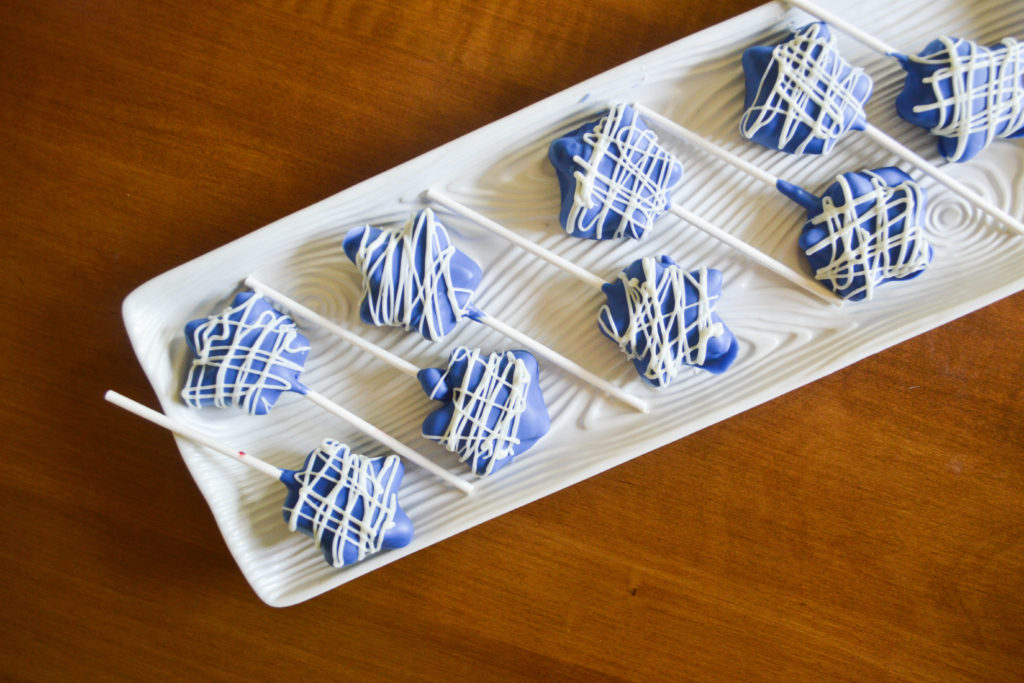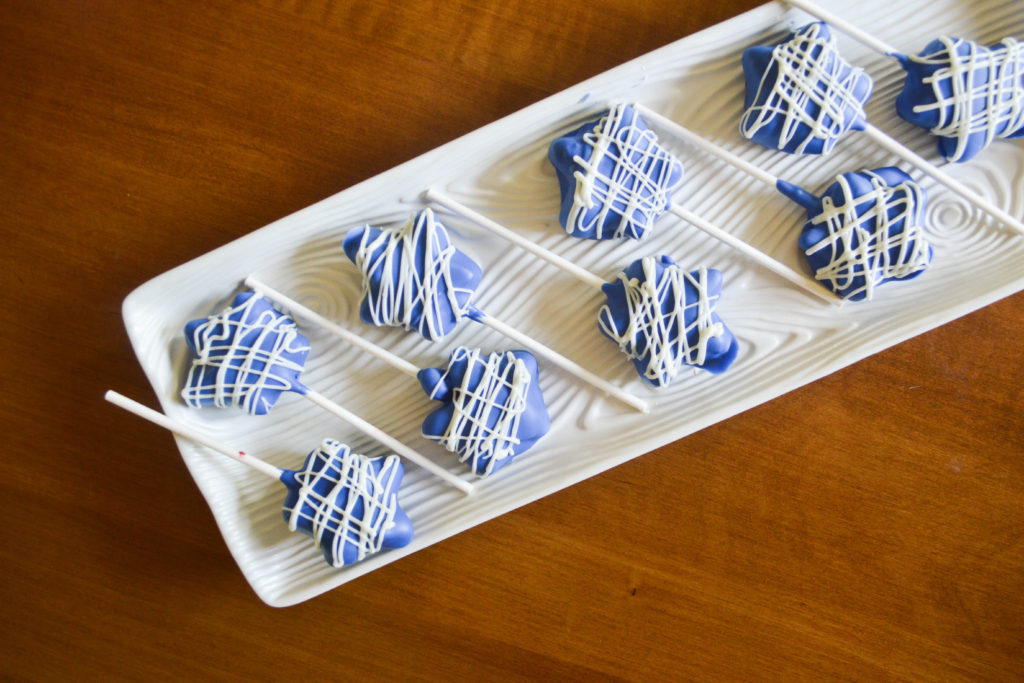 You saw correctly… those are star shaped cake pops my friends. Perfectly themed to celebrate 'Merica Day, perfectly tote-able for mingling at the barbecue, and (despite what you may be thinking), pretty darn easy to make.
For the software (food), you're going to need:
One prepared cake, cooled, unfrosted, and crumbled up. I used a red velvet box mix to go with the whole red, white, and blue theme, but vanilla would work just as well.
1 1/2 cups prepared vanilla or buttercream frosting. Your favorite recipe or favorite brand.
Blue candy melts. These are available at all craft stores and are pretty inexpensive. You can certainly use melted white chocolate and color it with gel paste (Do NOT use water based food coloring! It will seize up!) but these are easier. I used 2 bags but had some leftover.
White Chocolate (optional) for the striped drizzle. You don't need much, maybe 1/3 cup.
Hardware: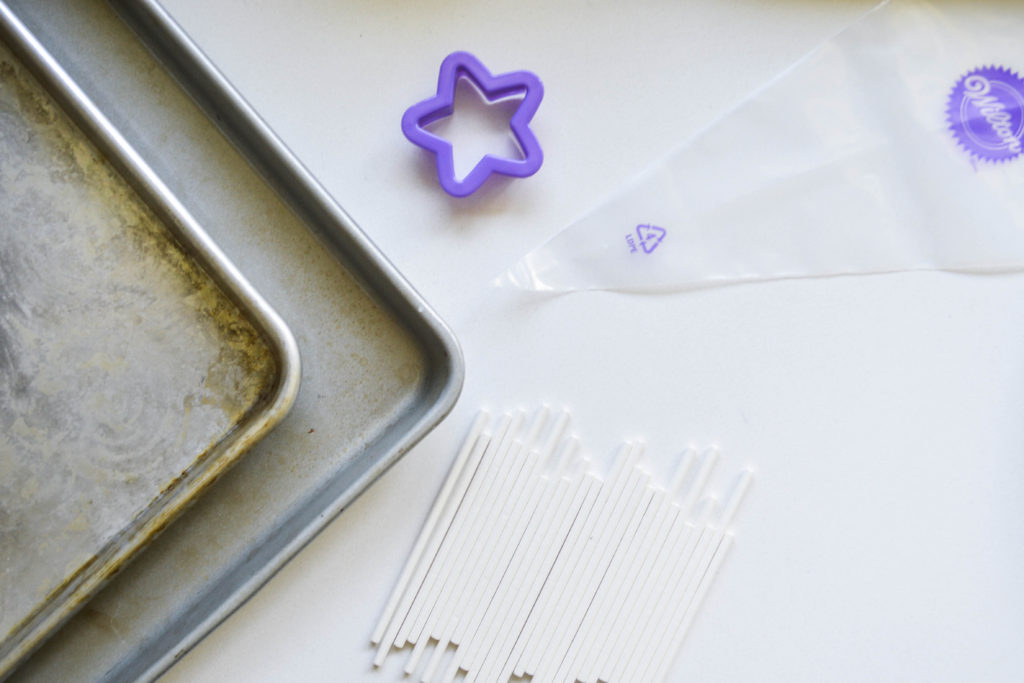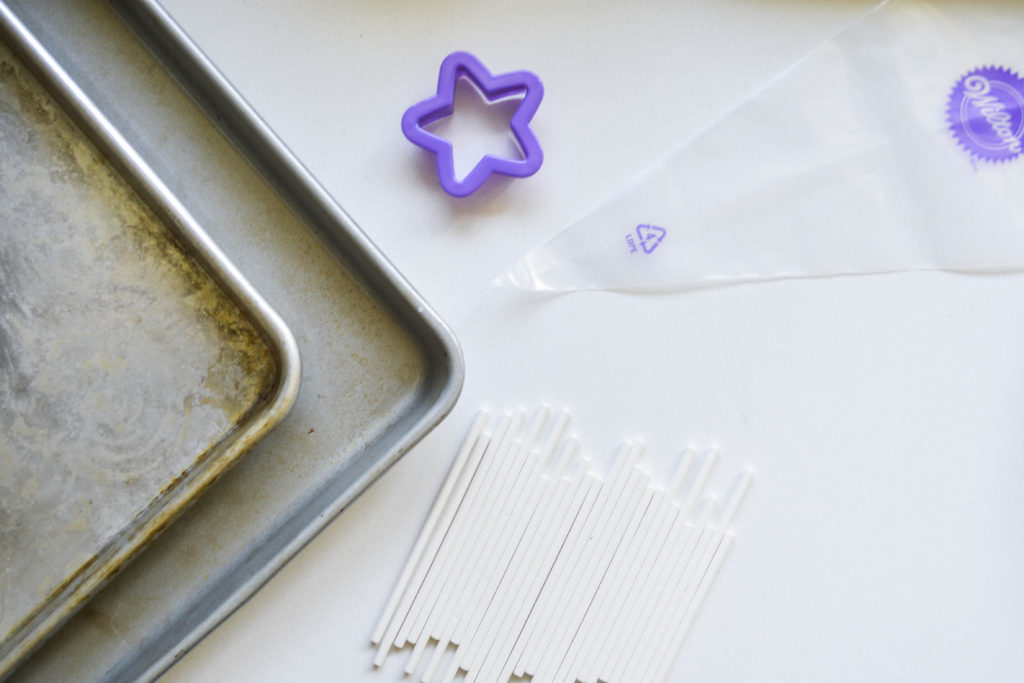 Cake pop sticks (also available at craft stores) and most grocery stores
Bowl or Measuring Cups to melt the chocolate in
2 Baking Sheets with silicone liners or parchment paper
Star shaped cookie cutter
Piping bag or zip-top bag
First thing's first – add the frosting to the cake and combine it all. It should mold fairly easily once it's all combined. You can use a mixer on low or your hands for this. I used my hands because that meant fewer dishes.
Then put it on a parchment lined cookie sheet and spread it out so it's about an inch to an inch and a half thick all the way across. If it's too thin, they'll fall apart so the thicker the better. Stick that in the freezer for 10-15 minutes to firm up. in the freezer for 5-10.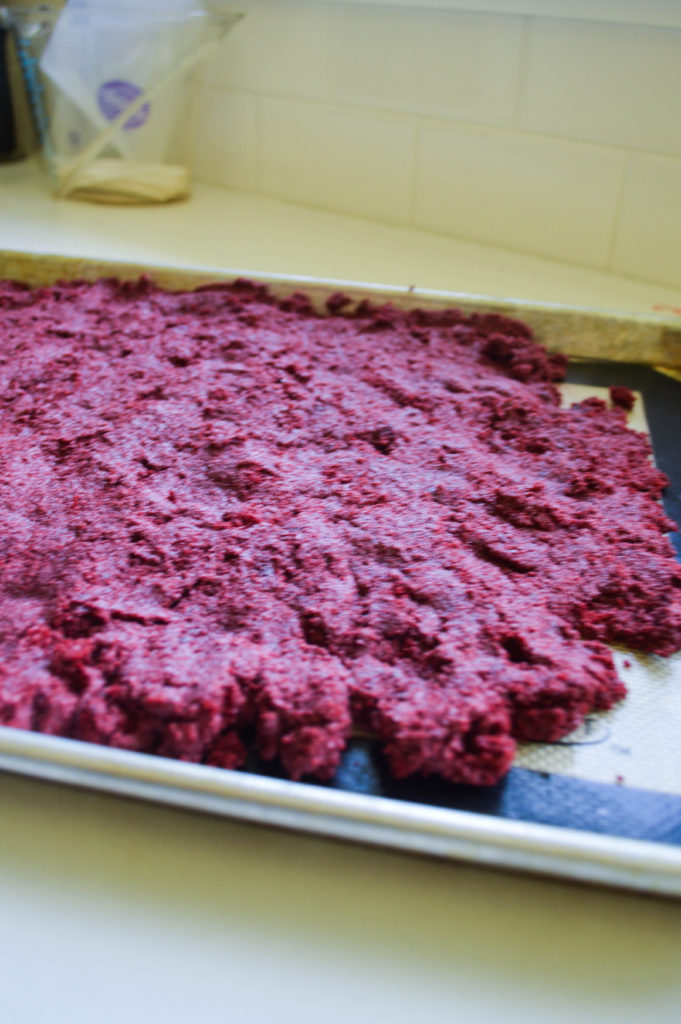 Once it's chilled and firmed up a bit, use your cookie cutter to cut out little stars. Lay them on your second cookie sheet. Cut as many as you like – this will make a ton!
Then it's time to melt your chocolate. To melt the candy, heat in the microwave for about 2 minutes, stopping to stir about every 30 seconds or so.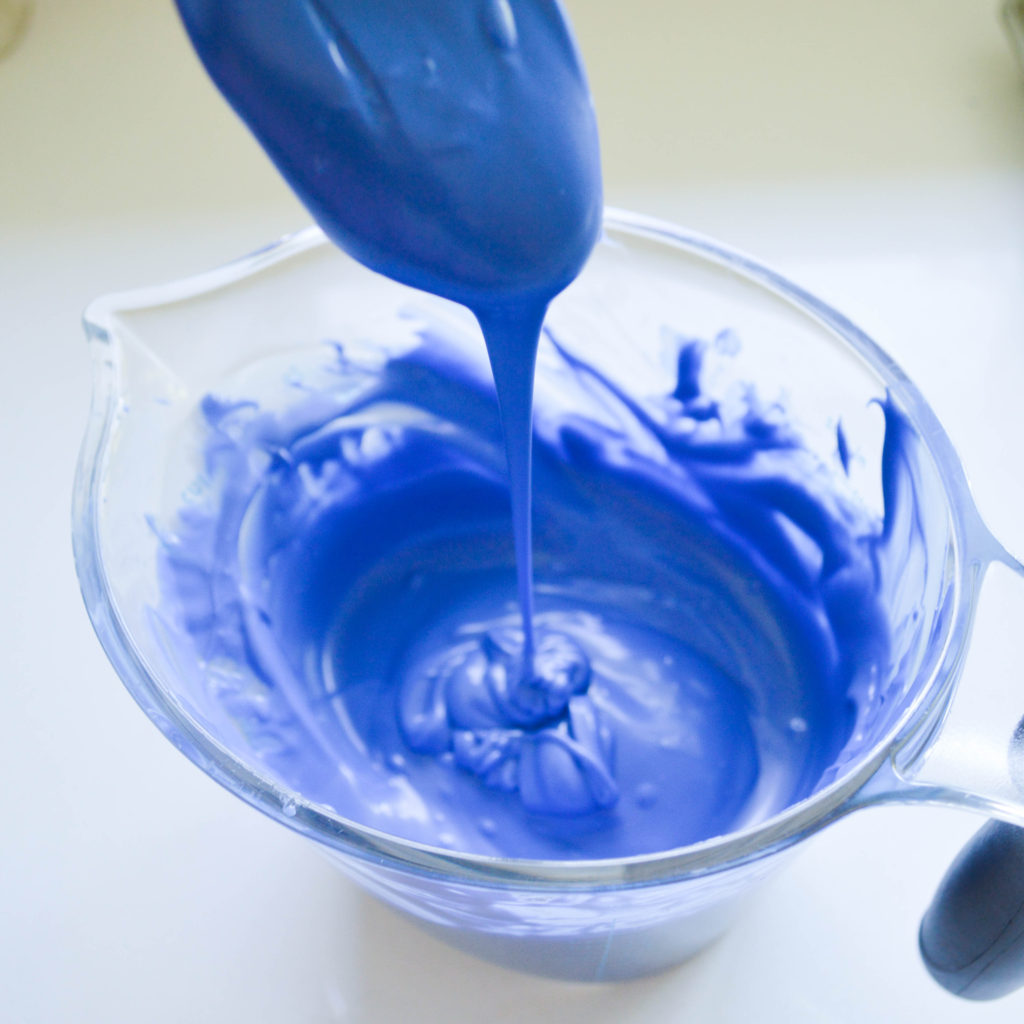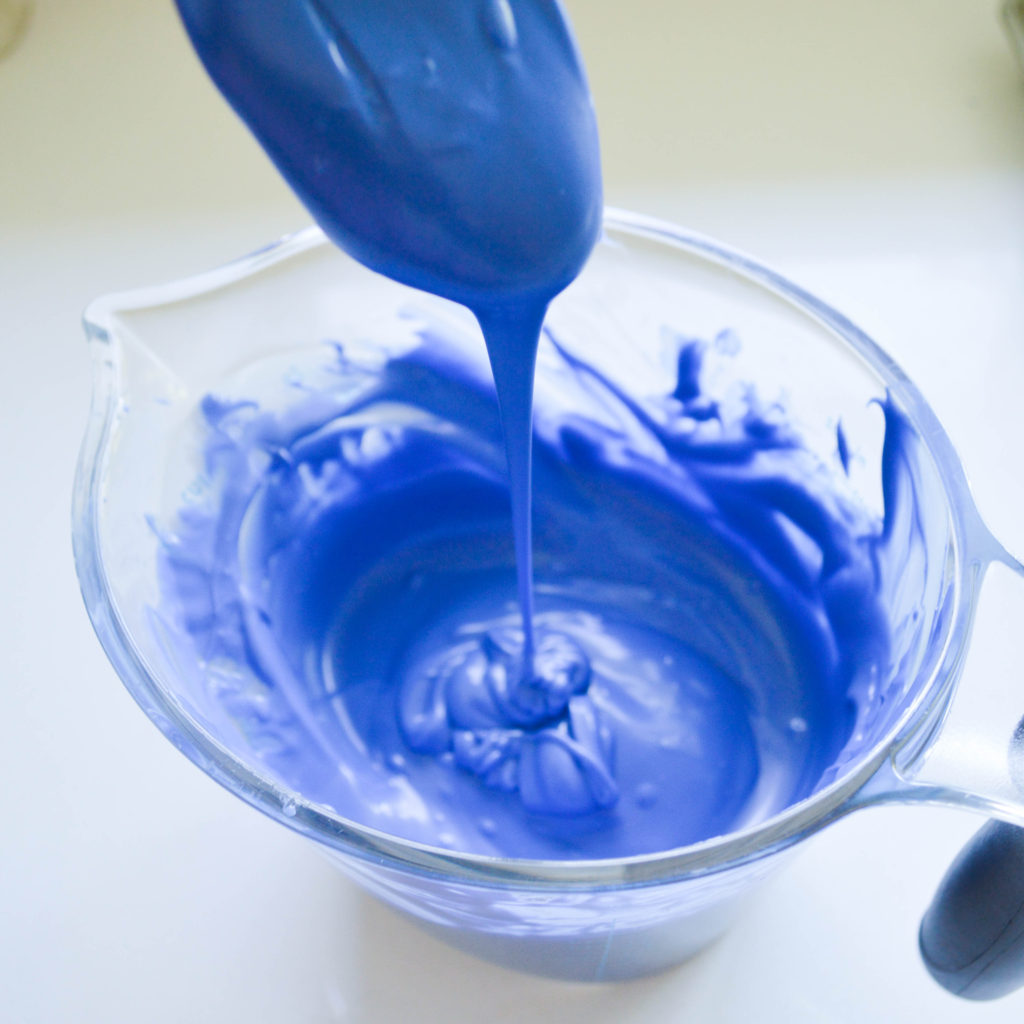 Then it's time to make these cakes into cake pops! First, stick your cake pop stick into the chocolate about an inch and a half up and tap off the excess…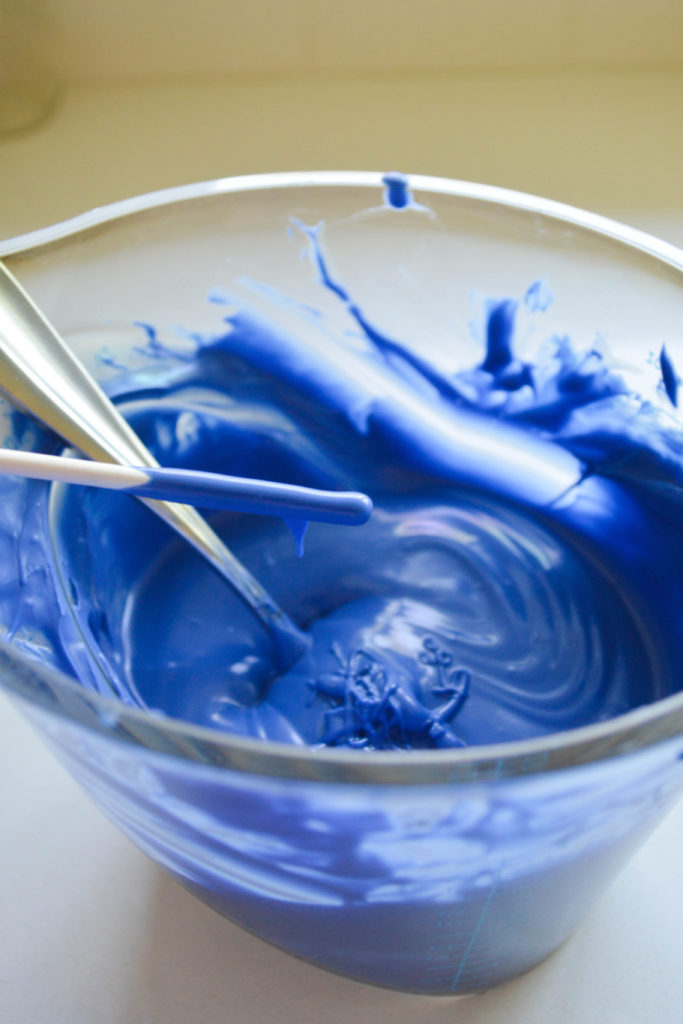 Then stick it into your little cake star. And lay it flat. Lather, rinse, repeat.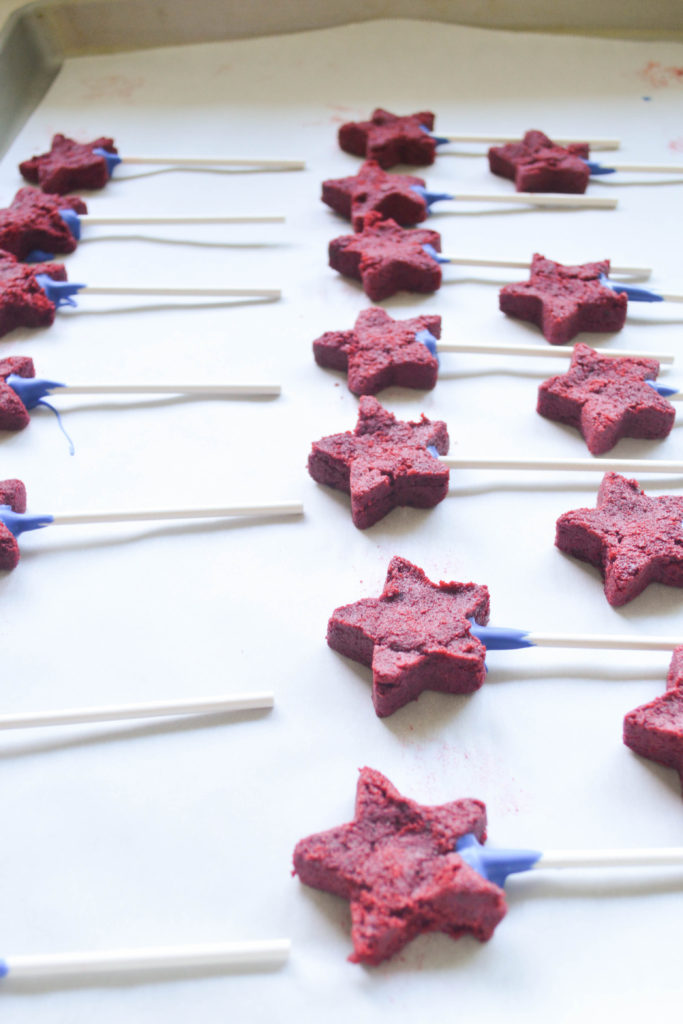 Then stick that in the freezer for about 15 minutes so it firms up real nice. Then it's time for dipping. Then tapping off the excess, then letting it set.
While that sets up and dries, melt your white chocolate and pour it into the piping bag or zip-top bag. And cut the tip off super duper close to the top. Like, maybe 1/16 of an inch for the opening. Then drizzle. Drizzle like you mean it.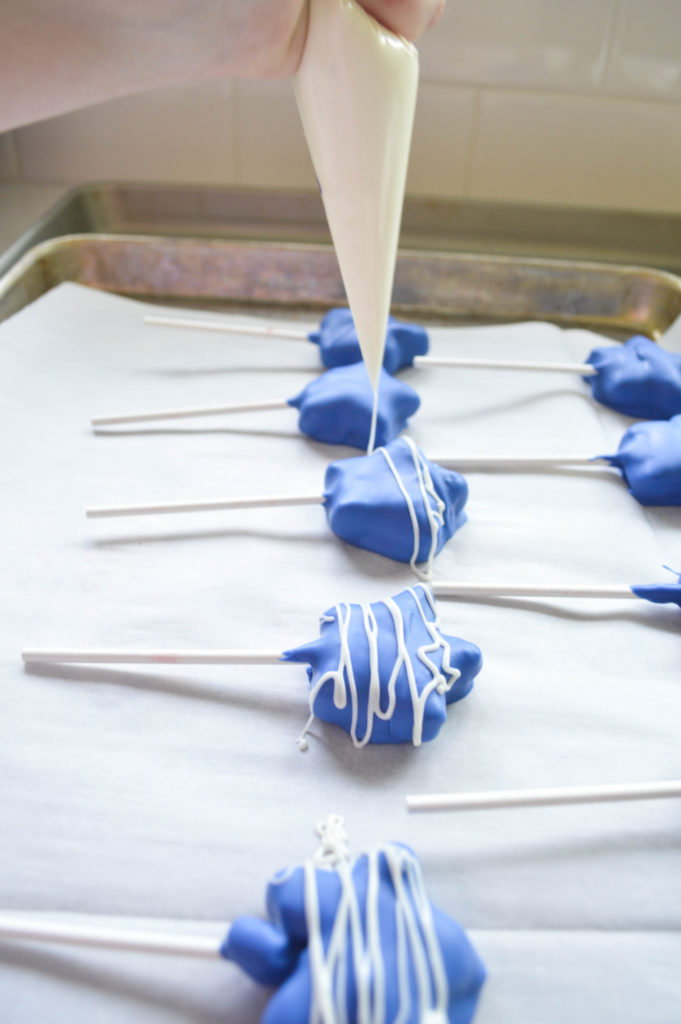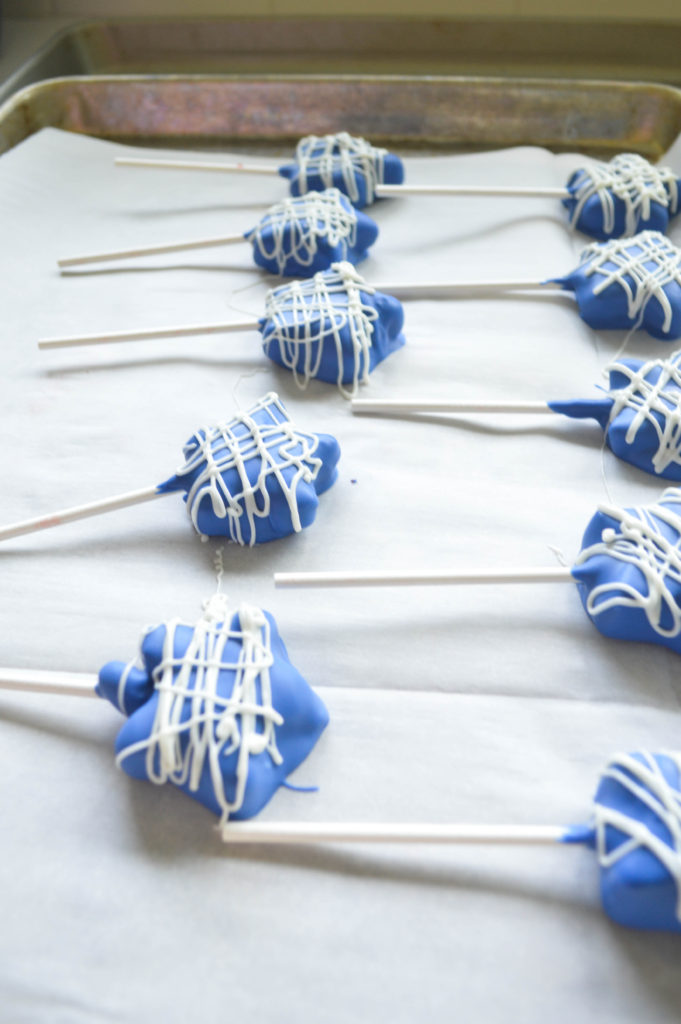 And after you let it set, you're left with delicious Red, White, and Blue Star Spangled Cake Pops that will surely be a hit at the 4th of July barbecue this summer.
So tell me – what's your favorite 4th of July dessert? Let us know if you're planning to make these and be sure to tag us on Social Media and share!