It's August, y'all. That means it's time for back to school shopping, Fall wardrobes – for us and our kids. And I'm not just talking about all the cute things at the #NSale. And if you're anything like me (ahem…) you get a little out of hand with all the cute stuff while shopping for your kids and you end up with tons of cute clothing, without knowing what exactly you bought, and an over-full closet which is probably going to end up on their floor, then your laundry pile, maybe never even worn, and become the bane of your existence by Halloween. Don't feel bad – this is literally me most every season. #Solidarity – And the thing is, there's a really simple fix. It's called – a Capsule Wardrobe. I'm sure you've seen this concept for yourself, an adult, but there's really not much out there for kids and it really is the perfect solution. I'm a big proponent for a simplified wardrobe for adults, but I can understand keeping more things than a minimalist wardrobe, simply because we have more variety in our wardrobe needs. But for kids – they grow so quickly; their schedules and needs don't change much from day to day. Plus, a simplified wardrobe, equals a simplified morning routine. And I know all you mamas can wave a Hallelujah hand in the air for that one.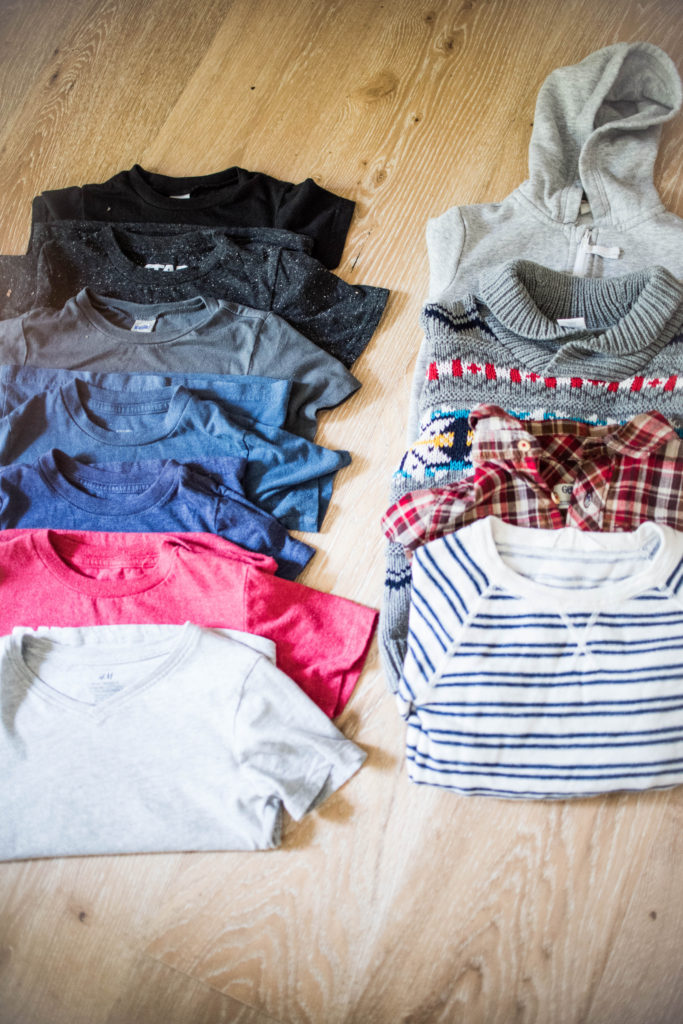 Simplify is the name of our game here. Simplify their wardrobe, simplify the shopping process, simplify your laundry, your morning routine, and keep your sanity. The basics of a Capsule Wardrobe are as follows, and I think even for kids we can follow the same kind of guidelines:
30ish pieces, excluding shoes and accessories
A basic color palette
Mix and Match-able
Remember: VCLF. Versatile, Comfortable, Love it, Fit

I'm sure this is pretty self-explanatory. But as I'm cleaning out a closet to prepare for a new season or even just a mid-season purge, I always ask these 4 questions. Each piece I keep or buy, but must fit with these parameters or else it doesn't belong in my wardrobe or my kids' wardrobes.
Easy enough right?
As far as how much of how many pieces (so you don't buy 30 graphic tees from Etsy and nothing else. Again, ahem… me), there's a basic guideline for boys and girls I like to follow: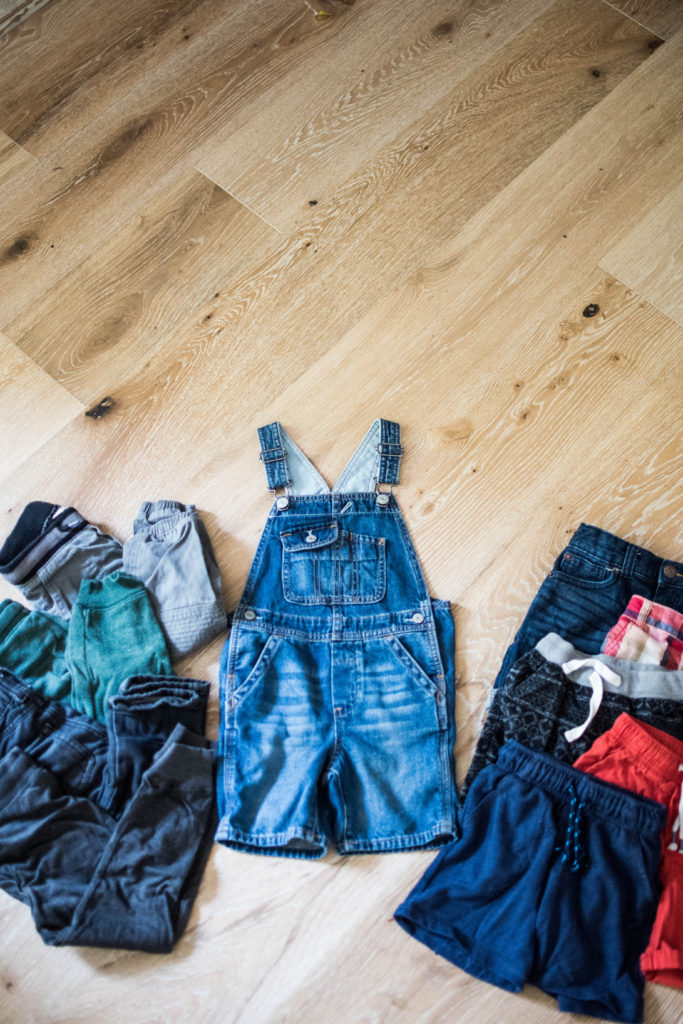 For girls:
10 Tops/Tshirts (A mixture of casual and dressier, long sleeve/short sleeve)
4 Dresses (I always say 2 casual, 1 that can be dressed up or down, and 1 dressy dress)
5 Pants/Leggings (mixture of denim, joggers, leggings, shorts)
5 Skirts (wear by themselves now, with leggings or tights as it cools down)
6 Cardigans/Vests/Jacks (I like a combo of 3 cardigans, 1 hoodie, 1 vest, 1 seasonal coat)
And if I did my math right, 10+4+5+5+6 = 30. Right? Not a math major.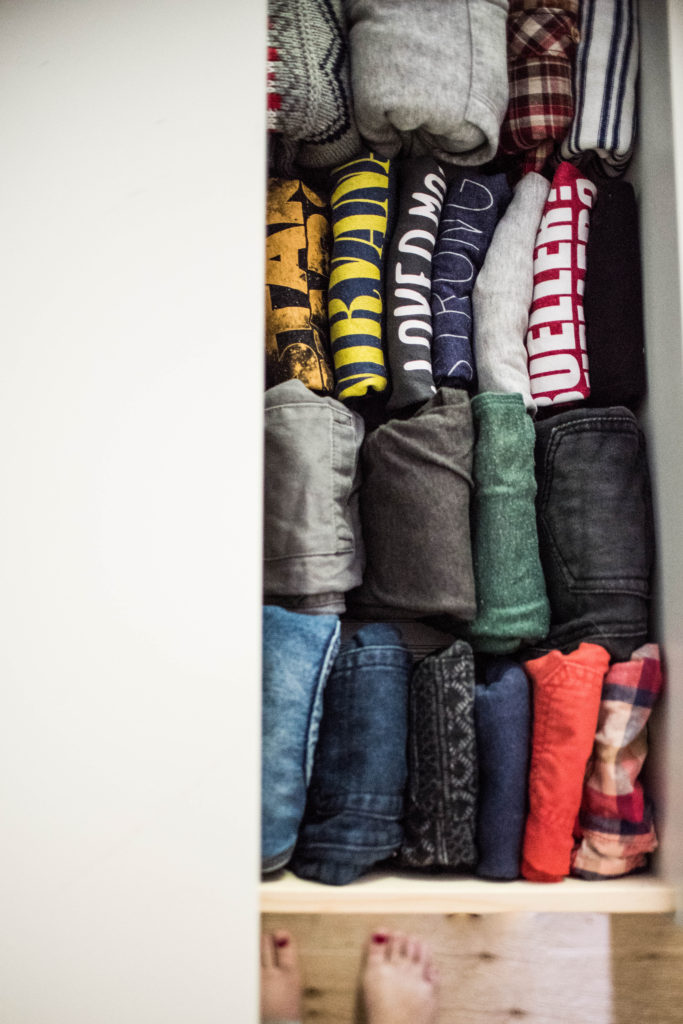 For boys:
14 tops/shirts (again mix dressy + casual, long and short sleeve)
8 Mix + Match Pants (Sweats, joggers, jeans, khakis, shorts)
1 Pair of Nice Pants (Black slacks, worn for special occasions)
4 Sweaters (Pullovers or Cardigans)
1 over-coat or dressy vest (for dressing up)
2 Seasonal Vests/Coat/Rain jacket
And you may be wondering about shoes…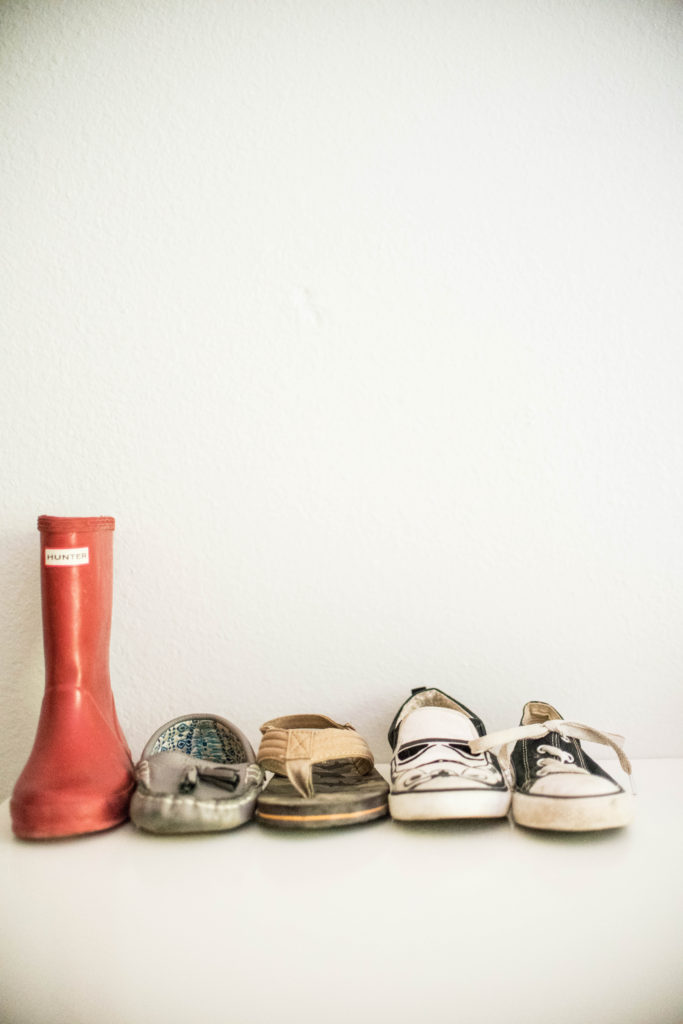 because of course as we're back to school shopping, we're shoe shopping. And while a capsule doesn't typically include shoes, kids shoes can get out of hand quickly.
I like to stick to the rule of 5.
1 seasonal pair (rain boots, snow boots, water shoes/sandals)
1 athletic wear (for PE or what have you)
1 casual wear
1 dressy pair
1 fun pair (wildcard round!)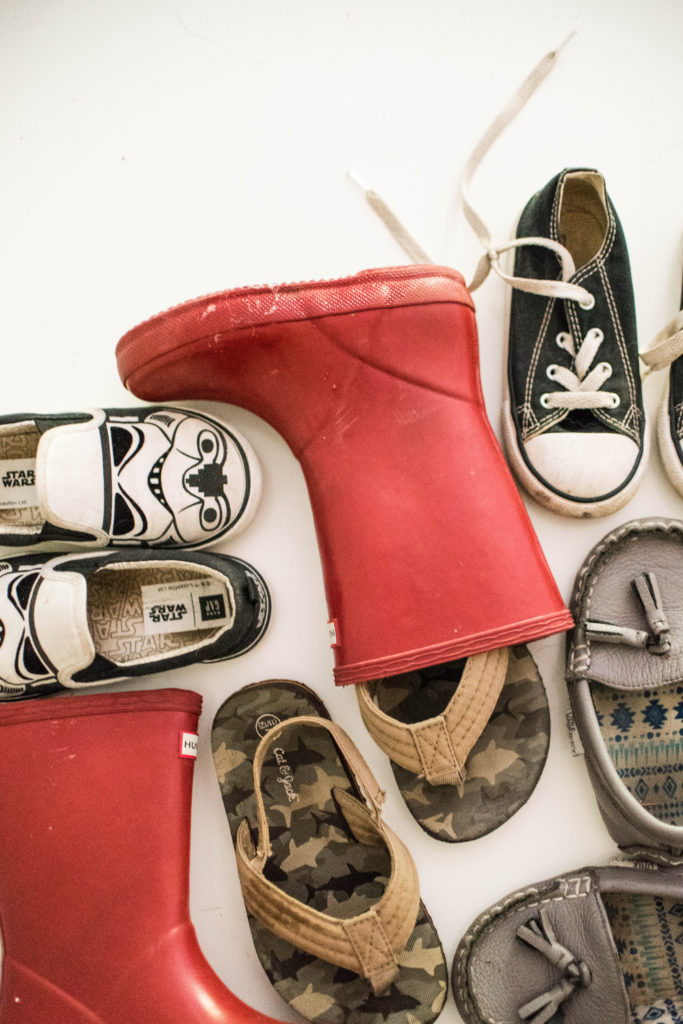 And I think that 30 items can seem really limiting if you're a lover of kids' clothes, but 30 is actually quite a lot and if you stick to a good mixable color palette, it's pretty easy to mix and match so outfit repeating isn't an issue (per your pre-teen's inevitable woes right now…).
Color palette you say? But my kid loves neon green, orange, hot pink, fire engine red, all of the above, you say. I'm all for a fun color here and there, and especially fun patterns and glitter. But it should be the exception to the rule. Items like cardigans, jeans, seasonal jackets, etc. Things they'll wear with lots of other items in the closet, try to keep them neutral so they pair with more. But t-shirts, or even pants or skirts, I'd say stick to a 50/50 or at most 60/40 ratio of fun and exciting to neutral staples.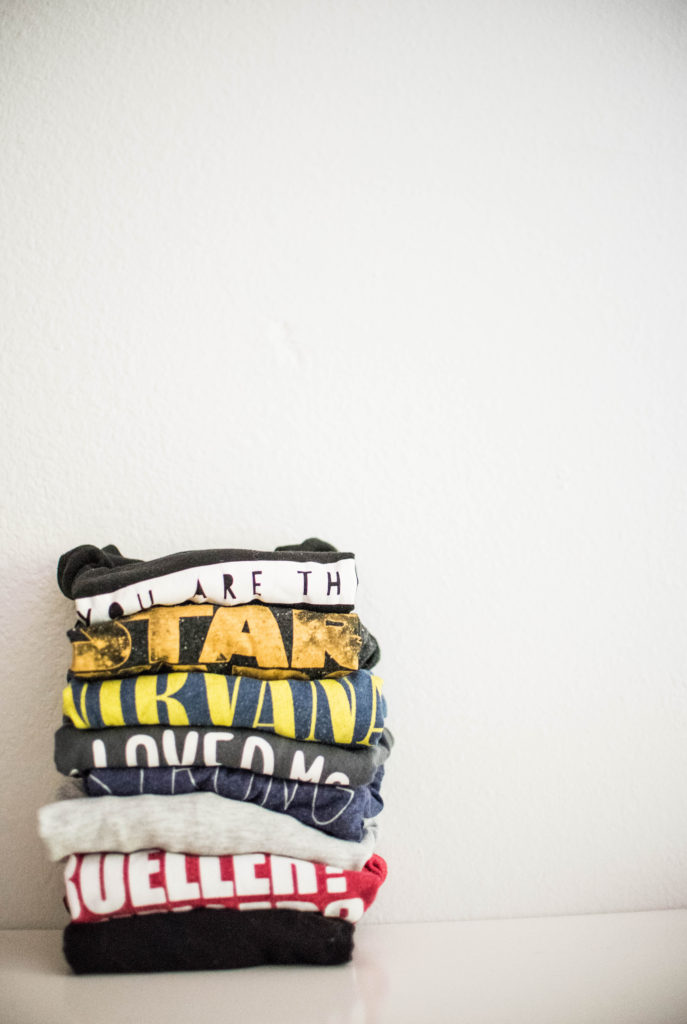 So now that you know the Capsule Ropes, it's time to clean out the closet and take inventory.
But don't worry – I made up a handy little printable for you here to print and use as you're figuring out what you need for back to school and Fall.
Download Your Free Printable Here
So go ahead and sort through the closet, weeding out things that don't fit, they don't wear, or that are too worse for wear and figure out what you have left. Then it's time to go shopping. And what's awesome is that your inventory list, has now become your shopping list, complete with guidelines at the bottom for making purchase decisions.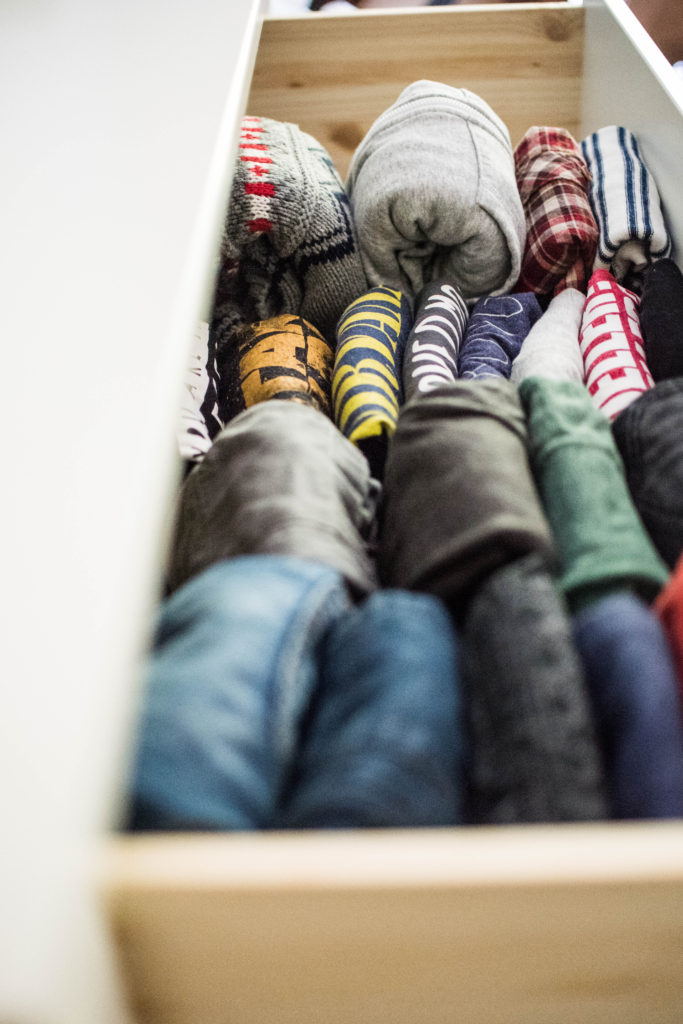 And while we're at it, I thought I'd share some of my favorite places to find kid Capsule staples. Because we all know you can find 100 different crazy graphic tees, but quality neutrals without a character's face stamped on them is hard to come across.
My favs:
And one last thing, because I don't really love hard and fast rules…. please use this as a basic guideline. Do you need exactly 30 items? No. My boys' summer wardrobe definitely is not 30 items since they hang in tees and shorts all day long. But in the Fall and Winter, it tends to get a little bigger. And if you have 40 items you really love, your child really wears, and they're worth keeping, do it. I think more than rules, more than purging until your closet is empty, a capsule wardrobe is about having things you love that work for the way you live. If your daughter isn't a dresses girl, then forego the dresses for something she will wear. All this to say – you do you, Mama. Dress those kids however you like, and I hope this helps keep your Back to School shopping from driving you absolutely insane.
Happy back to school! I hope you spend the first day back with a book sitting in complete silence for the first time in three months.