Since moving into our house oh… 3 years ago we have been making constant changes to our home.
Like most new home owners we have painted, bought new furniture etc. and made the house work for us.
Last month I shared with you our Family Command Center that we created in our main living area. What I didn't show you was the hazardous material some may call window blinds or shades that have been giving me anxiety since we moved in.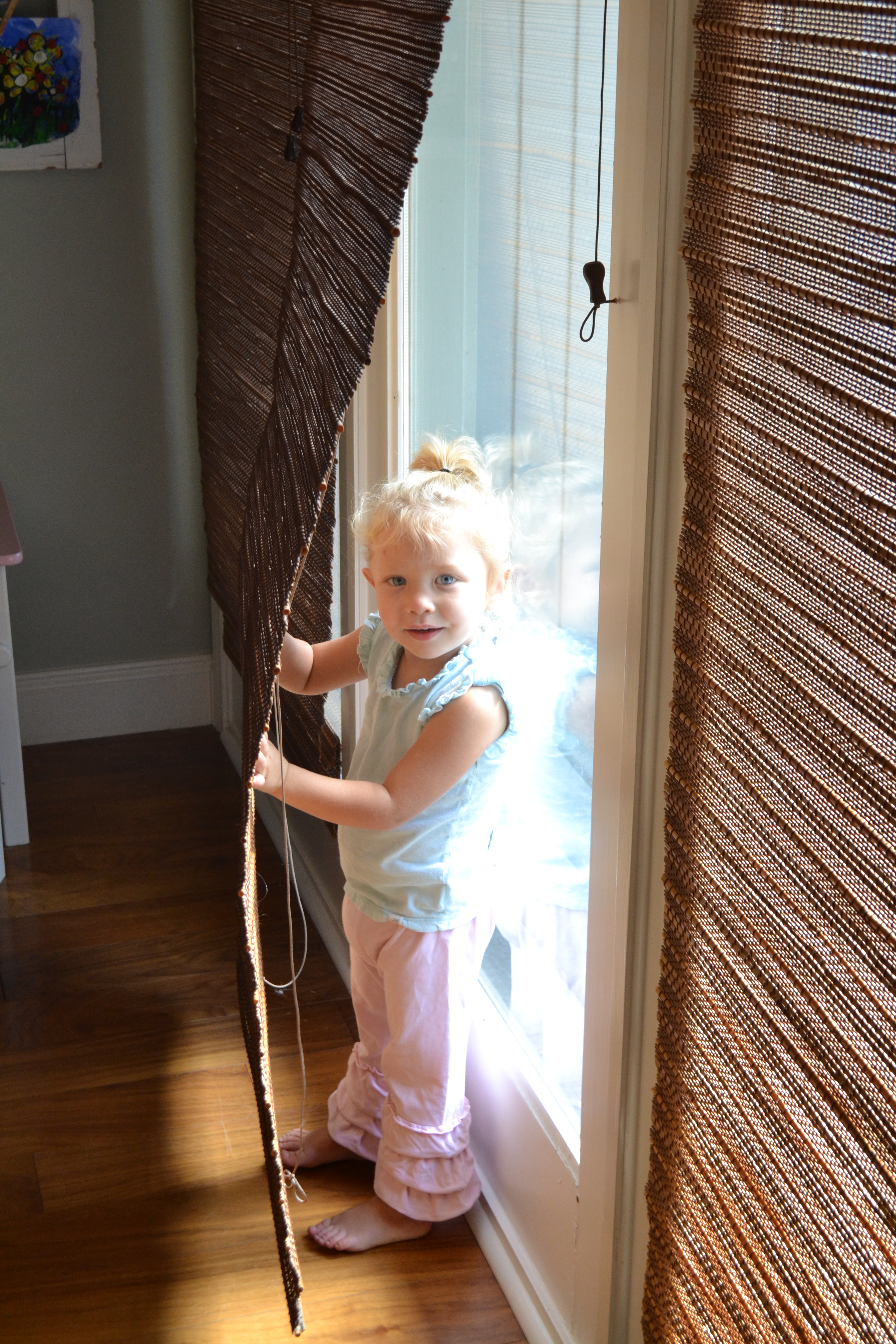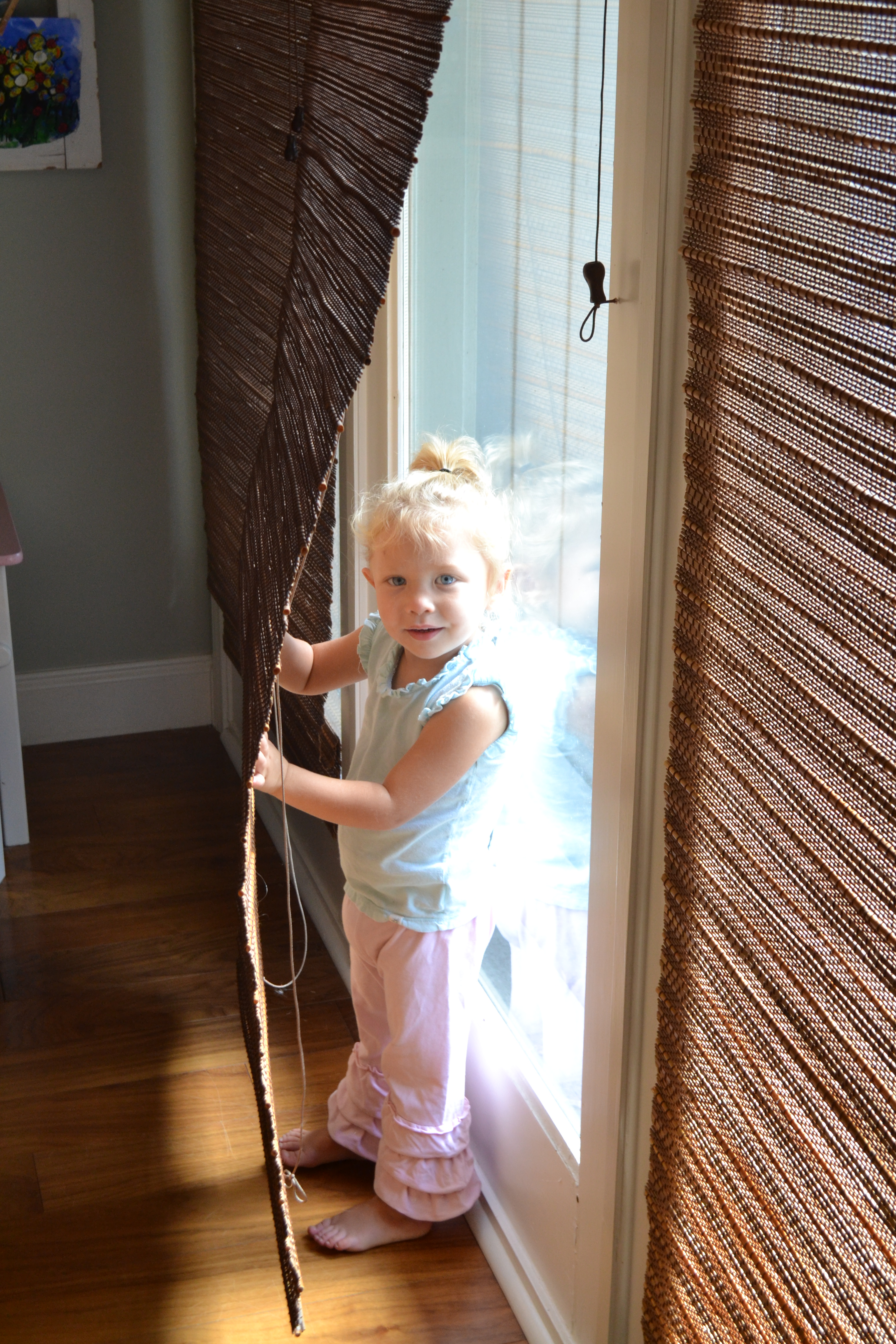 Not to worry, no Everly's or Ellie's were harmed in the making of this post.
But, as you can tell by the wonderful demonstration this little model is giving us our shades were full of cords that were easy to pull and tug on. Now that our little girls are well into their toddler years these shades have become more and more of a safety hazard and it was time to up the safety standards around here.  These shades were every moms worst nightmare!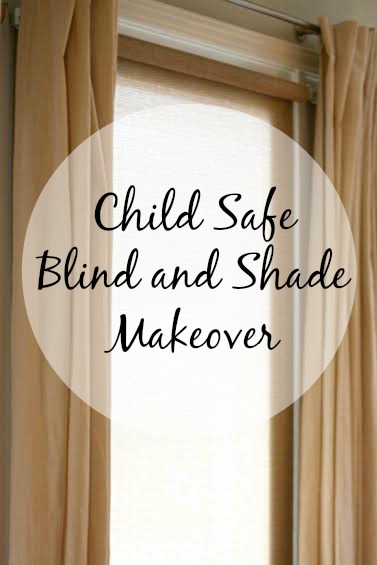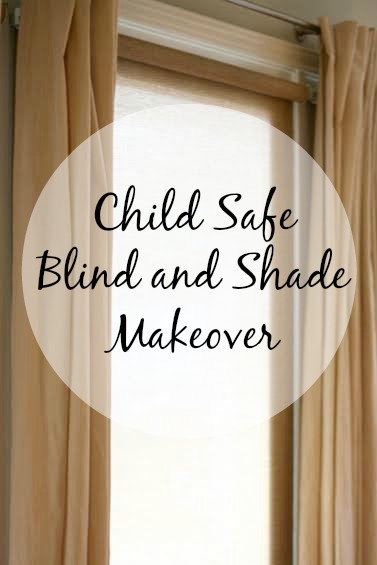 When looking for new window coverings we had a few things to consider. One, our windows in this space of our home are floor length and we need something we could roll up easily. Two, one thing we loved about our last set of shades is that it allowed for a lot of natural light to come into our home and we hoped to find this in Child Safe shades as well.
Here are 5 tips to make window coverings safer for kids.
1.  Make the switch to cordless blinds or shades. Check window coverings for exposed cords that could pose a strangulation hazard to infants and young children. Replace corded window coverings with today's cordless safer products. Draperies, shutters and cordless cellular and roller shades are a few preferred cordless options. Shop Blinds.com's Safer For Kids Collection to find the perfect replacement.
2.  If you cannot install newer products, ensure that all window cords are out of sight and reach, and that they are inaccessible to young children. Order a free window cord retrofit kit from www.windowcoverings.org
3. Prevent Access to Cords. Move all cribs, beds, furniture and toys away from windows and window cords, preferably to another wall. These items could act as unintentional "step stools" that allow a child to reach a window or cord.
4. Continuous-loop pull cords on draperies and vertical blinds should be pulled tight and anchored to the floor or wall with a tension device.
5. Be sure cord stops are properly installed and adjusted to limit movement on inner cords on blinds and shades.
All recommendations via The Window Covering Safety Council
I was super excited to partner with Blinds.com where I was able to speak to Josh, a designer, who walked me through several of their products. I sent him my room requirements (child safe), the look I was going for and the colors I preferred and just like that Josh sent me samples of products he thought would be perfect for my room (a free complimentary service of Blinds.com).
Once our samples came we decided on the Blinds.com Signature Solar Shades in Arcata Bark. I emailed Josh our selection and window dimensions and within a few weeks are blinds were here and ready to be hung.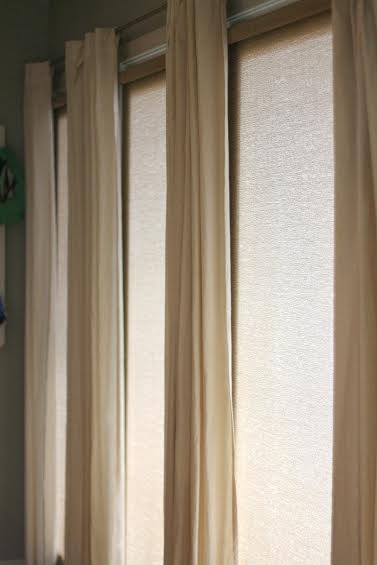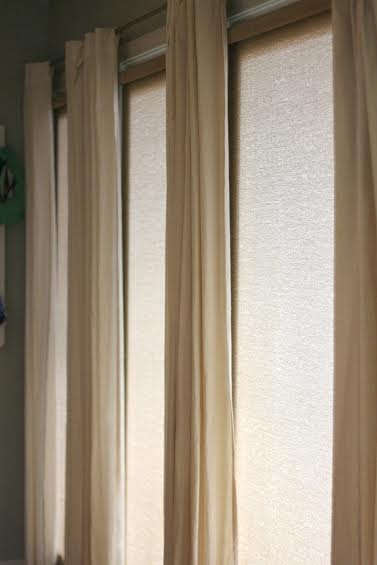 I could not be more happy with the outcome! I love the shades we chose because they are cordless. From removing all four of our shades from the box and getting them installed in only took us about 1 hour. The quality of our Solar Shades are amazing and they just look oh so pretty. Most importantly, I have a piece of mind that I did not have before while my kids are playing and running around this part of our home.
And because we all know my friend  is paranoid about her kiddos safety as well (proof here). We had to get her in on this action as well. Michelle has a giant window in her breakfast area that she up until now did not have blinds on at all because she was afraid of the cords being so accessible to her kiddos.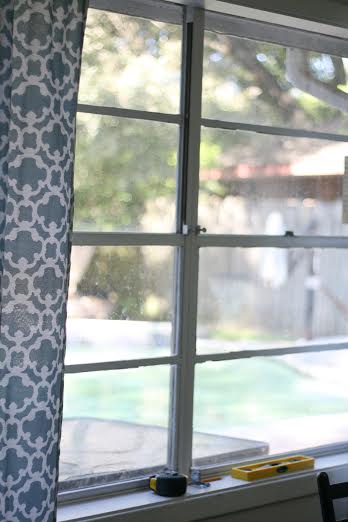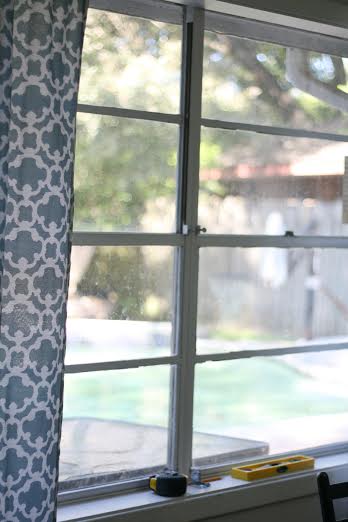 But, after speaking with Josh herself they decided on a Laura Ashley Cellular Shade in Steam White. Now my paranoid, helicopter mom of a friend can rest assured that her kiddos are much safer and she has added some additional privacy to her home.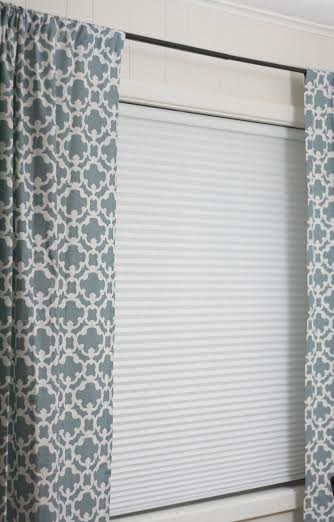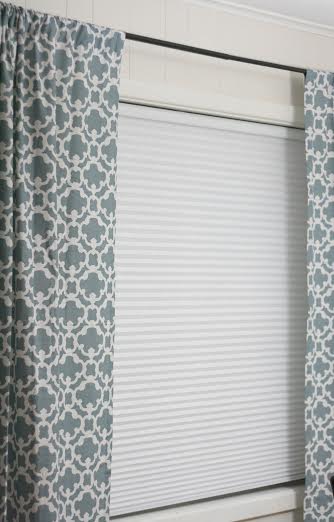 With October being Window Safety Month, right now Blinds.com is running a sale on the Blinds.com Safer For Kids Collection sale, running all month long! Be sure and check out the quiz below to see what window covering would be best for you!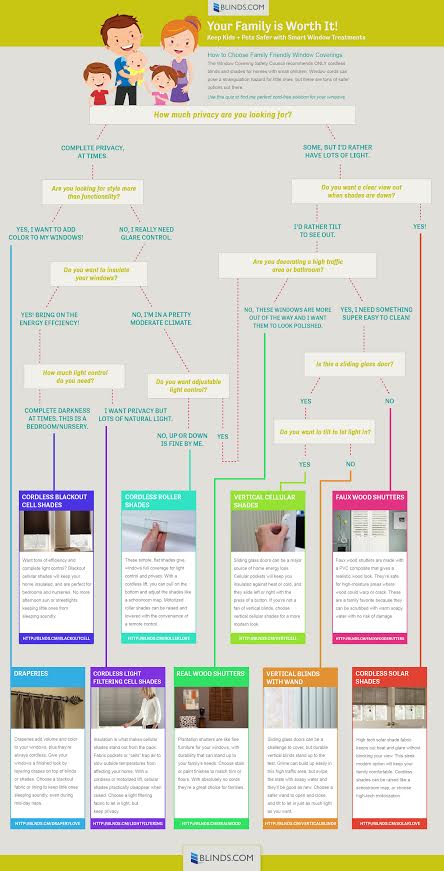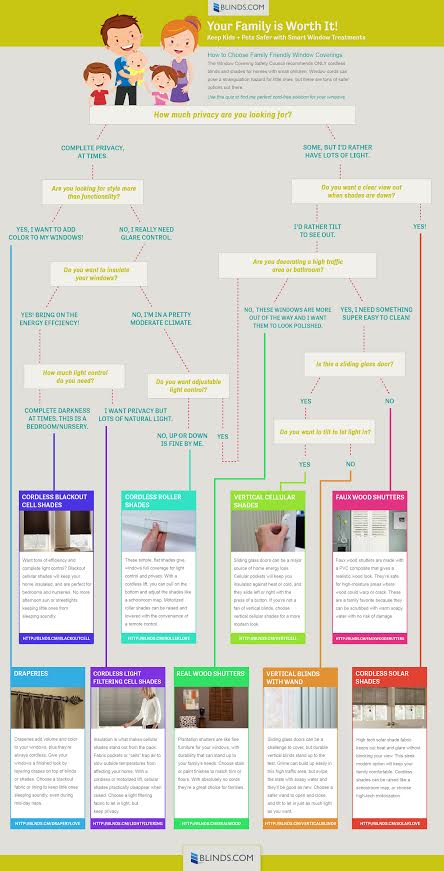 And, guess what! Right now we are partnering with Blinds.com to give one Moms Without Answers reader a $100 Blinds.com gift certificate to get you started on child proofing the blinds in your home!
a Rafflecopter giveaway
And if that is not awesome enough, Blinds.com is hosting a giveaway for a $2500.00 Gift Card to Blinds.com, be sure to enter their giveaway as well and just maybe you can get a makeover for all of the windows in your home!
*Disclosure: Thank you to Blinds.com for providing us with Child Safe blinds and shades for our homes. Although we were compensated for today's post, all thoughts and opinions are our own!