In my humble opinion, what makes a house a home are the memories that each wall holds. Every room tells a story, from a baby's first night at home to the meals that become family legends, a family breathes life into a house. But what happens when you live a lifestyle that requires you to move from house to house more often than you'd like? We are that family – we've lived in three houses, one apartment and two hotels in 4 years – so I try not to become emotionally attached to the homes we live in, but that doesn't mean I don't create a history for my family.
And how do I do that?
Oh, I'm so glad that you asked!
I use furniture to tell the story of our lives. Many key pieces of furniture in our home tell a story – from antiques that were owned by generations before me to pieces that were hand crafted by my husband, I let our memories, our history, come with us, no matter where we live. And I can attest that knowing the table that has traveled the country with us is the very same table where we hosted our first Thanksgiving as a married couple (in Maine!) and is where our toddler now eats his breakfast (in South Carolina!) has just as much sentimental value as any four walls could hold.
Here's a peek of three of my favorite pieces and a snippet of their history with our family
Our Dining Room Table
Believe it or not, this table was built by my husband. And even more impressive is the price tag (something like $60) and the fact that I stained it myself without permanently dying my skin a rich shade of mocha. My husband is always quick to point out that it isn't perfect but, to me, it is one of the most valuable items in our home. At the time that this table was built, we were not financially able to purchase a large piece of furniture like a dining room table but I had dreams of a Farmhouse Table for our very first kitchen. Justin humored me and worked tirelessly to build the table of my dreams. Since then, the table has lived in two storage facilities, hosted our first Friends-giving, spent some time chair-less (remember, we were young and short on cash!), served as the buffet for our son's first birthday party, a dining room table in a grown up dining room and now serves as our every day family table. Recently, I told my husband that I didn't care what we had to do, but no matter where we lived, that table was coming with us.
The Vanity Turned Entry Way Table
This little entry way table has quite a past. She started life as a vanity in my mother's childhood bedroom. My mother gifted her to me as a teen and then she held court in my childhood bedroom as the collector of all the make-up, picture frames and piles of clothes that come with being a teen girl. I've always moved her with me, using the piece as a desk, buffet in a dining room and eventually, an entry way table. She's had a few face lifts (currently, her navy hue is a result of a serious spray paint job) and I love opening the drawers and smelling the faint scent of powdered make up that still lingers. I have dreams that one day I might have a daughter who stuffs those drawers full of makeup, stacks photos of her friends all over it and loves it as much as I do.
The Map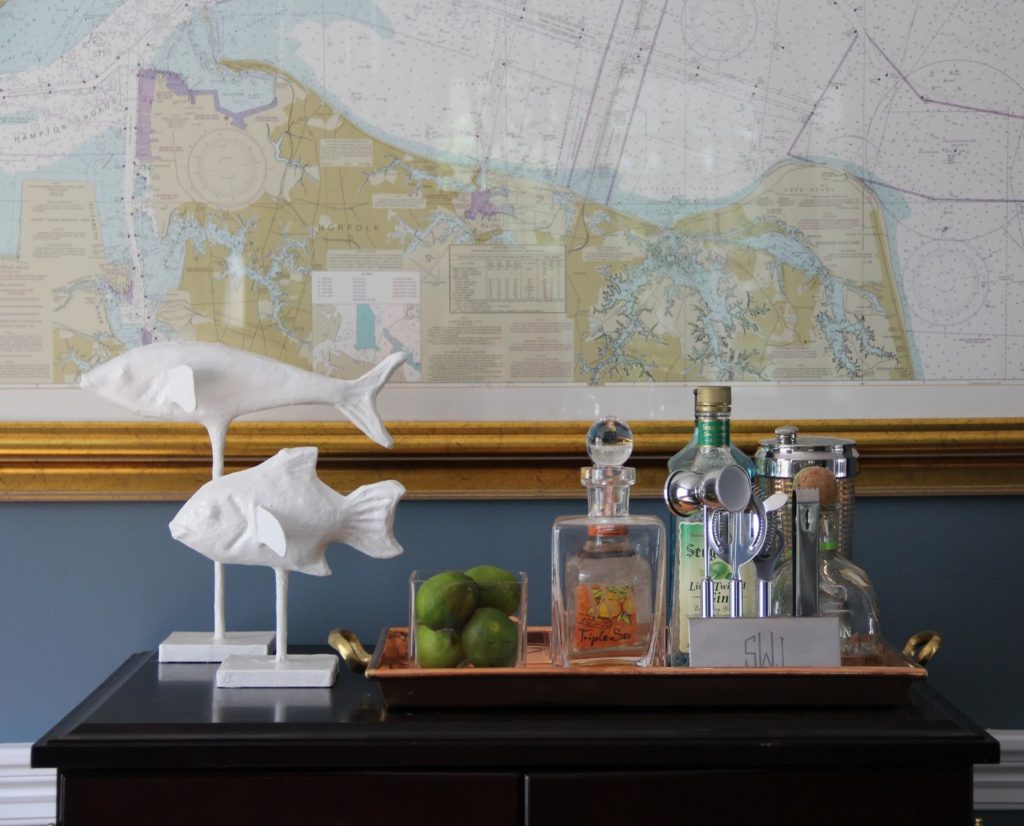 When I moved to my very first apartment after college, I had nothing in the way of furniture, let alone home decor. At the time, Pinterest had really just become a thing (yes, I'm old) and I searched ways to create large "art" for cheap. I spotted an idea to use a map because they are large and usually inexpensive and I knew just the map I needed. My dad is a Charter Captain and we grew up fishing the waters of the Chesapeake Bay, so I asked if he could find a nautical map of the area so that I could cover my walls with just a little bit of home. A few weeks later, my parents came to visit and the map he gave me instantly became one of my most treasured gifts. He chose every detail from the shade of the map (gorgeous blues and purples) to the thick gold gilt frame. The map has lived in every place we've ever resided and has decorated our living room, dining room and now lives in our powder bath!
Tell me, what do you do to create memories in your home?
Save
Save
Save