Since we moved to Orlando ten months ago, Disney has taken over our family and we love every second of it! Who knew that my photography business would take off with a magical twist, and that we'd be playing at Disney at least twice per week?! When we moved to Florida last year, I started an Instagram account for Walter's Disney adventures (@waltsdisneyadventures) for friends and family to keep up with our Disney days and memories and it's taken off in the best way possible. I've met so many amazing friends through this Disney Instagram community, and finding the Magical Maker community (Disney merchandise small shops) has been so awesome. Several of these shop owners have become dear friends of ours, and a few of them are shops that I work with, too! Today I'm sharing these shops that are near and dear to my heart: from tees to accessories, these pieces are staples in my closet and make my Disney days extra magical! If you're headed to a Disney park anytime soon, or just love Disney, you need these Disney accessories!
The Disney tee, reimagined.
Do I love Disney? YES! Do I love the "Disney Mom" and "Disney family" coordinated tees? Not really. While you won't find me in a "WEISS FAMILY VACATION 2017" matching t-shirt with my husband and Walter, you will absolutely find me wearing threads from these two tee shops below!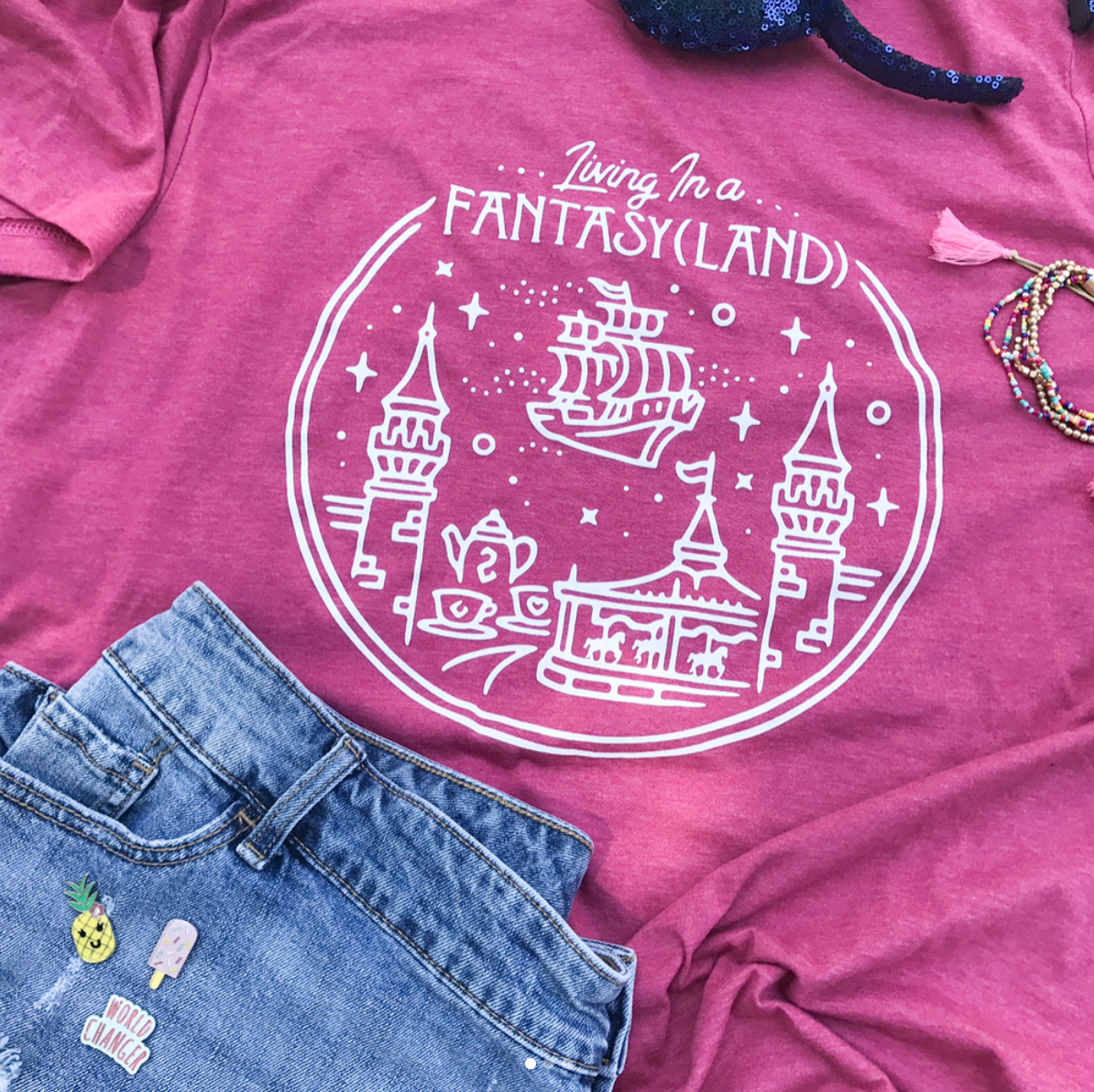 A few months ago, my sweet friend Julie decided to start her own Disney tee company called It's A Magical Adventure and create t-shirts that represent the lands at Disney World. She certainly cornered the market with her darling and simple designs, and her first shop opening two weeks ago was a huge success! The tee posted above represents Fantasyland, and it's my favorite design of hers! Julie offers customers color options with each of her designs, so the tee combinations are almost endless! While her shop is currently closed at the moment, she will be opening again later this month and offering her signature "the lands" collection oncemore. To see more of her absolutely adorable designs, you can find her on Instagram @itsamagicaladventure to stay updated with shop openings and other information.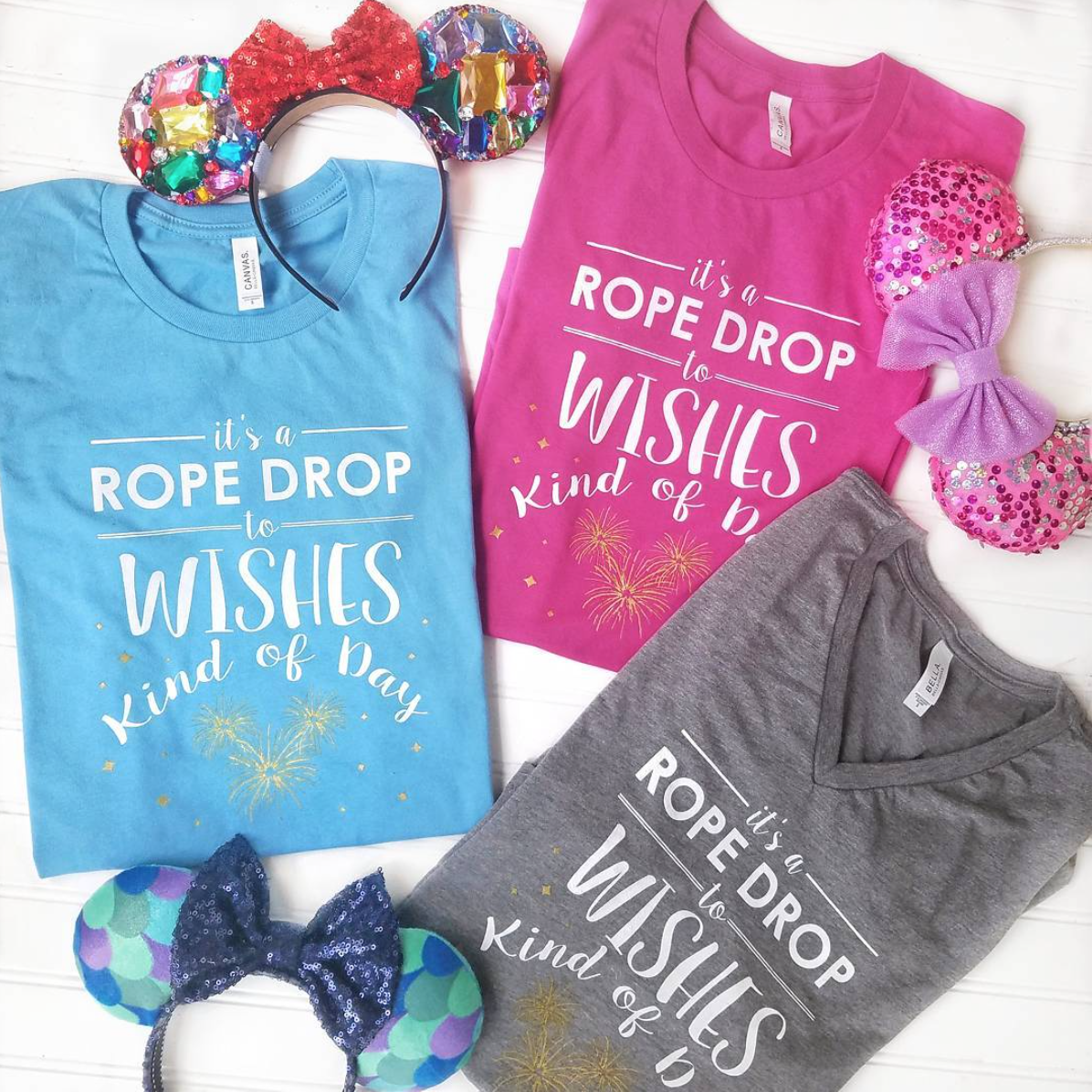 Once Upon A Mickey Tee is a shop that's extra-special to me, as this is the first company that I started working with photography-wise! Katie and David are the brains behind this incredibly popular tee company, and their designs can be found all over Disney- I see at least five park guests wearing their designs on any given day at Disney! My favorite tee of theirs that I own is their Rope Drop to Wishes tee (which is now Rope Drop to Fireworks tee) because it doesn't scream "Disney!" and has a hidden Mickey with fireworks… how cute is that?! Their tee designs are nearly endless, with one that says "I Like My Food Mickey Shaped" (because, who doesn't?!), and there's even a shirt that's perfect for cat lovers too: the "Because I'm a Cat Lady" tee is adorable, and 50% of the profits go straight to the Charleston, SC Animal Society. Katie offers her designs in tees, v-necks, tank tops, crop tops, and even offers kid's tees too- Once Upon A Mickey Tee is perfect for the whole family! Need a tee within two weeks of your Disney vacation? Once Upon A Mickey Tee is always open, and their shirts ship fast! You can find style tips, new design launches and other fun Disney posts on their Instagram @onceuponamickeytee.
When head gear is cute. Like, really cute.
When I was introduced to the rabbit hole that is Etsy and the massive Minnie ear market, my Disney parks Minnie ears were put on the shelf for good. Okay, sometimes I'll still wear my ears that I purchased at Disney World, but they have major competition. These four shops below are the makers of my favorite mouse ears, and ones that you'll see me in constantly. I'm a sucker for unique ears, and these shops don't disappoint!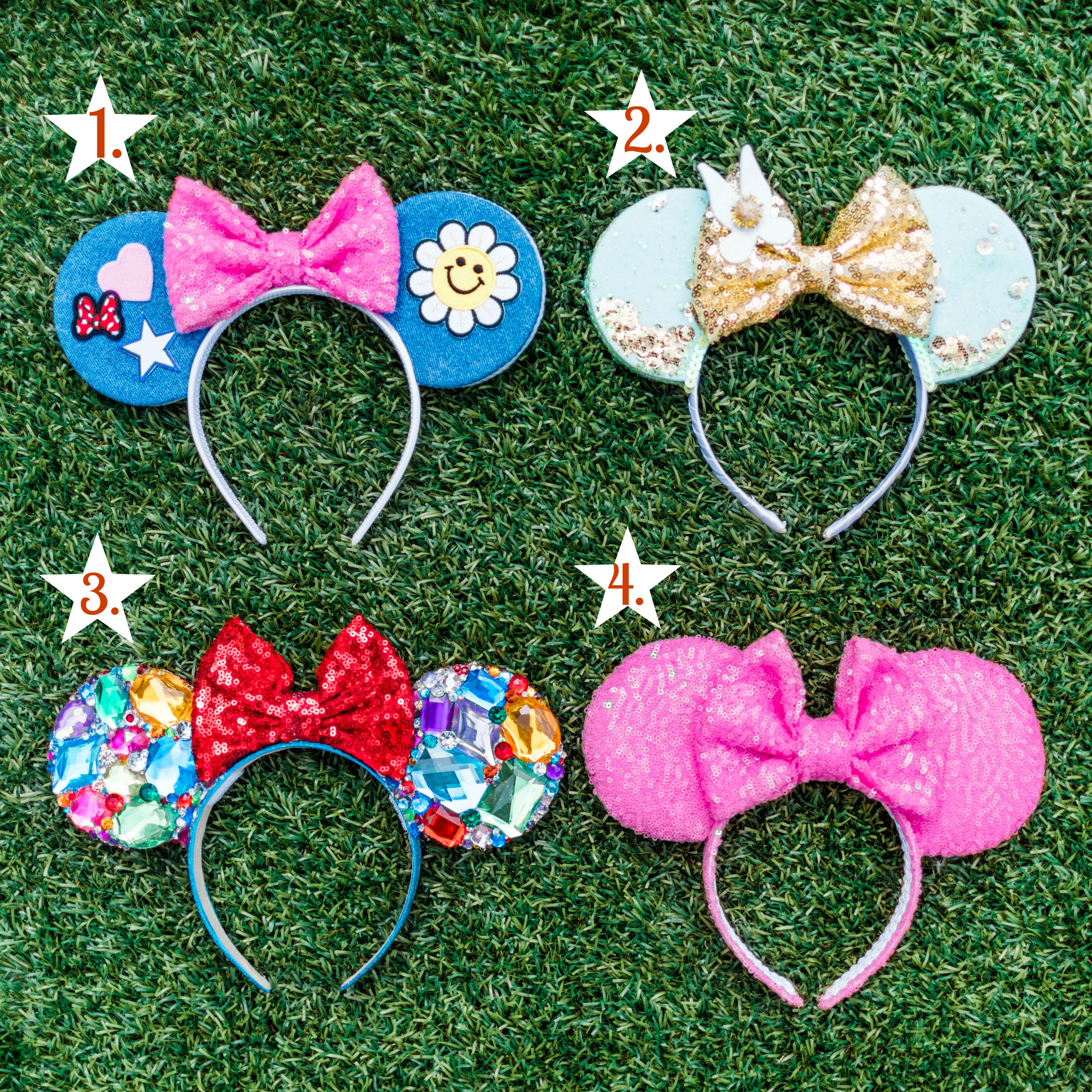 Accessorize, Disney style.
Pins, necklaces, watch covers… you name it, there's probably a small shop that makes it in Disney form! While only two of these goodies in the photo below are from small shops, one of these accessories has turned into a hobby for our whole family (and we don't deny it!).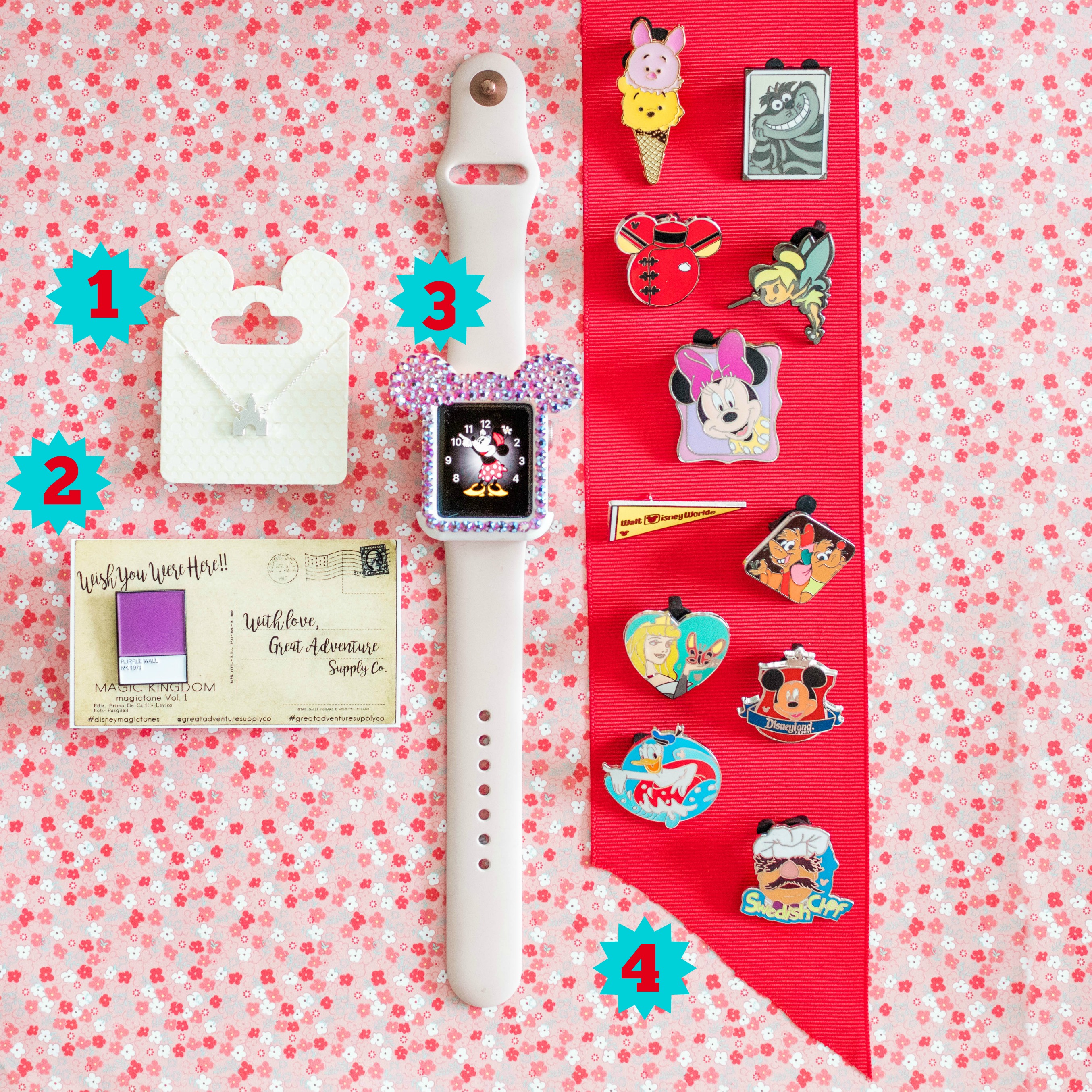 My Disney castle necklace is a piece of jewelry that I constantly wear to the parks, and I love how subtle it is! This necklace comes in both silver and gold tones for $17.95, and is found only at the Disney parks stores and on Disney's Shop Parks application for smart phones. If you don't have this app and love Disney, you're missing out! This is the only way to get Disney merchandise from the parks without having to step foot onto Disney property. It's a no-brainer!
This Disney-inspired Magictone pin by Great Adventure Supply Company is the coolest pin I own! This small business is run by two of the sweetest people I know, and their genius idea of creating a Pantone pin collection for the walls of Disney is, well, GENIUS! Below the color swatch, the pin says "Purple Wall" and the color code is "MK 1971". How cute is that?! You can find them on Instagram @greatadventuresupplyco.
My Minnie Mouse Apple watch cover by I'm A Little Something is the greatest Minnie bling on my wrist! Kalei, the shop owner, is a boss mommy (love that!) who creates these watch covers with her 3D printer and hand places the swarovski crystals. Her shop is currently closed, and there isn't a set date for her shop to open again BUT she does talk about shop updates constantly on Instagram @imalittlesomething, so be sure to follow her!
A new hobby that we've been doing as a family in the parks is starting a Disney pin collection and trading official Disney pins with cast members! We love finding the mystery pin packs at the parks shops, and opening these mystery packs are so much fun; you never know what you'll get! Most of the pins on the ribbon in the photo above have been traded with cast members, and some of them are from Disneyland in California, and the ice cream pin is from Disney Hong Kong! Cast members will have pin trading boards set up in the parks shops, and some have a pin bag on them. To trade a pin with a cast member, politely ask if you can see their pins, and any pin on their pin board or pin bag is available to be traded (they can't say no to a trade). This is such a fun activity for Walter (our three year old), and it's become an addictive hobby for the whole family!
Tiny in size, but they're serving a lot of attitude (and functionality!)
I'm either wearing a backpack or carrying a tiny bag when I go to Disney, and there's no real in between. If you're staying at one of the resort hotels at Disney, these two bags below are the perfect size for a phone, ID (because YES, you DO need to carry your ID with you at Disney) and a small camera.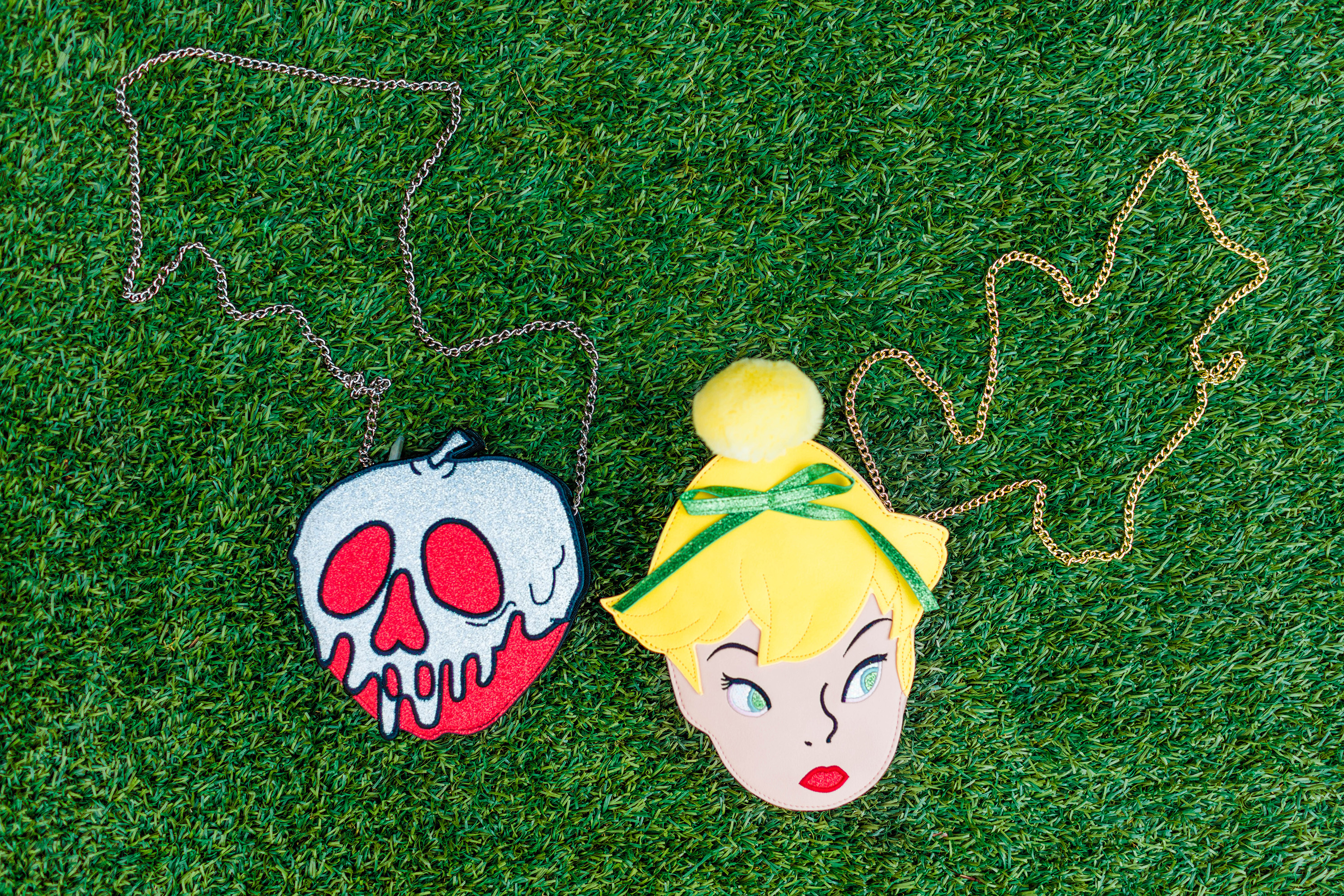 I'm very conscious about what bag I take with me to the Disney parks, and a small bag certainly makes day trips to Magic Kingdom very easy! These two Danielle Nicole x Disney handbags don't always sit idle in my closet, and frequent the parks often. My Just One Bite poison apple crossbody bag is actually sparkly (can you tell I like the sparkle?!) and is the perfect accessory for any villain lover. I wear this bag with destroyed denim, white hi-top chucks and a black v-neck to give off the perfect villain look. My Tinkerbell crossbody bag is nicknamed the "serving shade bag" because of Tink's look on her face, and it always makes me giggle on the inside when I wear it. Both of these bags hold an iPhone 7 Plus and a slim credit card case easily, so these are both great options for those who want to carry the bare minimum in the parks… all while showing maximum Disney attitude. Danielle Nicole also has handbags designed after Beauty and the Beast, The Little Mermaid, Snow White, Cinderella, and Sleeping Beauty, so be sure to check them out! psssst…. Box Lunch is currently offering 20% off sitewide, and their collection of Danielle Nicole x Disney handbags is included!
—
These are just a few of my favorite Disney accessories, and if you find me at Disney you'll definitely see me wearing a few of these! Are you headed to the parks soon and want some ideas about what to wear and what to leave at home? Feel free to drop me an email to hello@faisonanne.com and I'll be glad to help!