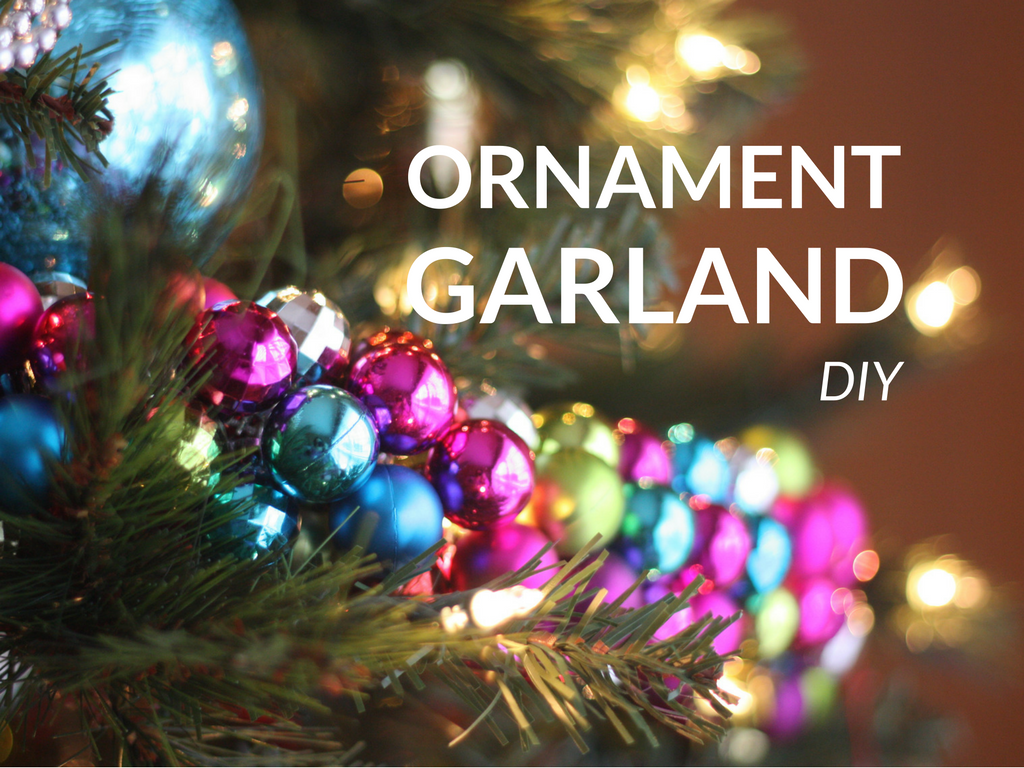 Confession. I am not crafty.
Like, not at all.
I feel like that's a requirement of a blogger. Sadly, no…but I do love a good glue gun! But sometimes I come up with crazy ideas apparently called crafting and I set crazy plans in motion. Probably the biggest "craft project" I've ever taken on was my ornament garland for my Christmas tree. I thought to myself it would be so easy, take a little bit of time and in the long run cheaper.
I'll pre-warn you, probably not the cheaper alternative.
Was it worth the time, energy and many hours of watching Gone with the Wind and Hallmark Channel Christmas Movies?
Absolutely.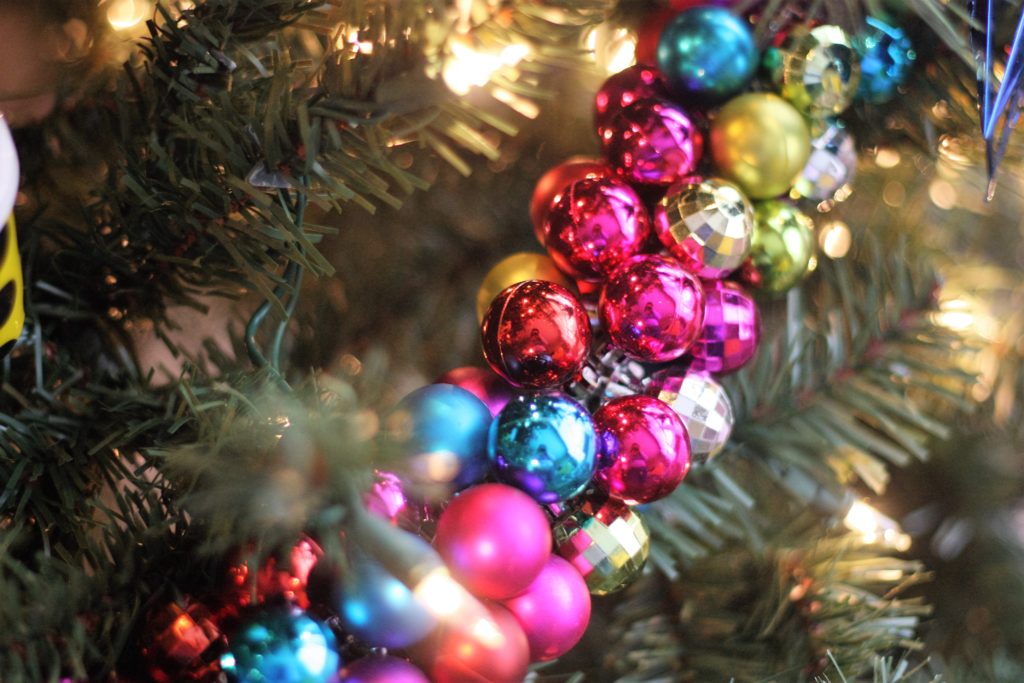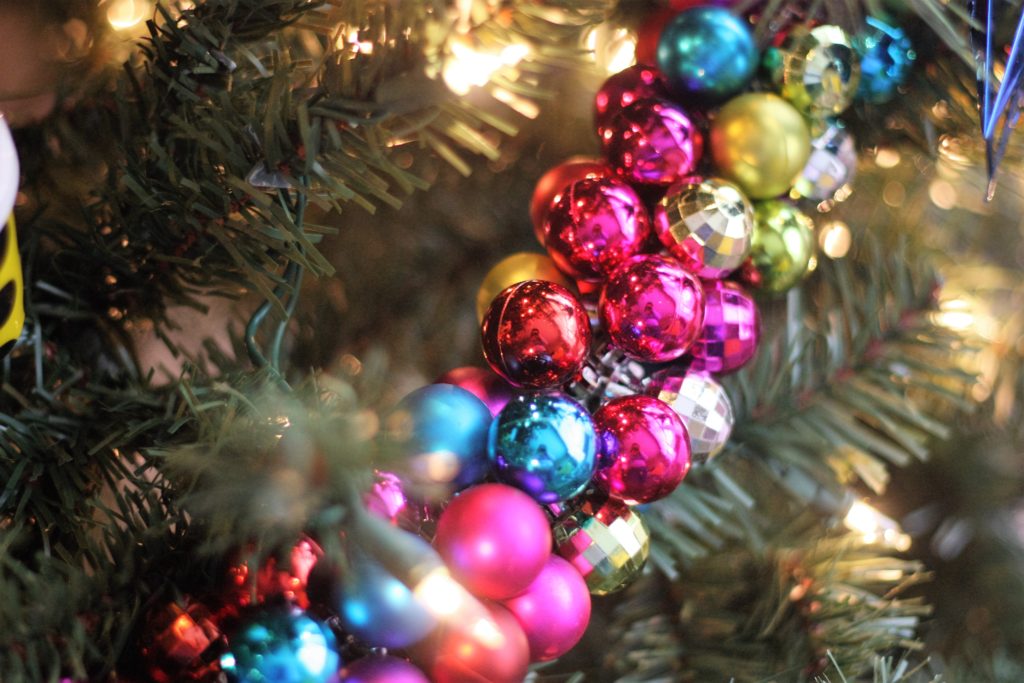 Ornament Garland is a show stopper. The first thing anyone ever notices on our tree is the garland and they ask where I got it. Then I get to share the story of my garland maybe with a little bit of dramatic affect. If taken care of, it will last you for year and years. I've even considered using it in other areas of my house, like the banister or twisted with pine garland for a mantel decoration.
I got the idea one day thinking I just needed to head to my local Target, get a few tubes of ornaments from the Dollar Spot and I'm set. Well, what was originally 10 tubes turned into probably 50 tubes. Keep in mind, I use teeny tiny ornaments a little smaller than golf balls, but bigger ones would also be fantastic! To show you how to make them today, I used ornament from the Dollar Spot that had 10 in a pack and about golf ball sized.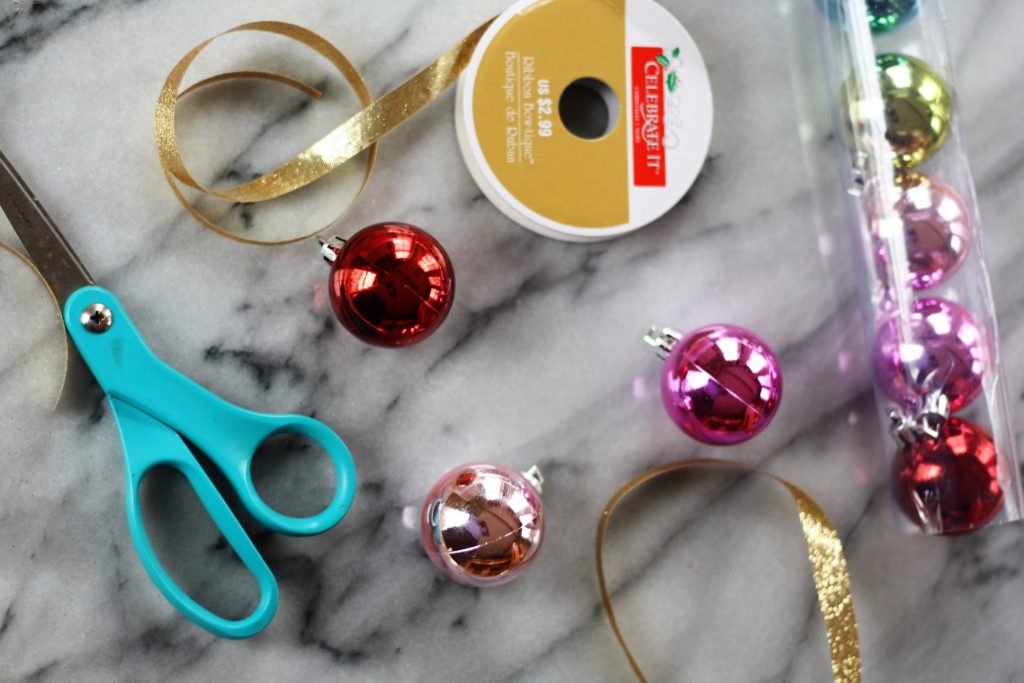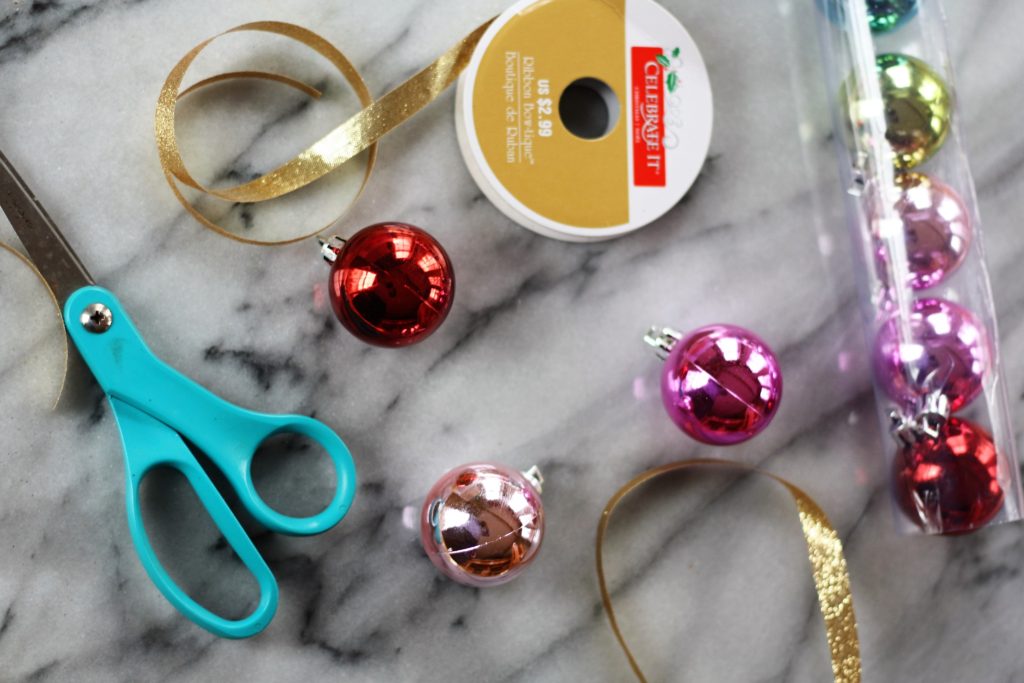 The project only needs 2 things:
1) 1/2 inch wire ribbon cut into 5 foot length.
2) Plastic Christmas Ornaments
To start, tie a knot around one ornament and start threading them on. You'll want to leave a good 6 inches to use to tie onto another strand. Very helpful for later.
Now, start threading! One by one thread the ornaments onto the ribbon being mindful of the color stacking. Make sure you layer the ornaments so they are laying on top of each other with hardly any room between. Then keep stacking!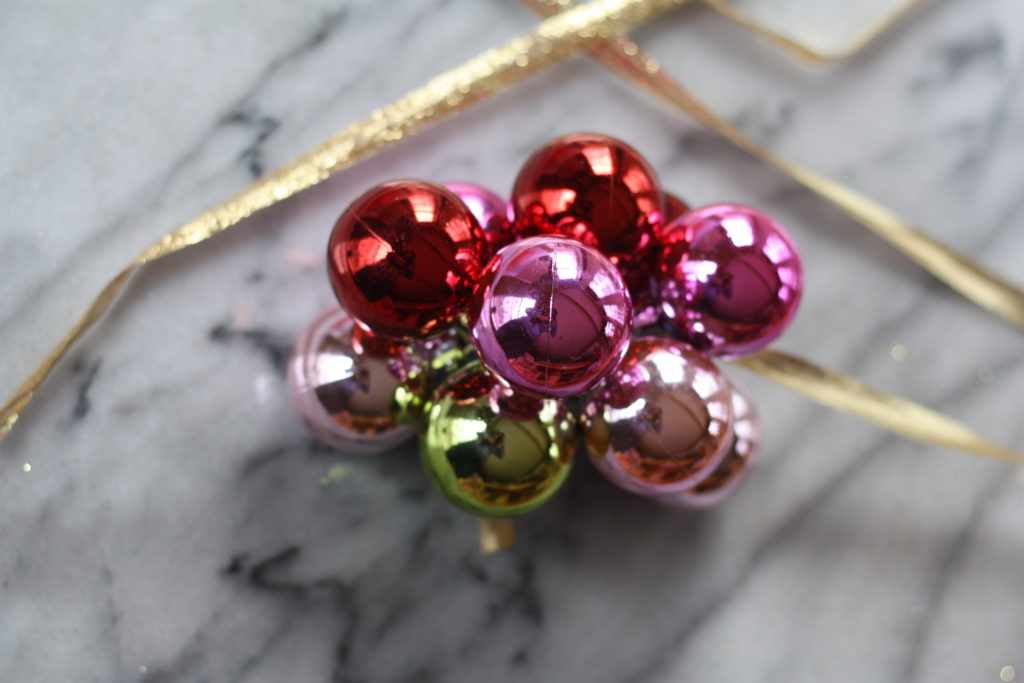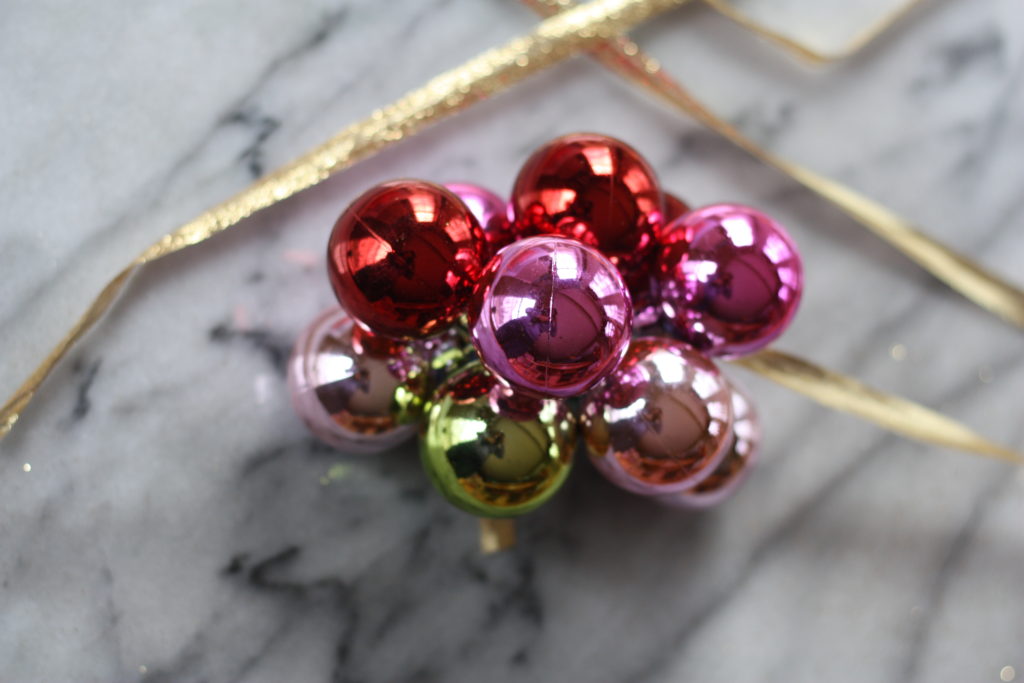 This project can be very tedious, monotonous and you may start begging your friends and family to help. If you are doing multi color ornaments, keep an eye on the pattern. You don't want to a clump of the same color.
Go crazy – get matte and shiny ornaments or even just go one color. I would also suggest keeping your strands to about 3-4 feet. Once assembled, they take on a life of their own and can be hard to move around.
When arranging on my tree, I start from the top down and then one by one add each 4 foot strand and use the ribbon to tie the pieces together to make one long strand and then just tuck any excess ribbon into the branches.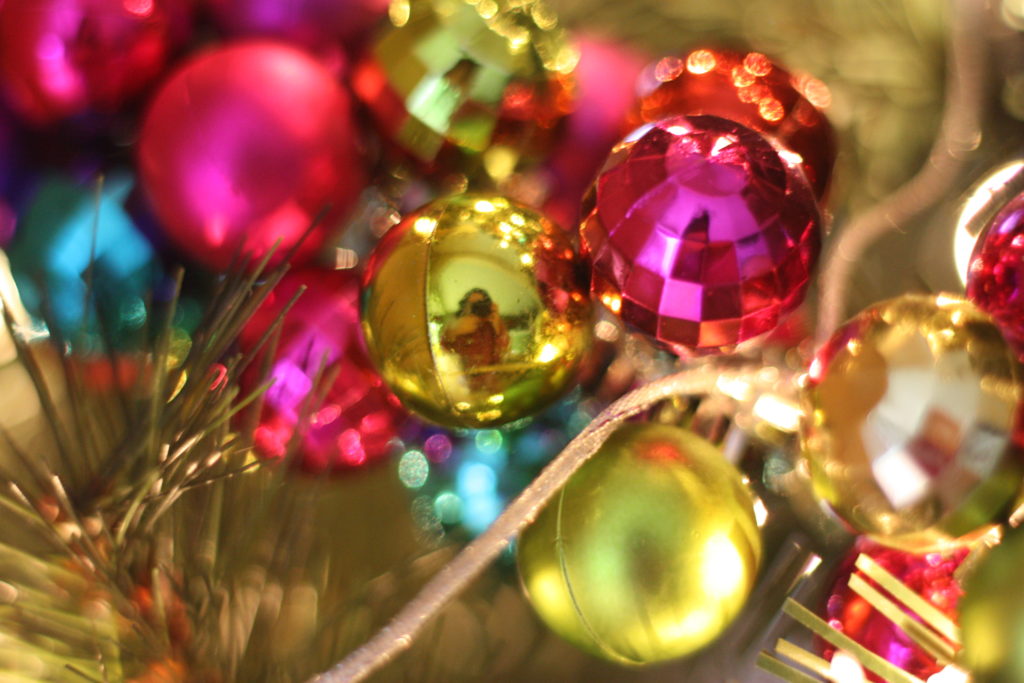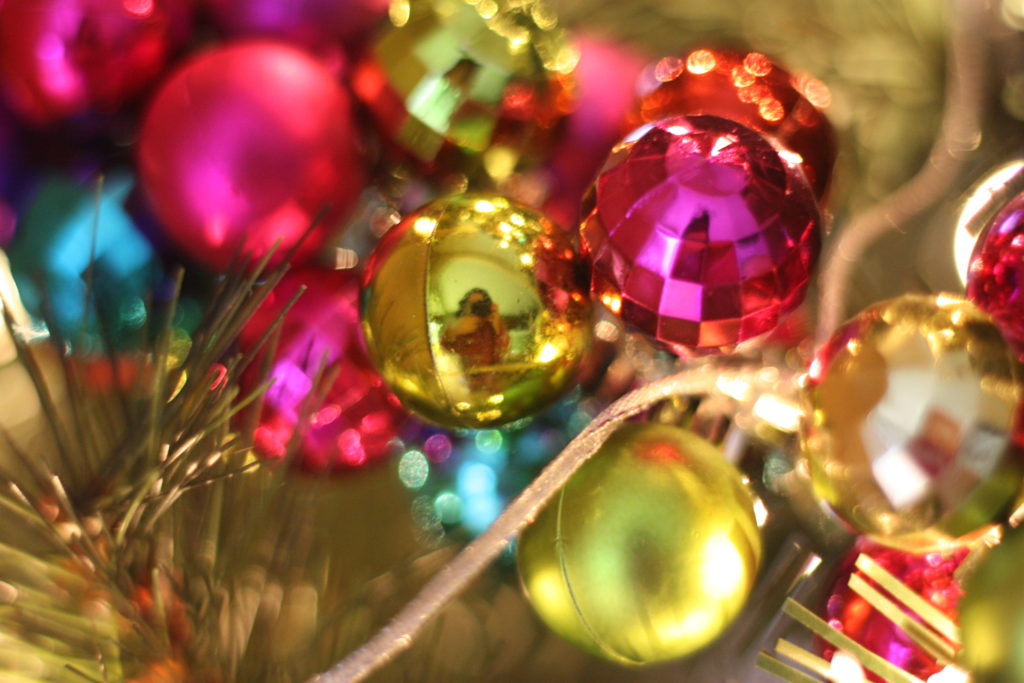 I'll tell you, it's worth the work, effort and patience you put into your garland. It's gorgeous, and you'll get lots of compliments. And when your friends and family ask you to make them some, charge an arm and a leg to do it!
Couple of things to think about –
Colors – think about what color your ornaments are and build from there. I originally had a blue and silver tree and the color pop was a pretty addition!
Length – plan for extra length! We had a 6 ft tree and this year got a 7, and my garland only wraps 4 times instead of 5. It's still pretty, but maybe plan an extra 1-2 feet.
Budget – cheap plastic ornaments are perfect for this. Think about maybe tackling this project for your next holiday and buy at the end of Christmas sales. There are always tons of ornament packs left!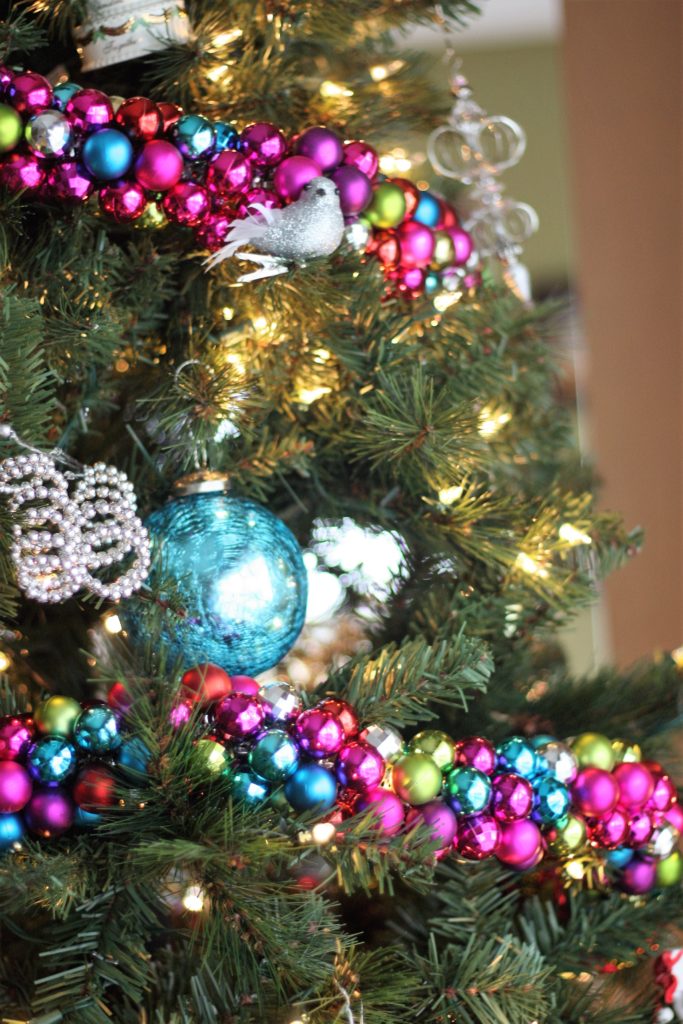 And there you have it – DIY Ornament Garland! Tell me, have you ever taken on a big DIY project? How did you handle it?