2 years ago here on the ol' blog, I shared my favorite Toddler Christmas Apps and it was quite the hit.
This year, as we prepare for our Christmas travels and I have two very active four year olds to entertain on a 9 hour car trip and then two days later another 4 and a half hour car trip I want to be loaded up on all the latest and greatest apps.
Our twins use the iPads to play on quite often and during December I like to switch out several of our usual games for some festive ones. They still play with a lot of the ones on the old list, but this year I thought our list could use some updating.
Here are 5 new apps my crew is adding to our list of favorites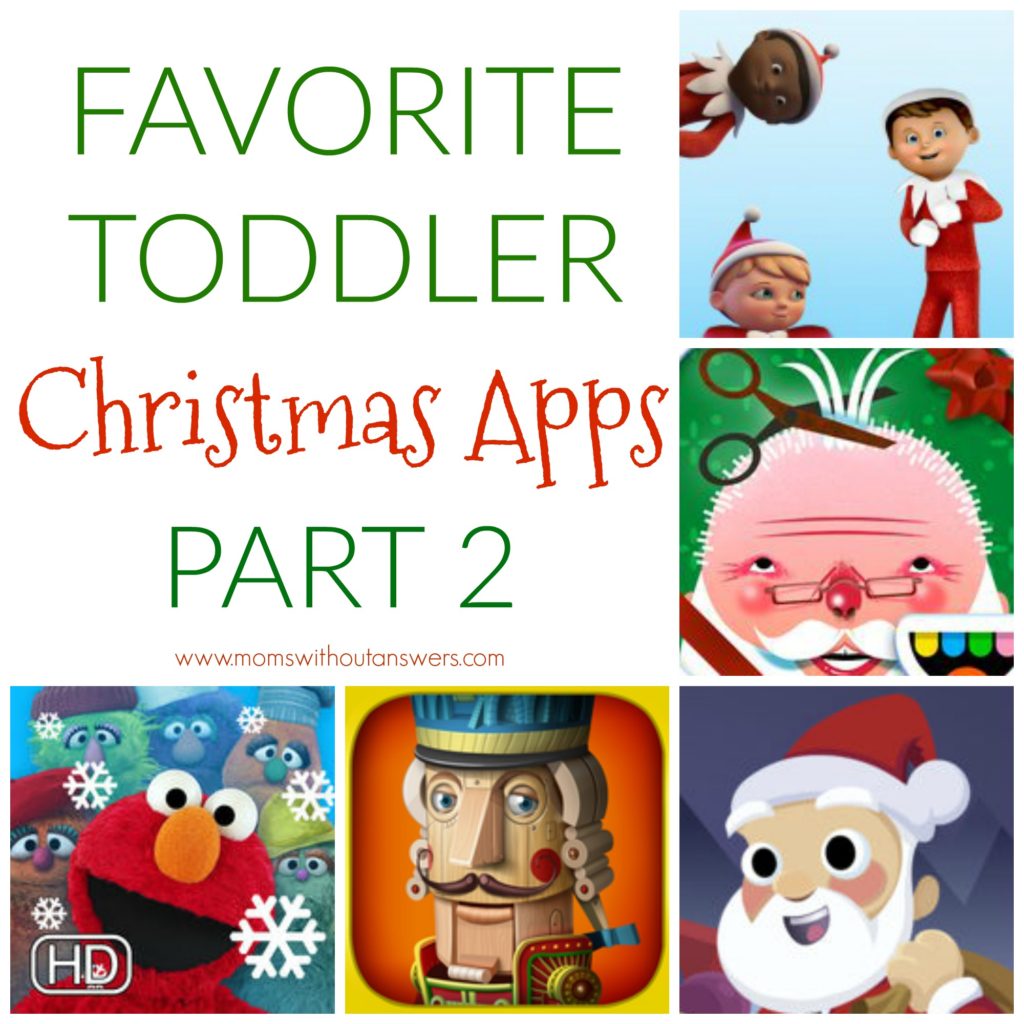 While not your typical Christmas app, there are plenty of Christmas themed features in the app. You can decorate your monster and get him in the festive spirit while Elmo provides commentary that will provide endless entertainment
Find The Scout Elves: Elf on the Shelf Hide And Seek
If you do the Elf in your house, then this is one app you don't want to miss. The game is similar to the old school whack a mole. Children have to tap the elves before they go and hide. Parents can adjust the difficulty level making this the perfect game for kids of all ages.
Toca Hair Salon – Christmas Gift
This app is for the girls (although I know my boys love it too). It allows you to give both Santa and he Christmas tree a nice "haircut" or shave. Instead of cutting hair, you may decide to dye Santa's beard and give him a blow dry. The unique spin on decorating for the Holidays is a nice break that can hold my daughters interest for hours.
Sleeps To Christmas – Countdown To Christmas
Anyone else's toddlers constantly asking when Santa is coming? This app can be your new saving grace! Let the app countdown each day and have a way they can check how many more days before Santa and his reindeer arrive.
The Nutcracker And The Mystery Of The Missing Cheese
This is one of the most diverse Christmas apps around. It includes an original Christmas story that bundles loads of activities for kids to enjoy. This app has it all: dress up, cake decoration, playing with tin soldiers, and driving a train. It has something for every interest and is a MUST download.
What are some holiday apps your kids love? I would love any recommendations for our long trek home for Christmas.