Disclosure: Combi USA provided me with the Fold N Go Double Stroller. As always, all thoughts and opinions are 100% mine
So I know this post is titled the must have stroller for twins, however any mama with multiple littles is going to absolutely fall in love with this one.
Strollers have not been our friend from the very beginning. We were gifted what we thought was an awesome double stroller while I was pregnant with the boys. We were so excited one day when the Dr's had talks of the boys getting to come home that we brought the stroller up to the NICU to test it out. We tried for a few minutes to fit the car seats in. And we tried some more. And then some more. And finally I told Will to look it up on You Tube. And sure enough there was a tutorial. So we watched that 7 minute tutorial carefully, ready to learn how to work the dang thing and then in the last 30 seconds we were surprised with "And while this stroller claims that it fits these xyz carseats, as you can see IT DOES NOT".
*Crickets*
And so we both stood there and looked at each other completely frustrated. I won't even go into the mess it was to return that thing and how angry I was about it all. Because we were in a time crunch we were forced to get a stroller that 1) we didn't really research and 2) we didn't really love. But we stuck with our decision and went on with life. It was big, clunky, inconvenient. It had zero cup holders or any real storage space for diaper bags. It just really wasn't any good.
I honestly didn't realize how bad it was until I realized what a stroller actually should be. Enter the Combi Fold N Go Double Stroller. No lie friends, this stroller has been a game changer!!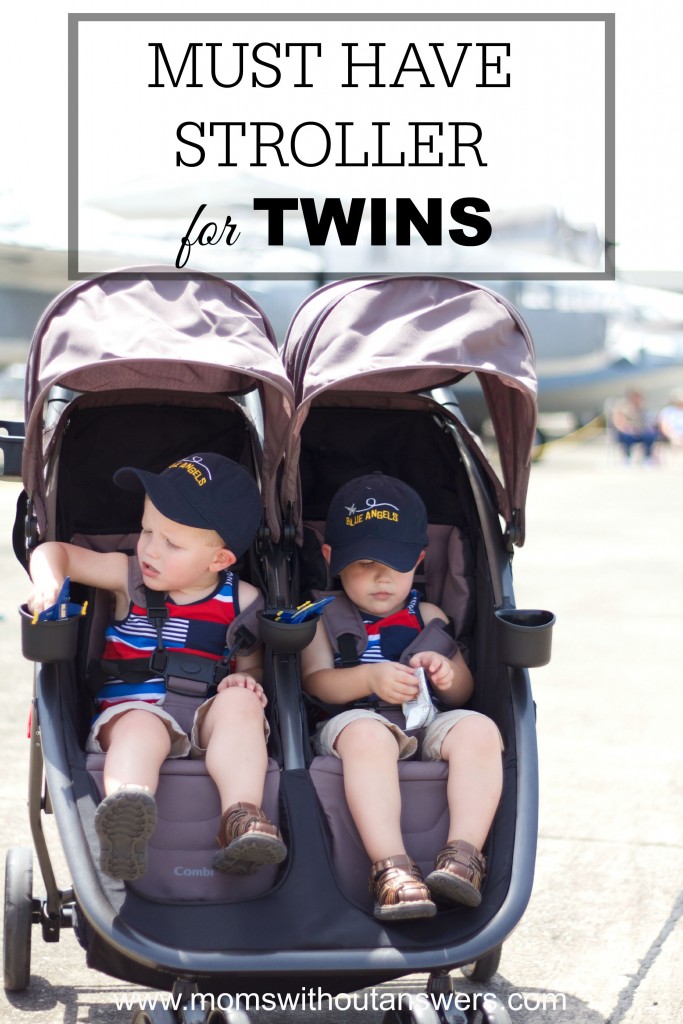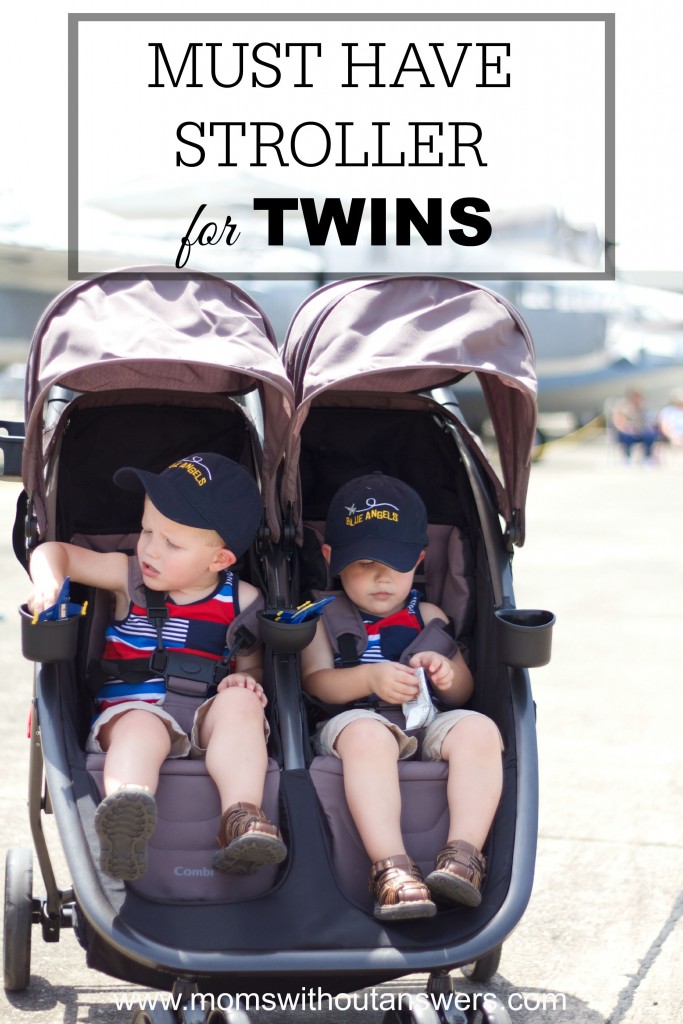 I honestly just don't even know where to begin with this stroller, it is just so wonderful.
When looking for a stroller there are just 3 things I need….
1) Easy to open and close
2) Easy to push
3) Storage, Storage and more storage
We put the Combi to the ultimate test just days after receiving it in the mail. We packed it up and loaded it in the back of the minivan for our beach vacation. We figured what better way to see if it was a winner than to travel with it?! We learned real quick just how easy it was to open and close. It is surprisingly really light weight and was easy to load in the back of the van and pack around. With the boys not being the most patient 2 year olds around, something that can open and close quickly is a must for me. Generally I have at least one throwing a fit when we go to leave somewhere and I need to be able to hold a screaming toddler in one hand and close the stroller in the other. It passed that test with flying colors.
Next to test is how the stroller maneuvers. Is it easy to push and fit through doors and stores? The answer…YES! The Combi is so light weight, even with the added weight of about 60lbs worth of toddler the stroller was so easy to push around in the crowds. It fit comfortably into all doorways we entered and while there are still some store that aren't double stroller friendly, I didn't find it to be inconvenient or difficult to get around.
Lastly is the storage. This was something our old stroller was seriously lacking. It had no cup holders and the underneath storage was a joke. It barely fit our diaper bag much less anything else like shopping bags or my purse. The Fold N Go has awesome storage. Cupholders for each seat and an extra snack cup in the middle. There are even cup holders for mom and dad in the back which is a HUGE bonus…a place for mamas Starbucks is a sure fire way to win her over. There are two snap closure pouches that hang on the back of each seat…perfect for our Thomas Trains that come everywhere with us and then the underneath basket fit my purse, diaper bag and shopping bags with room to spare. Really I couldn't ask for more.
The boys actually really enjoy sitting in this stroller. They have their cup and their snacks…they kick back and they are good to go. We watched the Blue Angels practice in Pensacola, FL while we were on vacation and it was HOT out there on the runway. The Combi provided them the perfect shade with the sun canopy and they sat and watched in awe of all the planes flying "Supa FAST". The straps and seat provide some padding for comfort and support and the seats can recline at different levels which make it perfect if the heavens open and one of them actually decided to nap while we are out and about.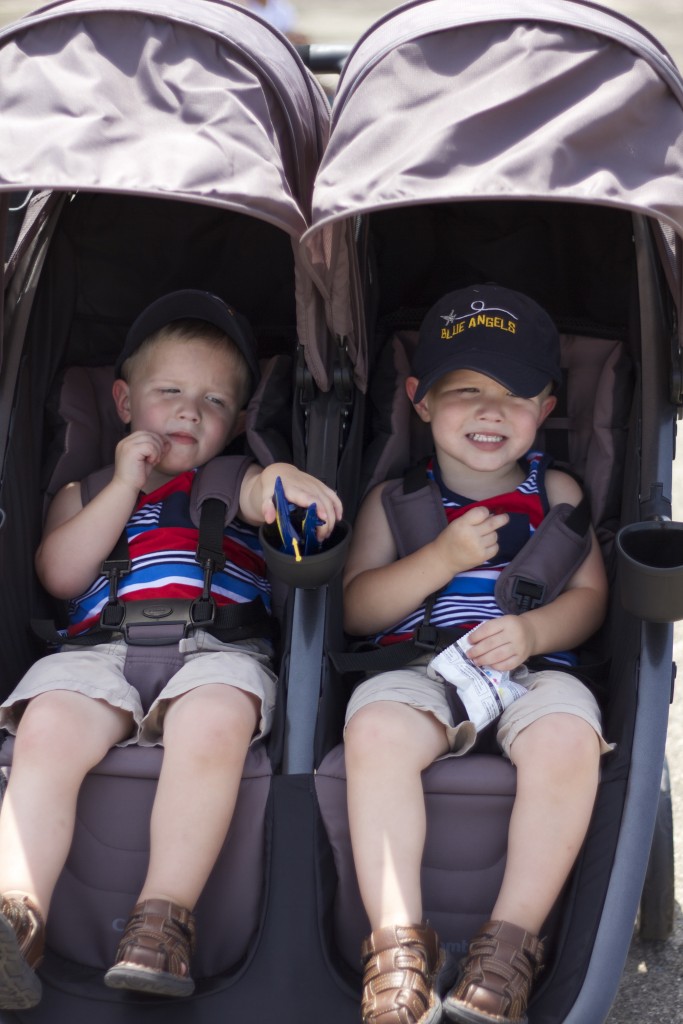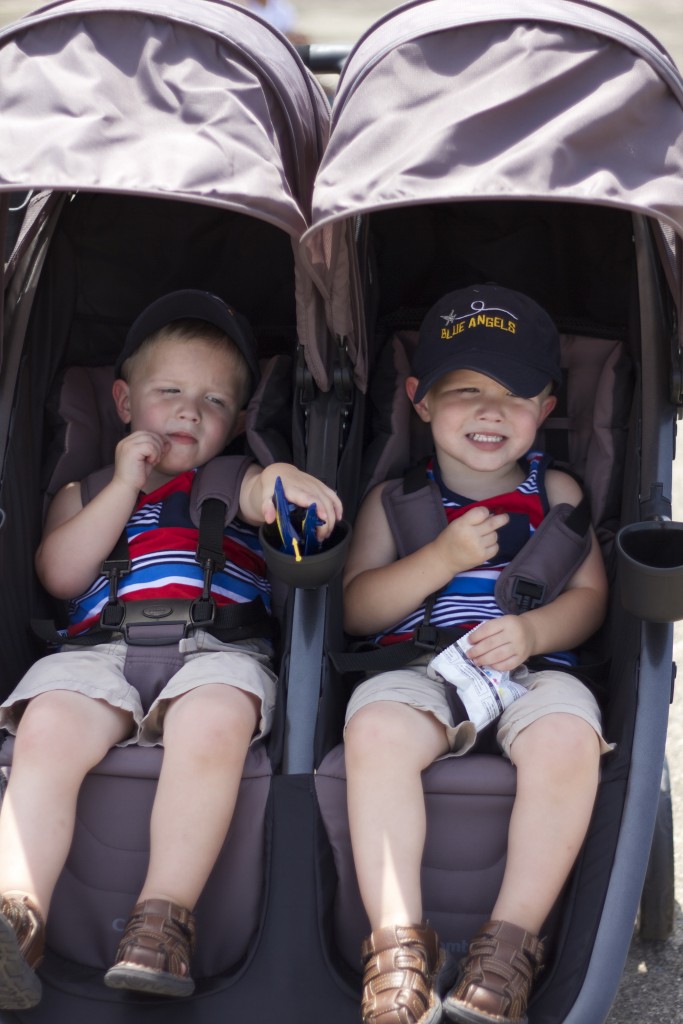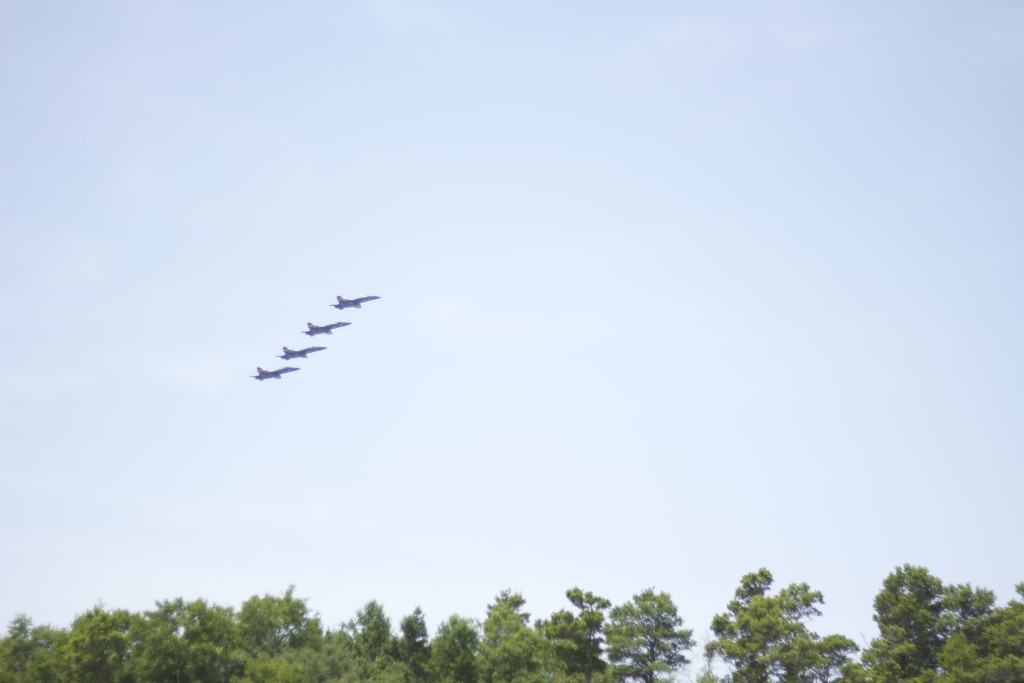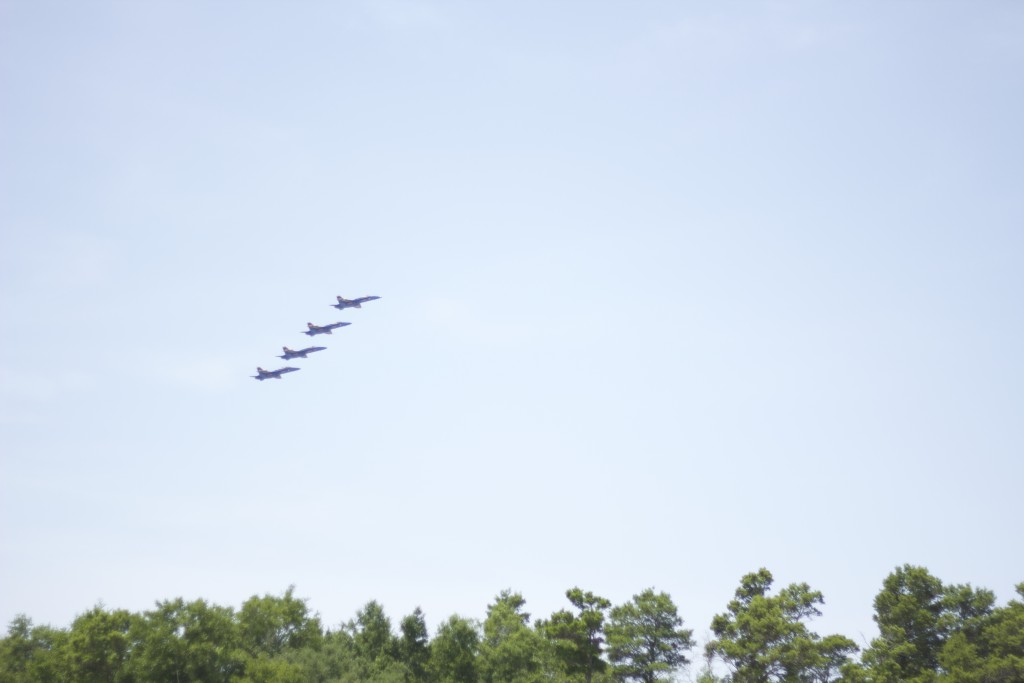 It really is a life saver and a must have for any twin mama or mom of two small kiddos. Channing has already been eyeing one for herself.
If you are a twin mama, or a mom to multiple toddlers I HIGHLY recommend you check this stroller out. Also, make sure you check out COMBI USA on their Facebook and Instagram pages to stay up to date on all their latest news. Not to mention they usually have some pretty awesome giveaways where you could win your own stroller.