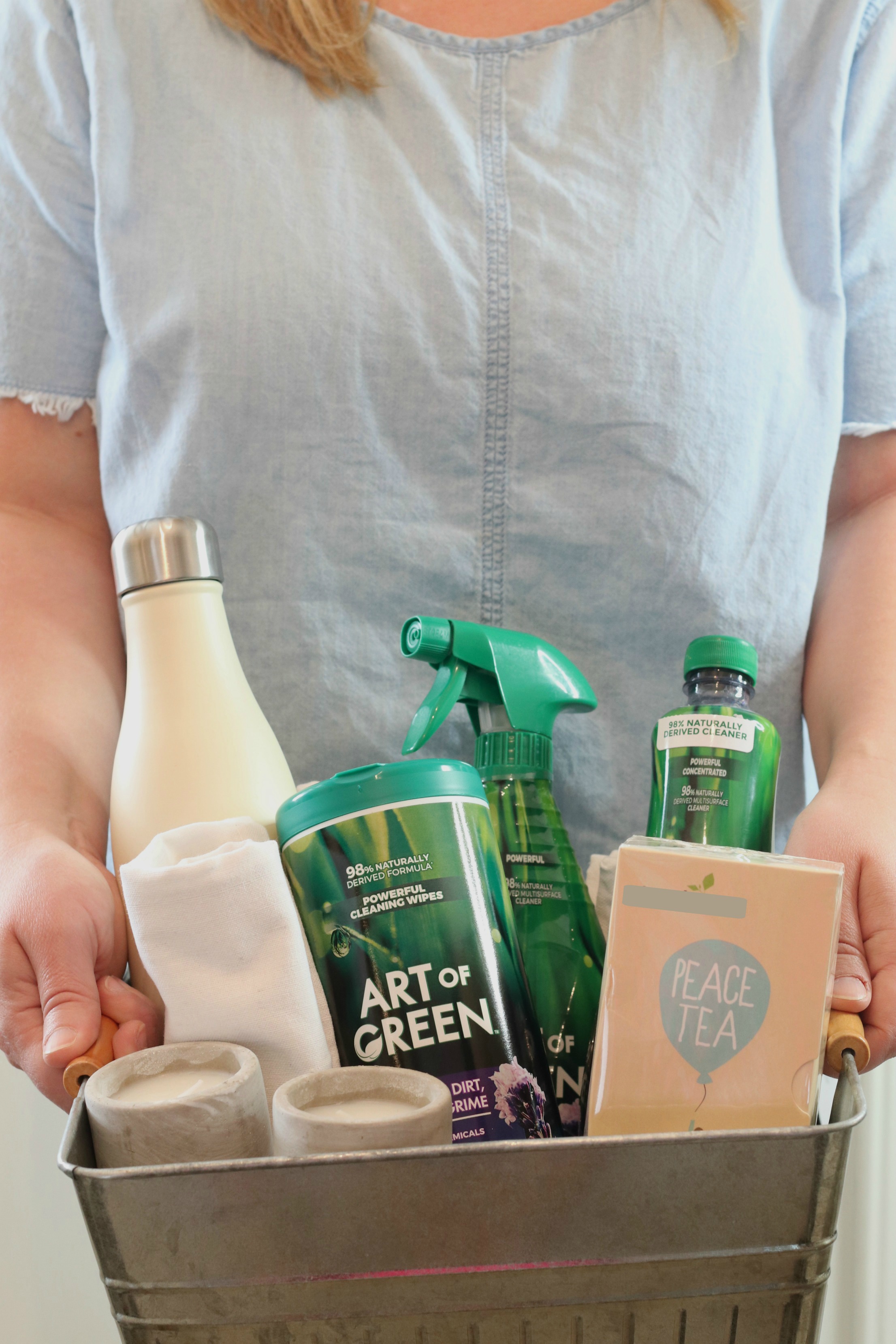 This post has been sponsored by Art of Green™. All thoughts and opinions are my own. Learn More!
I feel like everywhere I turn these days, I have a friend that is about to have a baby or just had one. There are literally babies all over the place! Although I have not brought home a new baby in almost 7 years, I still know that the best gifts are always the most practical ones.
Moms, who here was over the top grateful for the simple things like diapers, wipes, food, or even cleaning supplies? Yes, I said cleaning supplies. I will never forget when a sweet friend showed up at my doorstep with items, like Art of Green™, that is safe to use around babies to help me keep my house clean. The practical gifts are definitely the ones that helped make transitioning into motherhood so much easier. These practical gifts are the ones you do not realize you need until you get them!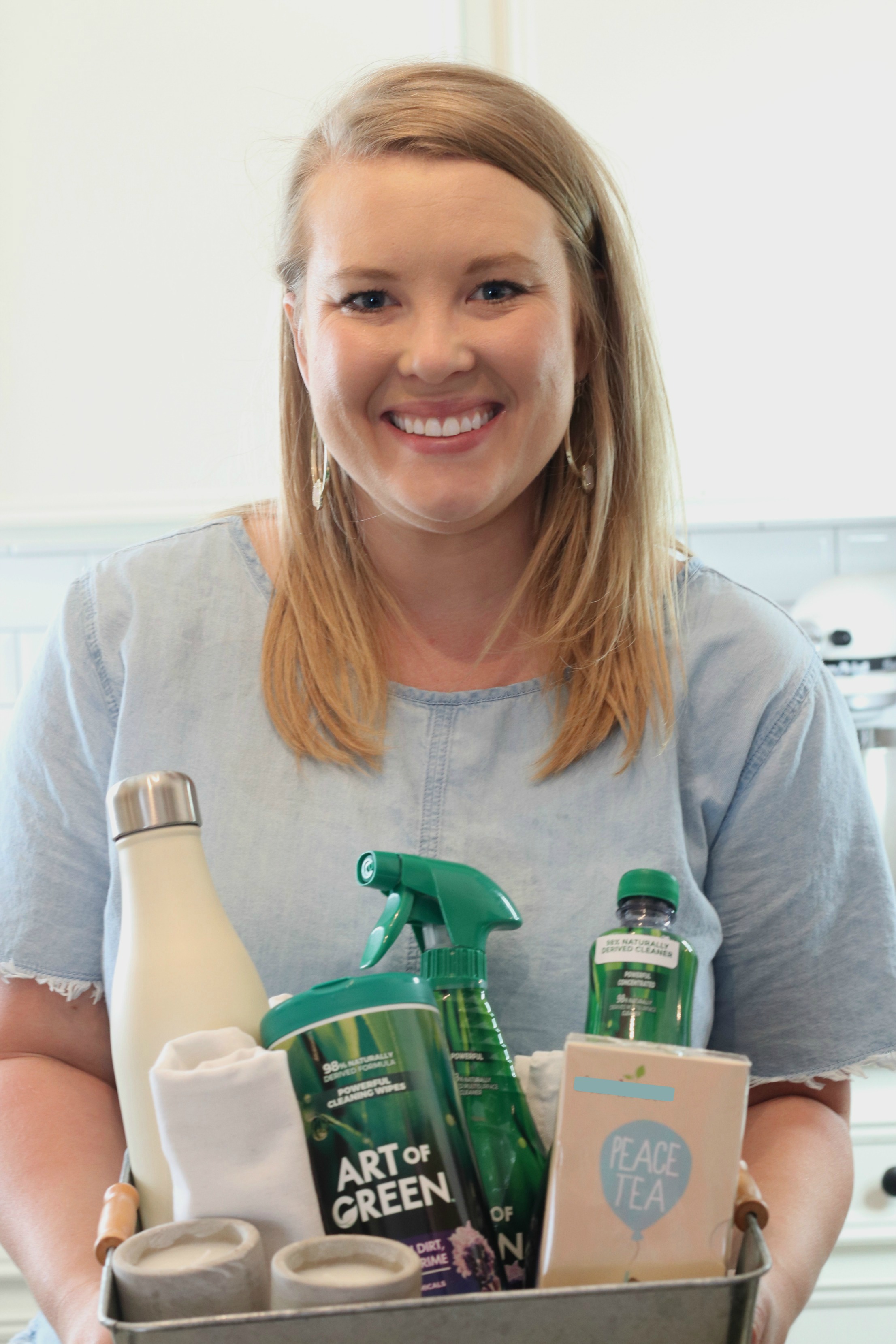 When coming up with ideas on what to give all of my friends and their new bundles of joy, I knew I wanted to give them something similar to what I received and made life run so much easier. A useful mom gift filled with safe products as well as other fun items to help a new mom relax!
How to Make a Practical and Useful Gift Basket for a New Mom!
1.Gather your gift items and materials!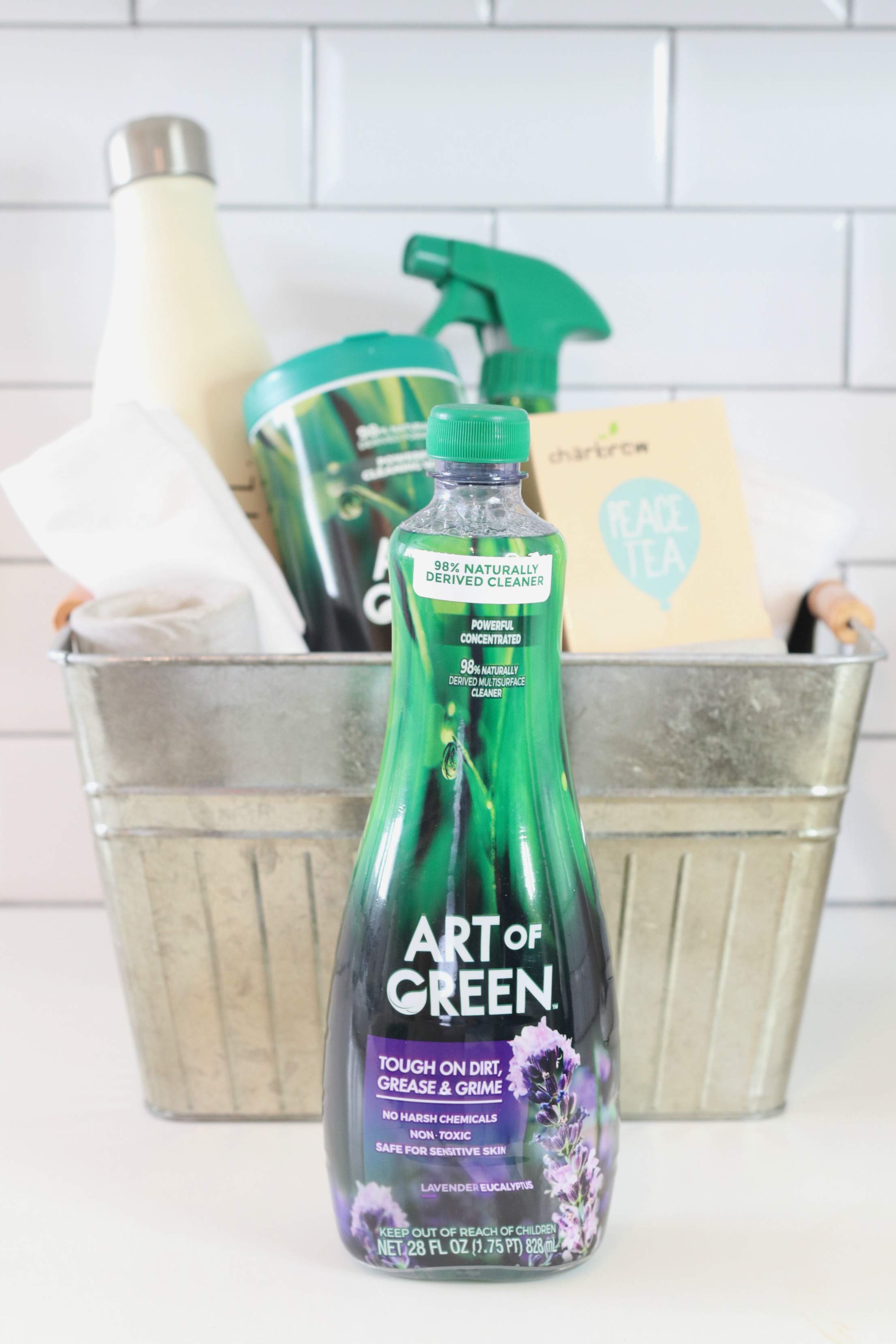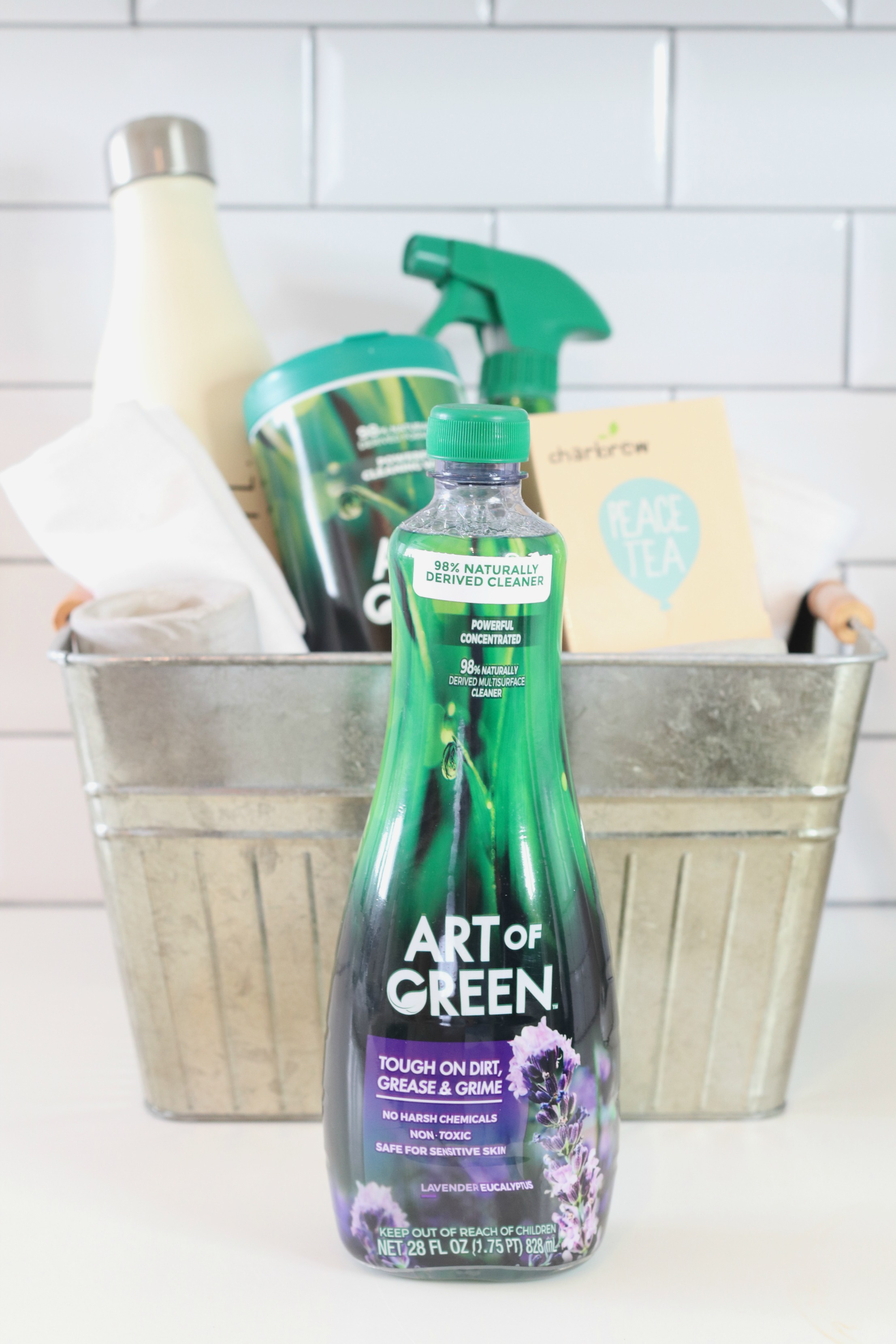 Here is what you need: For this basket, I filled it with Art of Green™ Lavender Eucalyptus Multisurface Spray Cleaner, Cleaning Wipes, Concentrated Multisurface Cleaner. What I love about these cleaning products is that they are non-toxic with no hard chemicals, made with natural essential oils, and are free of parabens, glycol solvents, artificial colors and phthalates. What I am saying is, Art of Green is safe to use in your home and you do not have to worry about having unnecessary chemicals around children or babies when using them. They are perfect for a new mom! I also added some cute candles and a peace tea for relaxing, some cute "green" towels made from recycled products to use when cleaning and a water bottle that says Namaste to remind Mama to drink that water!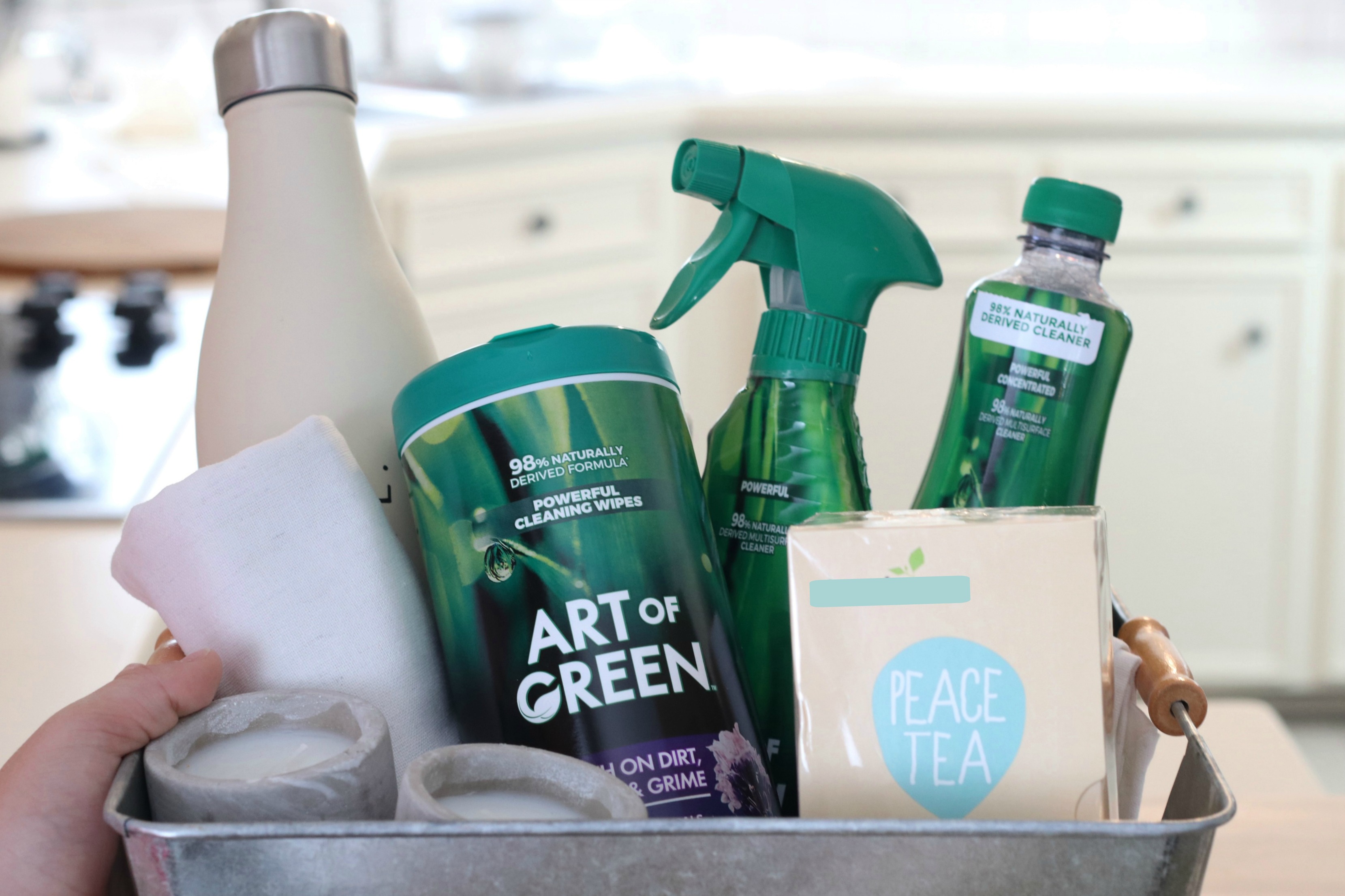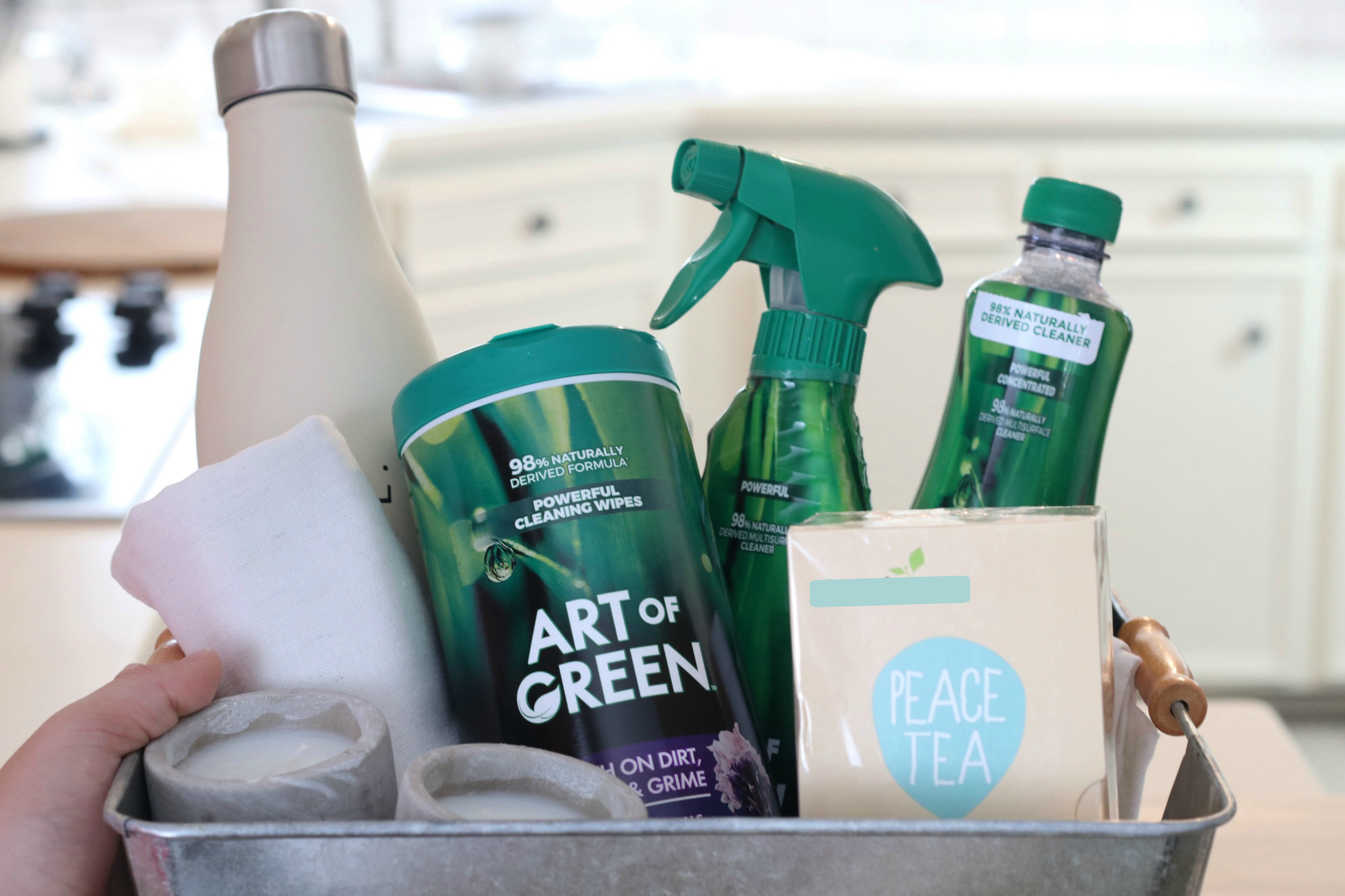 2. Arrange Everything in the Basket!
First, make sure all of the gift items fit into the basket and decide on an arrangement. Make sure you can see all of the items! Now, take them out and line the basket with tissue paper or even some fun towels that can be part of the gift to make everything stand up. Once you have the filler in place, put your items back in the arrangement you came up with!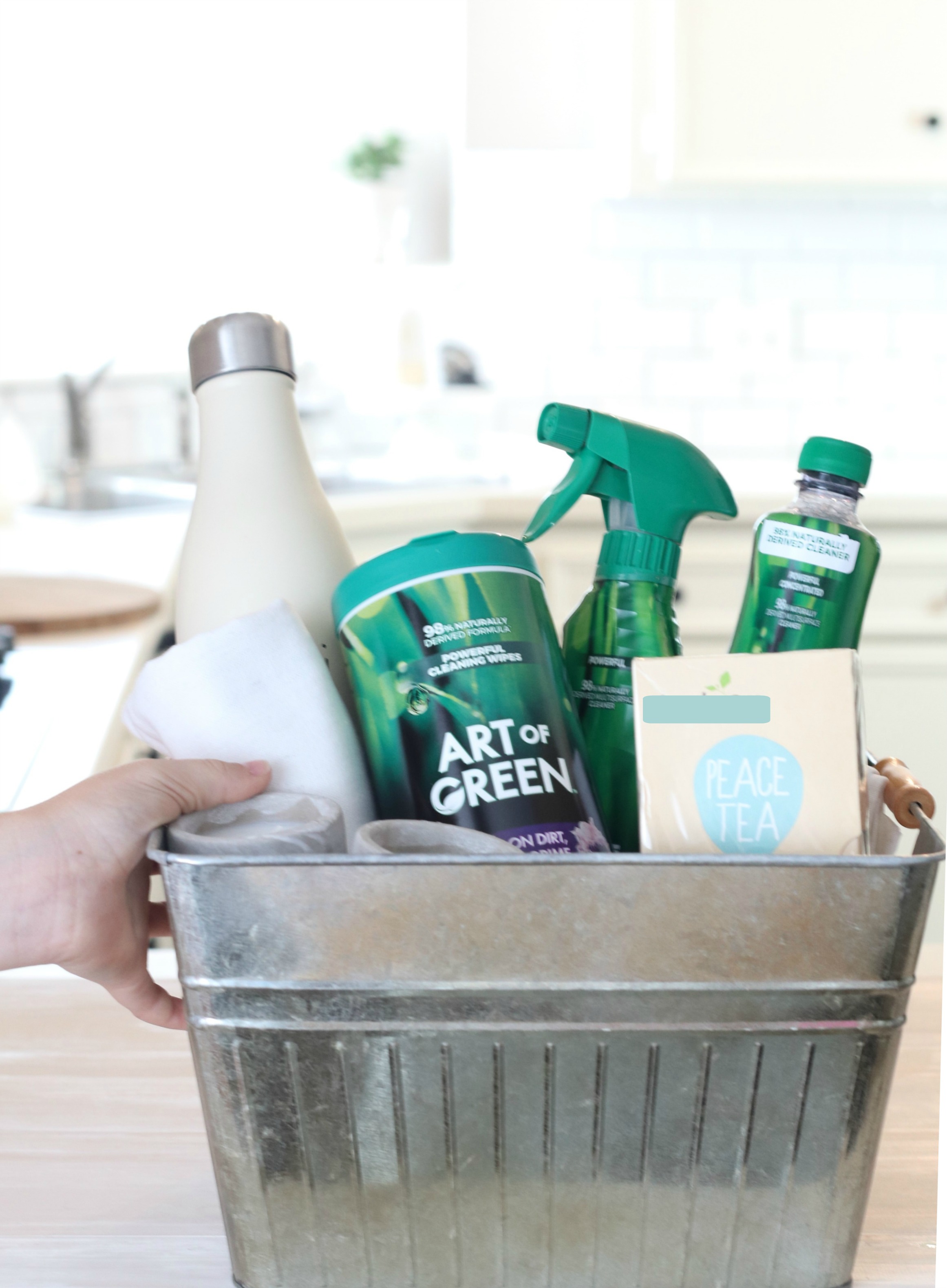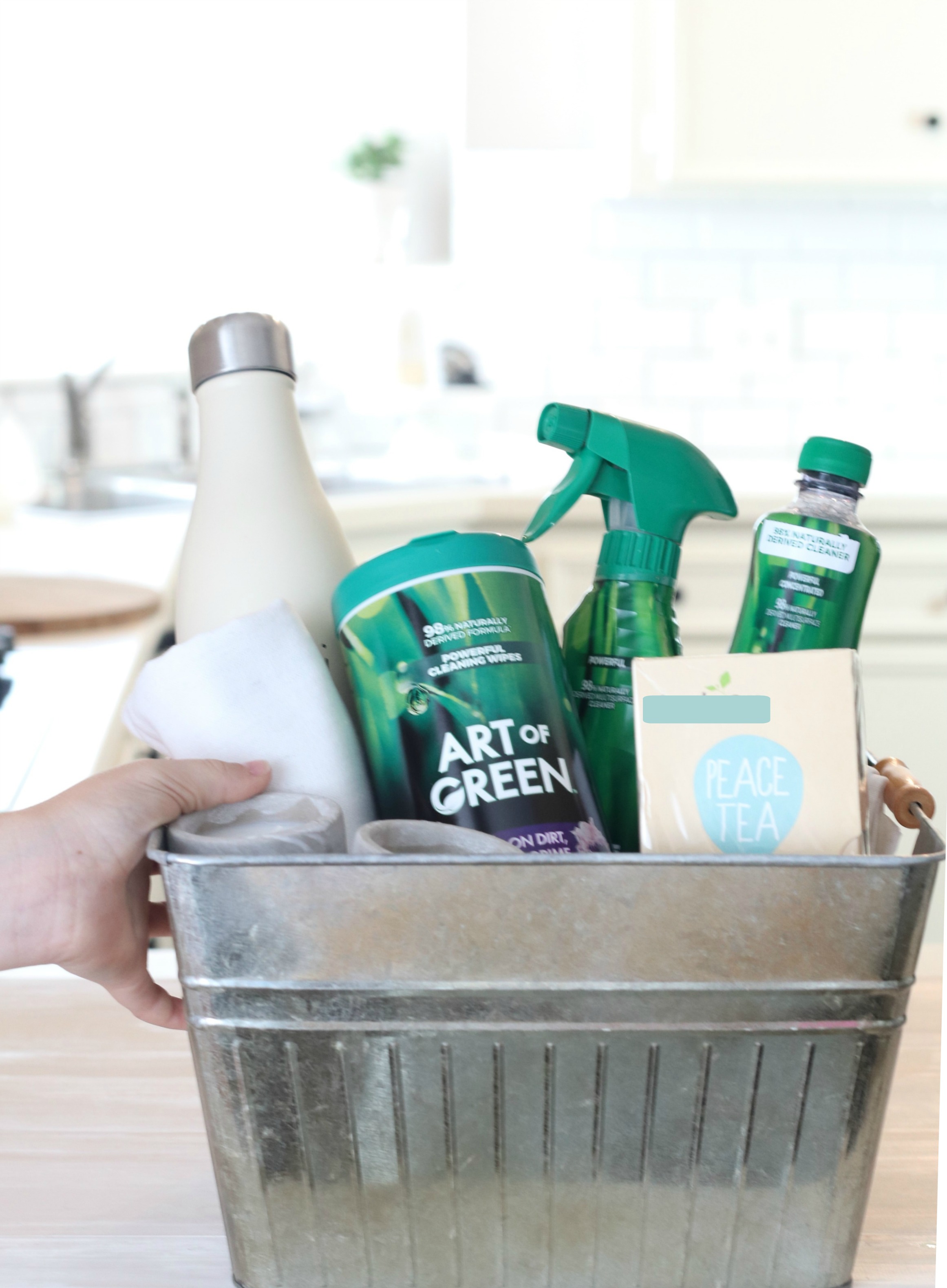 3. Add gift tags and bows and wrap basket!
I always love to add a cute handwritten card in the basket. It is a personal touch and a nice moment to remind a new mom that they are doing amazing! You could also tie a tag to the basket or even add a huge bow. This is totally up to you!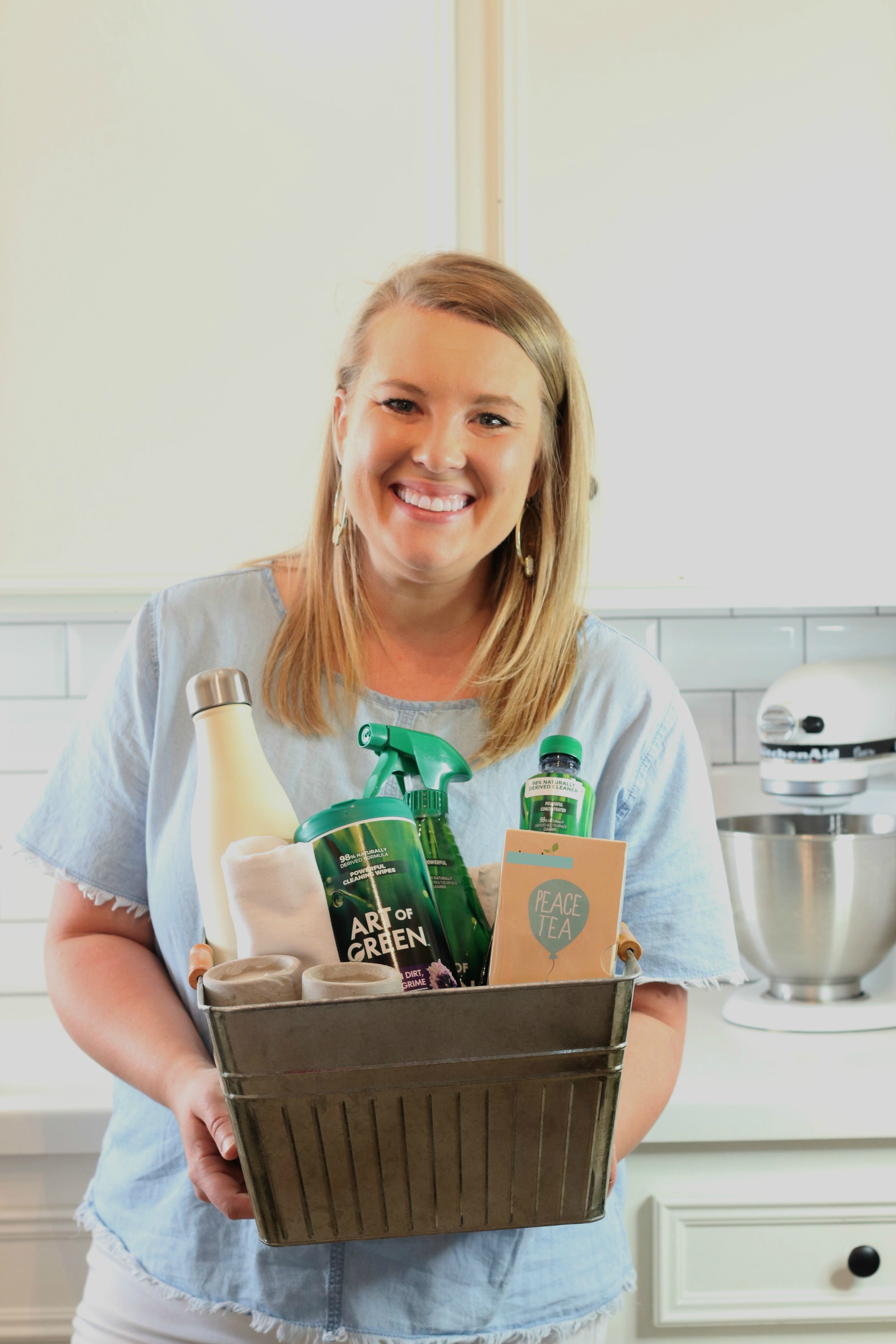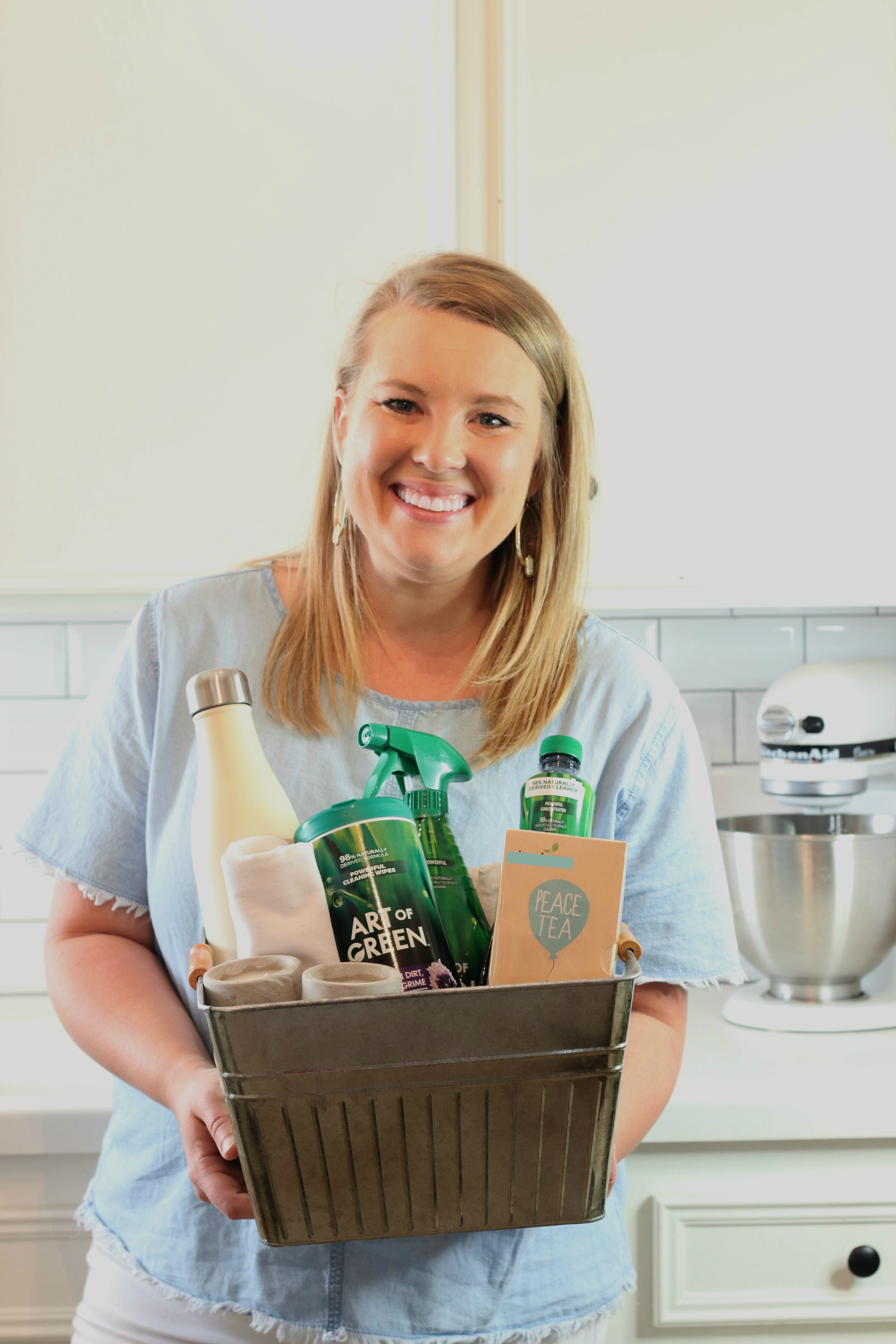 The finished product is a beautiful basket that is unique for a new mom and absolutely practical! All of these products will help, no matter what kind of day she is having.
Do you know a new mom or mom to be that could use a basket like this? Right now, you can find these amazing Art of Green™ Lavender Eucalyptus product at HEB. And, guess what?! I have a coupon just for you to make it even easier for you to grab all three products: the Art of Green™ Lavender Eucalyptus Multisurface Spray Cleaner, Cleaning Wipes, and Concentrated Multisurface Cleaner. They smell amazing, too!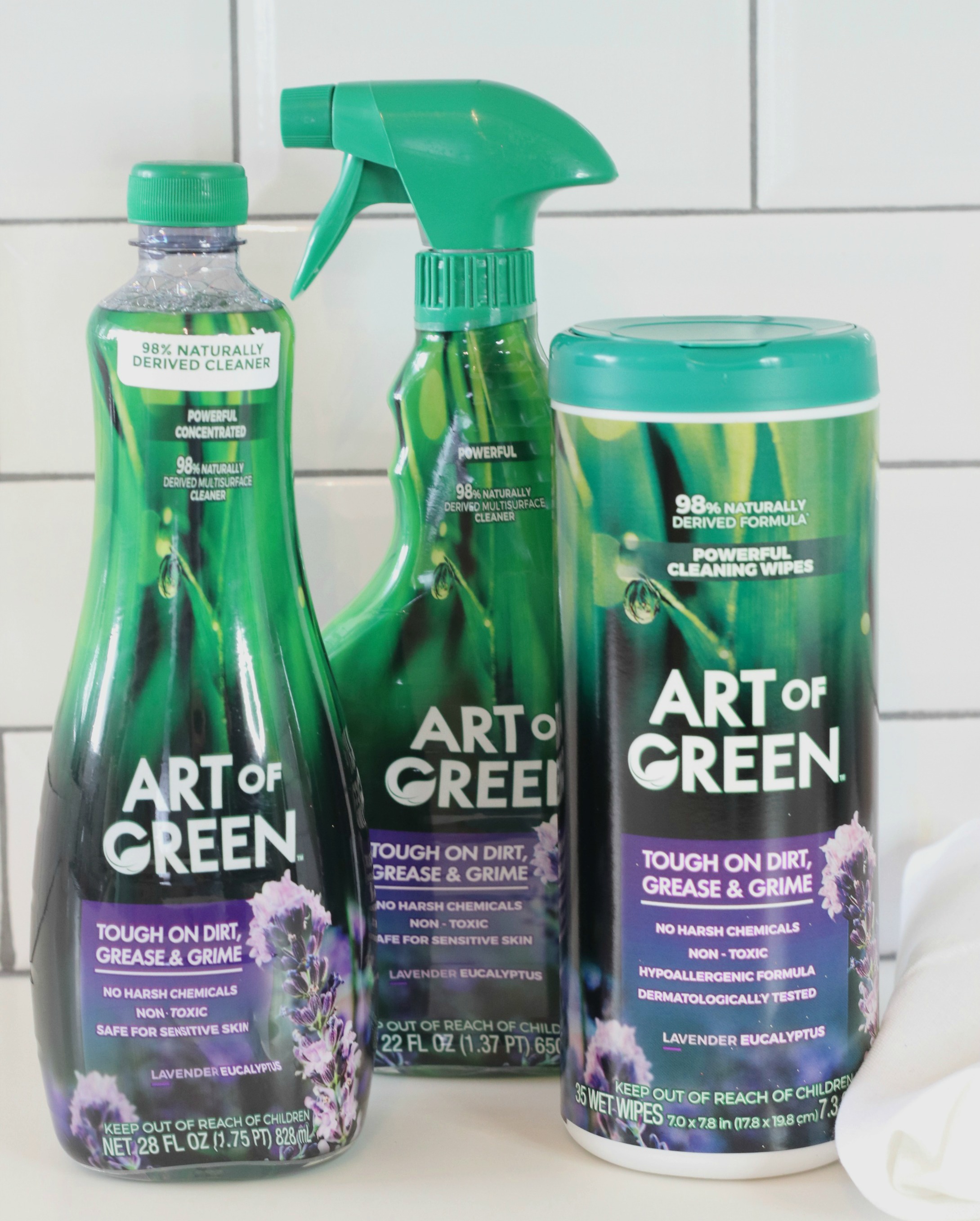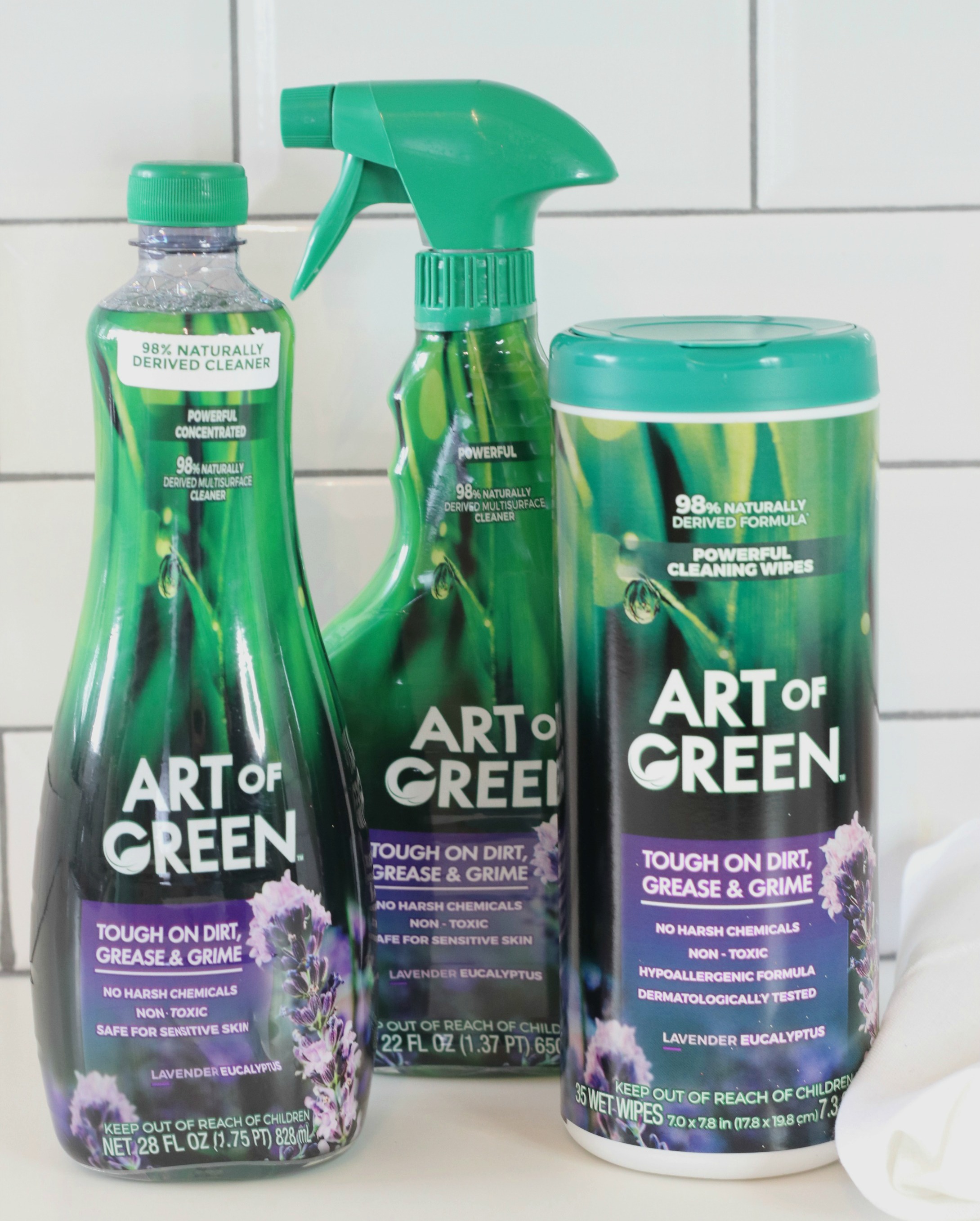 Is there anything else you would add to this basket? What useful and practical products did I forget? Let me know in the comments below!