This Delicious Authentic Carnitas Recipe is Made in the Slow Cooker and is perfect for any Mexican Dish.
These Carnitas are crispy and full of flavor, you will love how simple they are to make!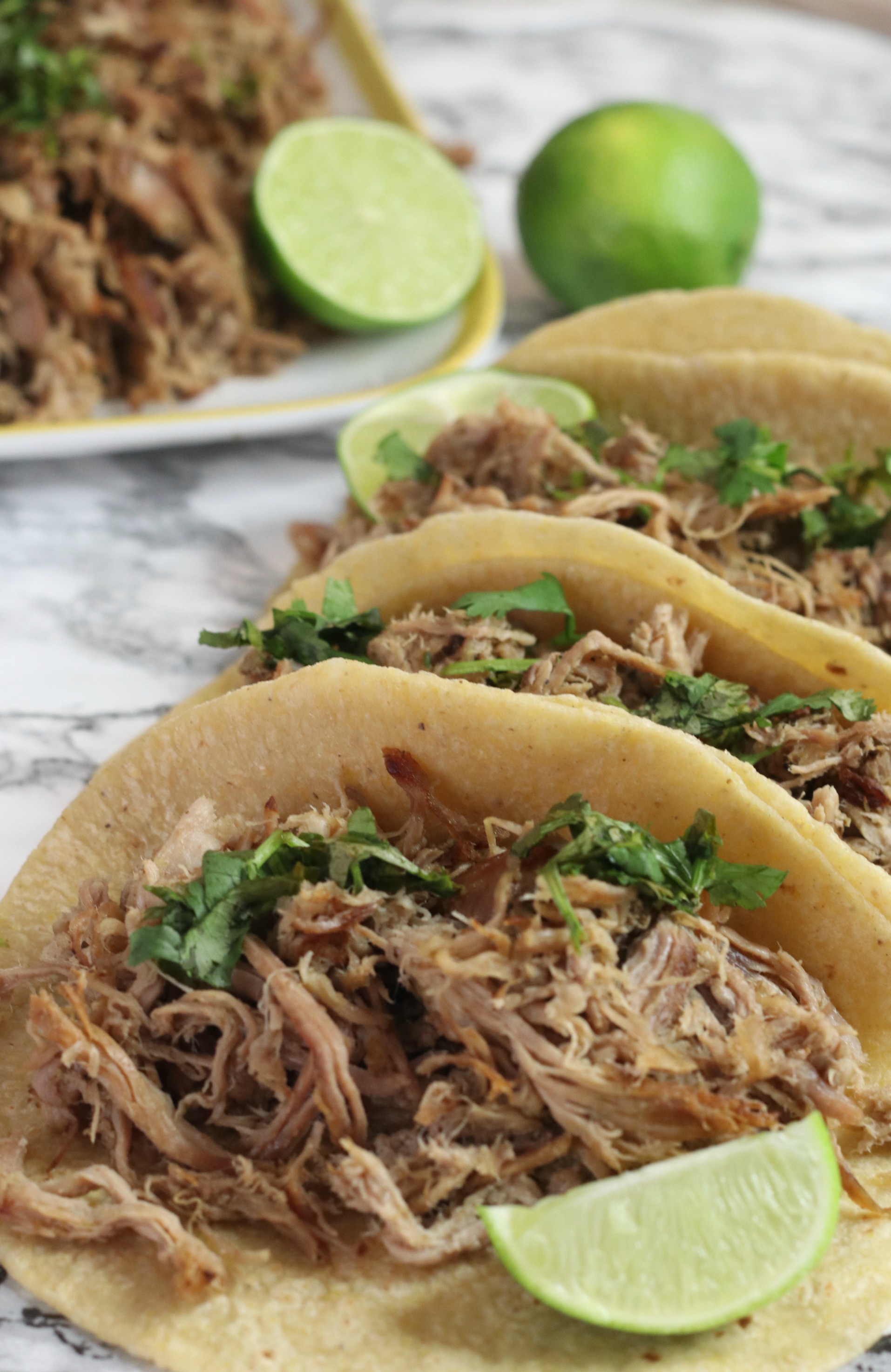 Authentic Carnitas Recipe
If there is one recipe that I can tell you is an absolute favorite for our family it is these Authentic Carnitas Recipe made in the Slow Cooker. Not only do we like to create this recipe for a taco Tuesday and have enough leftovers to last the week but it is the perfect dish to take to any party! These pulled pork tacos are easy to make and full of flavor and they are crispy. And guess what…they are whole 30, keto and low carb compliant!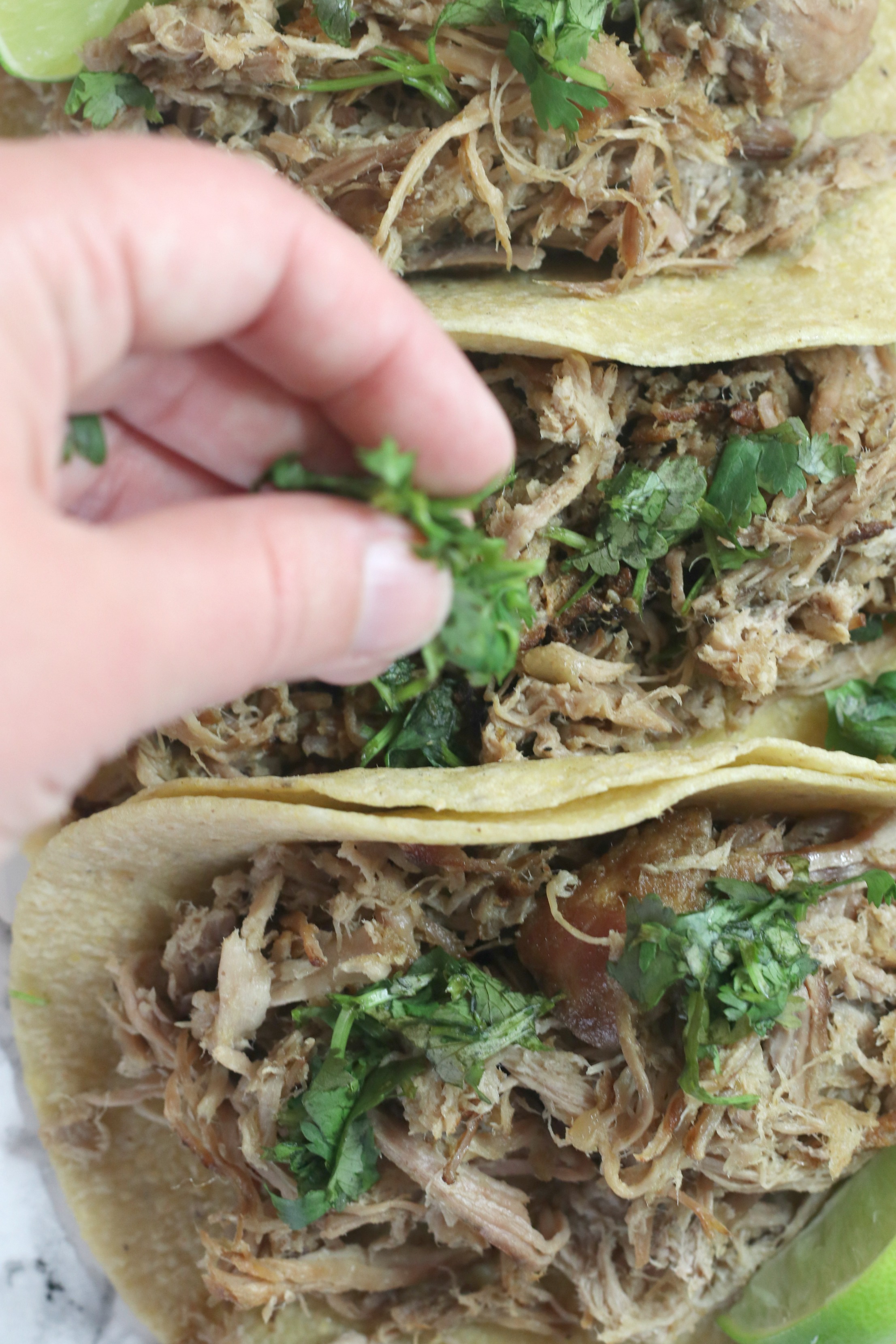 My husband found a recipe similar to this a few years ago and after much tweaking we finally perfected it. We added limes and additional seasoning to create more of an authentic taste. These tasty slow cooker carnitas are perfect for tacos, salads or even tostadas. You could put them on anything and it will be delicious! This recipe is a definite no fail and always gone quickly!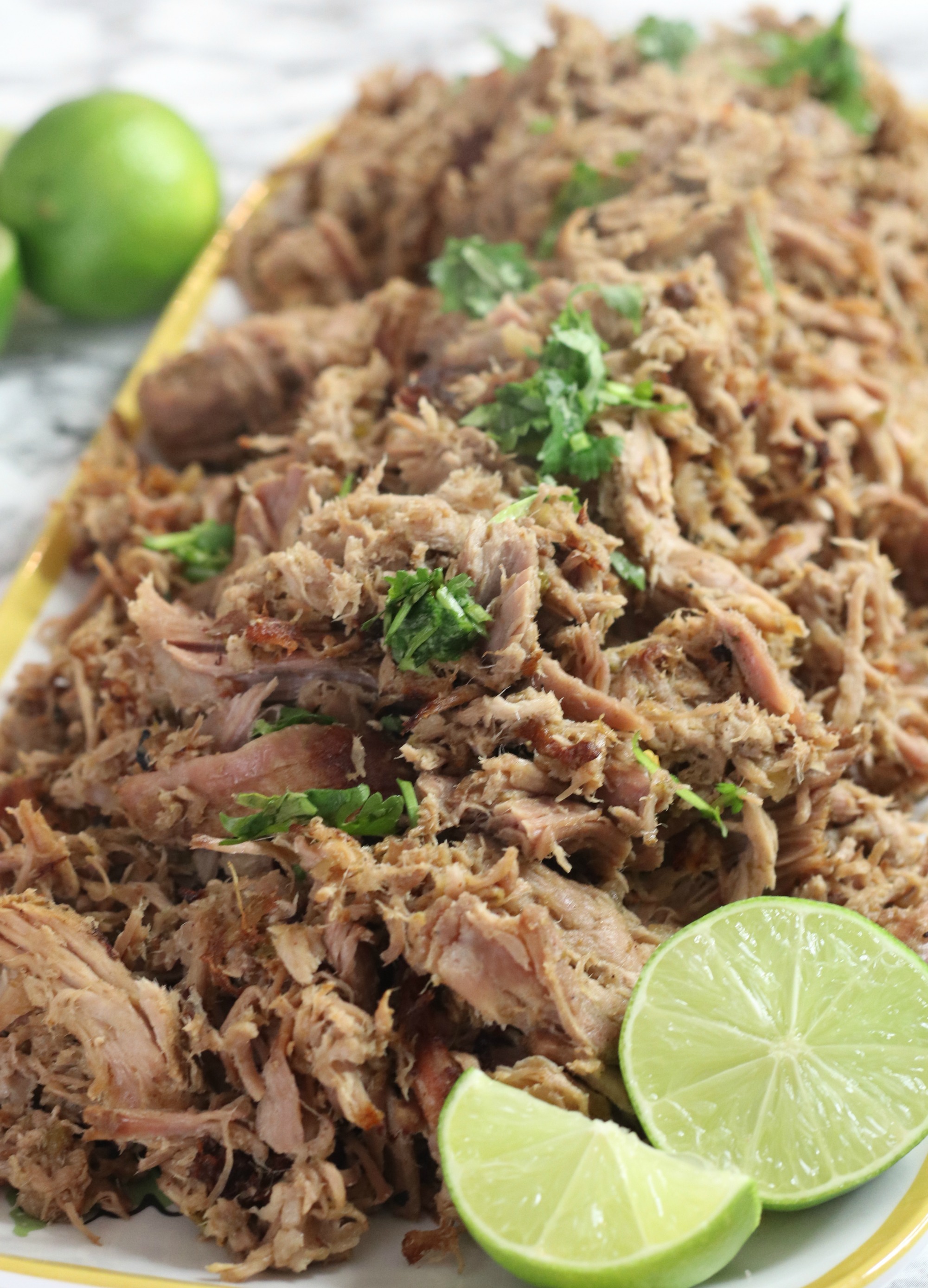 How to Make Tasty Slow Cooker Carnitas
Making this recipe is so easy. It literally takes 5 minutes to prep and you are ready to go!
The main question I get when making this recipe is what kind of cut do you use for carnitas?
It is sometimes hard to decide what cut of pork is best for making carnitas. I like to use a pork shoulder when making carnitas in a slow cooker. The cut is lean but has enough fat to help break the meat down and add flavor.
To prep the meat you will first create a rub with olive oil, onion powder, oregano and garlic powder. Liberally cover the pork shoulder in the rub.
Place in slow cooker.
Cover with onion, jalapeno, orange juice and lime juice. Cook for 8-10 hours on low.

From there, your pork should shred into pieces and are ready to crisp up in a cast iron skillet.
In the cast iron skillet add olive oil, shredded meat and some of the juice from the crock pot and crisp up the carnitas. Salt and Pepper to taste.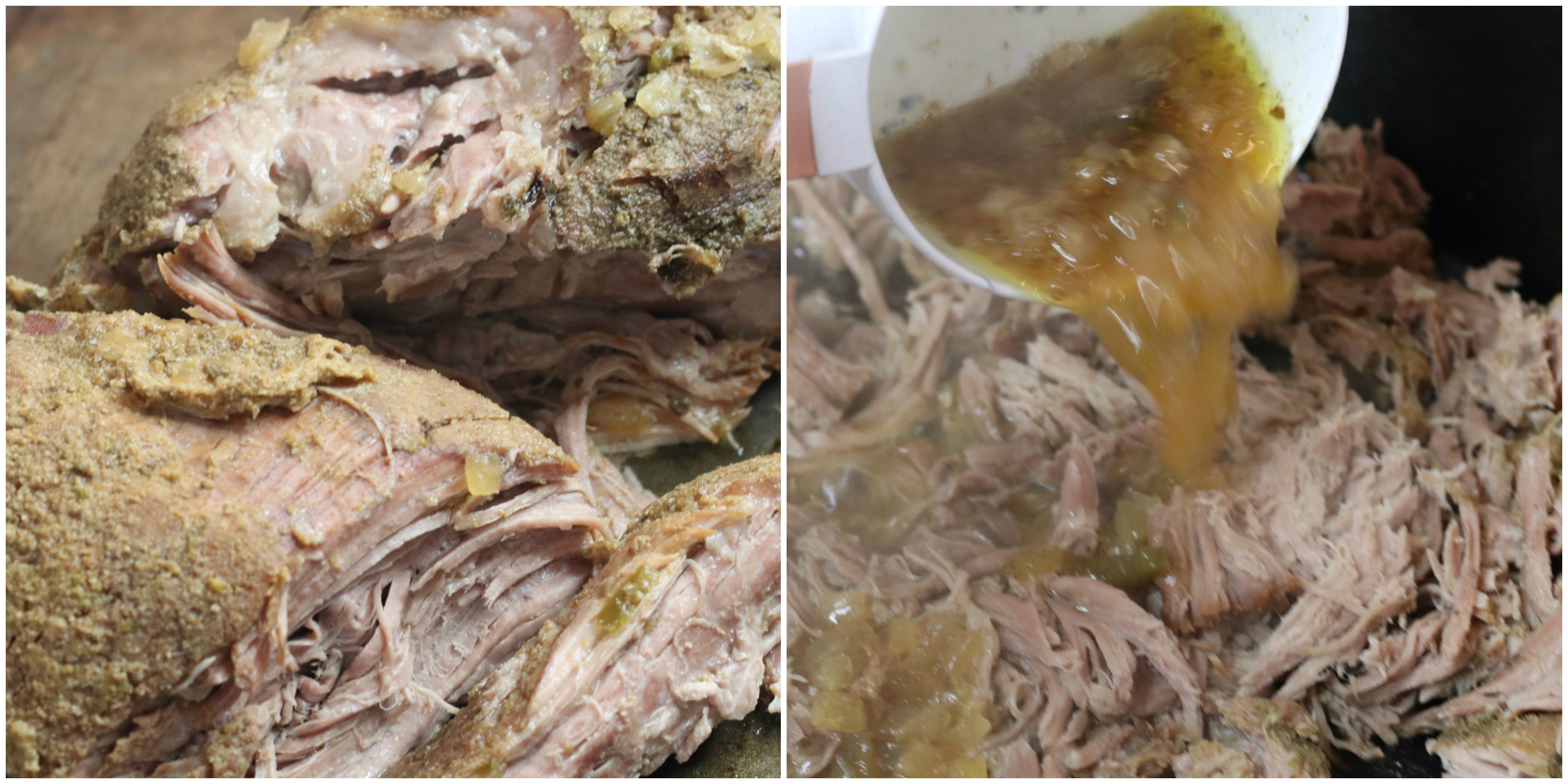 Can You Freeze Crispy Slow Cooker Carnitas?
Freezing carnitas is super easy and a great way to save for leftovers. The best way to freeze authentic carnitas is to package them in individual freezer bags and store for anywhere from 2-3 months. Pull them out of the freezer, let them thaw then throw them in the cast iron skillet and "recrisp" the carnitas and they are ready to go!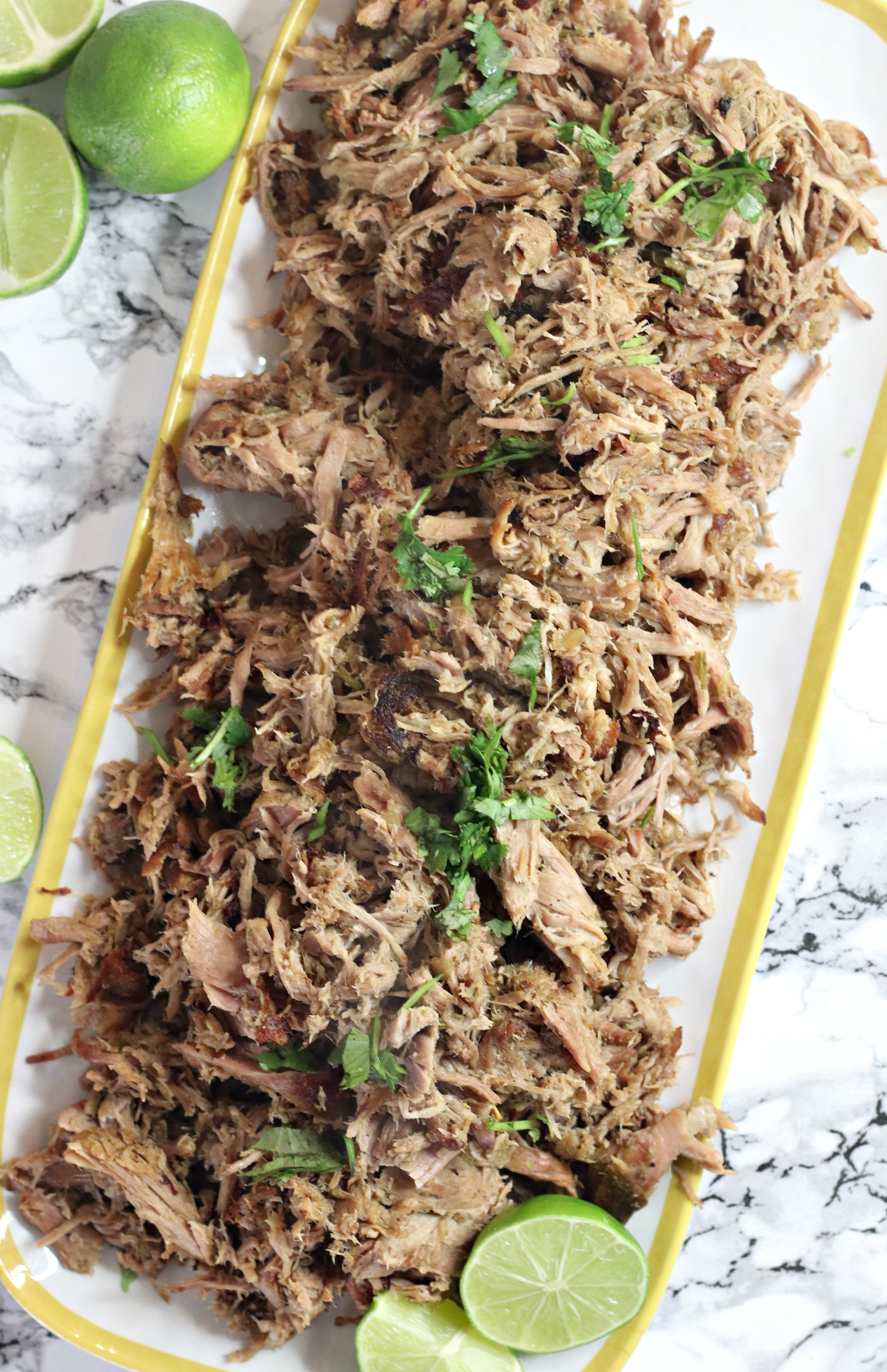 Can you use other kinds of meat to make carnitas?
To make Authentic Mexican Carnitas pork shoulder is what is traditionally used. But, if you do not like pork you could do chicken or pork. These seasonings and flavors would be just as delicious on both!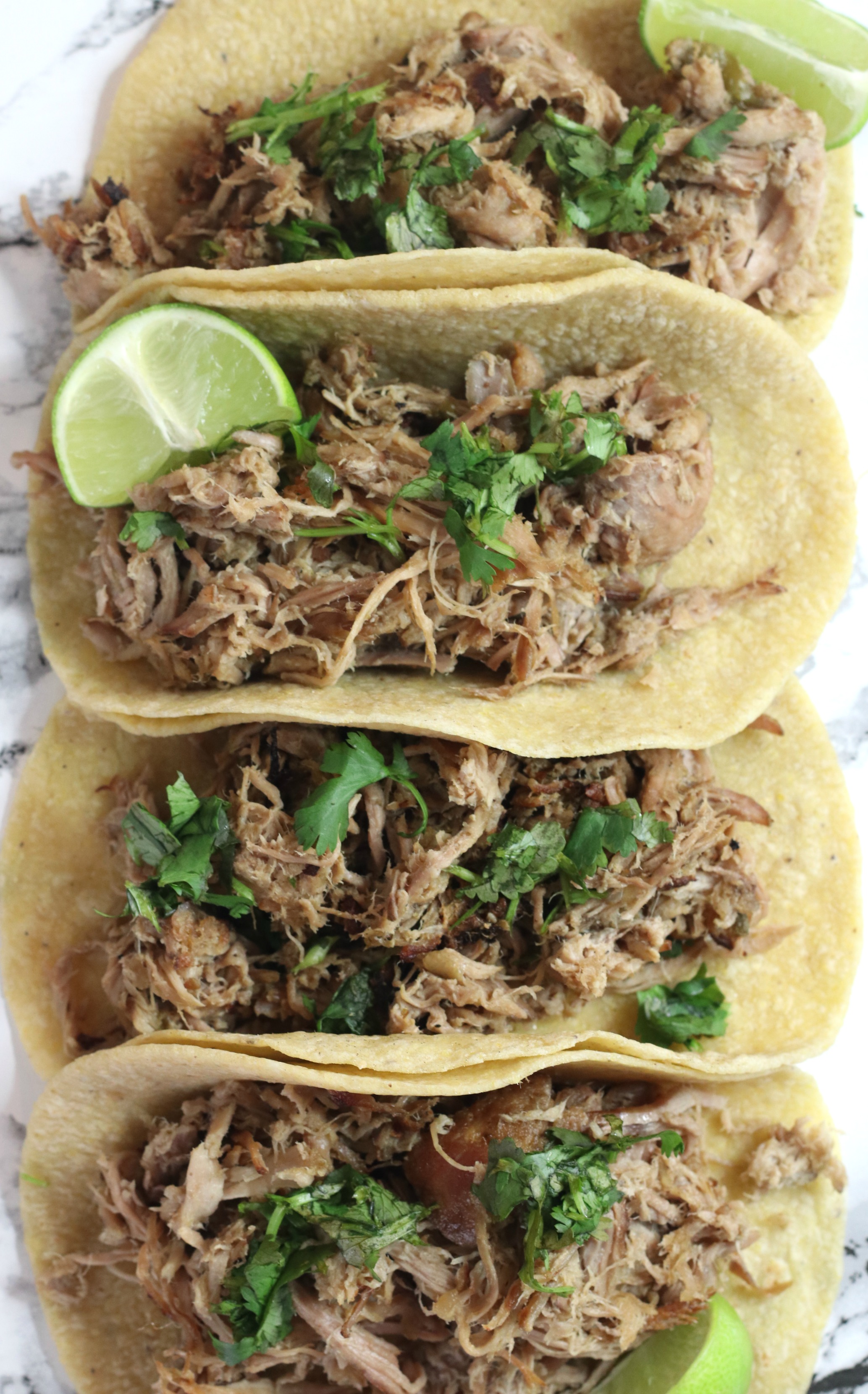 Pork Carnitas Toppings:
I love a good topping for any taco. With these carnitas, these are my faves!
Cilantro
Queso Fresco
Lime
An of course, I always serve these Authentic tacos with corn tortillas!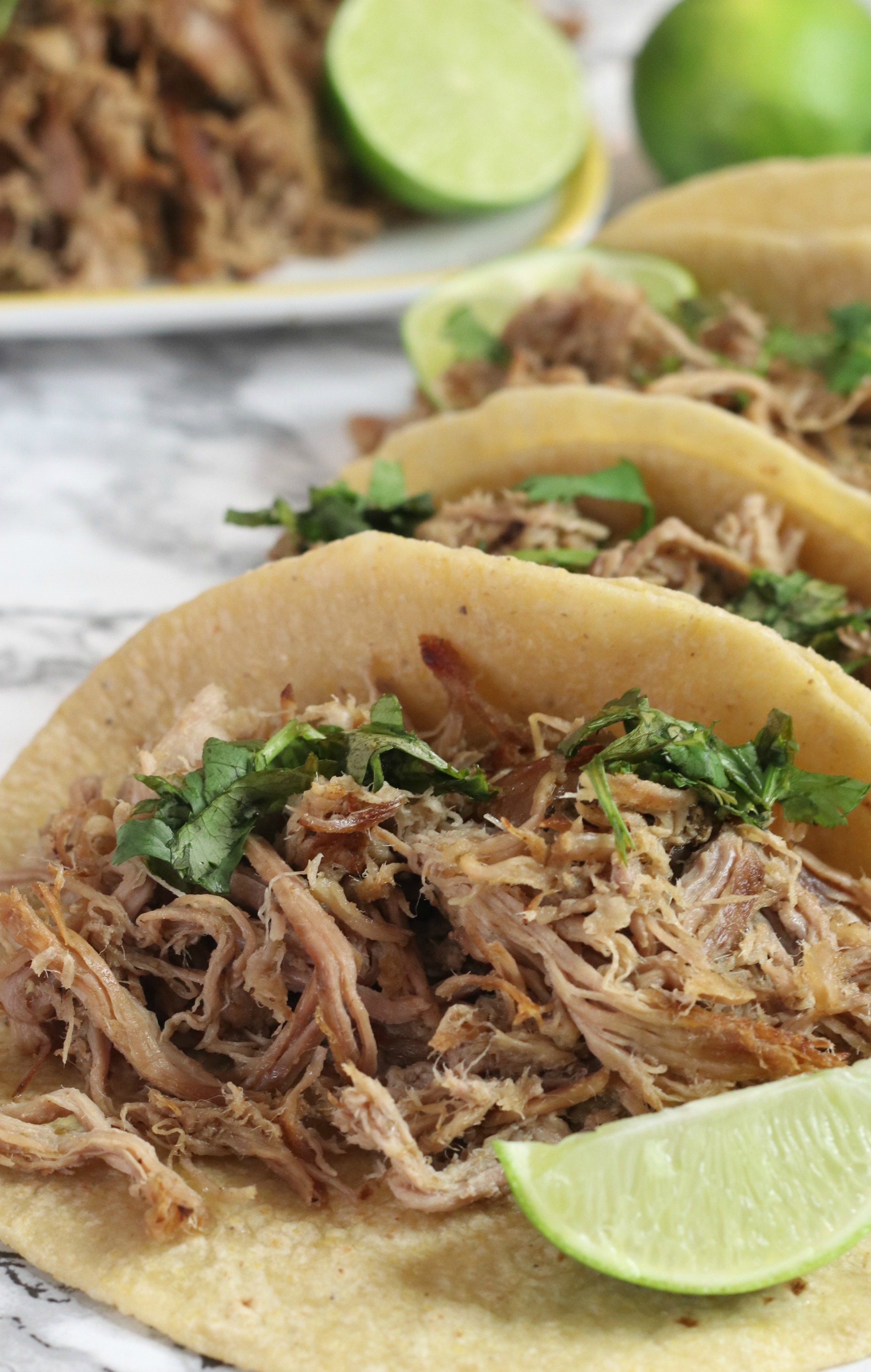 Yield: 10-12 Servings
Authentic Carnitas Recipe in the Slow Cooker
This Delicious Authentic Carnitas Recipe is Made in the Slow Cooker and is perfect for any Mexican Dish. These Carnitas are crispy and full of flavor, you will love how simple they are to make!
Additional Time
10 minutes
Total Time
10 hours
15 minutes
Ingredients
3-4 pound pork shoulder
4 tablespoons olive oil
2 tablespoons cumin
1 tablespoon onion powder
1 tablespoon garlic powder
2 teaspoons oregano
1 sweet onion diced
2 jalapenos seeded and diced
juice of 2 large oranges
juice of 2 limes
Salt and Pepper to taste
Instructions
In a small bowl, whisk together the 3 tablespoons of olive oil, cumin, onion powder, garlic powder and orgeno. Liberally rub all over the pork shoulder. Place pork in the crock pot.
Add in the onion jalapeno and juice of the oranges and limes.
Cook on low for 8-10 hours until pork shreds easily.
After you have shredded the pork, add 1 tablespoon of olive oil to a cast iron skillet. Add meat to the skillet with some of the liquid from the crock pot. Cook until carnitas are crispy.
Notes
Serve on corn tortillas with cilantro, queso fresco, avocado black bean and corn salsa and limes!