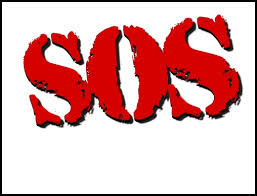 It happened, my life as I know it has changed and not for the better. It's turned into complete and utter chaos full of screaming, arguing, "no's", more screaming, fit throwing and then spastic laughing.
I now live in a house with a 2 and a 3 year old.
Yes, you read that correctly. I currently have a 2 AND a 3 year old. My sweet little girls woke up about a week ago and it is literally like something invaded their bodies. They are now complete crazy people.
Over this past week I have tried to come up with ways to co-exists with these new species in my home but unfortunately at this time I think they are winning this battle of taking over.
With all of my frustration I did what any logical mother would do and took my parenting problem to the internets and googled, "How to deal with the terrible 2's and trying 3's?" And, I just love people. Aren't they so funny sometimes?
Here are some of the "fun" ideas" I came across for surviving this time in our life.
Give them Choices: The suggestion is to give them 2 choices. Since toddlers love to say no you can give them 2 choices one where they say yes and one where they say no.
Result: I gave 2 choices to the 3 year old that no longer wanted the lunch that I had provided her and was now jumping around with her arms flailing all while a new language that only she understood was being spoken yelled at me. I gave her the choices, "pepperonis or hot dogs," I said. To which she quickly responded," NOOOOOOOOO, I DO NOT EAT THOSE ANYMORE!!!!!" She is apparently now a vegetarian. Well at least for the next 20 minutes that followed this little episode.
Distract Them They Say: I just love this one. The idea is that when your child is throwing a temper tantrum that you quickly distract them and get them to pay attention to something else. Something like, "listen, do you hear that train?"
Result: I laugh in the face of anyone who can tell me they have actually distracted a screaming, red faced, head spinning 2 year old who clearly just wants to sit in the dog bowl but is now fuming mad because she does not fit in it. Elle, do you hear the train. BAHAHA!
Screaming: When your child is screaming the "experts" suggest that you simply say "shhhh!" quietly to your child and they will mimic you. Well doesn't this sound nice.
Result: Let me just set the stage for you. Everly walks into the dining room where Eric and I are cleaning off the table from dinner. She is screaming and obviously very upset. Why is she upset you ask….she informed us that Eden was acting like a, wait for it…a PERSON. Yep, we were screaming, screaming in fear over our sister acting like a person. SHHHHHHH I said, it's ok I said, look can you say shhhh like mommy. She looked at me like I was crazy. The screaming continued.
I get it, 2 and 3 is hard. I don't remember going through these hard times myself but I am taking the hint from my toddlers that it's a tough road. But tough road for them or not this momma needs a break!
So, if any of you fellow moms out there have out smarted these little humans send me a life line, I'm desperate for help!