Disclosure: Tiny Prints provided me with product and compensation in exchange for my post. Opinions 100% mine alone. Tiny Prints is my favorite place for holiday cards, birth announcements, paper goods, and photo gifts. Whether we were in partnership with them or not, we would use them. They are awesome!

It's Christmas time! We can officially shout it from the roof tops. Thanksgiving is over, and it's time to celebrate.
If you cannot tell, Christmas is my absolute most favorite time of the year. I love it all! Celebrating Jesus, trees, the lights, the shopping, the family and everything else Christmas you can think of. There is only one thing about Christmas every year that I avoid every year. It's that one thing that haunted me every year, glaring at me and wondering when I was going to participate.
The Family Christmas Card.
Every year this time comes around, every year we go through the back and forth of do we just do the kids or should we do the whole family. And every year until this year, I stepped out of the picture.
The idea of sharing my mom body that needs to lose a few pounds and just doesn't look like it used to with all of our friends and family scared me. I was embarrassed. Embarrassed at what I LET happen. Embarrassed that I hadn't lost all of the weight already and embarrassed of what others would think.
Gasp! I know, I said it.
Here, all of these years I stayed behind the camera. I let embarrassment keep me from embracing this point in my life and these moments with my family. I allowed my self consciousness to cloud my self worth. This is not who I am, and this is not who God created me to be.
I am the Mom. I am the Mom of my family and I am proud of it. I am proud of what my body has miraculously been able to get through to have these 3 beautiful girls and I will no longer hide it.
So, this year, I am so excited and proud to share with you our 2015 Lobpries Family Christmas Card with Tiny Prints. And this year, The Mom Stays in the Christmas Card!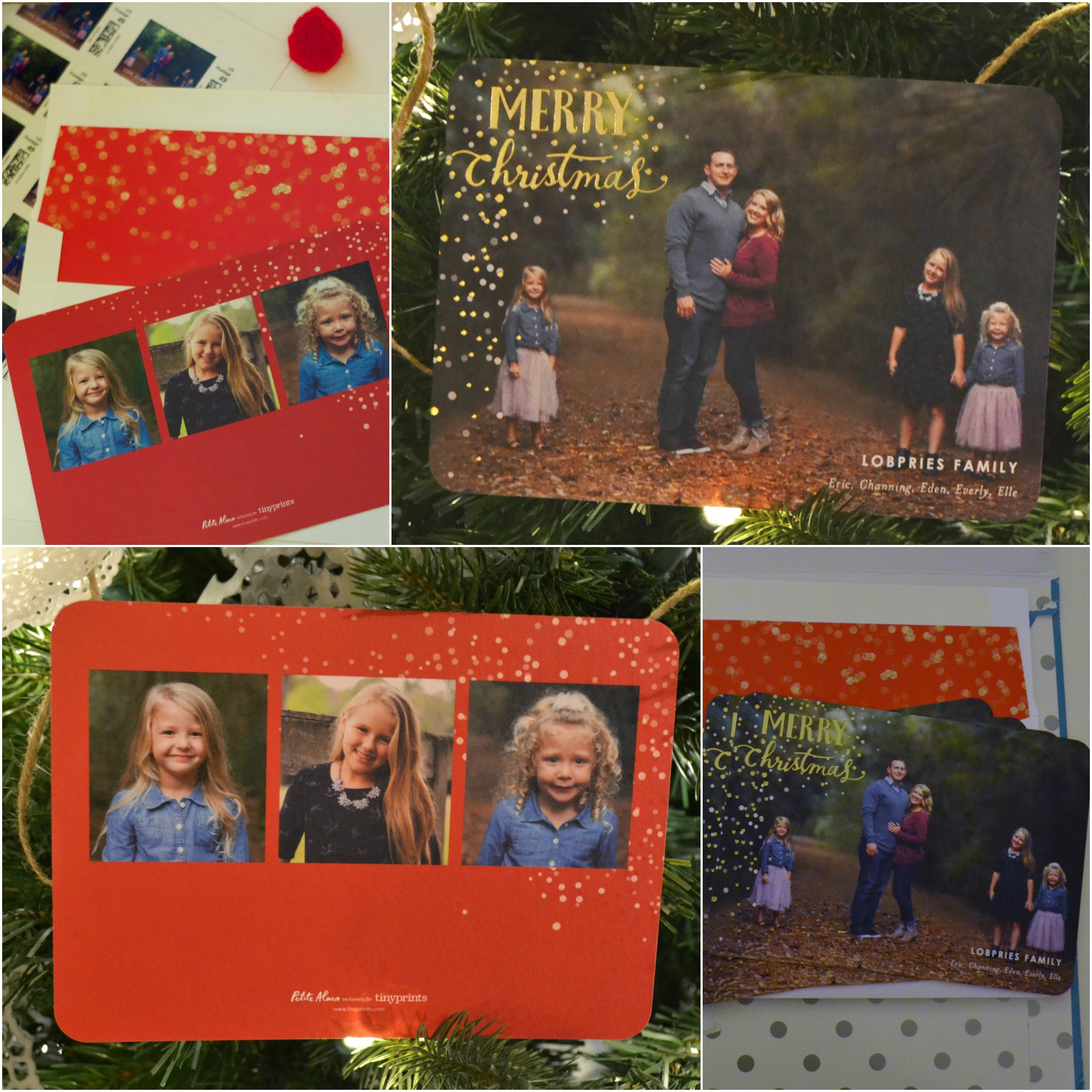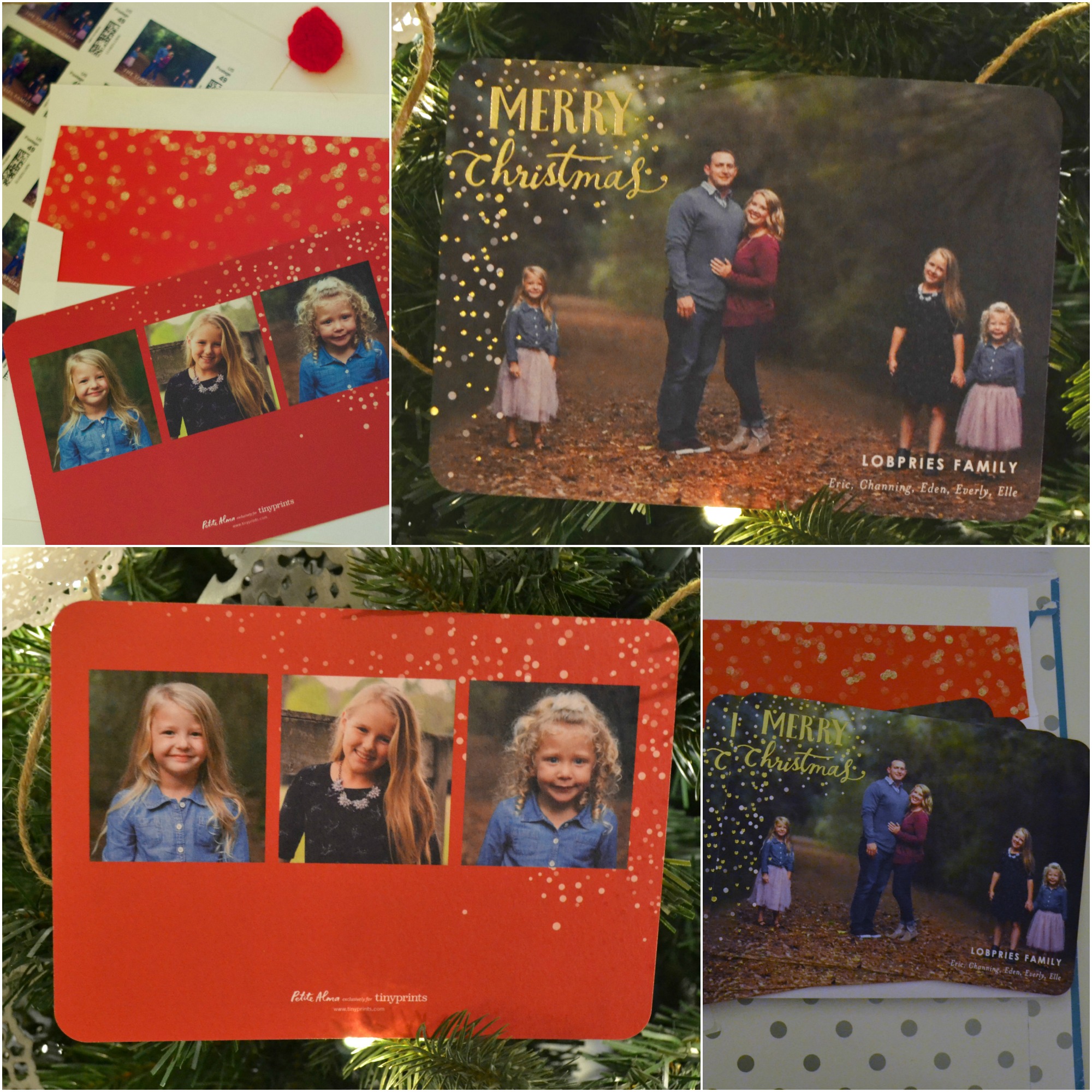 You guys, I cannot even tell you how excited I am that we did family Christmas cards this year. After we got our pictures back I knew I wanted something simple yet festive in on our cards. I chose the Scintillating Snowfall: Winterberry Foil Stamped Holiday Cards along with the matching lined envelopes and personalized stamps. I could not be more happy with our choice! Aren't they just perfect?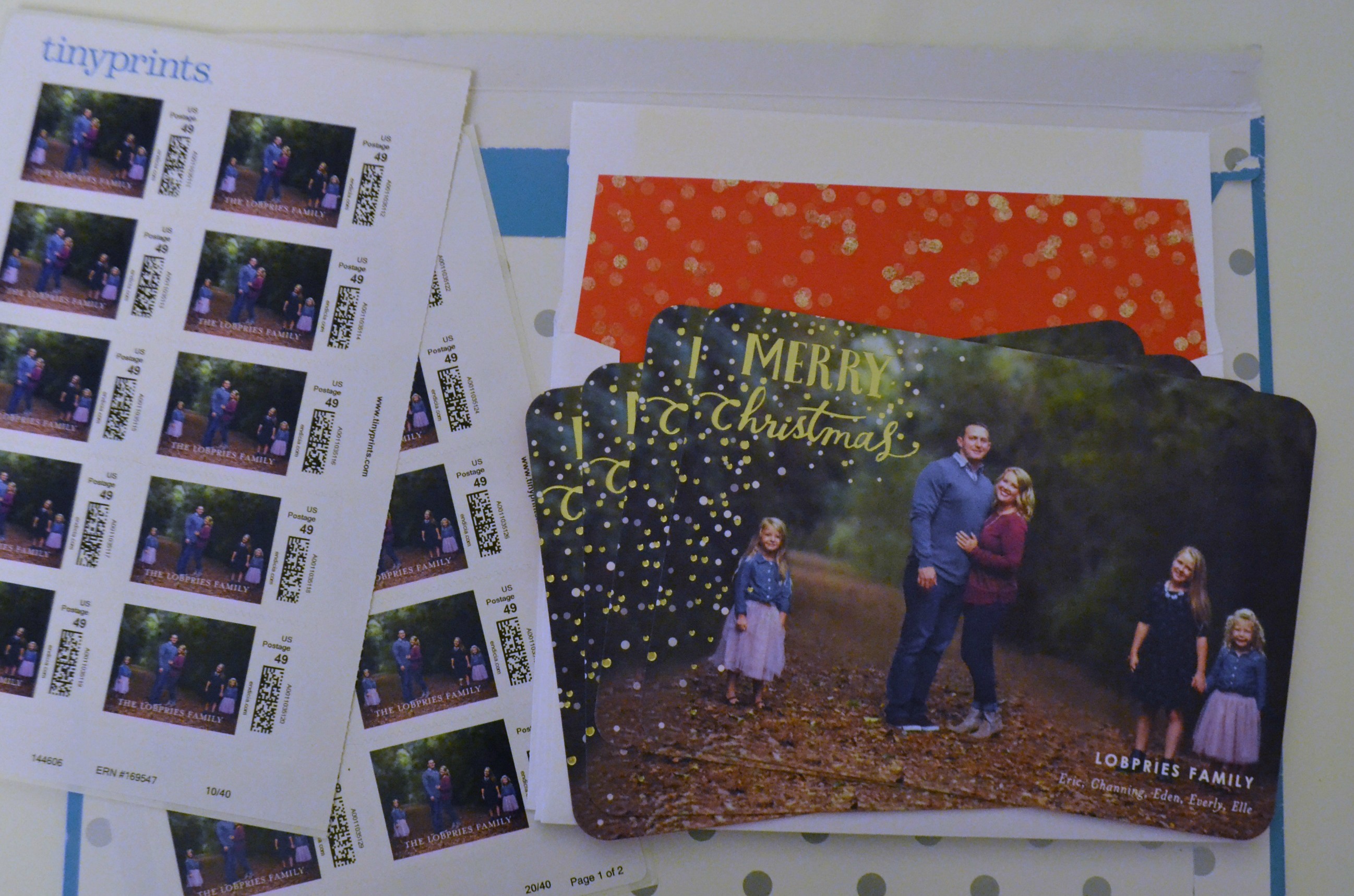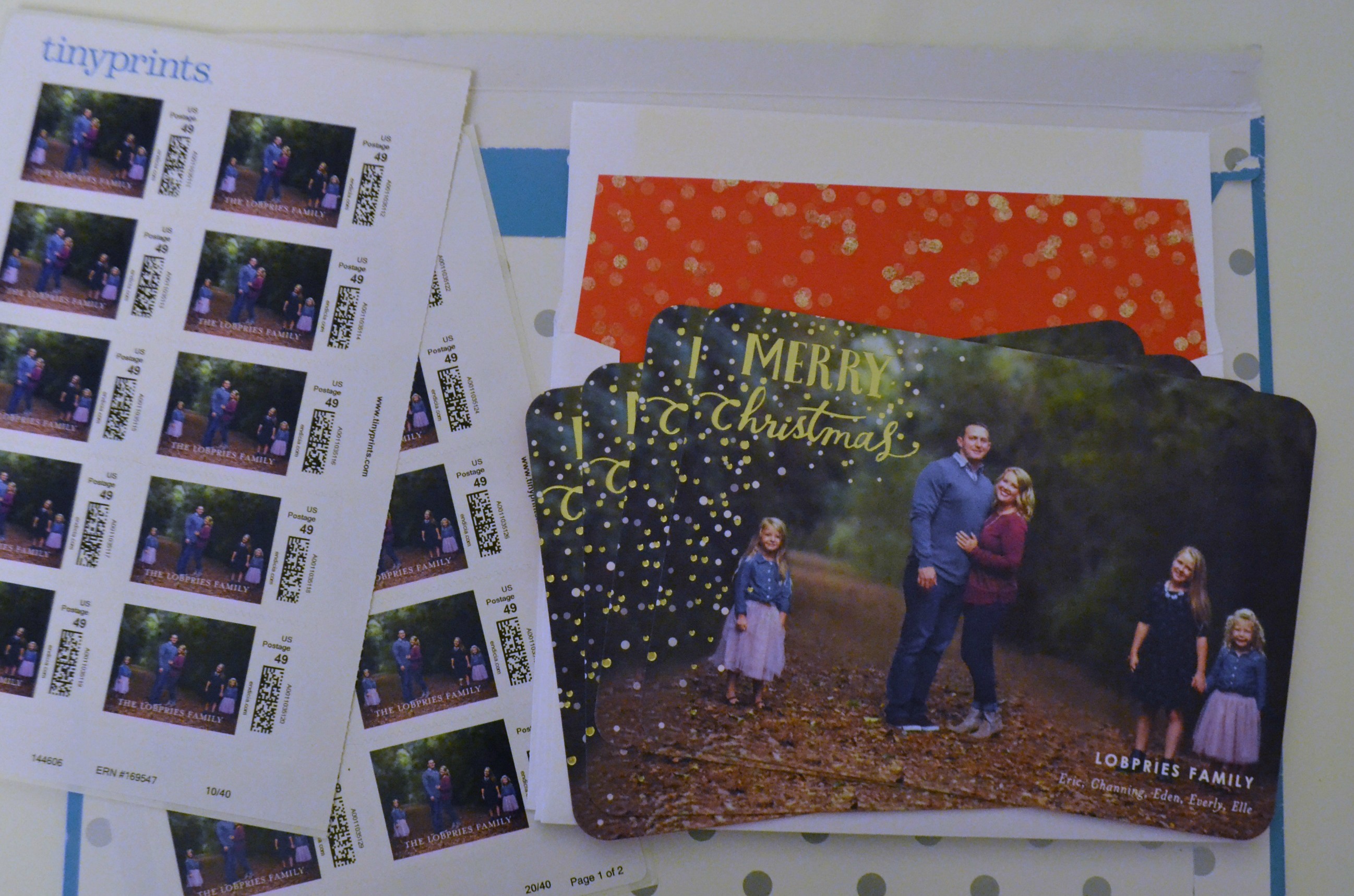 I could not be more excited about everything I received from Tiny Prints. Tiny Prints for the win! Not only are all of their items beautiful and of the best quality but their website is very user friendly and super easy to use and navigate.
In addition to our amazing Christmas cards I also indulged myself in some other products I could not pass up! I picked up some personalized wrapping paper that I am so excited to use.
Look at how cute our name looks on it! I cannot even..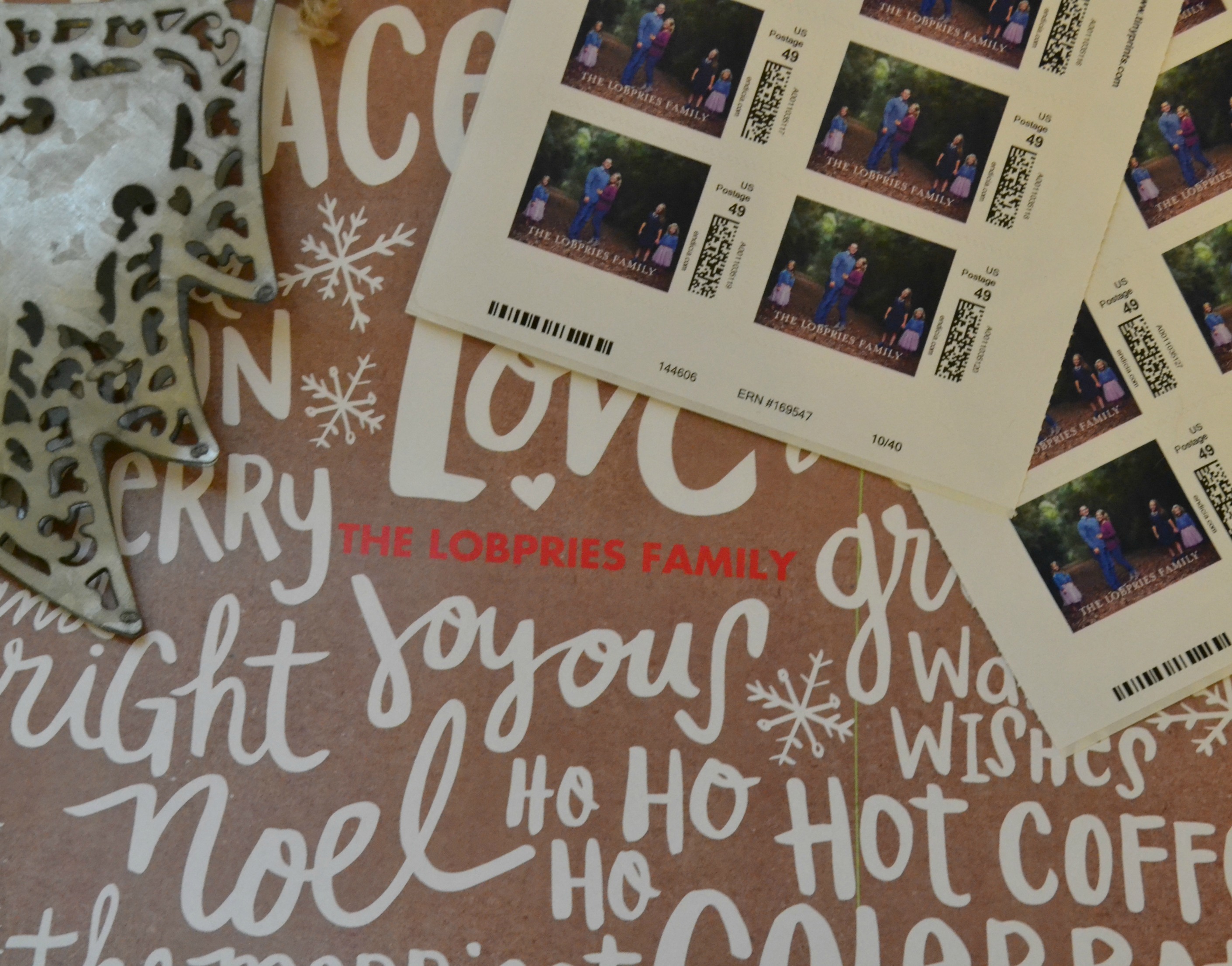 I even ordered 2 rolls of the Joyful Jargon personalized wrapping paper. I am so obsessed with it, I may have to order some more! I mean if I end up with too much, I can always use it next year.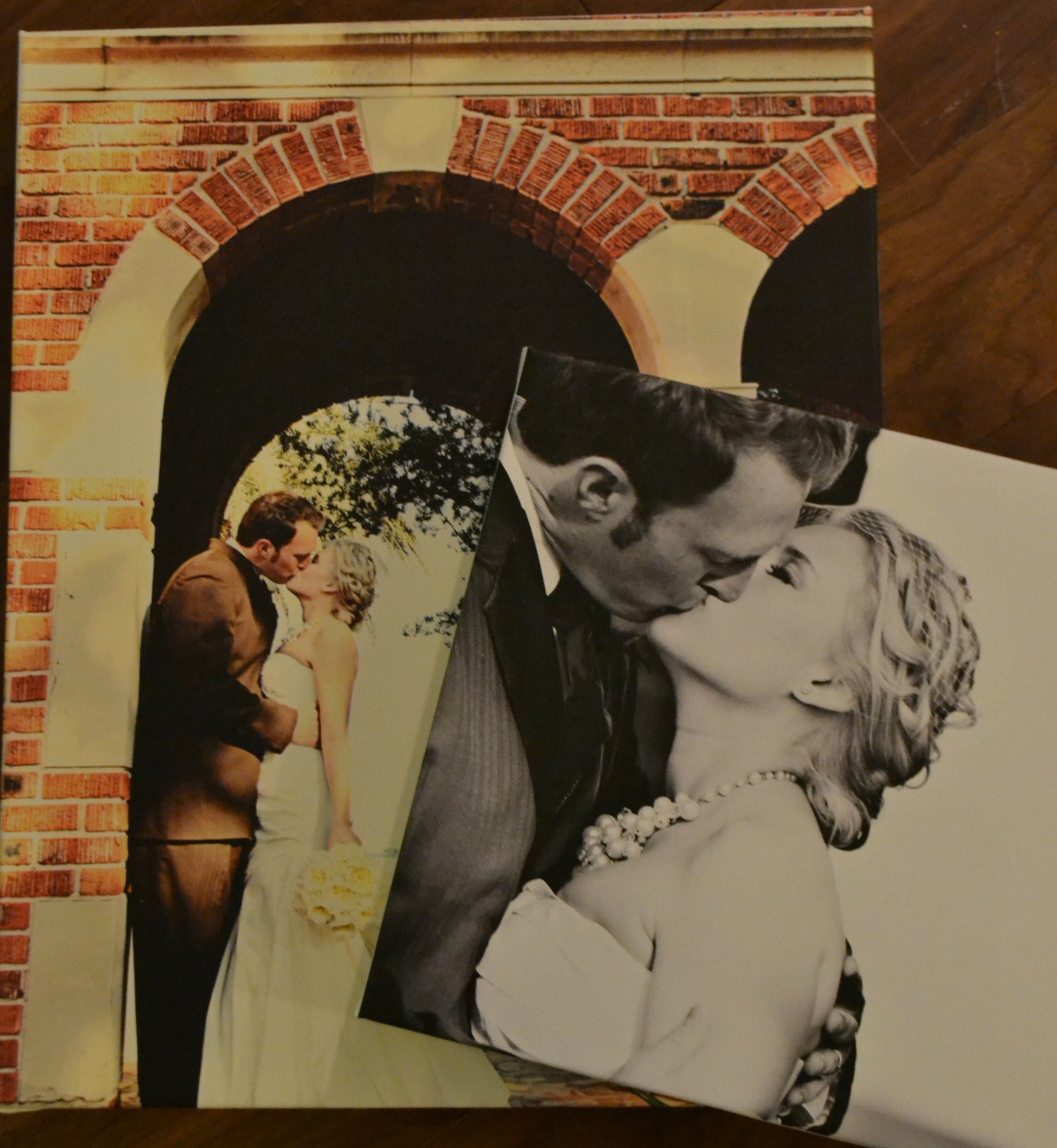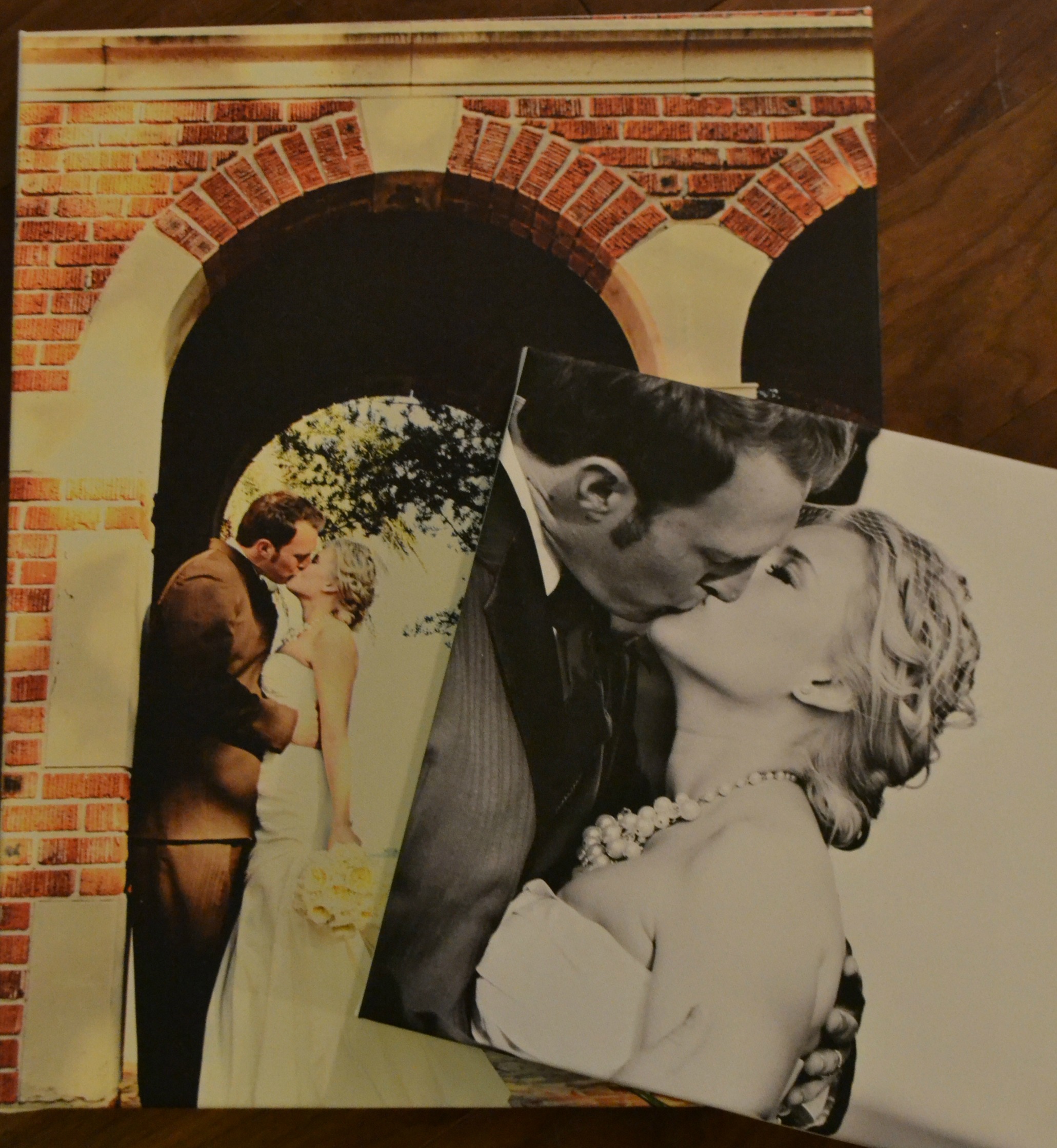 While I was browsing around Tiny Prints I also went ahead and ordered 2 Canvas Prints from our wedding. It has been 5 years of an amazing marriage and for some reason I still have zero wedding pictures in our home. I ordered these two beauties and when I pulled them out of the box, I cried. Tiny Prints did another amazing job and I cannot believe it took me this long to get these made. These will be hanging in our bedroom and I will definitely share the end result with you all soon!
Tiny Prints, you have exceeded all expectations and I cannot wait to share our beautiful family with our friends and family this Christmas season!