Over the weekend the weather dropped below 80 and everyone in Houston was like "It's Fall Y'all" and then proceeded to get out their scarves and their boots and cook up some warm tasty comfort food. And this girl was no exception.
I HEART when the weather gets cooler and you can snuggle up on the couch with a warm blankie and enjoy some delicious comfort food. I love it even more when said food is easy to make. And this recipe is quite possibly the easiest thing EVER.
I came up with this Easy Chicken Pot Pie Bake while trying to decide what to cook when I wanted to put in minimal effort and time and yet have a completely delicious meal. This entire meal took less than 30 minutes to make and was so stinking good.
It's a semi homemade recipe, which to be honest are my favorite kinds.
Here's what you will need to get cookin':
Easy Chicken Pot Pie Bake
2 cans Crescent Rolls
1 Rotisserie Chicken
1 bag frozen veggie mix
2 cans cream of mushroom or cream of chicken (we did mushroom because that is our preference)
1 1/2 cups of shredded cheddar cheese
Salt and Pepper to taste
Step 1: Preheat your oven to the temp listed on your crescent rolls (for ours it was 350)
Step 2: Shred your chicken and put chicken, frozen veggies, soup and salt and pepper to taste in a sauce pan and heat for 5-10 minutes. The chicken is already cooked so this is really just defrosting the veggies and blending the flavors.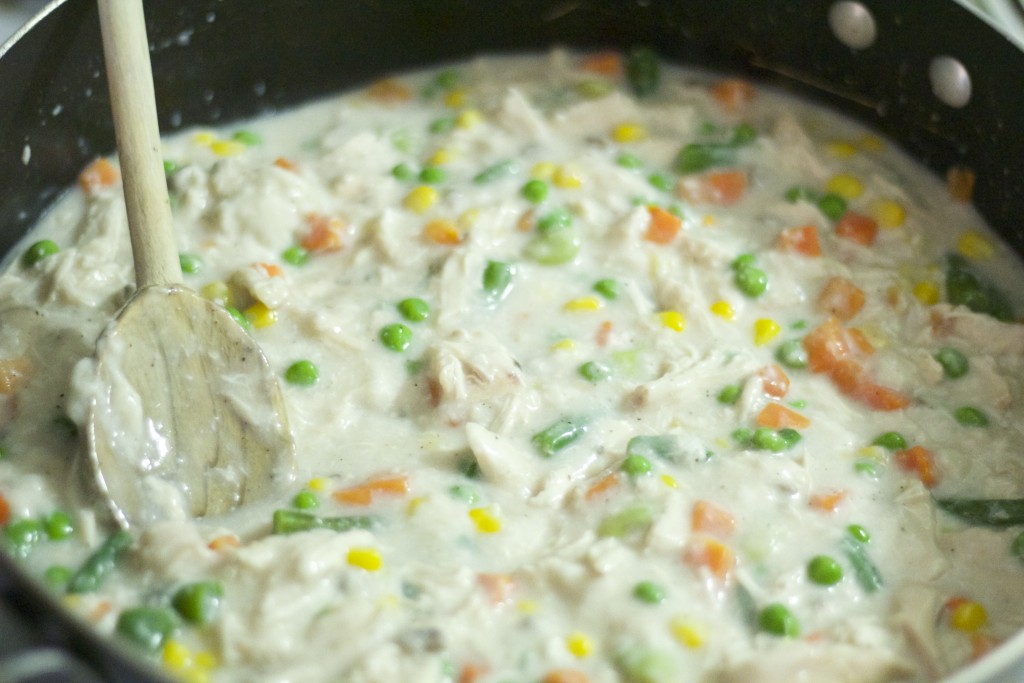 Step 3: In a 9×13 baking dish unroll and lay flat your first can of crescent rolls, covering the bottom of the pan.
Step 4: Spoon creamy chicken and veggie mixture into the pan and then cover with the shredded cheddar cheese.
Step 5: Top with the second can of crescent rolls and seal all the sides and seams completely covering the mixture inside.
Step 6: Bake for 20 minutes until crescent topping is golden and flakey.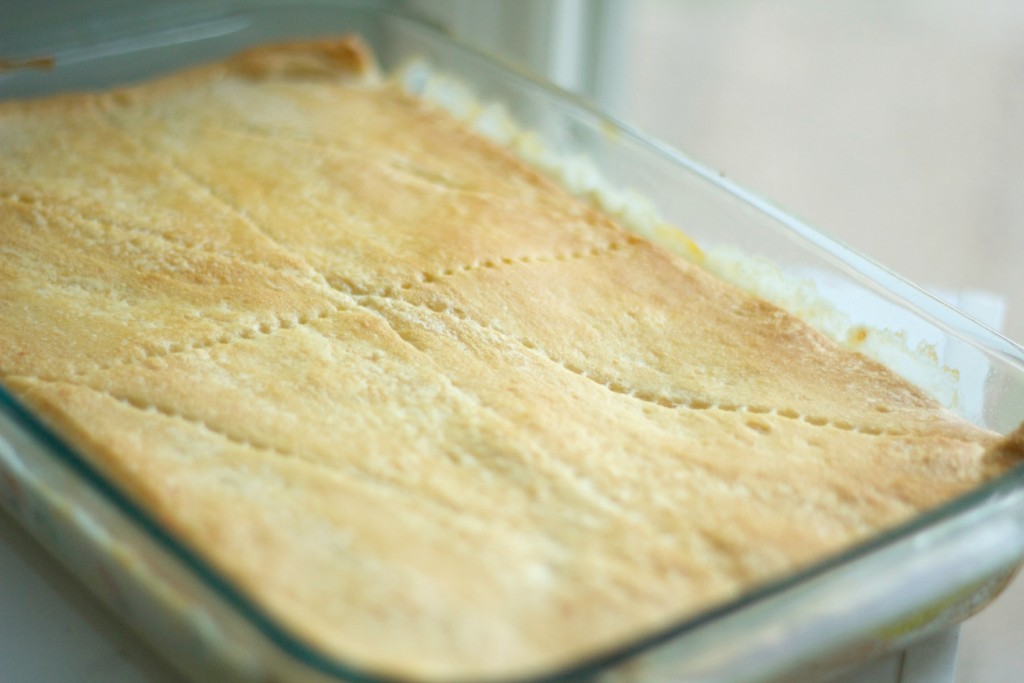 Step 7: Try not to devour the entire pan in one sitting It's tougher than it sounds.
Told you it was easy. I fee like Sandra Lee would be proud.
If you liked this recipe then I suggest you try some of our other favorite fall comfort foods like our Easy Baked Pumpkin Donuts, The World's Best Sausage Dip and Bacon and Brown Sugar Green Beans.
And while you are at it, why don't you share your favorite fall comfort dish because sharing is caring my friends.