Hey there! Happy Halloween! And happy official start to holiday season 2016, y'all! Crazy, huh? To think that 2016 is working on closing its doors and I just stopped writing 2014 on my checks. Oh well… good thing most people take debit cards now.
But it does mean that it's time to start getting ready for the holidays. Not just the meals, the hosting, the wrapping, the running around like a crazy person trying to coordinate all the things while also being "merry" or "jolly" when really you just need to be caffeinated…
Anyway…
Like I said – get ready for the holidays, and all that comes with them. Including… dun dun dun, the toys. Oh, the toys. We try, don't we? Every year we try to keep our gifts under control but once you add in extended family, friends, and your compulsive need to buy everything Target has one sale, they're inevitable. And it's great to see those sweet, excited faces as they're opened, but on December 26th, you're left wondering where the heck you're going to put all these toys. But I have a solution for you, and you can do it right now, before the holidays, before everything get too crazy. Clean out the toy room. And I mean big clean out. I mean, make some room clean out. And if the thought of that makes you shudder, don't worry. I got you covered, start to finish with a bunch of tips and tricks to make it a smooth process.
I tend to do these big toy-room clean outs about twice a year, right before my boys' birthday in May and then again around the holidays, i.e. when we'll have toys coming in. It's a good way to do a hard reset on the play room, which we all know can become a huge explosive pain. And I don't just stop with the toys. I like to use the toy room as a good starting point in our house, and I'll go through every other room in the house with this same process. I call it The Purge and it makes me all tingly to get rid of all this junk and to start fresh with less stuff.
Because, let's face it… my play room floor usually looks like this by 8AM.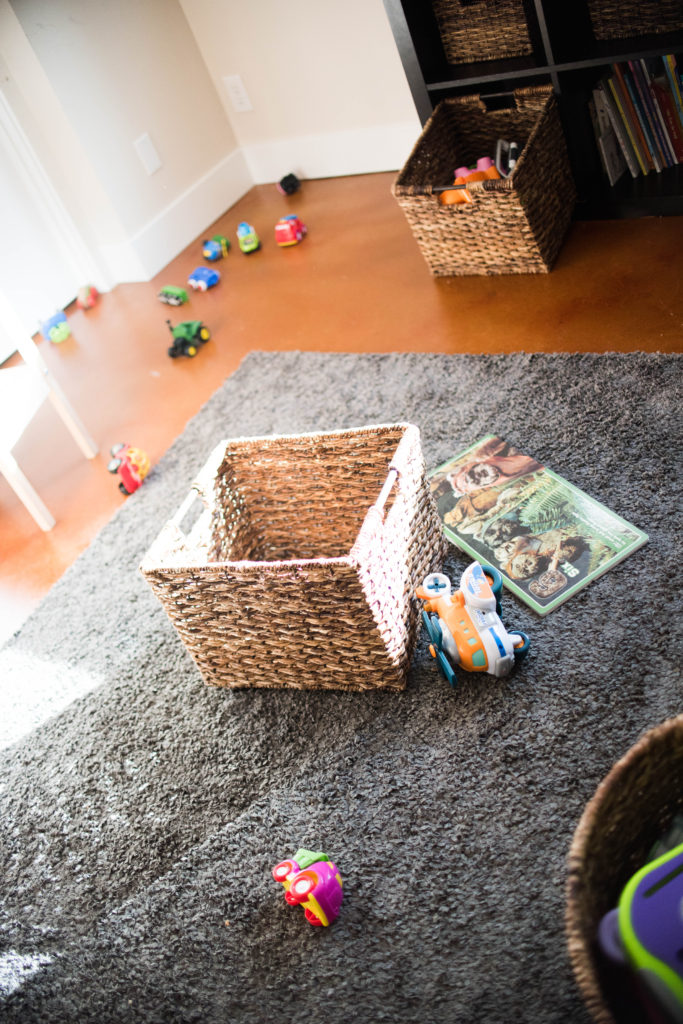 So – where do you start?
I like the same sorting method you've heard a million times, but that's because it works! I do have a secret little weapon to help keep the room from becoming total chaos and it comes from my laundry room…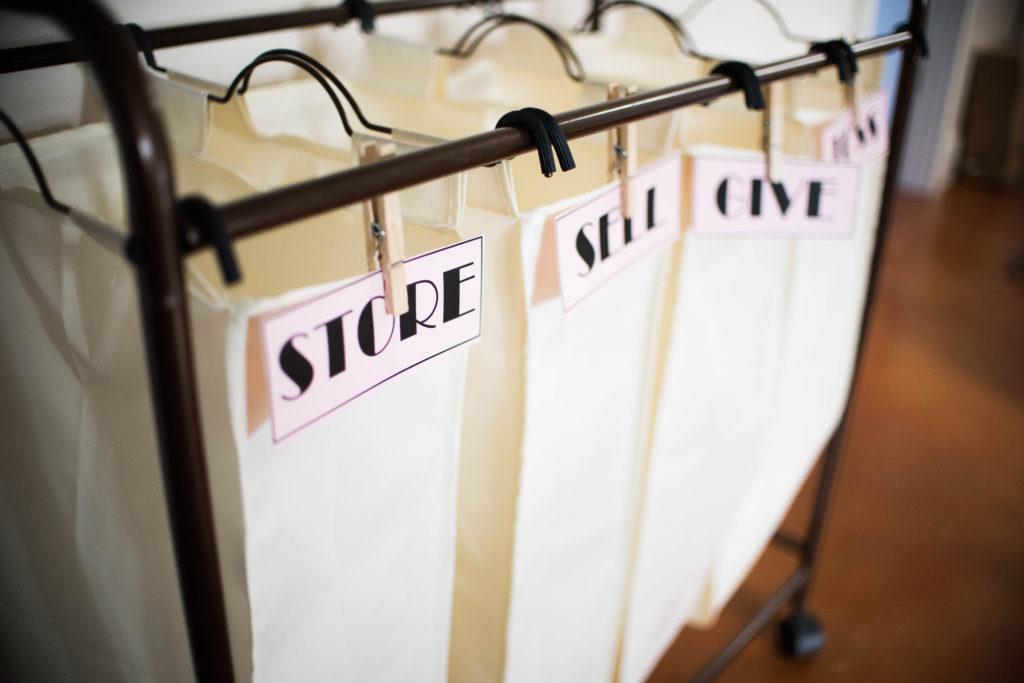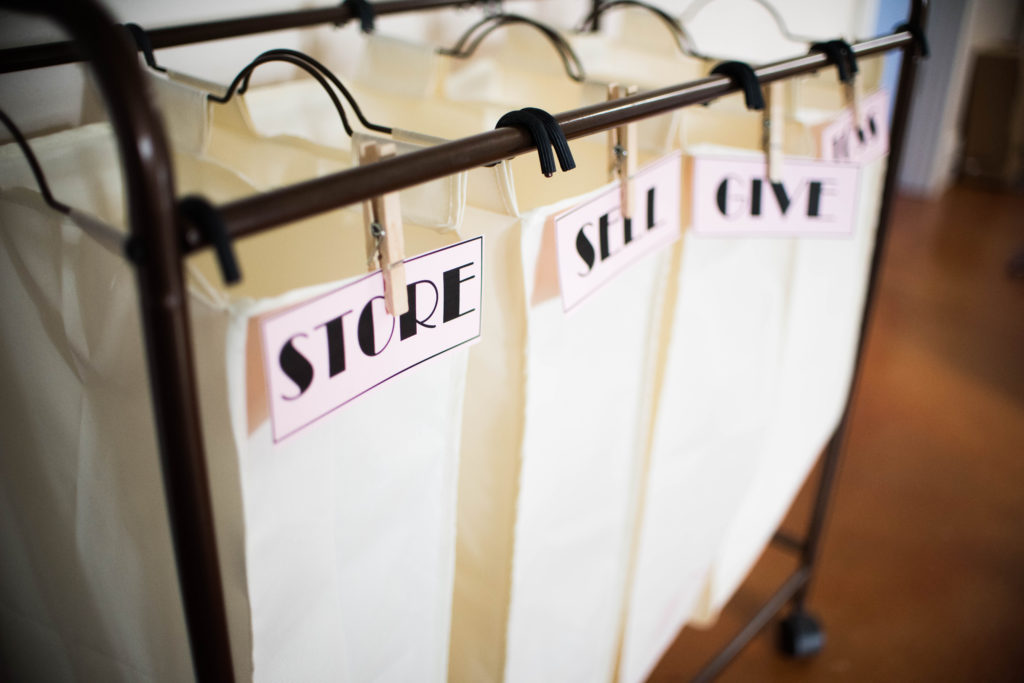 I use my laundry sorter to create a rolling sorter so it moves with me around the room, and I can easily transport stuff to its final destination. Sure bins or boxes work, but they don't move with you and I don't like the idea of chucking toys across the room.
To turn this laundry sorter into a junk sorter, all I did was dump all my laundry into a huge pile on the laundry room floor …. I mean… do all my laundry start to finish so that the bags were empty. And print out labels onto cardstock for each bag and secure with a clothes pin. (If you want to use these labels for yourself, download them here.) I also grabbed a bunch of grocery bags and kept them by me to group like items together as I sorted them.
Then I start at the entrance to the room, and go clockwise until I've touched every single thing and divided it into one of five categories:
Keep, Store, Sell, Give, Toss.
Keep: In order for something to be a keeper, I try to make sure it ticks off most of the following criteria:
Have I seen my kids play with this in the past week?
Does it still work well?
Can I easily store it?
Does it cause us a lot of grief? (Either fighting between the kids or a is it pain to clean up in the evenings, does the sound it makes want me to drill holes through my ear drums etc…)
If the answers are yes, yes, yes, no. Then I keep the toy. Otherwise, I strongly consider sending it to one of the other 4 categories and into the sorter….
Store: Store means one of two things. Either, my kids have grown out of this toy and I want to save it for future offspring. Or, it's something I want to store and rotate out or bring out on special occasions. Case in point, these: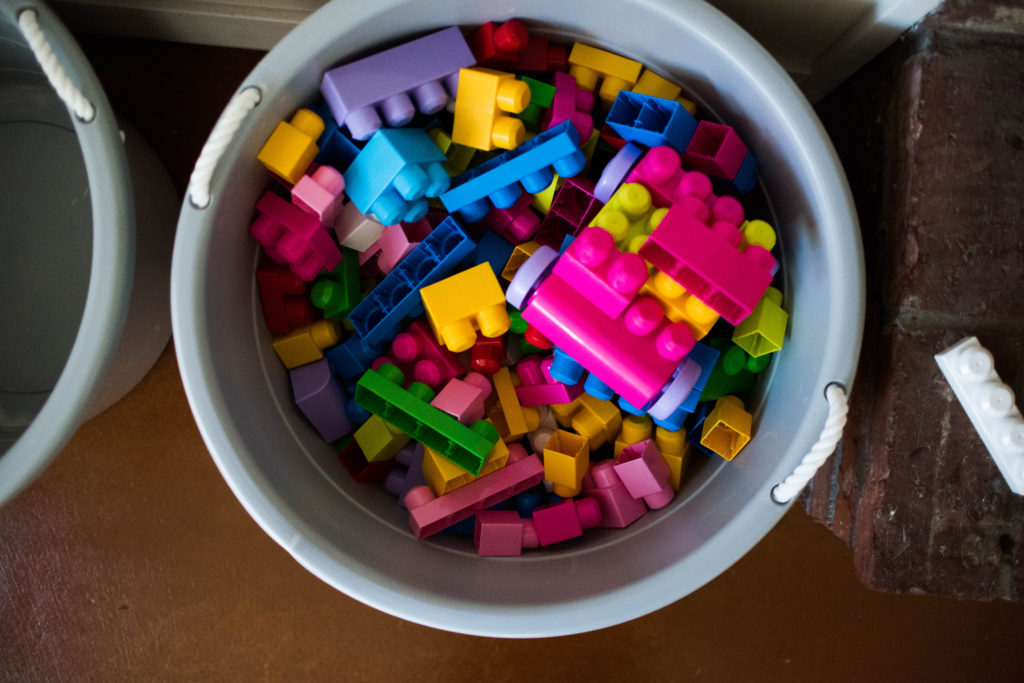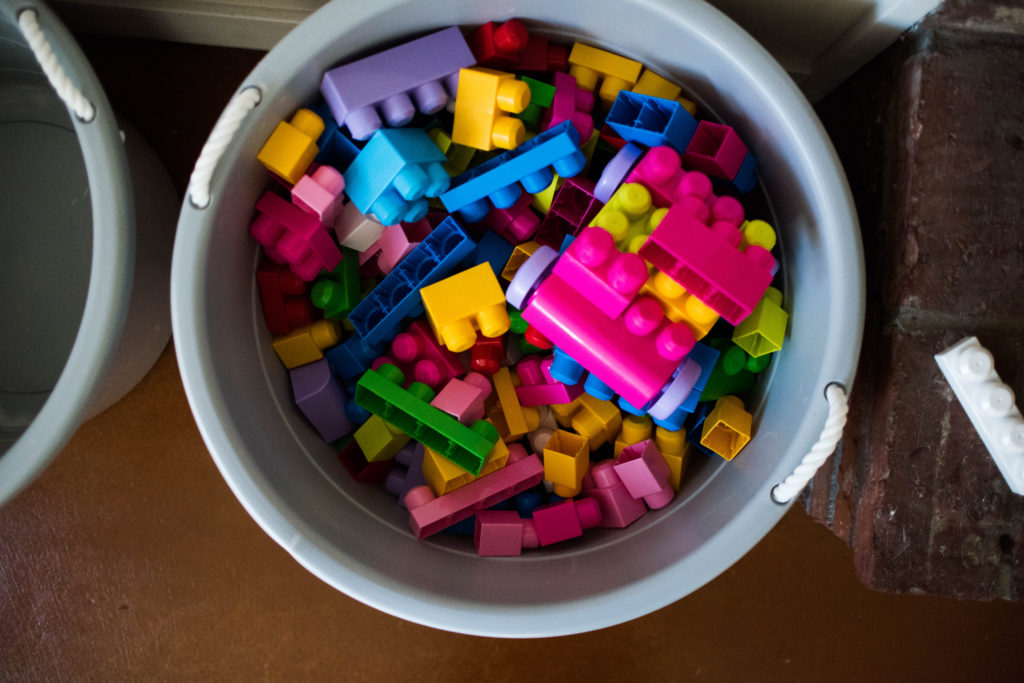 These little blocks that have been the bane of my existence since the boys got them. Are they fun? Yes. Do they enjoy them? Yes. Do I think they're good for their minds? Yes. Are they a huge pain in the bum to clean up and keep gathered every single day two or three times a day?! YES. So – these guys didn't get tossed, didn't get donated or sold. I put them in a storage box in the guest room. They're a great special thing to bring out when we're having a rainy day and stuck inside, or when the boys have friends over and they all want to play with the same things. It's a great toy to have. Great toy to have out all the time? Not so much. So into the guest room closet, and out of my hair, they went (for the most part).
Sell: Depending on how desperate I am to see things go, I set myself a threshold for how valuable something has to be before I'll put effort into selling it. Since secondhand items are typically listed at 30-50% of the retail price, I use 50% as a rough guideline for how much I could potentially make off of an item. If I'm in a rush to purge and just want stuff gone, that is about $20. So if I can't make $20 or more off of an item, then I donate it. For this purge, since I've got a little time, I opted to go with a $10 threshold. So anything I thought I could get at least $10 off of , I put in the sale bag. Usually sets of toys or more expensive single toys make this basket, and then the night of the toy clean out, I list them on Craigslist or Facebook trade groups to sell.
Give: These are items that I either don't want to sell, or didn't mean the $10 (or whatever it was I set) threshold. They go from this bag, directly into a box labeled for donation.
I use the ItsDeductible app on the app store to log all the things I'm donating and their value. Doing it in small batches, and as I go, makes it so much easier come tax time, then I know what I donated and what I can deduct without the hassle. Then instead of loading boxes in my garage, or even my car, so that they can sit there until I remember to make the trip, I schedule a donation pick up. There's a truck that runs in our neighborhood every Friday to pick up donations at our house, free of charge, so I let them know I have stuff to pick up and the grab it for me. One less errand to run, and it's almost always out of my hands quicker that way. To find a donation pick up in your area, click here.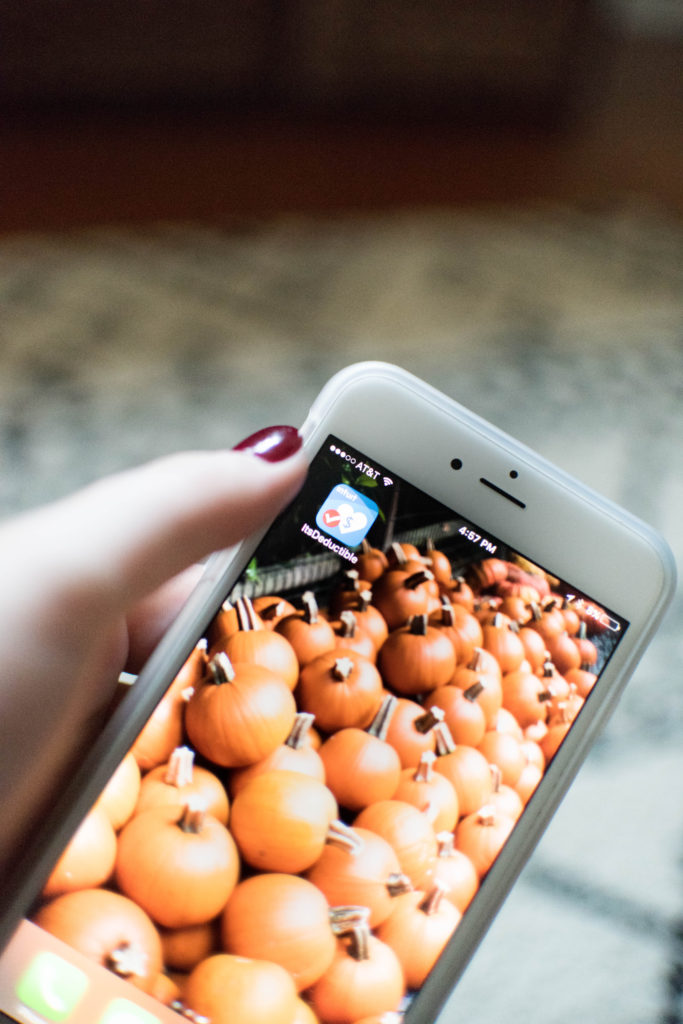 Toss: Toys get broken. And I often don't realize that they're broken until they're sitting in a basket, well beyond repair, and there's just nothing I can do. In these cases, they go into the toss basket and I put them out with the recycling.
And then I'm left with a whole lot less chaos in the play room and some room to grow. After this particular purge, I found myself with 5 empty baskets, and 3 more that were only half full. And between all the family and friends, I'm sure that problem will be solved quickly in the next few months. But for now, I'm enjoying the space. And honestly, my kids don't even notice that the dumb Megabloks aren't in there right now.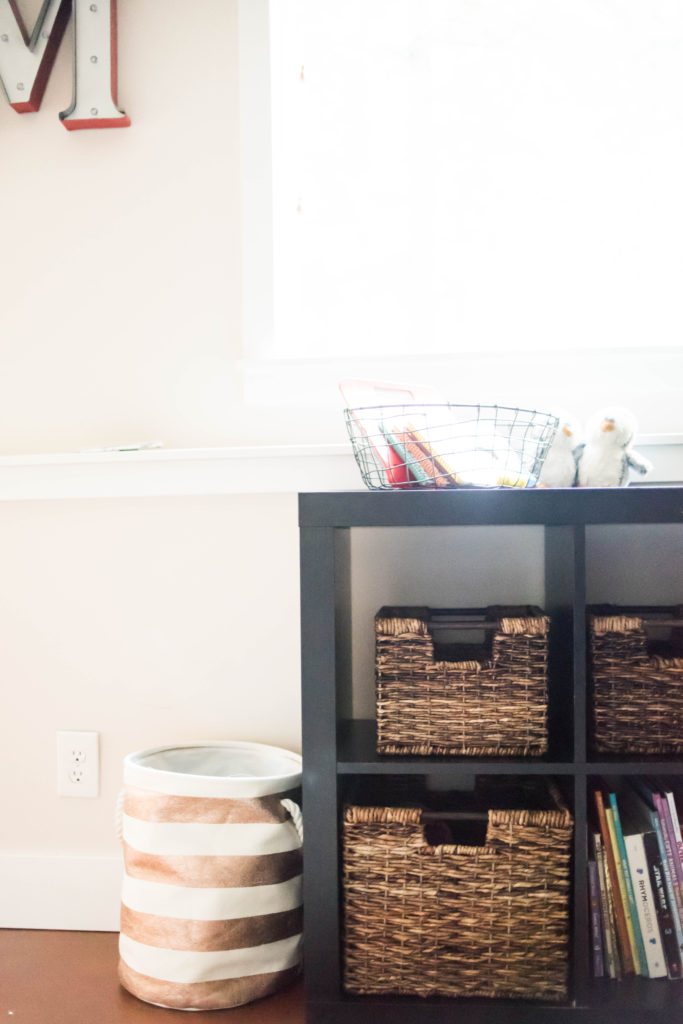 So – tell me. Do you do semi-annual giant toy purges? More often? Less? Any tips for fellow moms getting ready for the influx of toys this holiday season? I'm not-so-secretly hoping for a zoo membership instead of toys for our kids, but only time will tell!
Happy Monday, Happy Halloween, and Happy Cleaning!