Is there a better day to pamper yourself and your fellow mom-pals than Mother's Day? Think about it, since last Mother's Day you've folded at least a million loads of laundry (any load including socks counts as double in my book), prepared approximately one thousand meals, and have gotten too many hugs to even count. Mother's Day might not be a day we get off, but is certainly a good excuse for breakfast in bed and a long bath.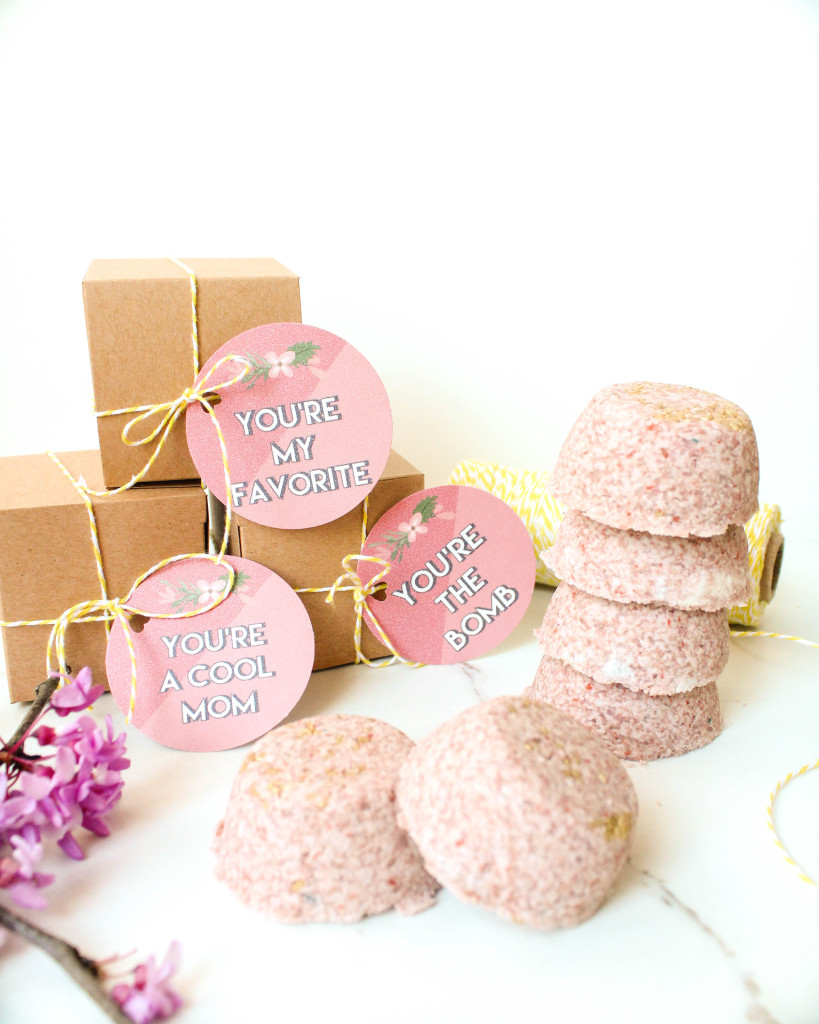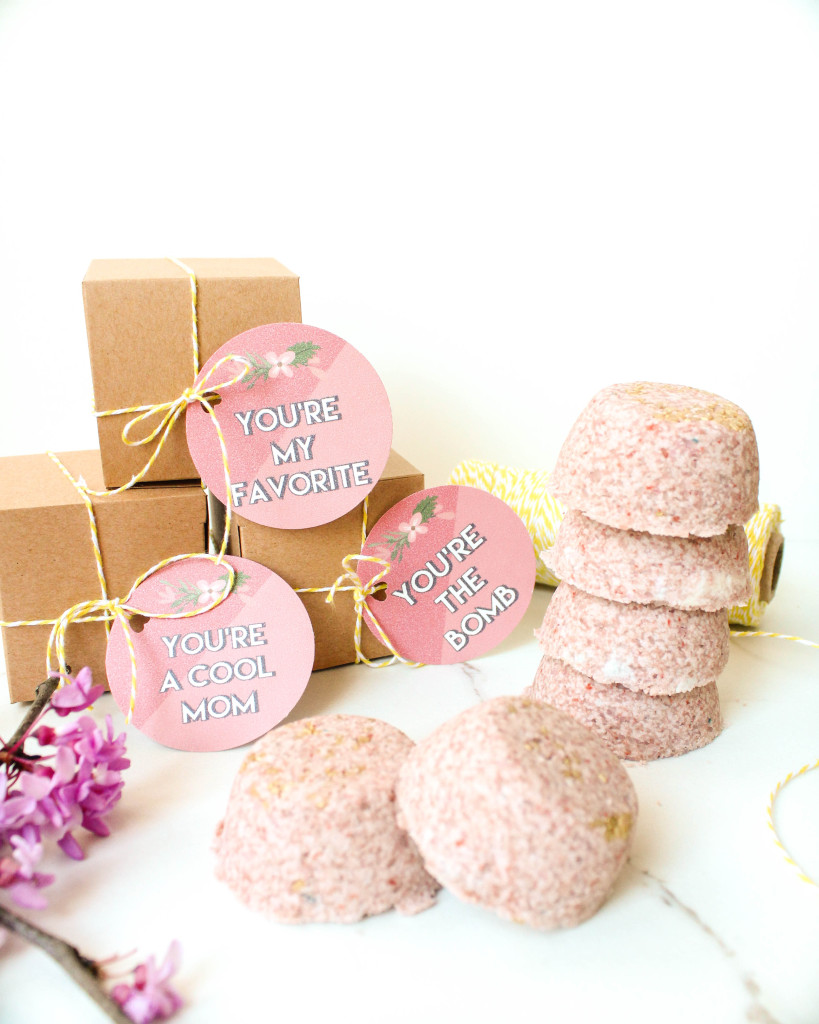 One of my favorite gifts to whip up is these DIY bath bombs and it doesn't hurt that there are always leftovers. And those leftovers make their way into my tub as well. Bath bombs are super easy and while they're not exactly edible, you can find everything you need in your pantry. Don't be sad if they don't turn out on your first try! Just dump your batch into a jar and use in your own bath!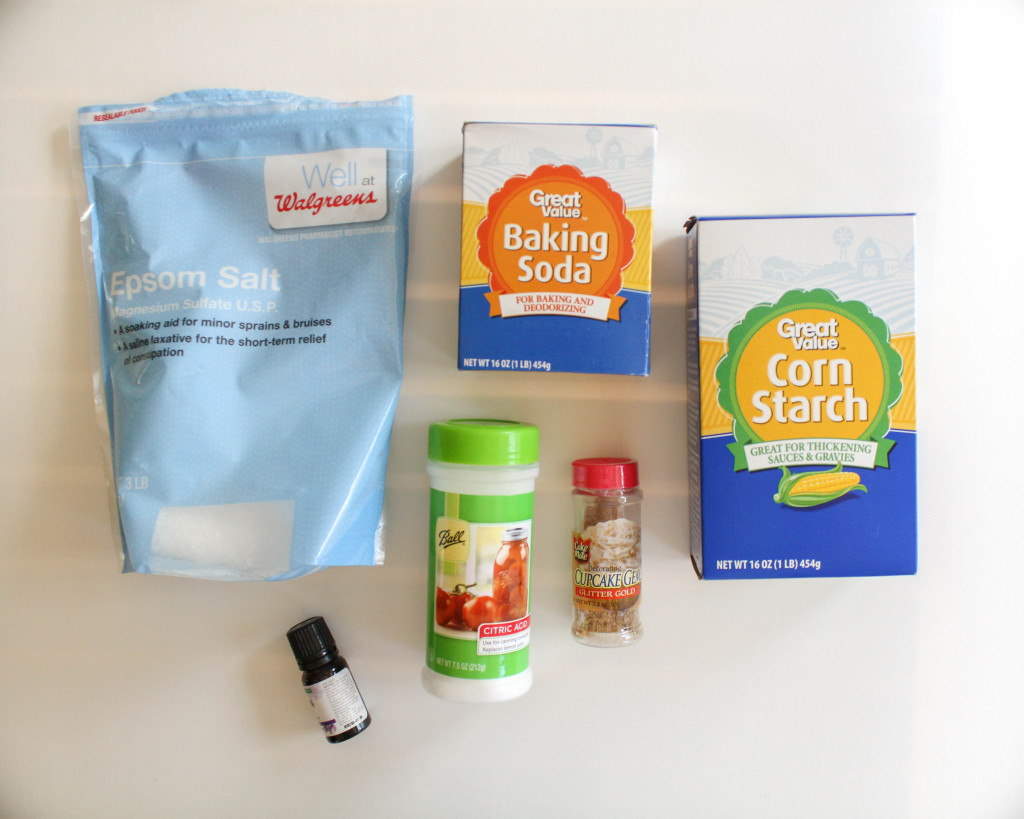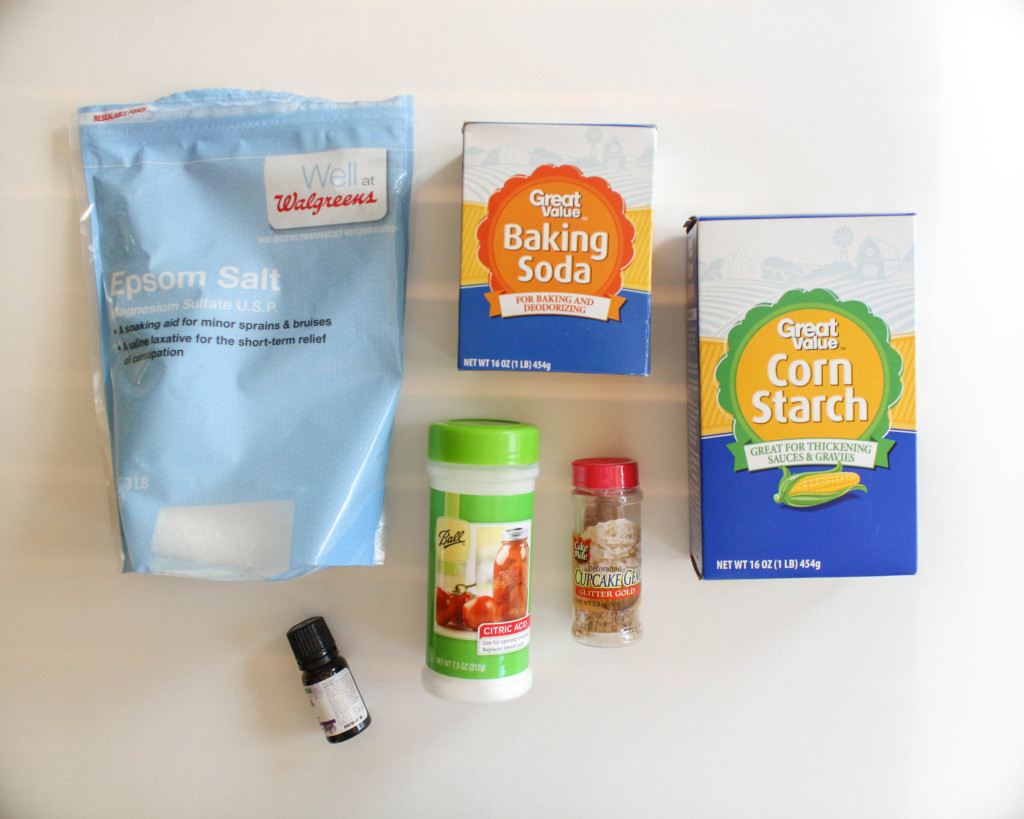 Ingredients:
4 oz. baking soda
2 oz. citric acid
2 oz. corn starch
2 oz. Epsom salt
1 teaspoon water
1 1/4 teaspoon olive oil
1 teaspoon lavender oil
1-2 drops food coloring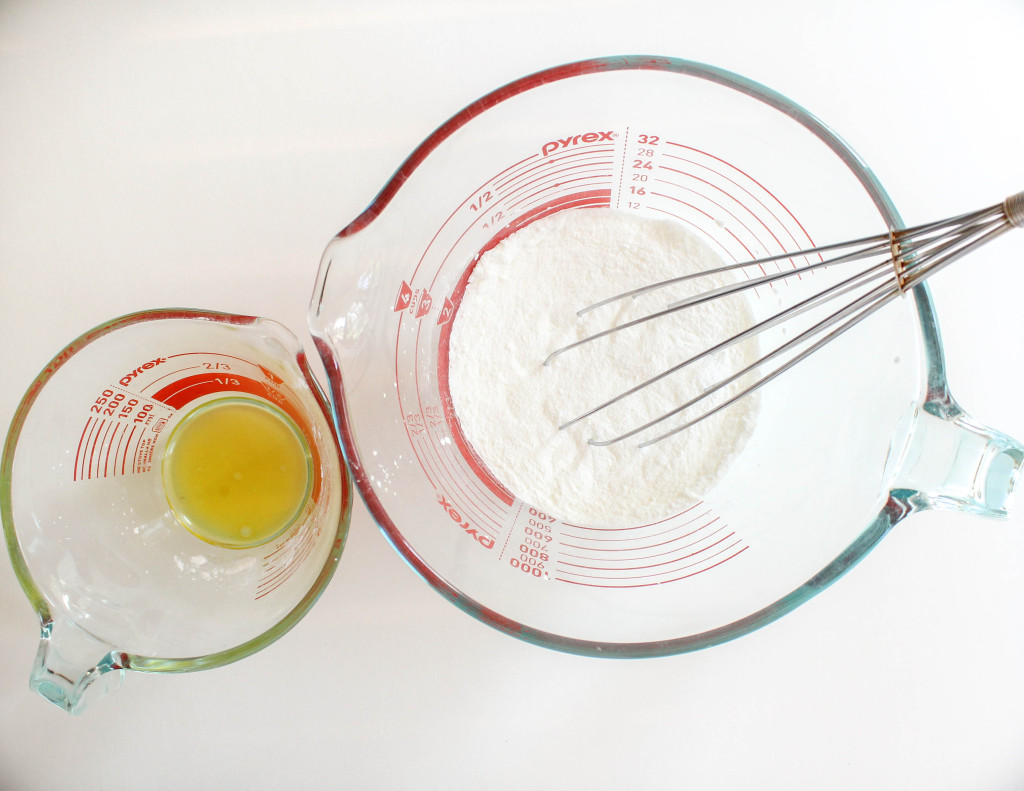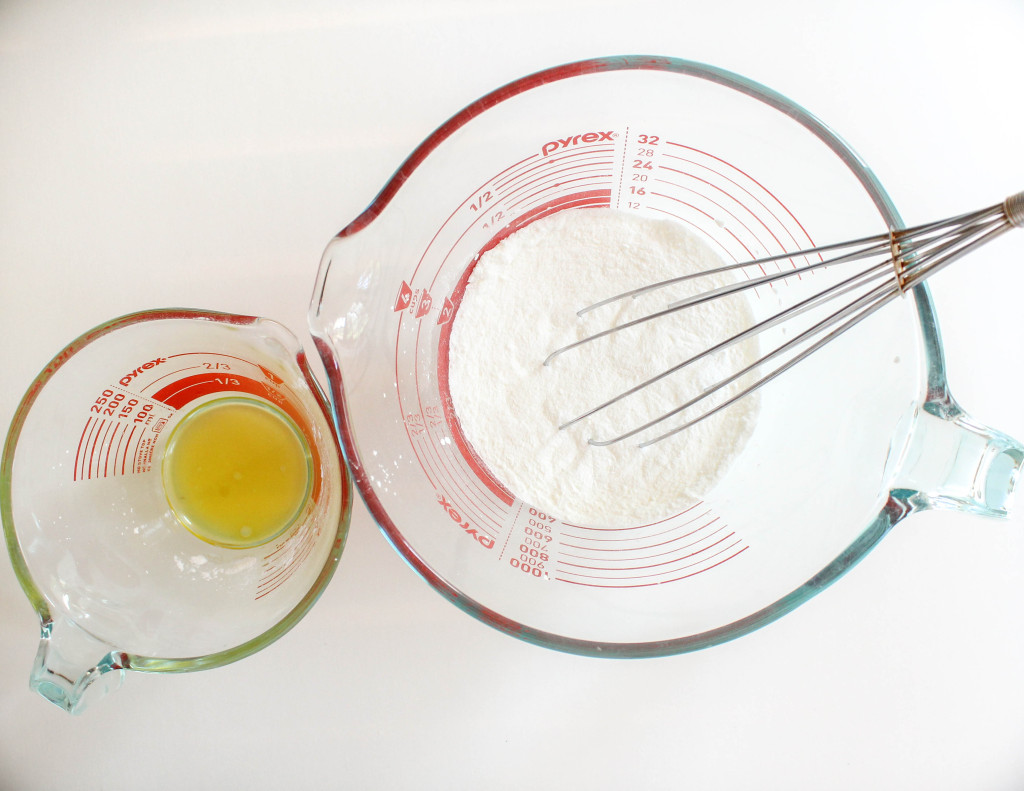 Start by combining all of your dry ingredients into a bowl. Whisk in each dry ingredient so that it blends well and becomes a fine powder. Make sure to put the dry ingredients into the bigger bowl. Take all of your wet ingredients (food coloring included) and mix in a smaller bowl. I used olive oil for my bath bombs, but coconut or almond oil work just as well! Slowly pour the liquid into the powder, making sure to whisk as you go. If you pour too quickly, your mixture will begin to fizz.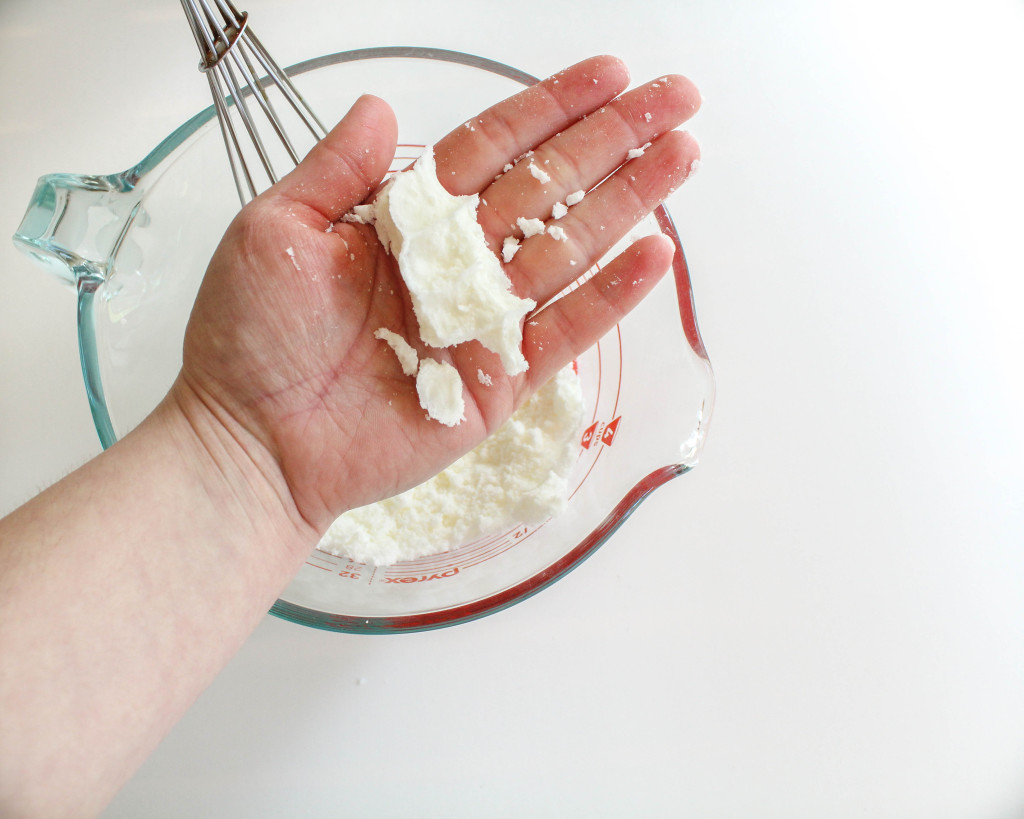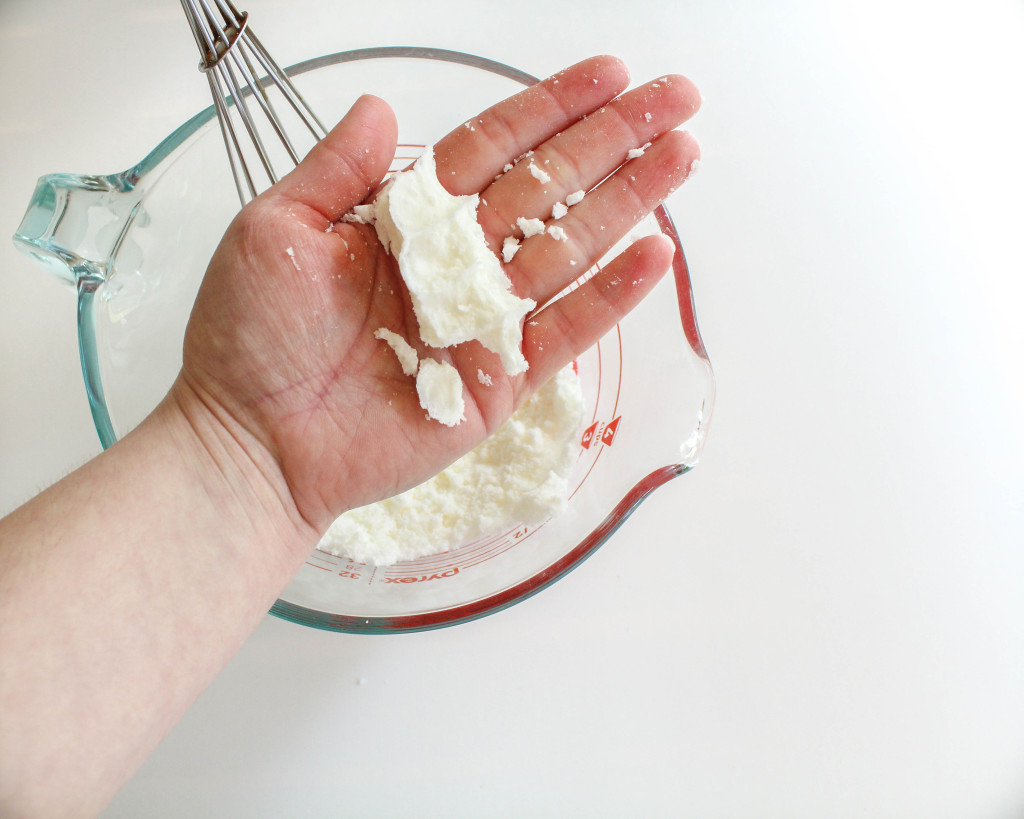 When everything is combined, take a small handful and squash it. If the mixture seems to stick together in a large piece, you've reached the right consistency. If not, just add a little bit of water until it sticks together. It's super easy to over-water your bath bombs, I'd put in a fourth of teaspoon of liquid at a time just to make sure.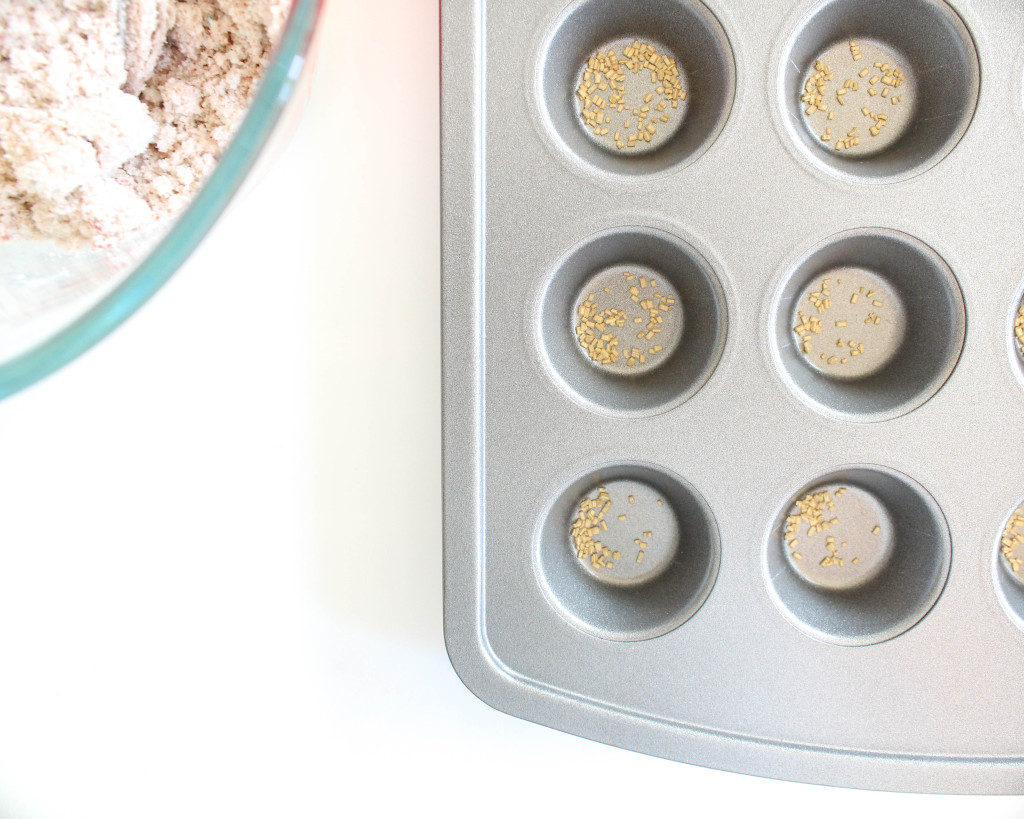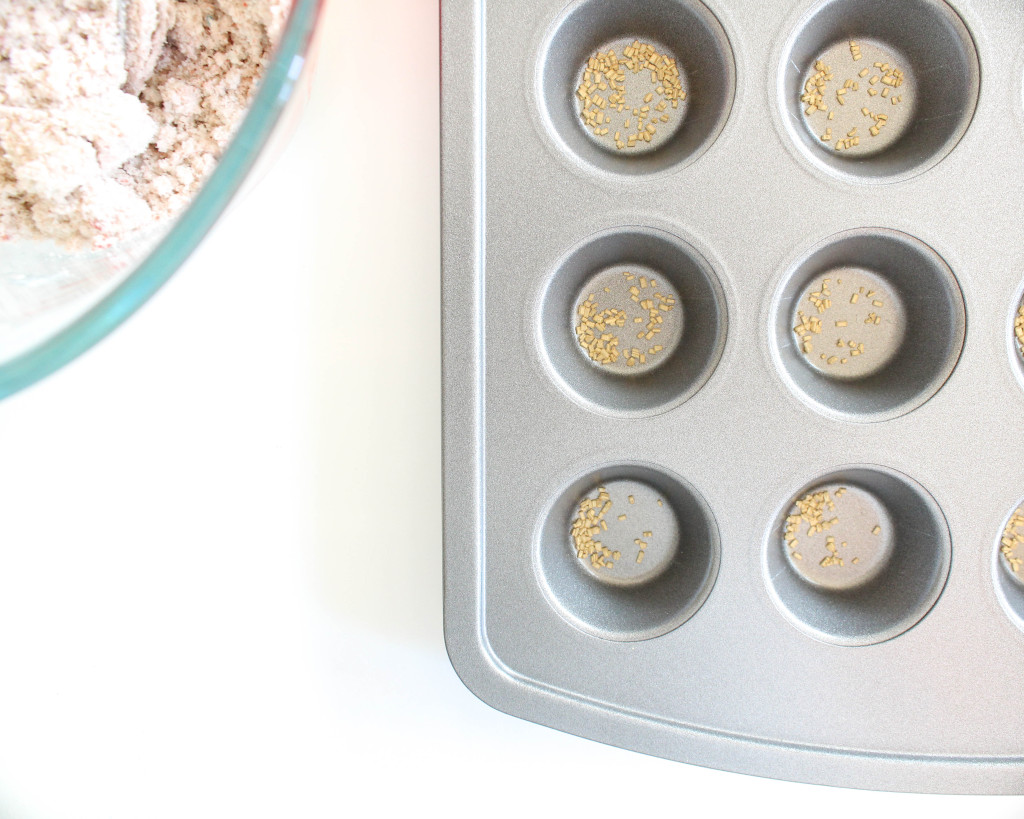 Pour sprinkles, dried flowers, or even glitter into the mini muffin pan. I chose sprinkles since they will melt away in the warm water and leave nothing to clean up. Plus they were sparkly.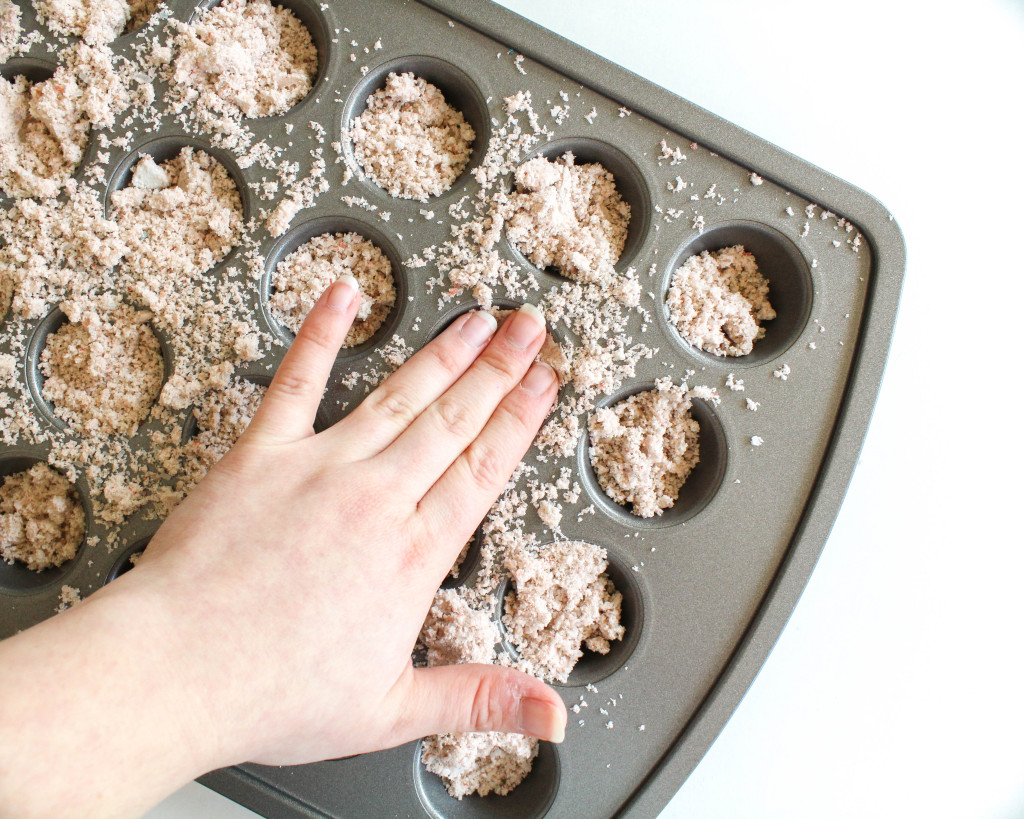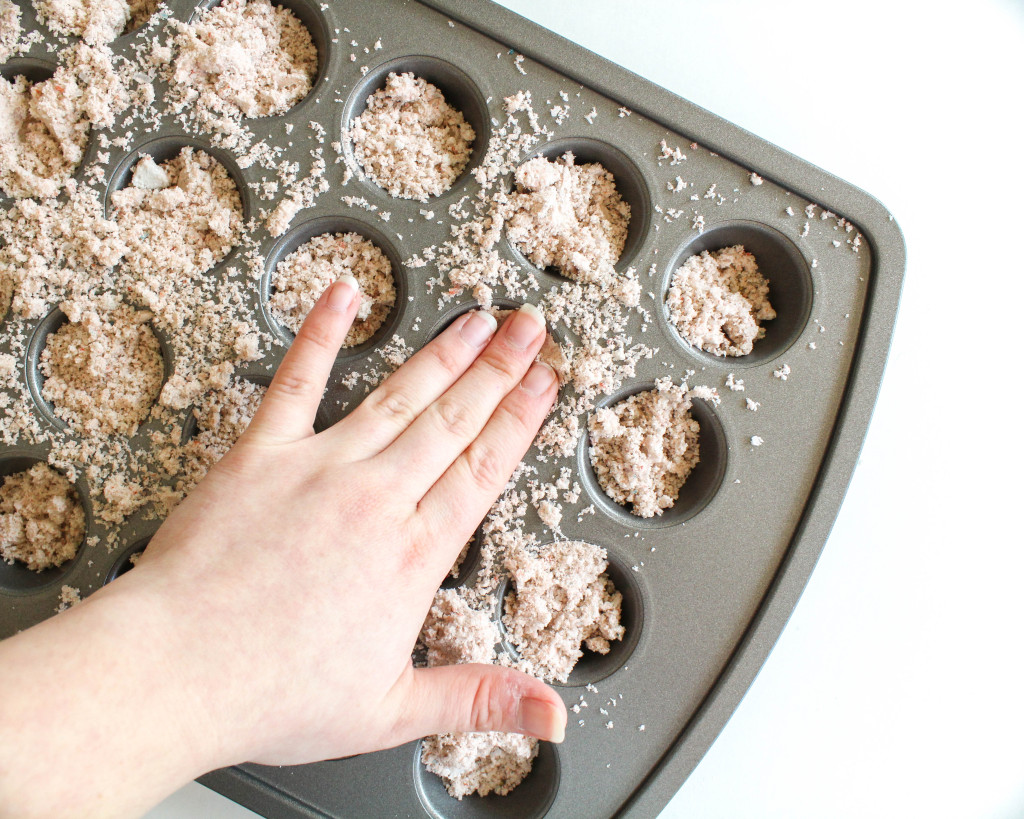 Here comes the fun part. Pour your mixture into your muffin tin and smoosh the mixture down. You want the mixture to be packed down similar to packing brown sugar. The firmer your bath bombs are the better they will stick together. When you are finished, leave your bath bombs to dry for about 20 minutes. Also, please excuse my swollen pregnancy hands, I'm now wearing bracelets as my wedding rings.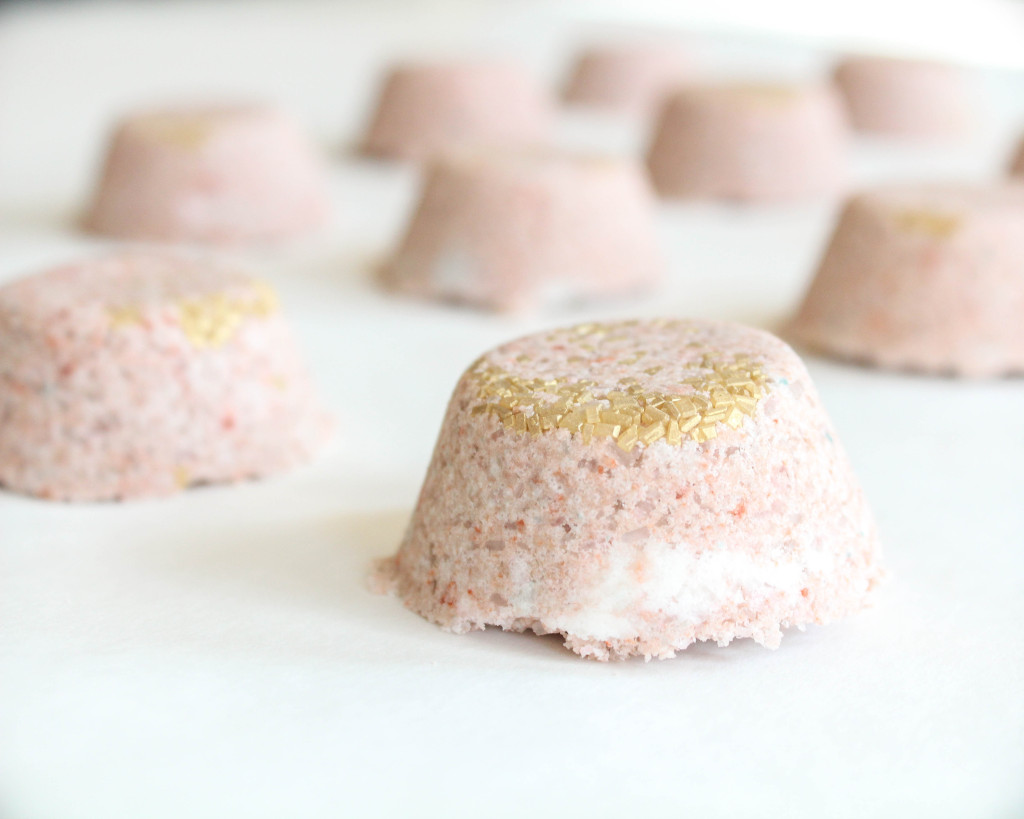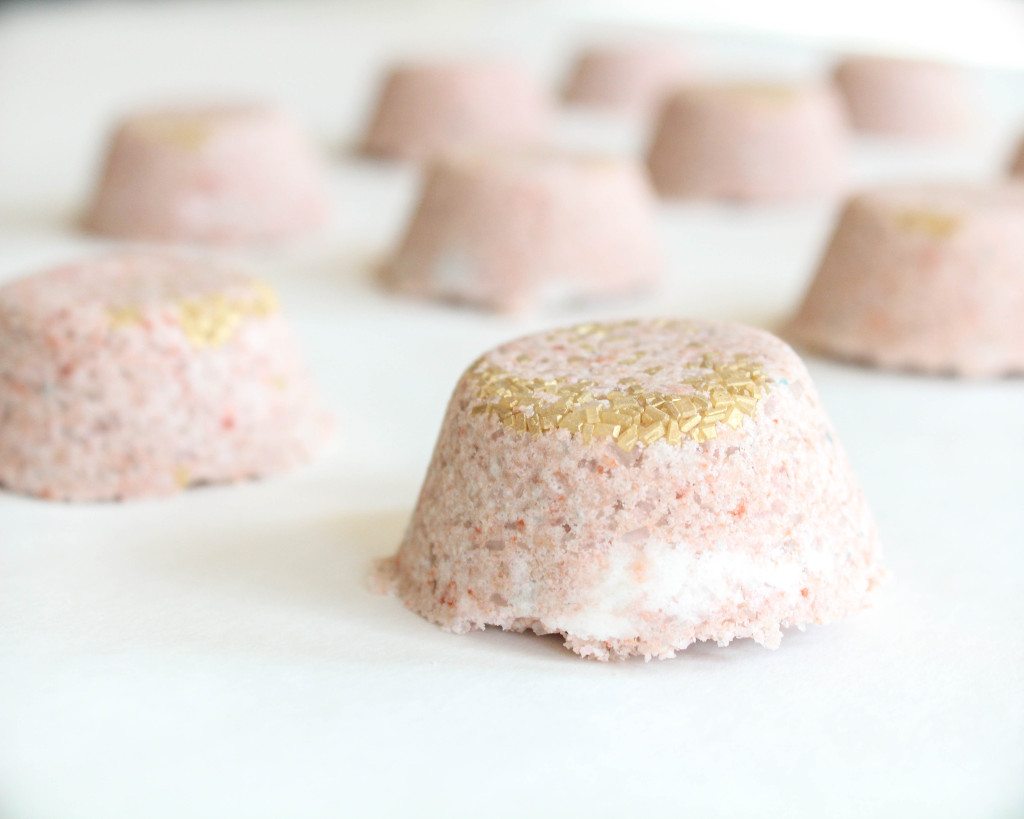 Lay out wax paper and carefully flip over your muffin pan. Tap on the top of the pan with a knife and lift up the whole tin. If some of your bath bombs are stubborn, gently pry them out with a butter knife or loosen them up along the side, flip over, and try again. Leave them to dry over night or about 10 hours.
Once they are done drying, package them up in cute kraft boxes and colorful twine. Download and print the tags onto card stock, cut them out and attach. Now you have a gift you can share with all the important mamas in your life and hopefully a little something for yourself too!
The scents you can use are virtually endless! What type of bath bomb scents would you use?