This quick and easy Sheet Pan Steak Recipe topped with fresh authentic chimichurri sauce is so delicious and easy to make in one pan. This dinner is healthy and perfect for the family!
Fajitas are one of our favorite dinner recipes. We live in Texas so Mexican food is definitely a staple in our home. Don't forget to check out these Green Chili Chicken Enchiladas and these Authentic Carnitas too!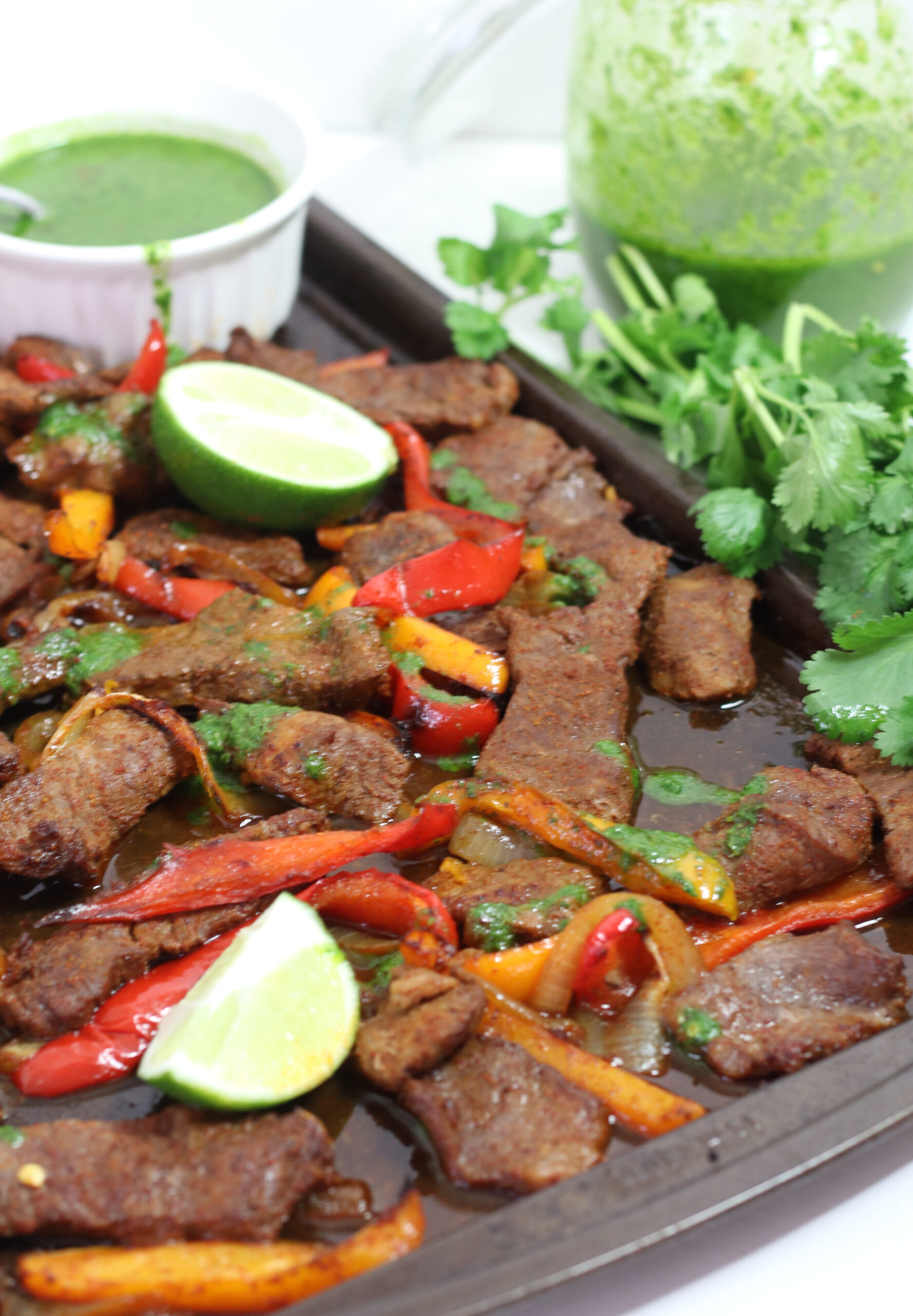 If there is one food group I can't live without, it's Tex-Mex! I could literally eat Mexican food for every meal. I mean any cuisine that can be wrapped up in a delicious tortilla is complete perfection to me!
These sheet pan steak fajitas are so easy to make and filled with steaming veggies. It is prepped and ready to eat in under 30 minutes and the best part, it hits the spot for a Mexican food craving. The best part of this meal, the chimichurri sauce. If you have not tried chimichurri sauce on your steak fajitas, you are missing out!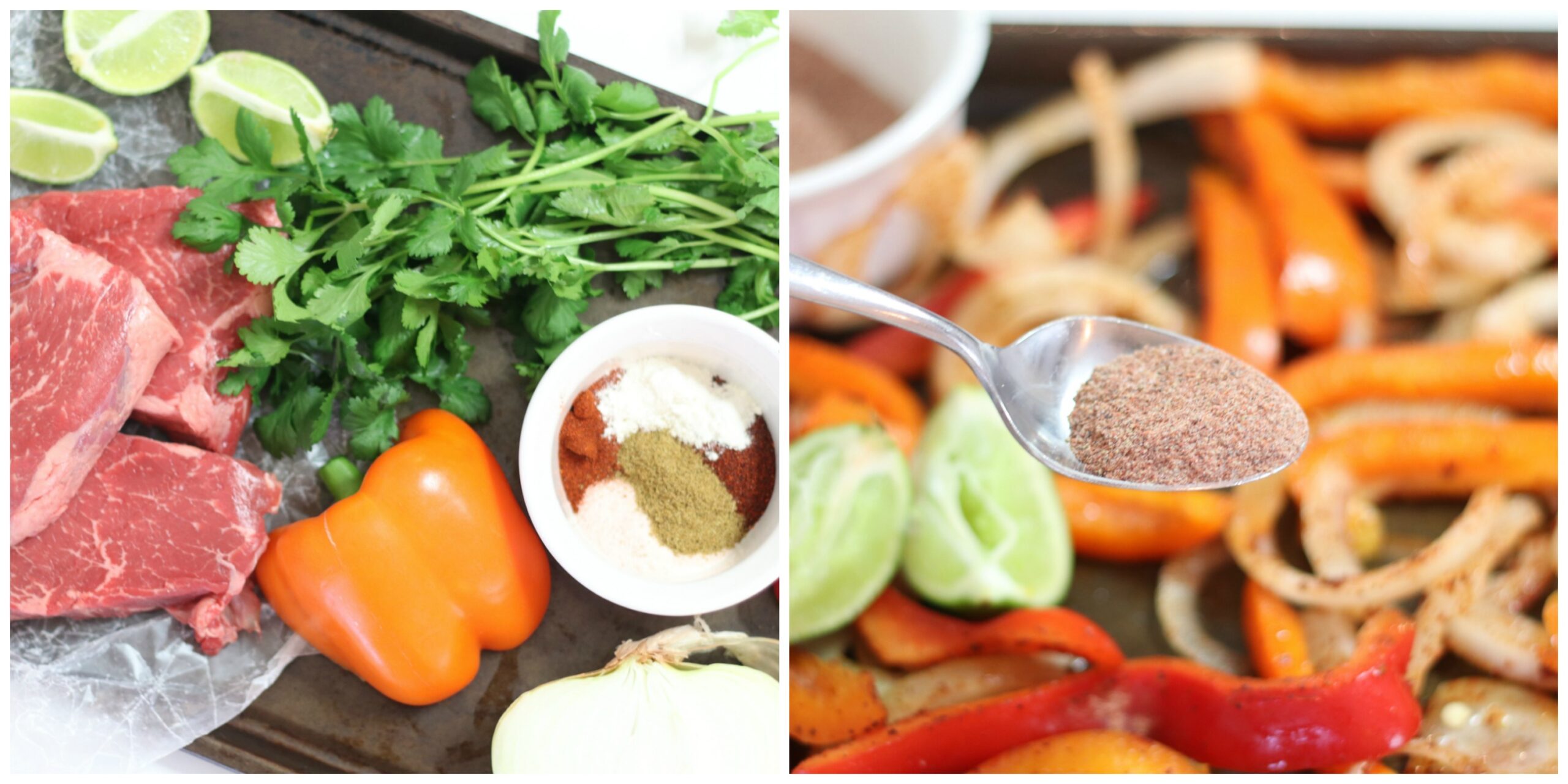 How to Cook Steak Fajitas
No access to a grill, no problem! The awesome thing about fajitas is that you can not only throw him on the grill but you can also pop them in the oven on a sheet pan. That might be my favorite part of this recipe. All of the ingredients are quickly cut up, tossed onto a sheet and in minutes you have sizzling fajitas that will rival any cast iron full of fajitas from a restaurant.
What kind of meat do you use for fajitas?
Steak fajitas a typically made with skirt steak but can also be made with flank steak. When making sheet pan fajitas you can use a more lean cut like a sirloin or round cut of steak. You can definitely marinate and season the meat the same but choose carefully depending on how you are going to cook your fajitas.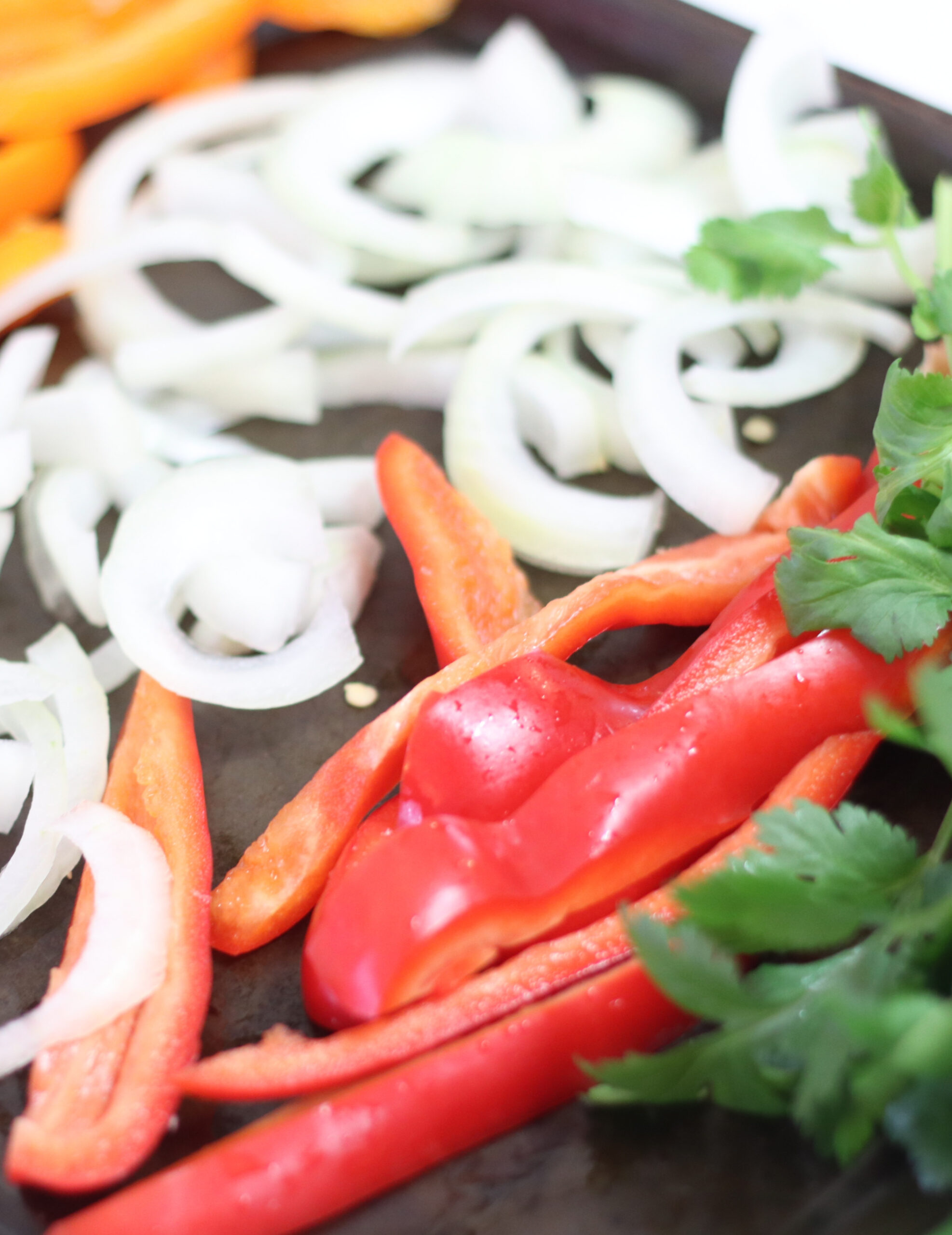 How to make Fajita Seasoning
When making fajitas, a good marinade, seasoning or even both is key! For sheet pan fajitas, I used my own blend of chili powder, cumin, paprika, onion powder and garlic salt. I always like to make my own seasoning mix rather than use a store bought taco seasoning. You really can taste the difference and it doesn't have extra preservatives.
If you would like to marinade your meat, use the same seasonings with olive oil and some lime or orange juice. Mix all together and let the meat marinade in the sauce for at least an hour. The tougher the cut of meat the longer you should marinade.
Cooking Veggies
To make the perfect sheet pan fajita veggies I use the same seasoning as I do for the meat. I always cook the veggies for a few minutes before adding the meat. There is nothing better than tasty veggies on a delicious fajita taco.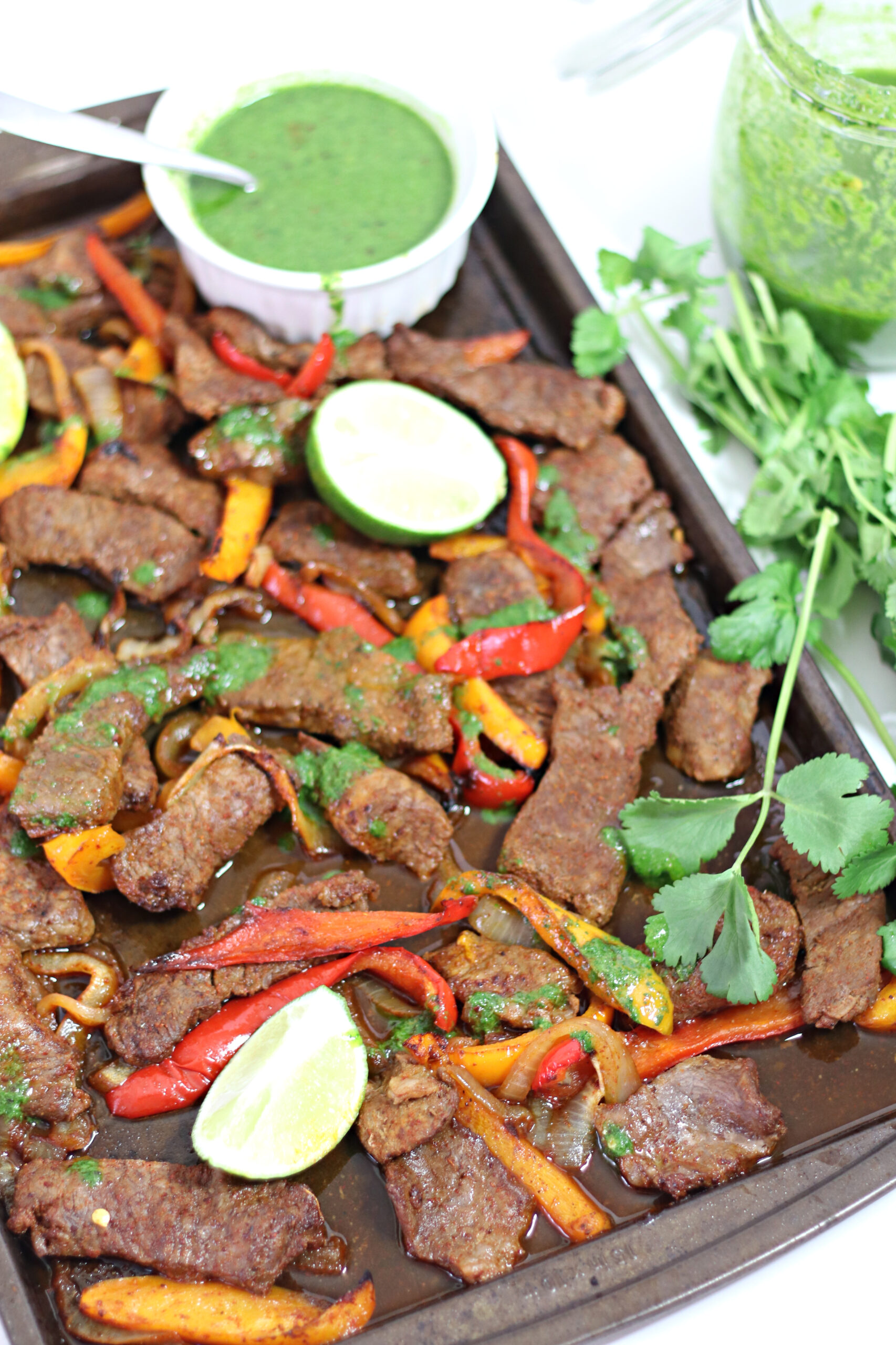 What to Serve With Fajitas
My most favorite topping to serve with fajitas is one that you cannot miss trying! Any time we make fajitas or any type of Tex-Mex dish at home, I always whip up a batch of this fresh and tangy authentic chimichurri sauce. This sauce is full of fresh parsley, fresh oregano and other delicious spices. You have to try it! I promise you will be hooked.
Another one of our favorite toppings is this guacamole! OMG I could just eat a bowl of it by itself!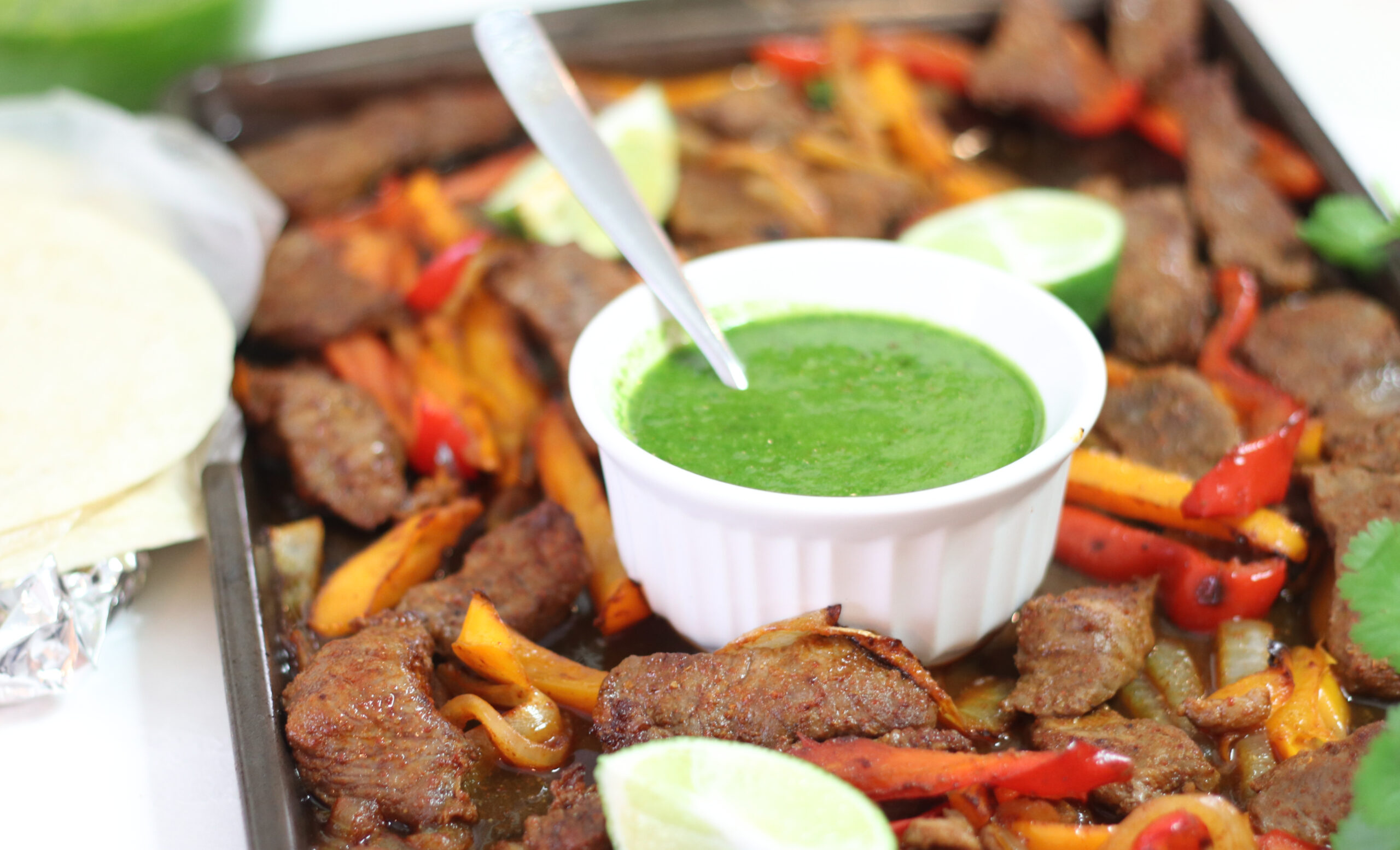 This recipe is absolutely perfect for a busy night! You can prep ahead of time and have everything ready to toss on the sheet pan. What is better than a one pot/pan recipe that can be ready in under half an hour? Nothing, I promise!
Yield: 4-5 Servings
Sheet Pan Steak Fajitas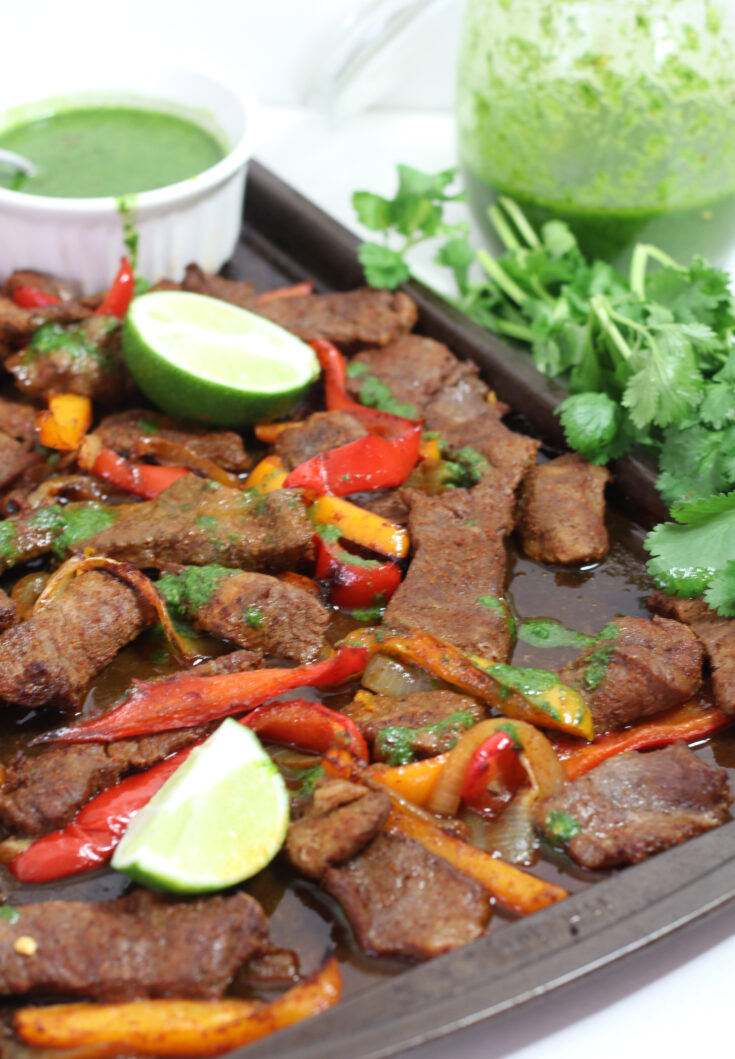 This quick and easy Sheet Pan Steak Recipe topped with fresh authentic chimichurri sauce is so delicious and easy to make in one pan. This dinner is healthy and perfect for the family!

Prep Time 10 minutes

Cook Time 15 minutes

Additional Time 5 minutes

Total Time 30 minutes
Ingredients
SHEET PAN FAJITAS:
1 tablespoon olive oil
2 large bell peppers (I like using red and orange)
1-2 lbs of lean steak (sirloin or round) thinly sliced
2 tablespoons of chili powder
1 tablespoon of cumin
1/2 tablespoon paprika
1 teaspoon salt
1 teaspoon garlic powder
1/2 teaspoon onion powder
2 limes juiced
Fresh Tortillas
Cilantro for garnish
AUTHENTIC CHIMICHURRI SAUCE:
1 large bunch flat leaf parsley
1 cup extra virgin olive oil
1/2 cup fresh oregano or 2 tablespoons dried oregano
1/4 cup red wine vinegar (add more if needed when tasting)
1/2 teaspoon red pepper chili flakes
1/2 tablespoon garlic powder
1/2 tablespoon of salt (add more if needed)
Instructions
SHEET PAN FAJITAS WITH VEGGIES:

1. Preheat oven to 400 degrees Fahrenheit.

2. In a small dish mix chili powder, paprika, cumin, onion powder, garlic powder and salt.

3. Thinly slice onions and peppers. Toss with 1/5 tablespoon of olive oil and 1/2 tablespoon of fajita seasoning mixture. Place on large sheet pan and cover with juice of 1 lime.

4. Bake onions and peppers in preheated oven for 10 minutes.

5. While the onions and peppers are cooking thinly slice steak. Toss with remaining olive oil and 2 tablespoons of fajita seasoning. *save remaining seasoning for next time.

6. Remove onions and peppers from the oven and add sliced steak. Toss together with tongs and spread evenly on pan.

7. Bake steak, pepper and onions for an additional 12 minutes or until the veggies are soft and the steak is browned on the outside. *Be careful not to overcook the steak!

AUTHENTIC CHIMICHURRI SAUCE:

8. In blender add parsley, oregano, olive oil, red wine vinegar, garlic powder, red pepper chili flakes and salt.

9. Blend on high until all ingredients are blended well and the sauce is smooth!

10. Serve fajitas in warm fresh tortillas with this delicious chimichurri sauce. It's also great with a sharp cheddar cheese sprinkled on top!
Nutrition Information:
Yield:
5
Serving Size:
1

Amount Per Serving:

Calories: 521 Total Fat: 50g Saturated Fat: 7g Trans Fat: 0g Unsaturated Fat: 41g Cholesterol: 0mg Sodium: 1233mg Carbohydrates: 21g Net Carbohydrates: 0g Fiber: 7g Sugar: 2g Sugar Alcohols: 0g Protein: 3g

*Nutrition information is not always accurate.

If you like this recipe, please comment and share! You can also pin it and save it for later.